September was such a whirlwind I hardly got to really test any new products out very well so my October favorites are mostly me shopping my stash because I'm trying to clear out my collection of really old makeup and things I don't use.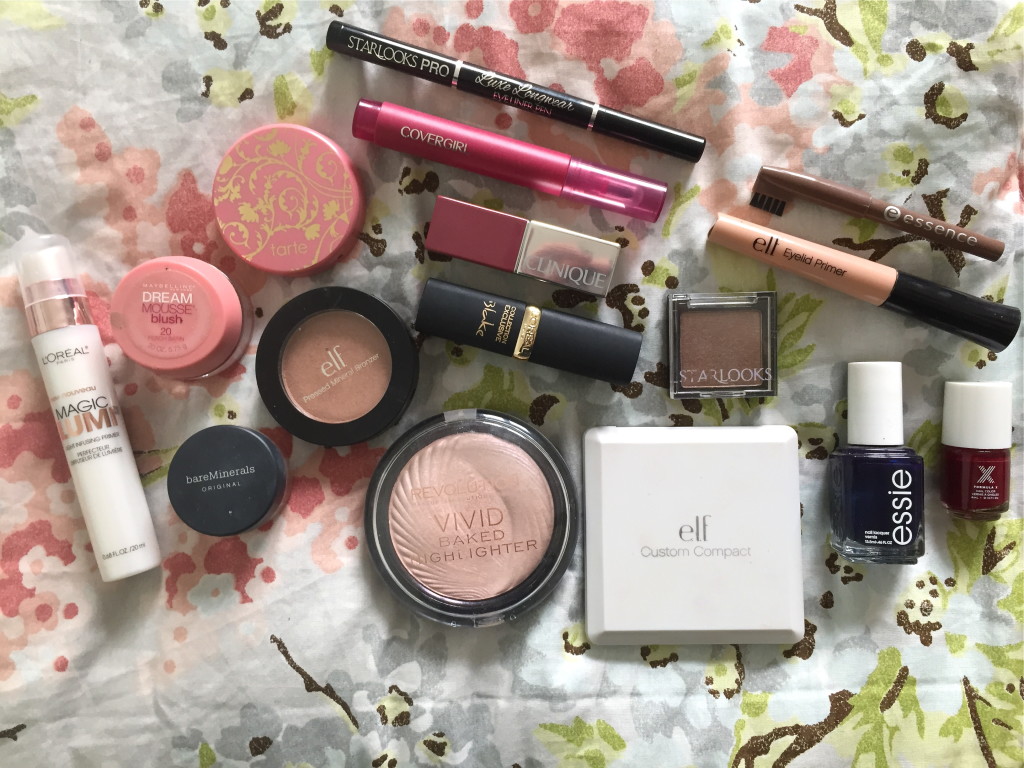 My absolute favorite primer is the L'Oreal Lumi Magic Skin Perfecting Primer.  It makes my skin so smooth and gives me a perfect glow.  For foundation I've been using my BareMinerals Original Foundation non-stop because my skin has been really nice lately and I've wanted to not have a lot of makeup covering it up.  It gives the perfect amount of coverage without looking too powdery, it just looks like skin which I absolutely love.
I have 2 blushes I've been using a lot lately.  I have rediscovered my favorite Maybelline Dream Mousse Blush in 20 Peach Satin.  They've renamed and repackaged these (thank goodness).  I put this under my powder foundation for the most natural blush and glow.  The shade is insanely natural for me and looks so great!  I can't wait to get a new one once I finally finish this after years.  I also have been obsessed with my favorite tarte Limited Edition Christmas 2014 blush in thrilled, a beautiful light pink with a nice shimmer!
I love elf's Pressed Mineral Bronzer in Baked Peach.  It's so hard to find a bronzer that isn't super orange or dark and this one is so light and natural, exactly what I'm looking for and so affordable!  Also, I got the Makeup Revolution Highlighter in Peach Lights which is a gorgeous opal shade.  I use this for an eyeshadow, highlighter, or brightening face powder!
For lips I've been loving the CoverGirl outlast lip stain in 425.  This stays forever and is the most beautiful berry shade.  I use it all the time and I would love to get a few more!  Next, I've been using my Clinique Plum Pop a lot since it is more of an Autumnal nude shade.  Lastly, my L'Oreal Blake's Red has been getting plenty of use (get your hands on it ASAP, it's fantastic).  It does smell really bad though, like cheap lipstick even though this was not cheap for drugstore lipstick!  It goes on fantastic and stays on pretty long!
Onto eyes, I've been loving gold eyes with winged liner as my go-to going out look.  Whenever I have time for wings I do them and I always always use my Starlooks Pro Longwear Liner.  It does stay all day and is amazing to apply, I get a super thin line and wing with this so easily!  For my golden shadows, I use my e.l.f. Custom Compact and Starlooks Eyeshadow in Gold Coast!  The Custom Compact is one of those items I stopped using for a few weeks but now I can't live without it!  I use one shade for brows, another for highlight or a base shadow and the other two to mix up my eyeshadow looks every day!  They work so well and they are SO inexpensive, I can't resist!  The Starlooks shadow is super buttery and blendable while being a gorgeous shade! With any shadows, I always use my tried and true e.l.f. Eyelid Primer!  And for my brows, my essence brow designer in Blonde, which I've gotten my whole family hooked on!  I've just purchased a new one too, I went a bit crazy guys.
Lastly, I've got nails.  I love the essie nail polishes and my all-time favorite shade is midnight cami, I spent weeks looking for it and I was thrilled when I finally found it!  It's a beautiful navy blue with a nice metallic shimmer finish!  I would love to get a few more!  I also love my new Formula X in Ignite which is the most beautiful red shade!