I got an email that the 20% off everything coupon at Ulta came early, very early. I was expecting it in April so I was saving up for a huge haul but when you get the chance you have to take the opportunity!  I went through my basket so many times that I came down to three, yes only three, items that I really wanted and needed.  Here goes my little Ulta haul..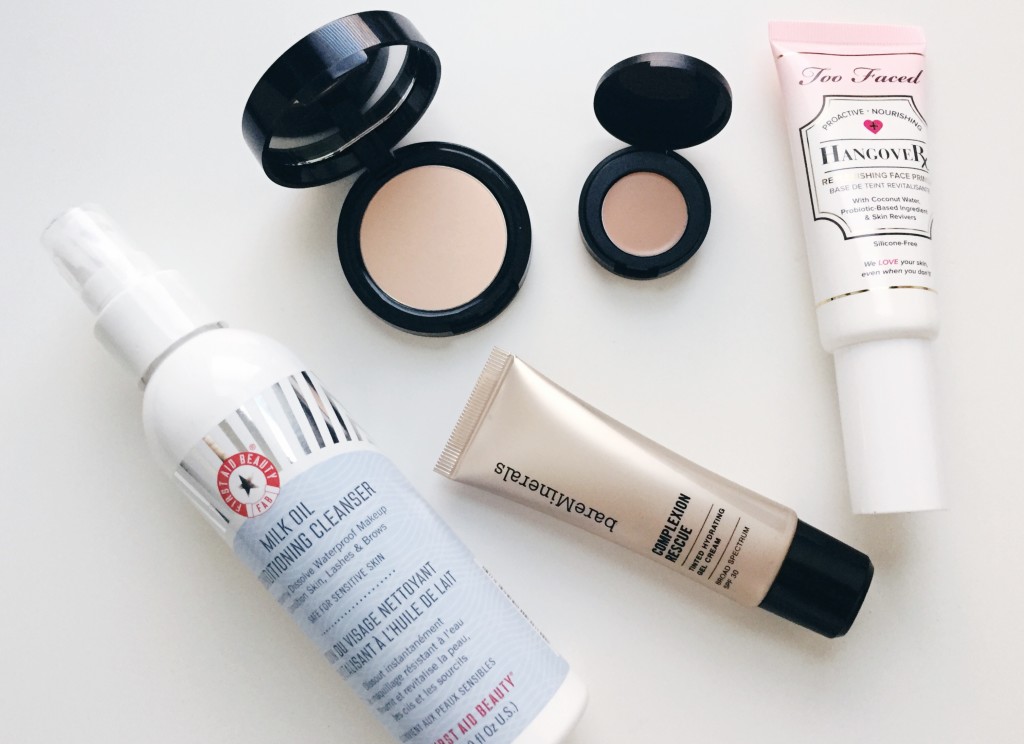 The first thing I knew had to be in my cart was the Too Faced Hangover Primer which you have all seen a few little peeks at in my favorites and monthly makeup but I am here to tell you that I'm not 100% done testing this yet.  I've found that it's not as hydrating as everyone says but does aid in smoothing out drier areas of my skin.  I mixed it 50/50 with the L'Oreal Lumi Primer which I love and the result was beautiful skin all day!  Alone it was beautiful skin for the second half of the day, once my face became a little glowy and foundation had settled.  What I love about this primer is that it feels so light!  It feels like skin and there's no tacky gross feeling after I put this on.  So many bonus points for smart people handling packaging, a pump with a tube = all the product comes out and I am very happy.
The next thing I needed was a light coverage foundation.  I also desperately needed a setting powder so when I came upon the bareMinerals Complexion Rescue Discover Complexion Rescue Set, my day was made.  It has a half-size of both products plus a teeny concealer that's beyond perfect for clutches and throwing in bags, no spills or fancy brushes needed.  I am also here to say that I am not 105% on Complexion Rescue but I'm about 80% committed.  I wouldn't say it's helping my dry skin all too much but I like how it looks with the Hangover/Lumi mixed.  I haven't tried this too many ways but what I do know is that it is a sheerer coverage and has a very light feel, it feels like skin not like a foundation.  It also doesn't need a setting powder every day.  Some days it looks great all day without one for an even more natural look!
The BareSkin Perfecting Veil that this came with is so smooth with a big mirror inside but I'm not so sure about this traveling because it came in the mail shattered so I exchanged it in store.  This also feels incredibly light on the skin.  That's what I love about bareMinerals, their products don't make you feel like you're masking your skin, but perfecting it.  This offers close to no coverage but it's great for drying down liquid products to stay in place all day.
The little Correcting Concealer scared me at first because I thought it would be too stiff and not creamy enough but it's so smooth and blendable!  I throw this in my bag on my way out all the time for touch-ups throughout the day!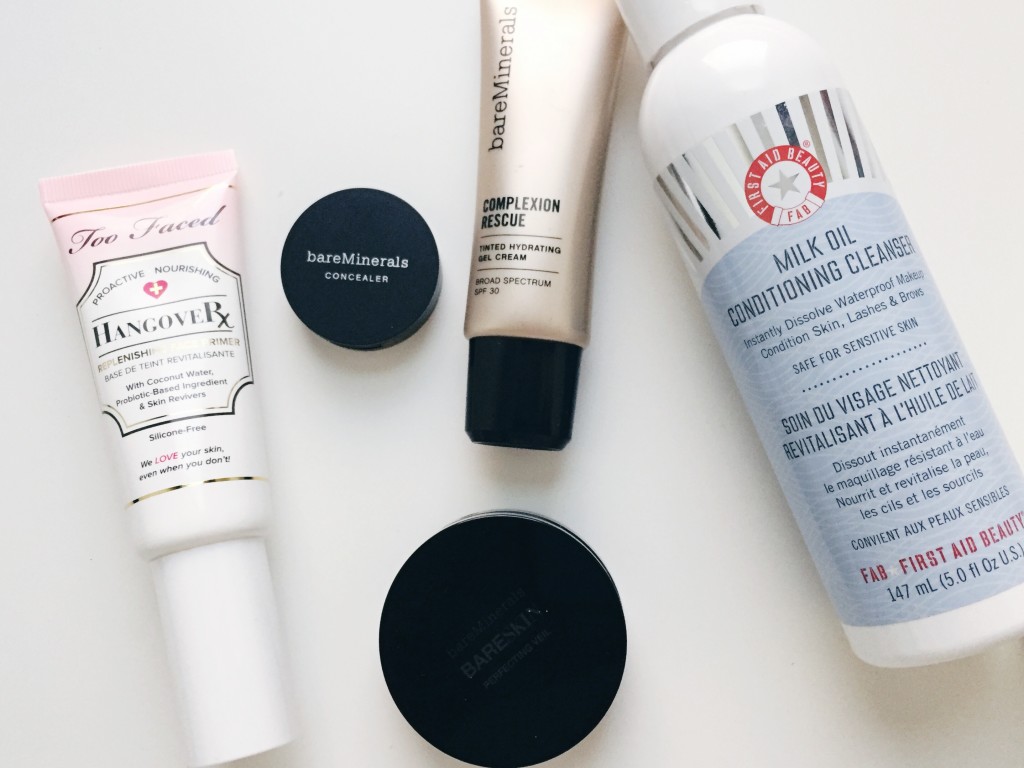 Lastly, I threw this in at the last second and I'm so happy I did because I've been searching for a face makeup remover.  This is the First Aid Beauty Cleansing Milk Oil.  There's so many eye makeup removers but none for your whole face that aren't a cleansing oil which make me break out.  This is technically an oil but it's a milk oil that's hydrating and doesn't upset my super sensitive skin.  I can get off all my makeup before cleansing my skin which has helped the texture of my skin feel healthier!  I am looking forward to exploring a lot more of First Aid Beauty!