The wintertime weather is hitting where I live so hard right now, as I type there are at least 4 inches of snow outside and there are no signs of it stopping.  I must admit that December is my favorite time of the year, with the Christmassy scents, the snowflakes on my windshield and in my hair, and the abundance of hot chocolate.  However, my lips get so so dry from this freezing weather and I need to pull out the heavy duty lip stuff for this time of year, here are my top three go-tos.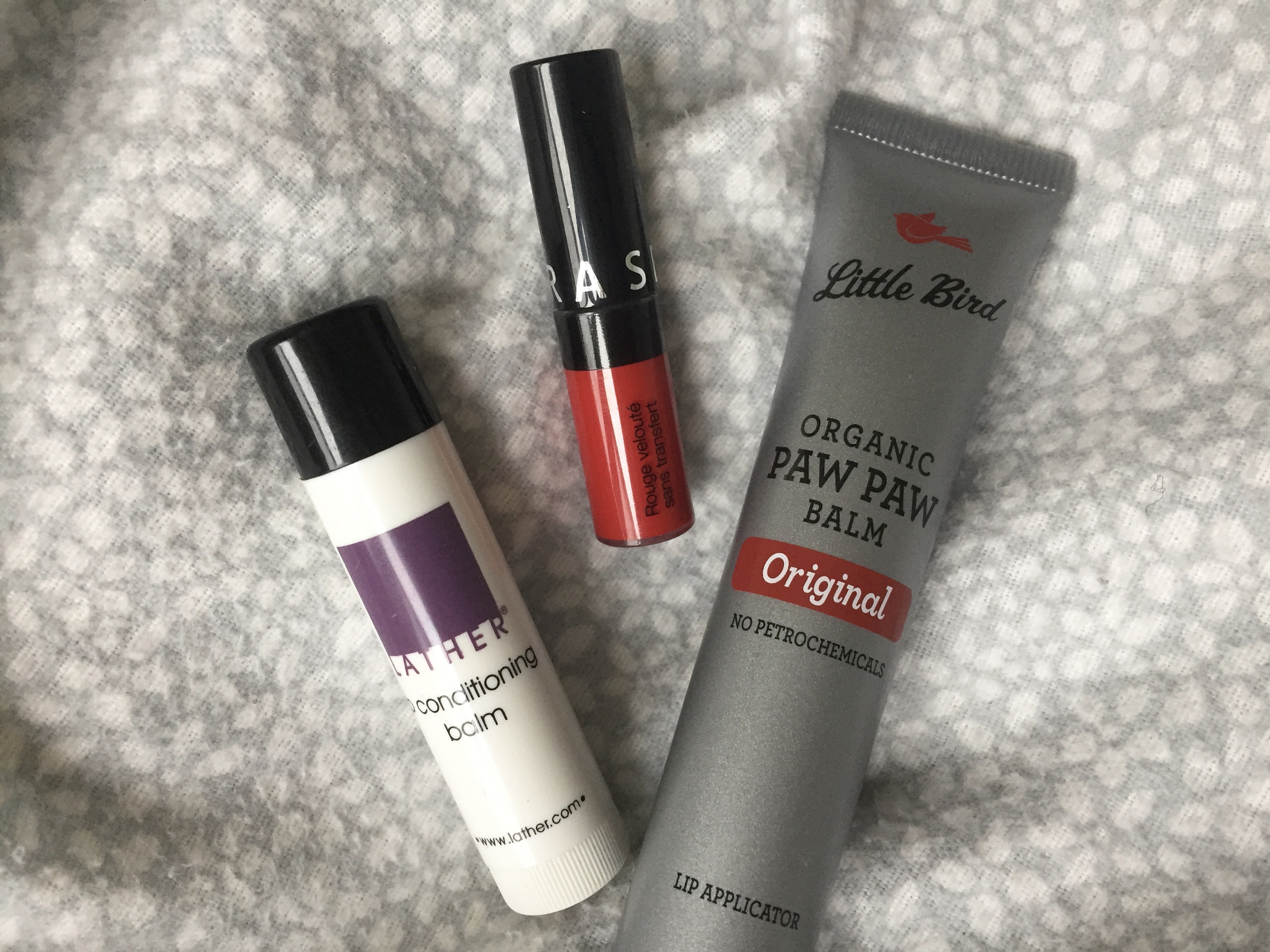 I wrote about the Lather Lip Conditioning Balm in my Travel Beauty Survival Kit but there's nowhere it fits better than here. This is the single most moisturizing lip product I've ever tried, to the point where it can get too hydrating for daily use.  I do use this every night to keep my lips hydrated all night and I use it when I will be outside in the cold for more than just a quick walk from the car.  I am almost finished with this tube but I am really proud of myself as this will be the second ever lip balm I will have finished.
The Sephora Cream Lip Stains are some of my favorites, with an amazing formula that doesn't dry out my lips or highlight if they are on the drier side.  They are also affordable and the color range is pretty extensive.  I have a full-size of Blackberry Sorbet but this one I just got in my Play! by Sephora box and this is in Always Red.  This is the perfect shade, formula, and size to throw in any bag (even just your wallet) for Christmas.  This is a mini that I will be using so often.
Lastly, my aunt got me Little Bird Paw Paw Balm from Australia when she came to visit a few weeks ago and I've been loving this so much.  The tube is actually massive and I will be keeping this in my purse all winter to reapply.  The formula is so glossy and hydrating, I love it.