Happy new year friends! Over the past year I've really re-vamped my morning routine as I've been on more of a wellness journey. There are plenty of habits I'm still working to kick but I've taken strides in setting myself up for better days. I have always been one to wake up about 2 hours before I need to be somewhere so I can really take my time eating breakfast, looking at my phone, doing my skincare, looking at my phone, and doing my makeup … while looking at my phone.
But these two hours in the morning have become 1 hour and time has become more precious living with roommates. I love the time I get in the morning before anyone wakes up to take the time for myself. Here is what I've been up to in my morning routine lately.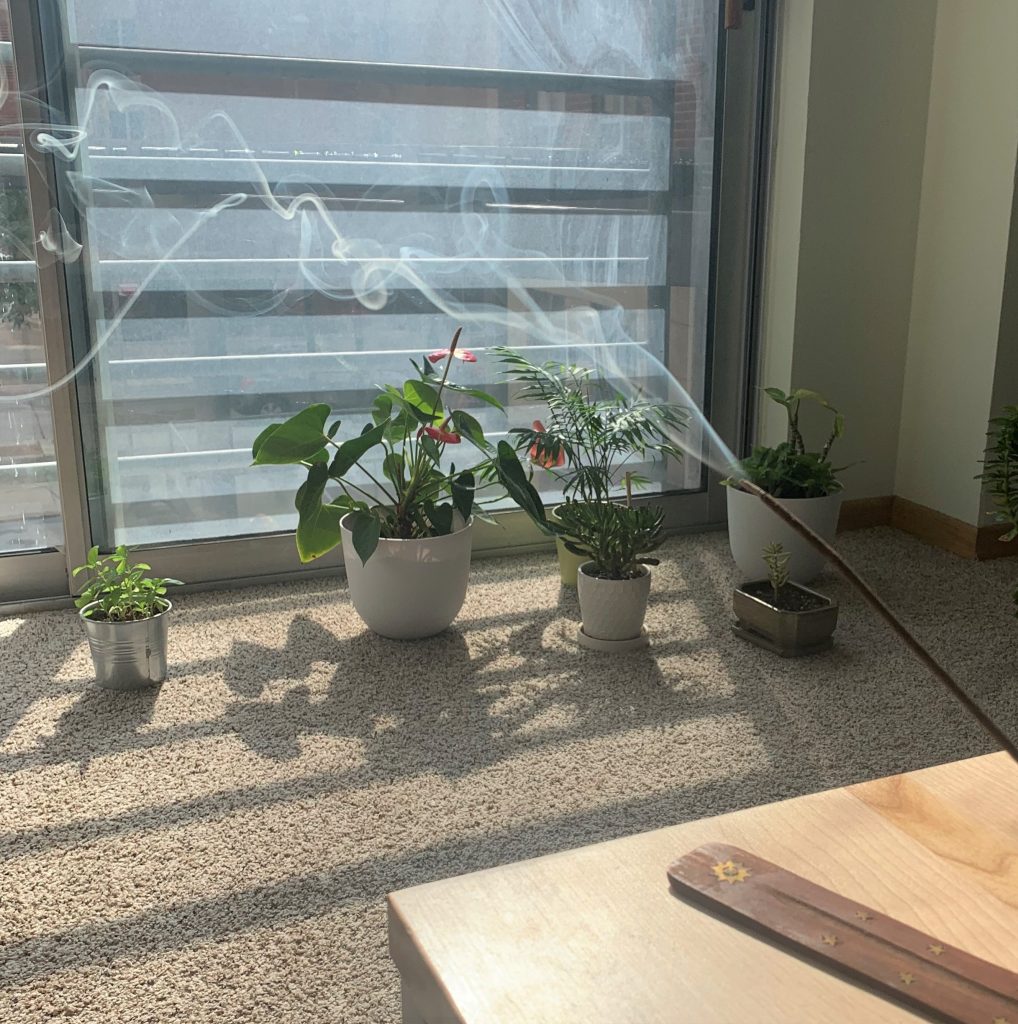 Wake up – 7:15
Each morning I wake up to an artificial sunrise from my amazing Casper Glow Light that goes from a warm gentle yellow light to a brighter, whiter "sunlight" over the course of 30 minutes to create a natural wakeup.
My alarm is on the app Sleep Cycle and tracks my sleep throughout the night to wake me up at the most optimal time in a certain range I provide. The sounds are soothing and the snooze is activated simply by picking up my phone and putting it back down so I never accidentally turn it off. I haven't woken up in a panic from a scary alarm sound or oversleeping in years since starting using this.
Journal – 7:25-7:30
I used to use the Ban.do Feel Your Best Journal and truly loved it's mixture of prompts and daily morning/evening check-ins but I was looking for a different structure in my daily journaling. I wanted one with a gratitude list, affirmations, and goals for the day, leading me to The 5 Minute Journal. This journal takes about 2 minutes in the AM and PM, perfect for those days when I just don't feel like taking 10 minutes like the Feel Your Best journal. It also motivates me to actually do it; I can do 2 minutes when I'm tired, when I'm pressed for time, anything. I don't do this every single morning but I aim for 5 days a week.
Skincare – 7:30-7:45
In the morning I'll either splash my face with warm water if it's dry or wash with CeraVe Hydrating Facial Cleanser. Then I'll brush teeth, clean my new piercing, and head into my room for skincare. This consists of a sprtiz of lavender face spray, Kiehl's Ultra Facial Toner, Inkey List Brighten-i Cream, and Succinic Acid Acne Treatment. Next I use a brightening serum (don't have one to recommend yet!), and an SPF mixed with Glossier Superdew.
Breakfast and Morning Bev – 7:45-8:15
I love having a nice breakfast in the morning. Starting off with a meal including protein, fat, and fiber along with a yummy morning beverage set me up for a productive and structured day. Typically my beverage is a hot chai tea or iced matcha latte with collagen from Vital Proteins. I am a big no on coffee due to migraines, if I have too much caffeine 2 days in a row, I'll almost certainly get migraines in the early afternoon for the next few days while I break the "habit". Breakfasts can include loaded quick oats, avo toast with an egg and a salad, or a smoothie. Something about getting a big, effortful meal in the morning makes me feel really prepared for the day.
Supplements and Finishing Touches – 8:15
This includes my daily multi, ashwaganda for stress, and a women's probiotic. I usually get dressed right before I head out for the day. I just love staying in my pjs as long as possible!
Read and Meditate – Whenever it fits
I love reading early in the day because it motivates me to come back to my book later on after class or school so I tend to read in the few minutes before I leave for class or on the bus on my way there using the Kindle app! I also like to meditate either while I drink my morning beverage or on my walk to work or class. A 5 minute active or sitting guided meditation helps to get me thinking about gratitude, tuning into my body, or noticing my surroundings a little more carefully.
What I'm Aiming to Include
I'd love to include some light movement in the morning, if even only a 2 minute stretch. One of my main goals this year is to really improve my flexibility and stretching consistently is so key!
Another thing I'd love to do in the mornings is not look at my phone first thing. It's another one of my intentions this year to avoid my phone first thing in the morning or last thing at night. There is no reason to scroll in bed and it leads to later bedtimes and staying in bed way later.
That's all for my current morning routine, but I'm sure it will change as I have an 8:00 start coming up this semester and will need to be up and out by 7:45 each day. Watch for an updated version this spring! What do you make sure to include in your morning routine? Let me know!