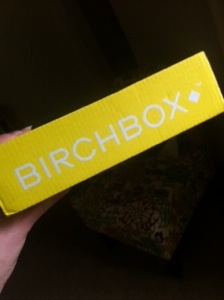 Cost: $10.00 per month, free shipping or $110 per year.
The rewards: For every box you get, you earn 10 points.  Every review of a product you receive in your birch box, you also earn 10 points.  If you refer a friend and they use the link you send them, you get 50 points per person.  In no time you will rack up 100 points which translates to $10.00 to use in the Birchbox shop.  Only when you get 100 points do you get $10.00, if you have 60 points, you currently have $0.00 in rewards.  
So here's the deal: "Each month, you'll receive a selection of samples that we've tried (and retried) ourselves. We source our samples from both well-known brands and emerging gems. The women's subscription includes everything from skincare to makeup, as well as fun non-beauty extras. The men's subscription delivers top-tier grooming products in addition to lifestyle accessories ranging from hip socks to tech accessories."
How It Works: Every month you will get 4-5 deluxe samples (and sometimes full-sized products) of makeup, skin care, hair care, nail polish, or bath and body, usually along with a lifestyle sample.
My Box:
In the April Birchbox they gave out little cards that said things to do on rainy days, fitting with the rhyme of "April showers bring May flowers."  Mine was plan your next trip.  We'll see about that one!  After lasts month's great box I was thrilled to see the new yellow box that advertised Kate Spade's new line called Saturday!
What's Inside:
Paula's Choice Skin Perfecting Exfoliator
Sample Size: 1 fl oz  Value: $7.27
This exfoliator is great because it is really gentle and smooths my skin so well!
Color Club and Birchbox Nail Polish in Breakfast At…
Full Size: 0.25 oz  Value: $8.00 (according to colorclub.com)
This nail polish is the cutest mint polish with a gorgeous pearly finish.  It did not wear as long as I would have liked but it's a gorgeous shade.  The color is amazing and I'm sure with a base coat I can mae it last.
Anastasia Clear Brow Gel
Sample Size: 2.5 mL  Value: $6.67
This brow gel kept my brows in place very well!  I noticed the second I opened it that it had quite a strong scent of glue so that is not my favorite thing but it got the job done!
KIND Granola Bar Maple Pumpkin Seeds
Full Size   Value: $0.80
This granola bar was the perfect balance between sweet and salty and I loved it!
Supergoop CC Cream
Sample Size: 3 mL Value: $2.04
Honestly this CC cream was fabulous, the texture was perfect, consistency was great and it covered really well and was SO light on my skin!  I loved that it adjusted itself to my skin tone as I blended it and it has SPF 35!
Value: $24.78! 
Paula's Choice exfoliator – $7.27
Color Club Nail Polish – $8.00
Anastasia Clear Brow Gel – $6.67
KIND granola Bar – $0.80
Supergoop CC Cream – $2.04
Overall, the April Birchbox was pretty awesome.  It was worth more than double what I paid which I love because I know I am really getting my money's worth out of this box.  Buying this box at $10.00 and getting nearly $25 of stuff in it is a great deal!  I loved the Supergoop CC Cream and the CC was great because I have been super into lighter foundations lately and this one is great because sometimes you need a little more coverage than other days.  If you'd like to sign up, click here (affiliate link)!
xo