Hello lovelies! From Saturday to Tuesday, I was in Toronto, Ontario, Canada! I was there to vacation and see the city, which I loved. It was a beautiful city that felt like home to me. I'm going to do 4 posts with photos from the four days I was there including which restaurants and activities I liked! I had a great time and it was an amazing trip, I hope to keep traveling and seeing new things.
We woke up at 3:00am to catch our 6:00am flight to Detroit. I got to see the sunrise from my window seat on the way there, it was gorgeous. When we landed, we had 30 minutes to our flight to Toronto from Detroit. Detroit has a beautiful airport and it's huge! Our flight was delayed an hour but we arrived at our hotel around noon.
We could see the CN Tower from the plane flying in to Toronto. The little blob you can see is the observation deck below the smaller deck where you can go on a harness with no railing and see the city without obstruction. I was hoping to do that, but I'm not old enough to go without a parent's permission, sadly. We did not go up to this second deck but we went up to the one more visible in this photo. How cool is it that it is above the clouds??
As soon as we got there, we hopped on a sightseeing bus that went around the city seeing and talking about interesting buildings and places. During this bus tour, I wanted to go up the CN Tower but the people I was with were not so excited, so we went to lunch at a sports bar across the street from the CN Tower called Boston Pizza (who gets American bar food in Canada, I don't know but you gotta go with the group right?). It was very good and had some really good salads and flatbreads!
We then headed back to the bus and continued on our tour. We saw this crazy looking meteor thing attached to this old brick building that was amazing, all this fantastic architecture was all over the city.
We saw this building with this block that looked like a rubix cube on top, there was such a mixture of old and new buildings around.
This is where the Queen of England stays when she comes to Toronto, if you can see, it is shaped like a throne with the Canadian flag on the seat. It was enormous and huge. You could pay $1,000 to stay in the room for a night, insane.
Almost all the buildings were mirrored with glass windows like this. They ran out of room expanding outward so they began building upward and every building is incredibly tall. Rarely did I see a building that was even remotely close to ones I see where I live.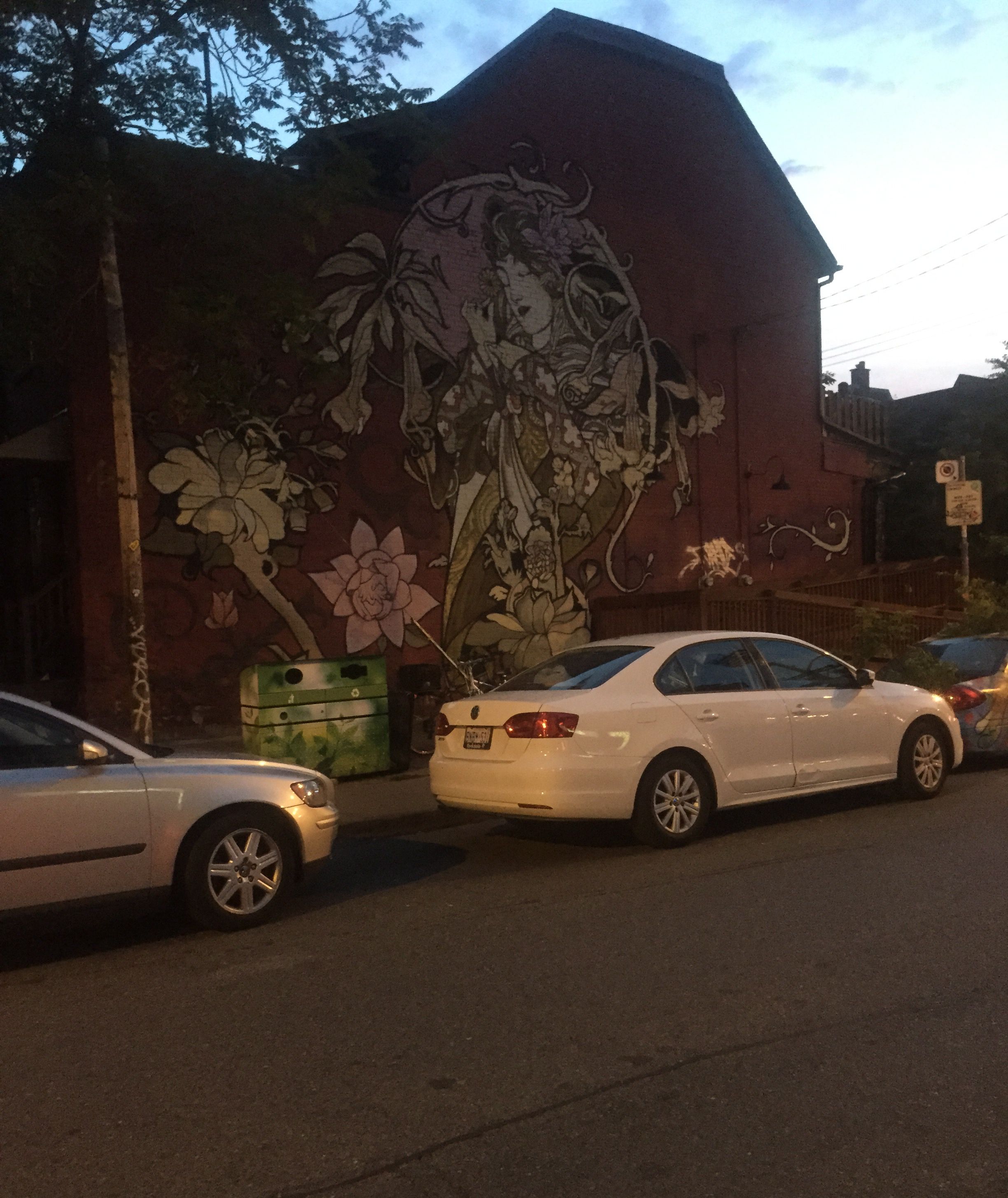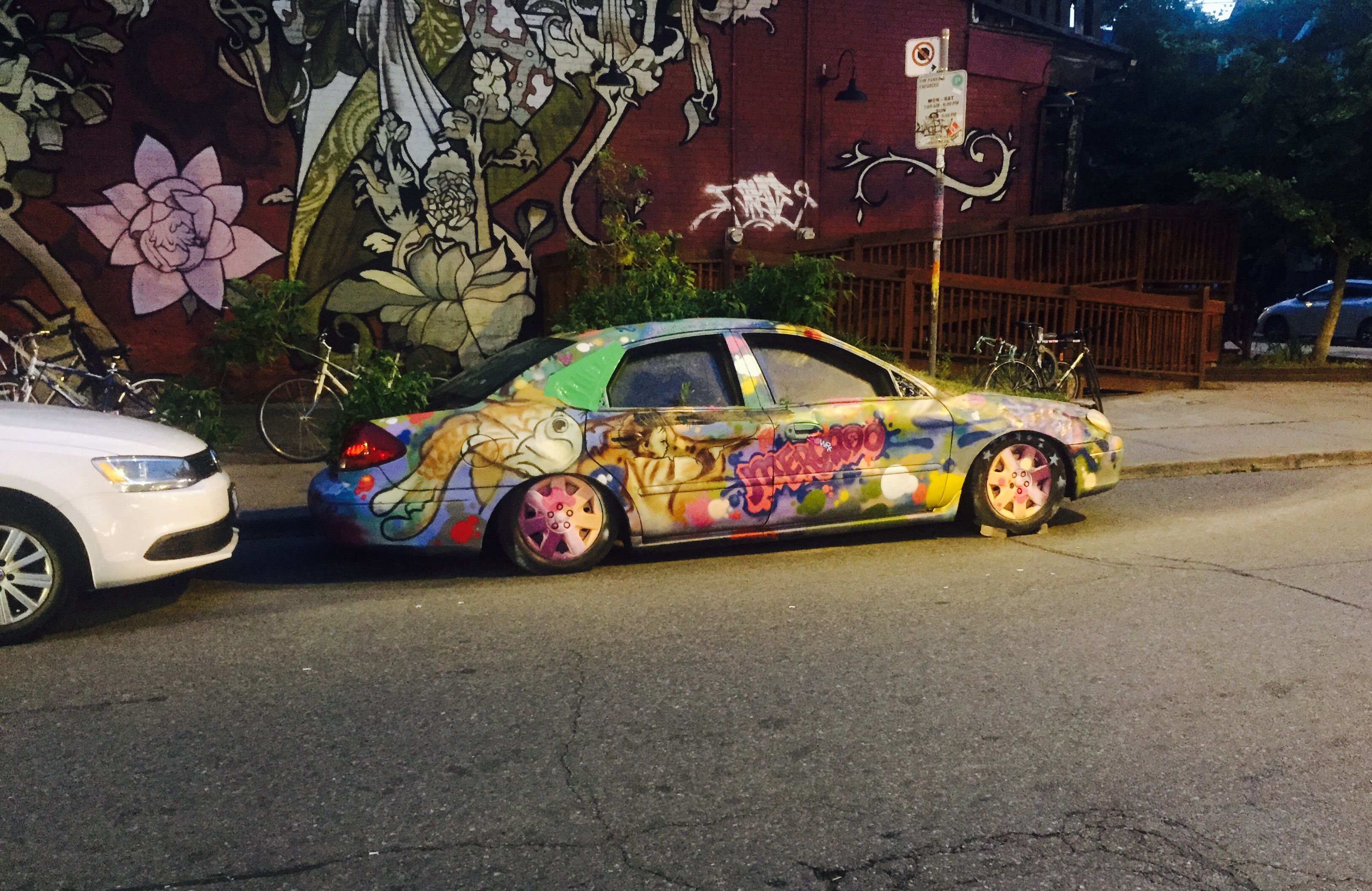 This car is permanently parked, with plants growing out of the windows, hood, windshield, and trunk. Other than the plants, it was completely painted and so interesting to see.
We got back to our hotel and were starving for dinner so we jumped in a taxi to Kensington Avenue, a super artistic street with tons of restaurants. My group of 4 split into two, two for Thai at Hungary & Thai (where I went) and two for Mexican at Pancho and Emilio I believe and we met up after for amazing ice cream at a place called Mr. Cream, I got Vanilla Brownie which tasted like Cookie Dough, my favorite!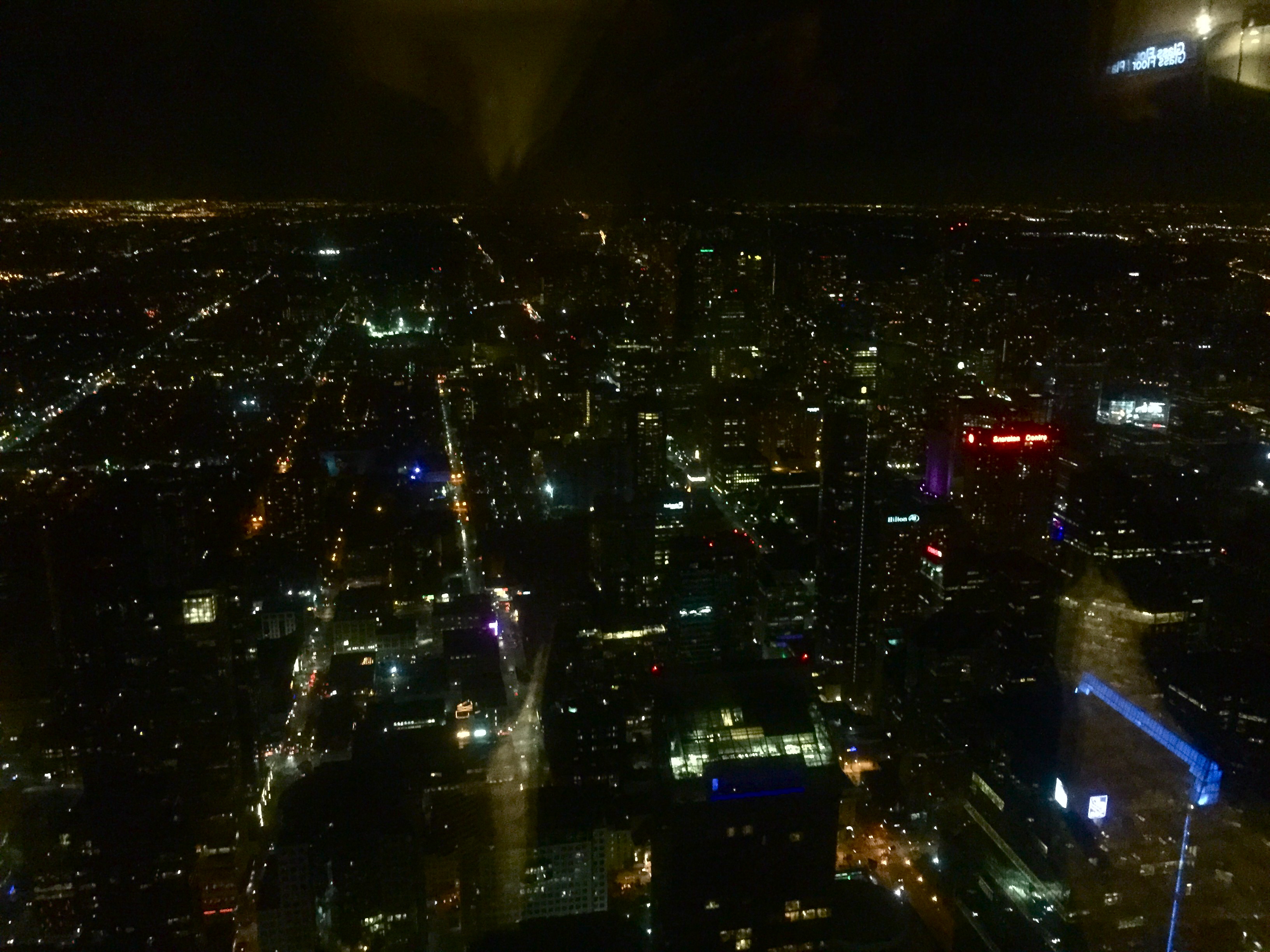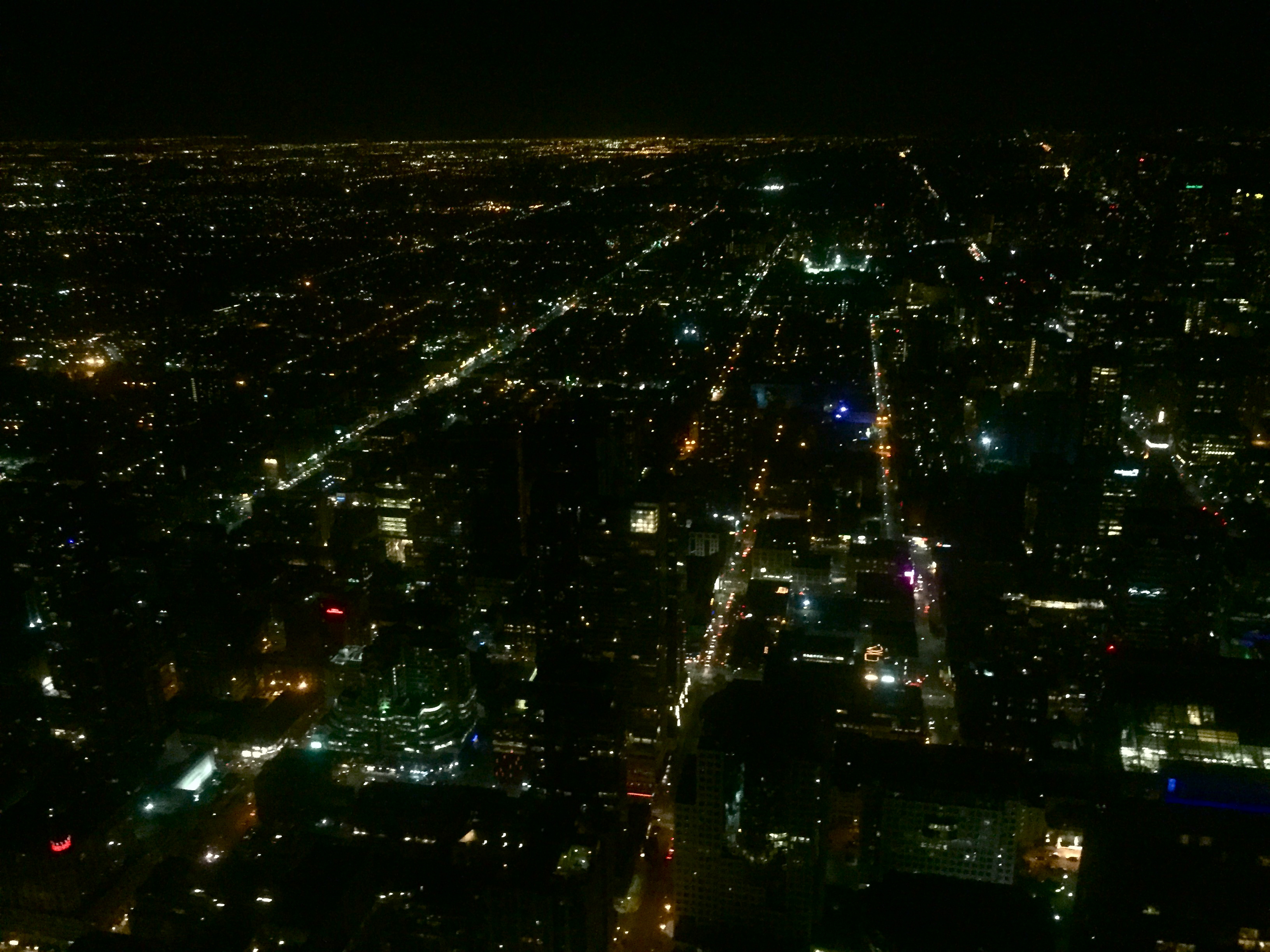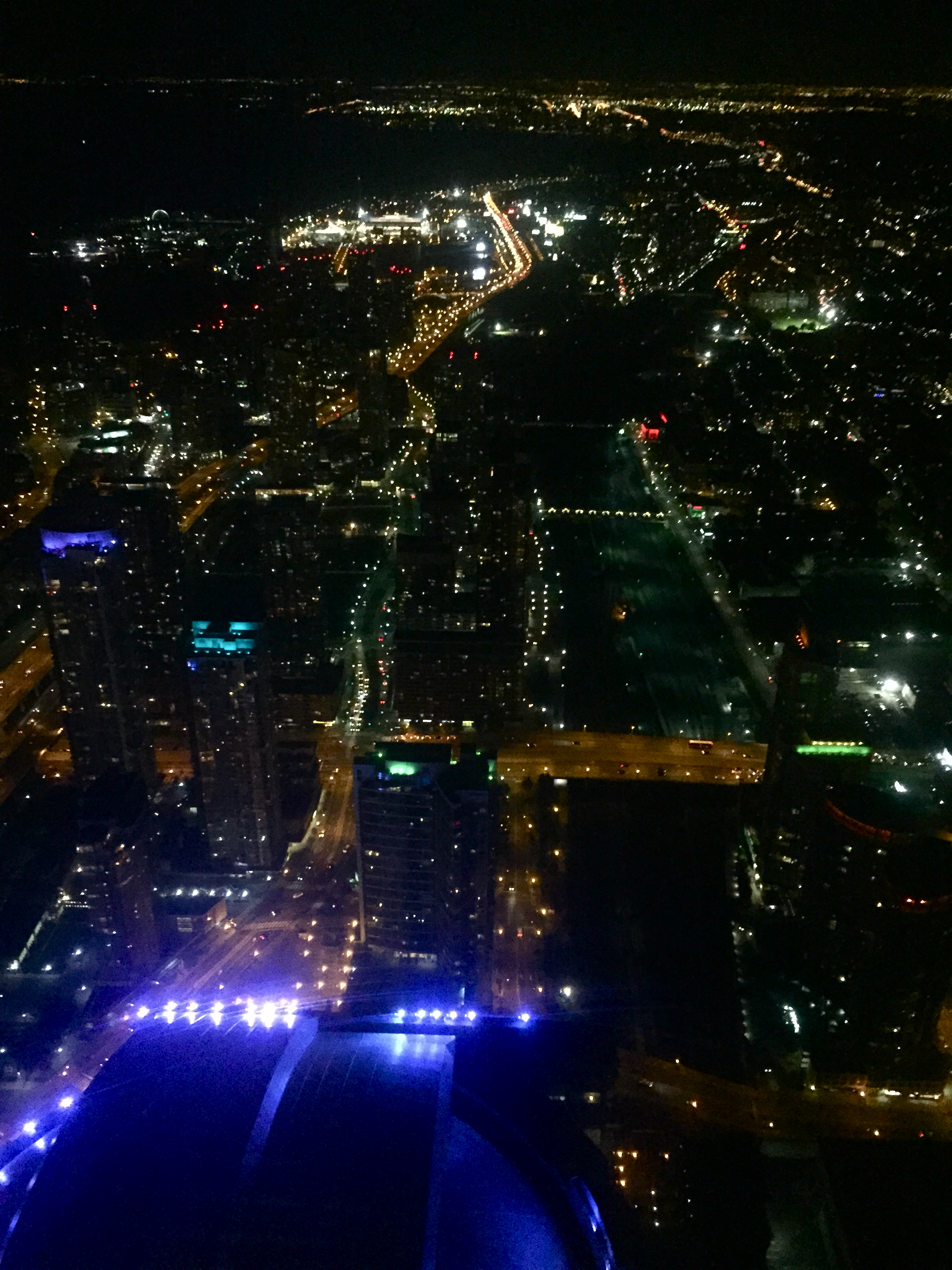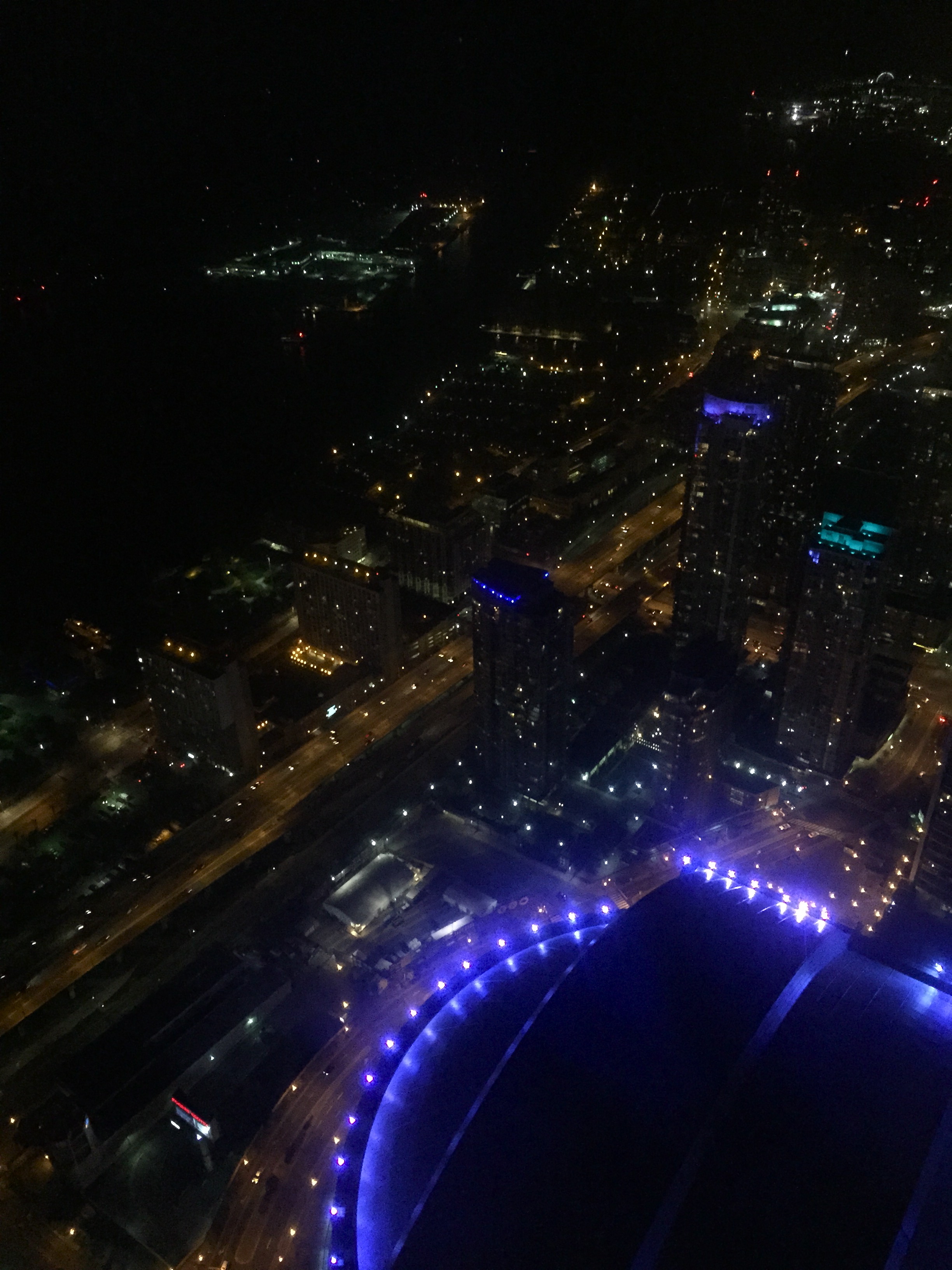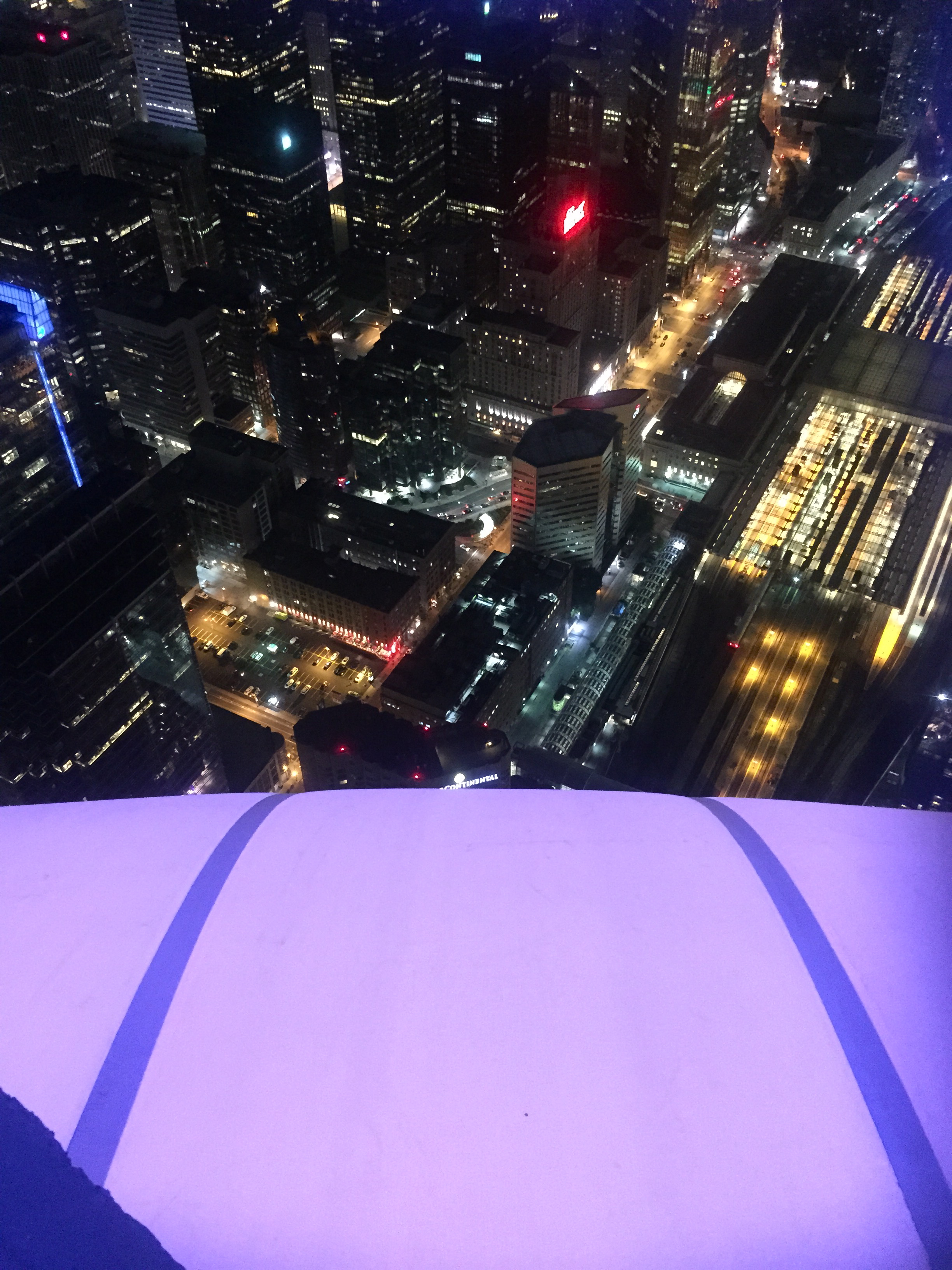 Later that night I wanted to go up the CN Tower no exceptions so I insisted I go up there and two other people from my group came along while one went back to the hotel. The elevator, with glass panels and floor panels, went 12 MPH and took 58 seconds to get up the 1,815 foot tall tower. The purple part at the bottom of the last photo is the surround of the observation deck that changed colors at night from red to blue to green and even a few blackouts to have no distractions of seeing the impeccable view.
We took a taxi home after it closed at 11:00 PM and went to bed after being awake for nearly 21 hours.This first day was probably my favorite day, seeing the CN Tower was one of my favorite things I've ever done and I am so happy I pushed for it.
Have you ever travelled to Toronto? What was your favorite part or what would you want to do if you went? Let me know!
xoxo