Hello lovelies!  I have another day in my Toronto trip for you here!  Today we adventured to the Canadian side of Niagara Falls as well as a small town near by called Niagara on the Lake!
This morning we all woke up under the impression our Niagara Falls tour bus left at 10:40 because a staff member at our hotel booked it for us.  We arrive downstairs to a Toronto sightseeing bus and quickly realize that the wrong tour was booked.  After many phone calls and lots of angry family members, we found out that the bus actually left at 9:30.  So we hurry over to the Greyhound bus depot (Greyhounds are like Coach busses that take a lot of stops and go anywhere and everywhere).  We arrived around noon but when we tried to book the mist boat (seen in the photos below), Behind the Falls, or the helicopter ride, everything was booked until 5 pm. But, we still got to see the Falls which were breathtaking.  You could feel the mist from across the street and there was a white cloud at the bottom because the water was moving so fast.  If you don't know much about the Falls there's two parts, the rounded end part and a straight part that falls on rocks.
We did get to go up the Skylon Tower, which is half the size of the CN for comparison, and it had impeccable views, this photo was taken from the elevator.  Which took 85 seconds and went 8 mph (odd fact, right?)  In this photo you can see the mist boat as well as the cloud at the bottom of this side of the Falls.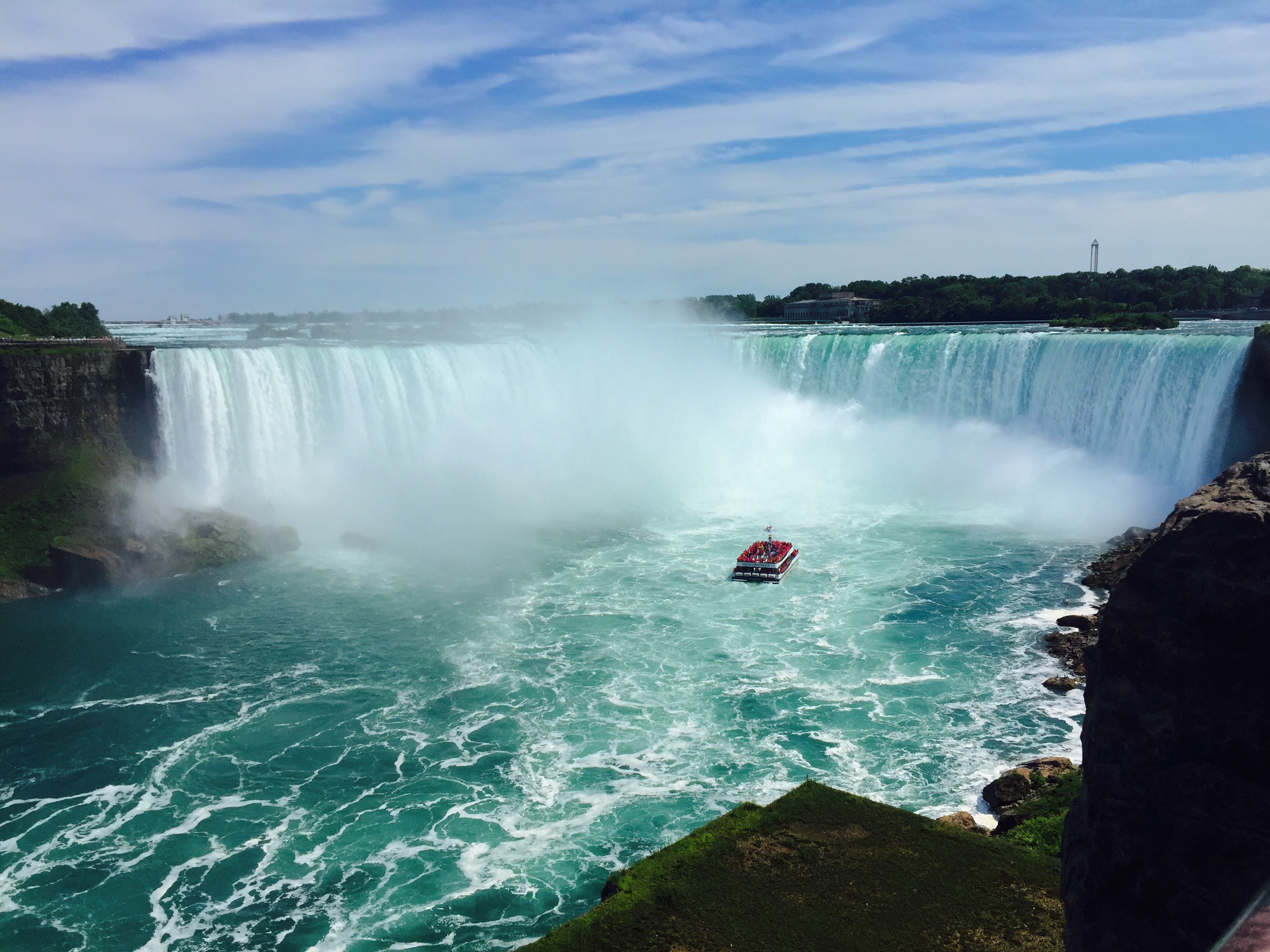 This is another photo of the mist boat and cloud.  The water was a beautiful teal color and we had a perfectly sunny day with gorgeous weather.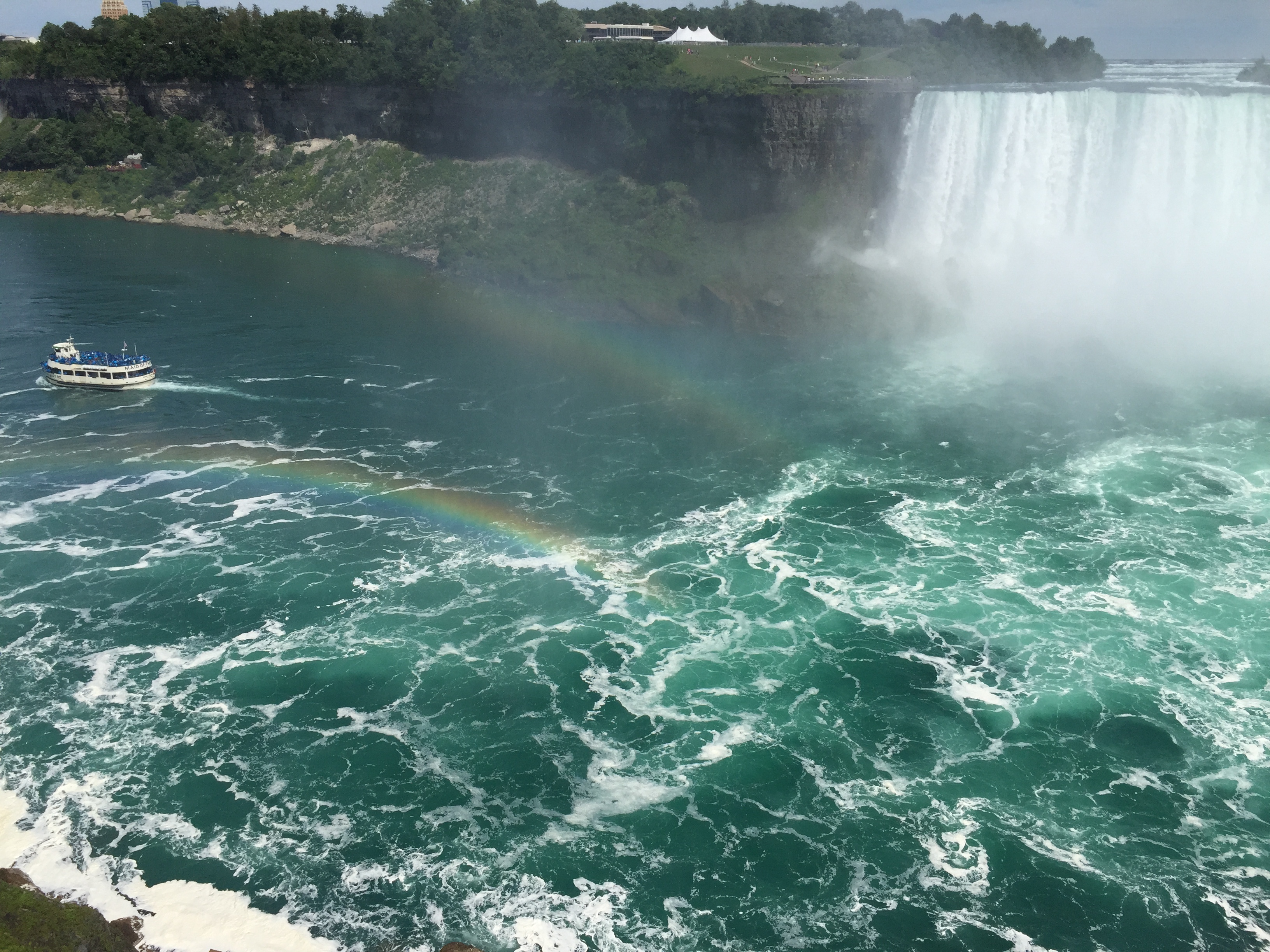 Because of the mist and the sun there was a rainbow but if you look above the first rainbow there is a second!  And the second is inverted with red on the bottom and violet on the top!  So interesting to see!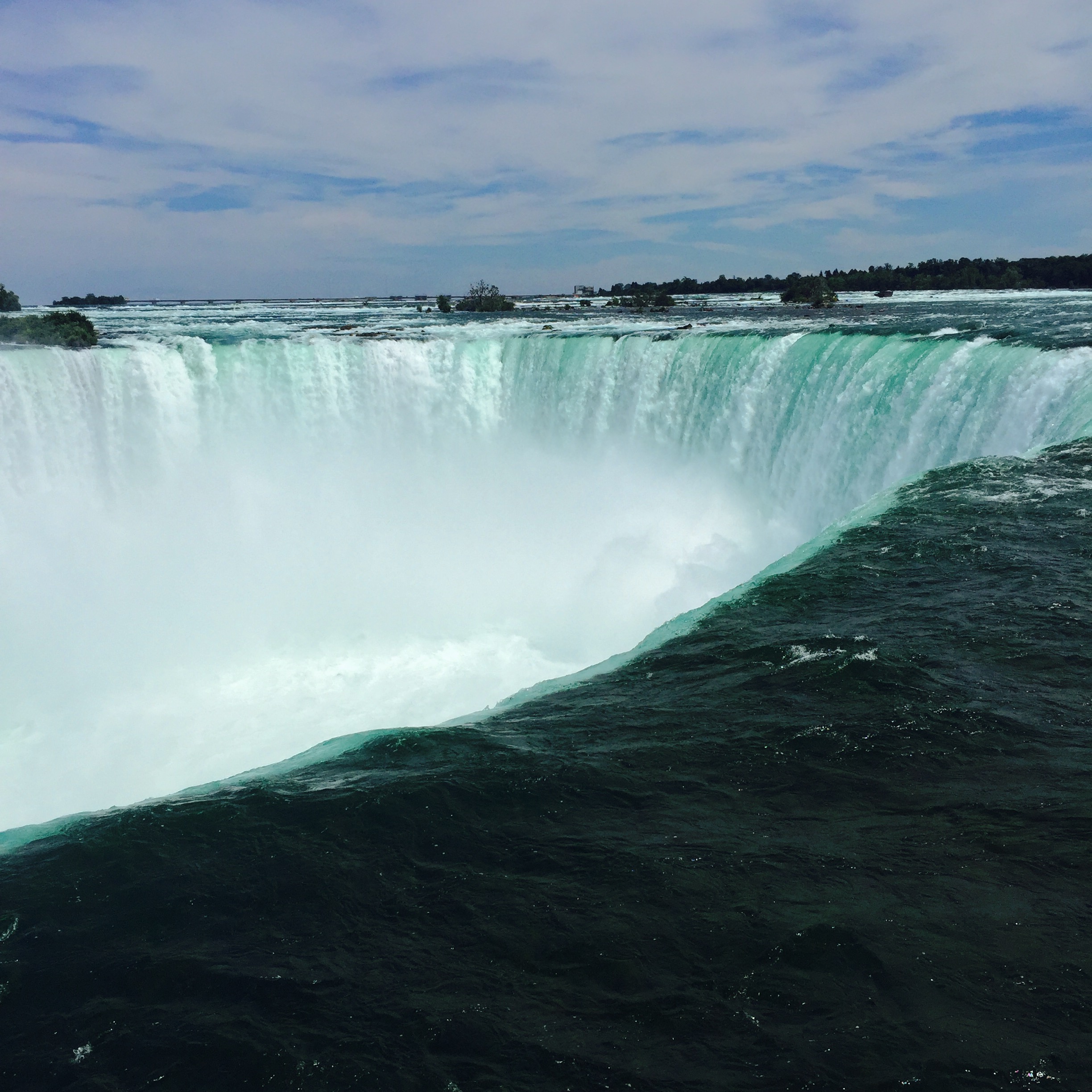 This photo you can kind of see how steep the drop is off the Falls, it is literally a 90 degree angle drop.  The water on top looked deeper than I initially thought it would be though I'm not sure how deep exactly.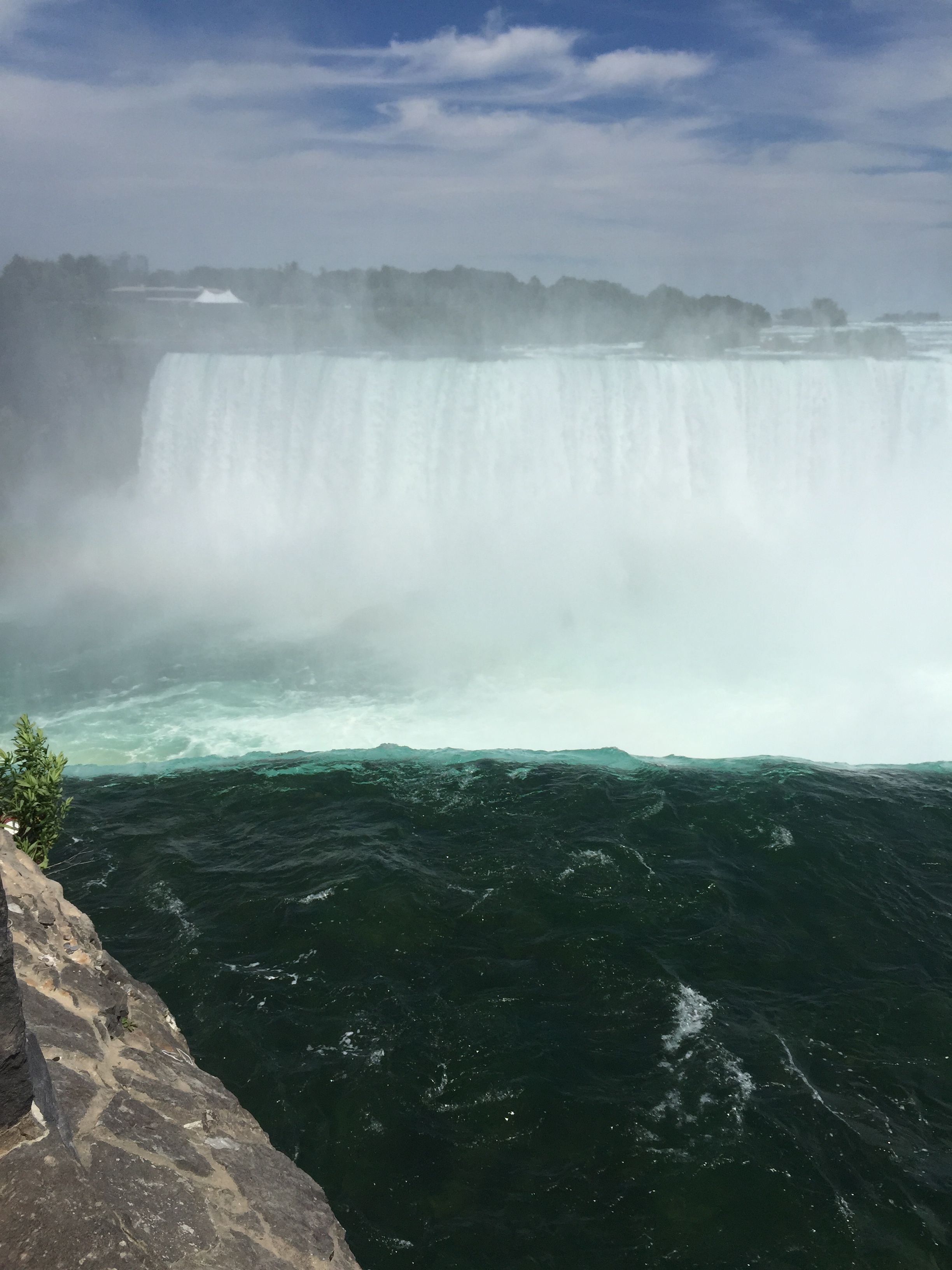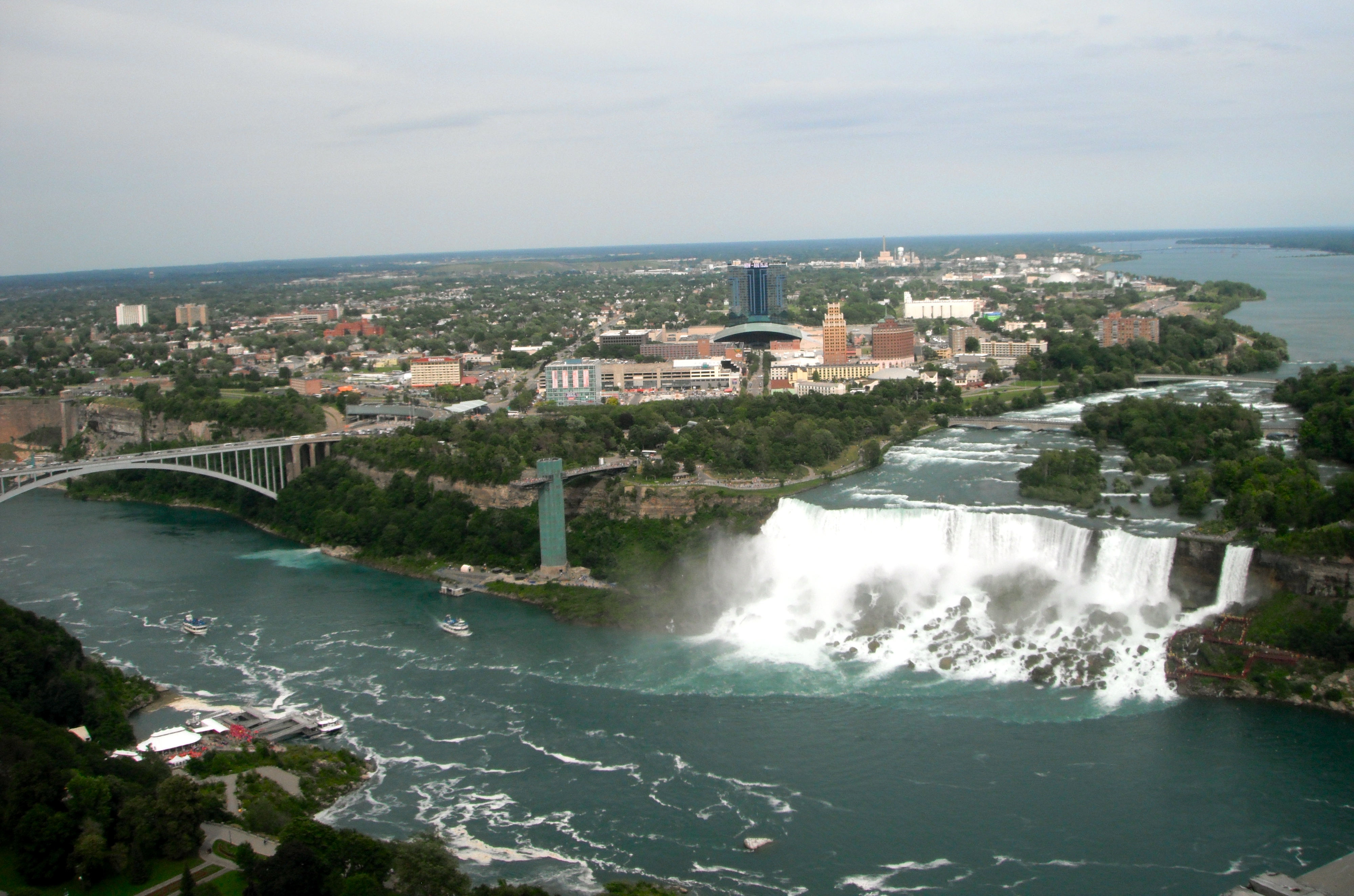 This is the smaller part of the Falls from the Skylon Tower elevator.  They are falling on these rocks which was just amazing to me that they will be broken down so much in a few years.  You can also see a bridge to the far left where you can cross into New York.  And the city in the back of the photo is Niagara Falls, NY.  In the bottom right of the photo you can faintly make out red boardwalks on the grassy area directly next to the waterfall.  This was one of the activities you could do while on the New York side.  There's also a green pole to the left of the waterfall where you could go out in a glass tunnel sort of thing and look from further out.
I think the view from the Canadian side would be better, and I've heard from so many people that the New York side doesn't have as many things to do.  So if you're planning on visiting, I would recommend the Canadian side.
Next we took a taxi to Niagara on the Lake which is a small town about 40 minutes from Niagara Falls.  It was such a cute small town.  There were huge flower arrangements in the ground instead of trees, there were so many little shops and great restaurants.  I also collected some random facts about IceWine, which is made from frozen grapes.  To compare, regular grapes give 10 drops of nectar to make wine while frozen grapes make 1 drop of nectar for IceWine.  But it is much much sweeter than regular wine and as you can imagine, insanely expensive.  There's no such thing as cheap IceWine like how you can get a cheap bottle of wine for $10.  No, IceWine is a small bottle for $85 Canadaian dollars.  What?!  And Canada makes 80% of the world's IceWine!  We saw a lot of wineries on the way and there were a few places to taste where half of my group tasted while us underage travelers sipped sparkling white grape juice.  It made a cute photo.
We went for dinner at Zee's which was delicious!  We all split two salads and a soup and each got an entree.   I got vegetarian risotto with a tomato sauce and a ton of veggies.  Also, my table ordered a steak and two swordfish.  Mine and the steak were deemed the best.  That is a nicer restaurant so if you're looking for a nice place to eat that is one I'd highly recommend.  There was a gorgeous patio and perfect weather.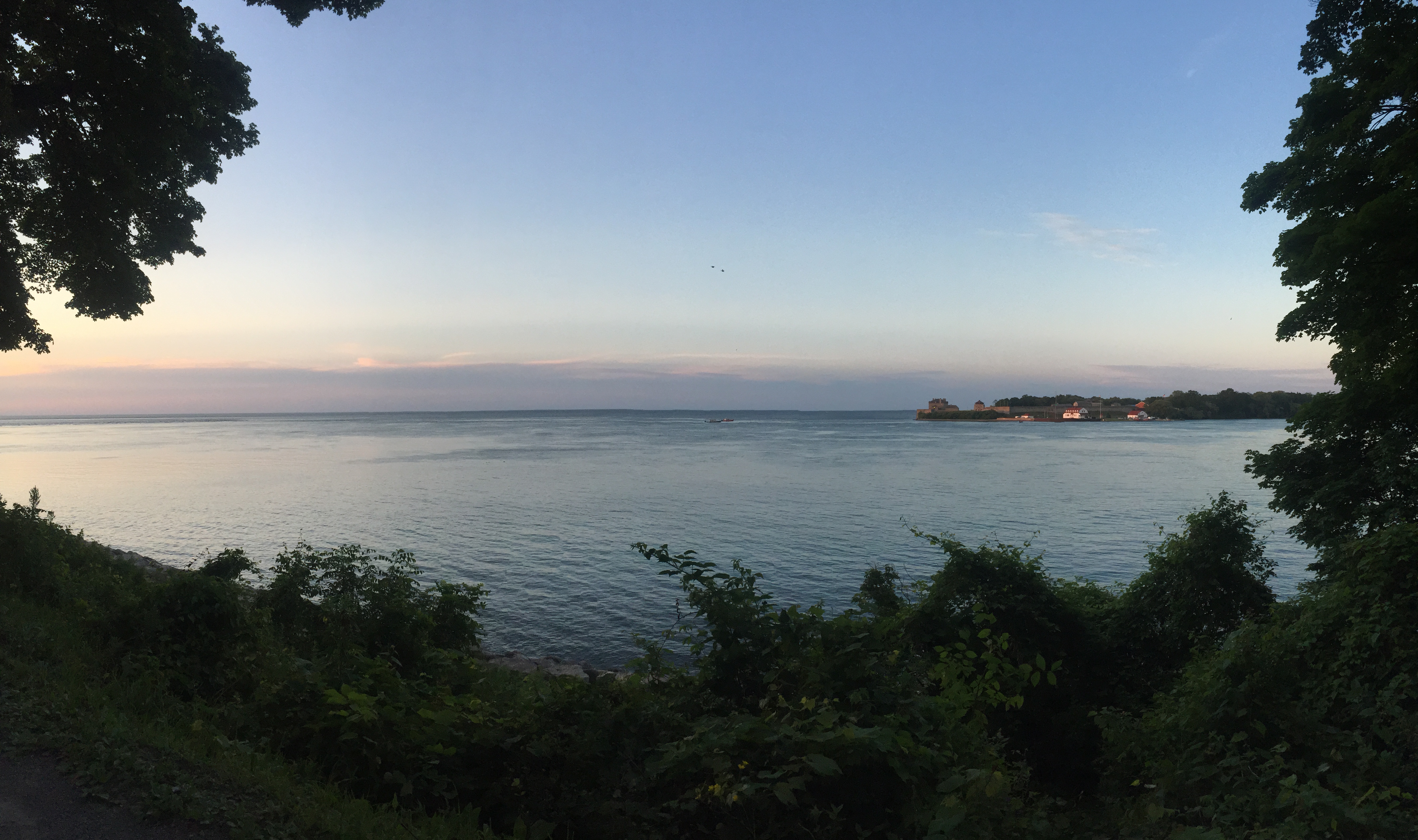 Next we walked to this little beach where our very kind taxi driver told us would be a beautiful sight.  This is Lake Ontario at sunset.  One of the most beautiful things I've seen.  (I believe this photo is unedited or very close to unedited)
Later we went back to get dessert, I got Mango sorbet, my grandma got a cookie, and my cousin got a scoop of chocolate ice cream from Cow's.  Let me tell you, that waffle cone was outstanding.  We walked into Cow's and the scent of those cones was heavenly.  I'm not exaggerating one bit, it was so fragrant and sweet smelling.
We had to catch our Greyhound back to Toronto at 10:30 so we called our same cab driver, he picked us up and we were on our way.  We ended up getting home around 12 midnight.  And all went to bed, exhausted.  It was a full day of amazing sights and beautiful nature.
Where do you want to travel?  Let me know!
xoxo