Cost: $19.99 bimonthly, $59.97 for 3 boxes, $119.94 for 6 boxes plus Shipping
So here's the deal: "The Beauty Bundle is e.l.f.'s new makeup subscription plan that sends an assortment of our top-rated products straight to your mailbox every eight weeks. With three different subscription plans to choose from, you can get your beauty fix at your own pace, on your own budget. It's the perfect pick-me-up of your favorite e.l.f. goodies, at the perfect value! No need to worry about picking matching colors or deciding on the perfect palette–We'll do the hard work for you! Our expert makeup artists will curate an amazing selection of our best products, all in our favorite neutral colors designed to look beautiful on every skin tone, and ship it your way!"
This month has been one of my favorite months, only one or two items were "off" for me! I loved all the colors and pulling everything out of the bag was just good things one after the other!
What's Inside:
Studio Waterproof Mascara Top Coat, $3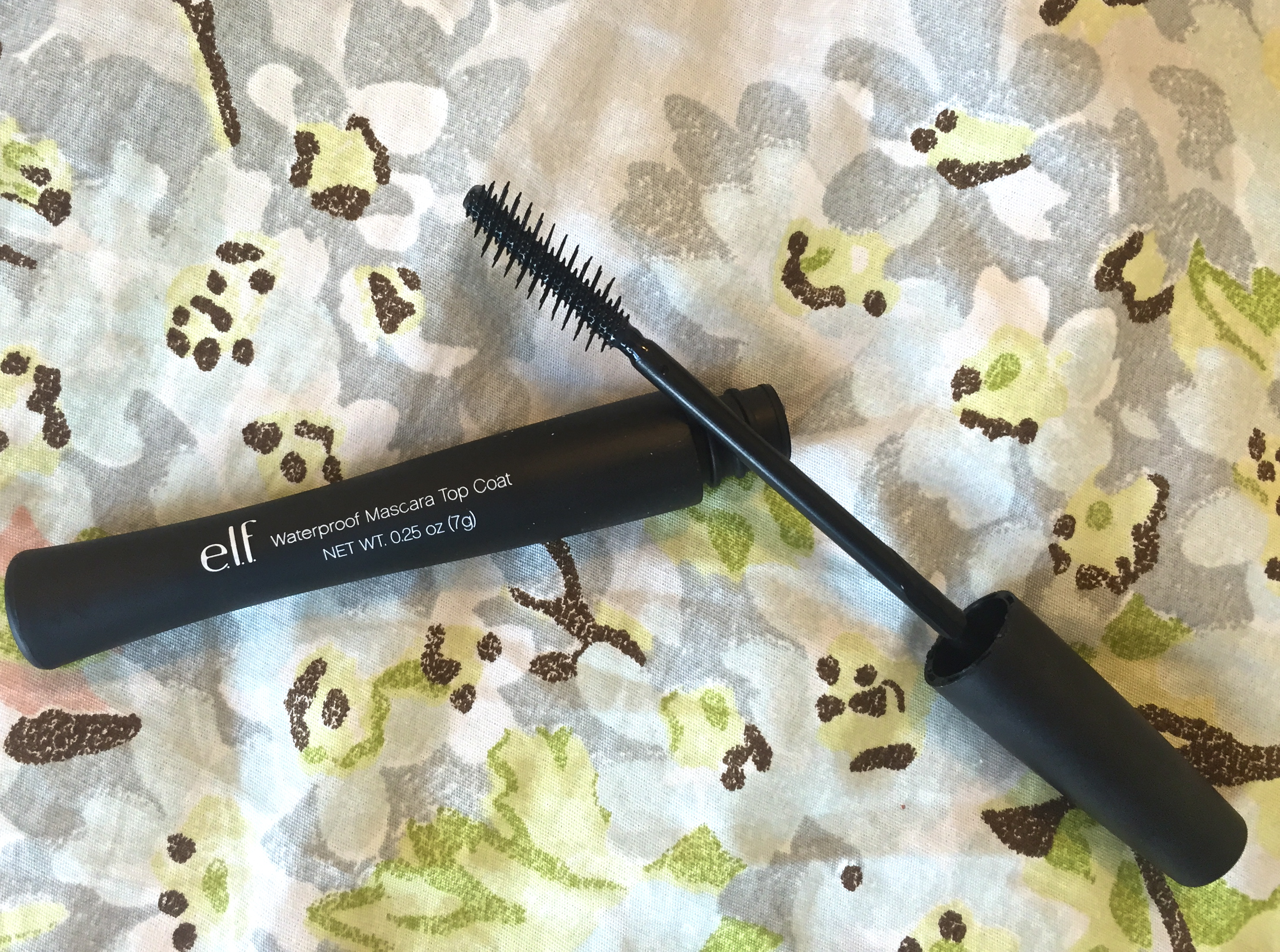 This is something I've been wanting for so long and I'm thrilled that I got it in this box. A mascara top coat is so you can use your favorite washable formulas but swipe this on instead of picking up a crispy mascara. This seals your mascara so the water won't make it run, genius! The brush is super cool too, the bristles are at a diagonal! There's Vitamin E in the formula which conditions lashes to help keep their softness. The brush combs through lashes evenly coating them with a lightweight waterproof shield. Apply two coats for best results but one works just fine.
Essentials Jumbo Lip Gloss Stick in Tiki Torches, $2
This is a shimmery lip crayon that has a lot of shine with a great orange color to it. It doesn't have the best staying power ever but I like how moisturizing it is! With nourishing Jojoba, Soybean and Vitamin E key ingredients, it moisturizes your lips like a lip balm but has more intense color than a tinted balm. The twist-up sharpening system and smooth formula are easy for on-the-go application, exactly what we are all looking for!
Studio Matte Lip Color in Natural, $3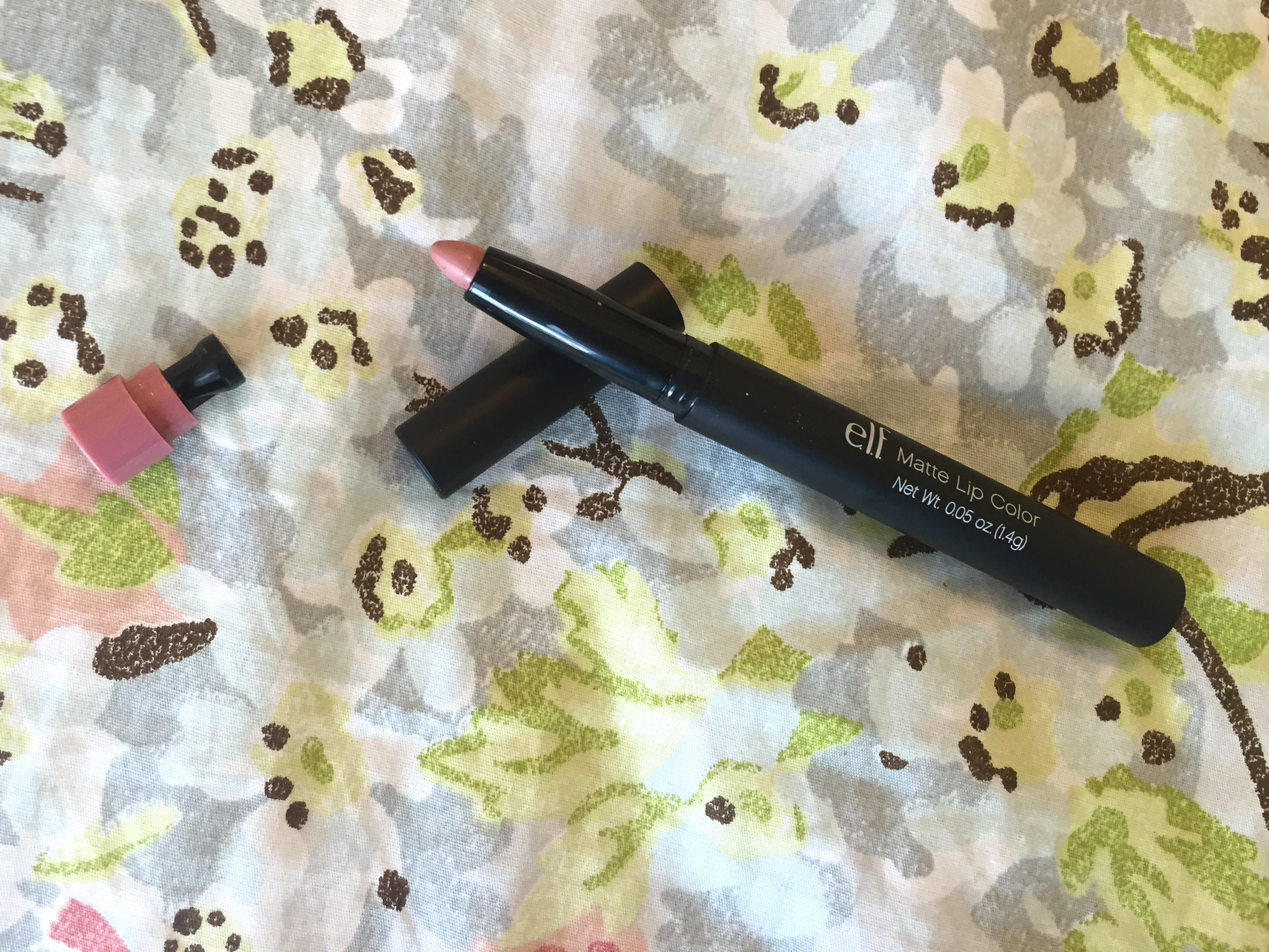 We got this a few months back in this shade which I was a bit disappointed about because I definitely will never use two of these, I might pass this along to my sister or keep it on the off chance I finish the other one. I do like the color though, it's a sort of blue undertoned pink nude. It's a bit pale but looks fantastic with a light pink gloss over top. The rich color glides on effortlessly to give long lasting matte color. The pink bit at the bottom comes off and is a sharpener so that when you twist it up, you can sharpen it back into a point! The pointed tip is one of the best things about these, it's easy to fill in your cupid's bow with the point! The enriched Vitamin A, C & E formula hydrates lips for beautiful healthy looking lips, what more could you want?
Essentials Smudge Pot in Gotta Glow, $3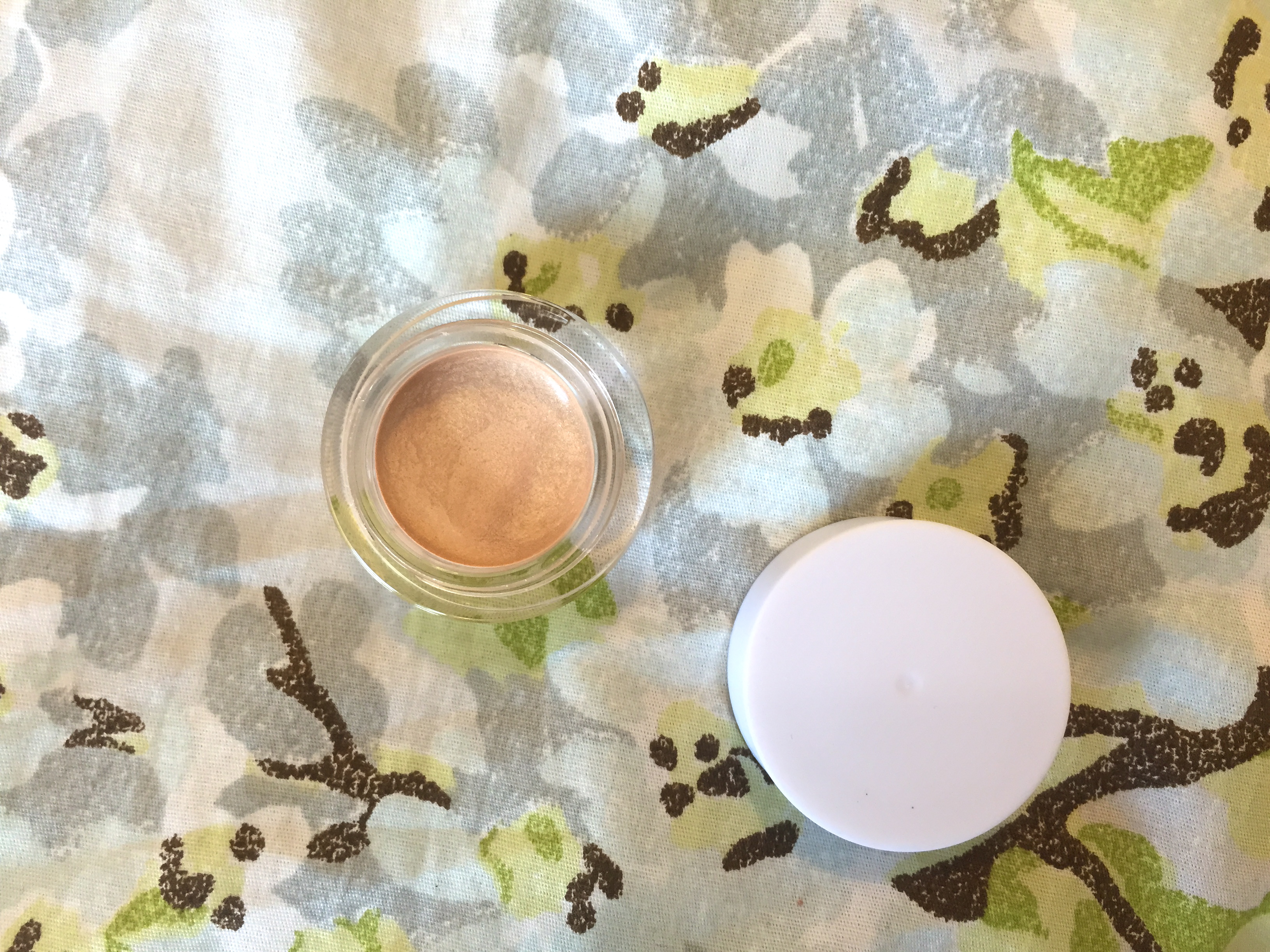 This is a gorgeous yellow-champagne shade that has a lot of shine and could be used as a highlighter when used sparingly. I have! I really love the other smudge pot I got a few months back in Back to Basics, it is copper which I use as an eyeliner or shadow. This is amazing for brightening my eyes a lot and would look amazing with a cat eye and long lashes! The super smooth gel formula glides on perfectly. It's enriched with Vitamin E to nourish and hydrate your eyes!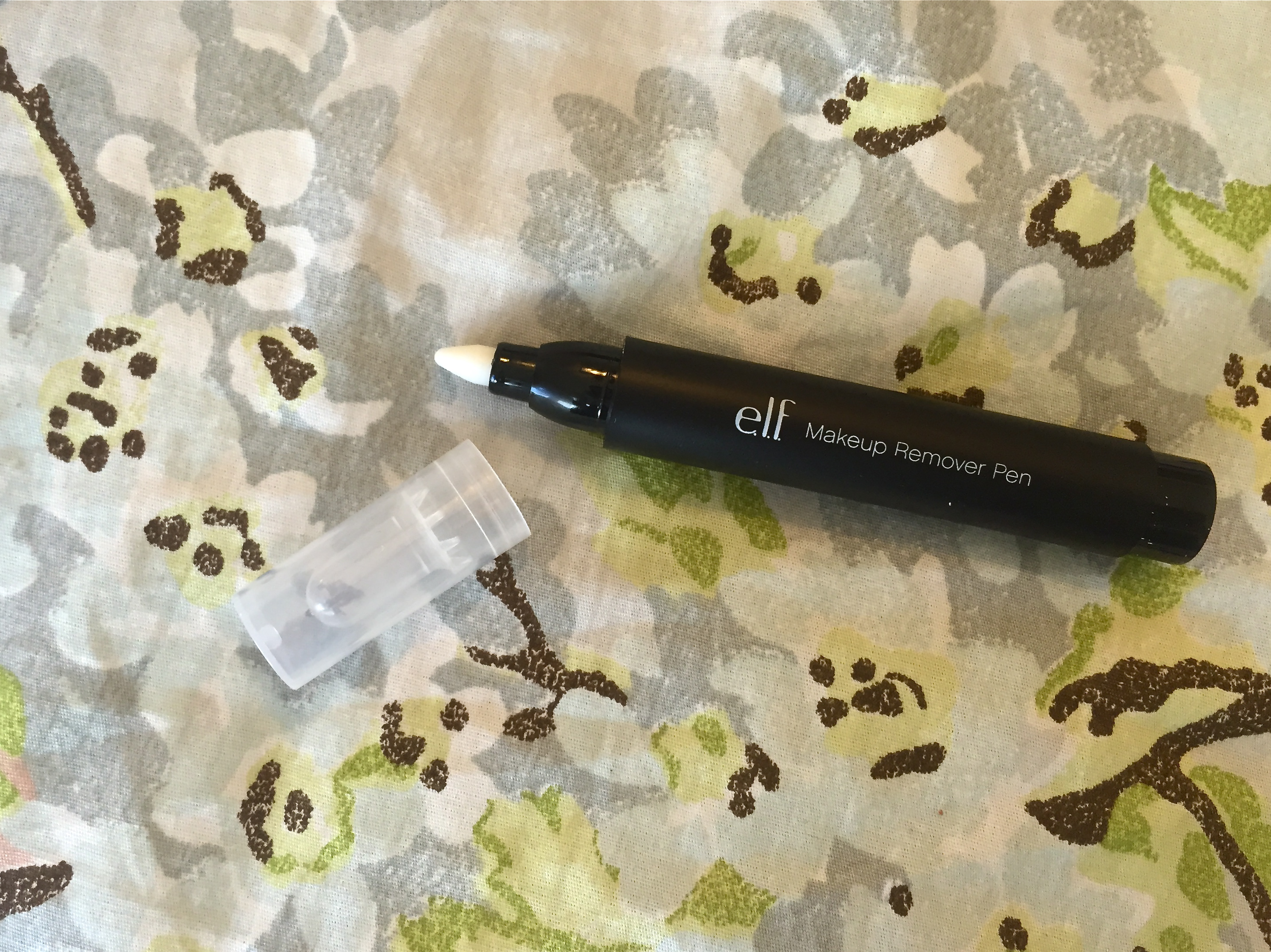 This is SO handy for eyeliner and when you flinch and get mascara on your nose. Rubbing it causes it to smudge and then you have to redo your entire nose/eye! Trying to get it with a cotton swab before it dries can be tricky and can still leave dark marks. It's also nice for around the lips if you've smudged your lipstick. This eliminates the problem and all you need is a dot of foundation for making it smooth again! The gentle and non-greasy formula erases even long wearing and waterproof makeup for touch ups, perfect for throwing in your purse or gym bag when you're on-the-go! Infused with Vitamin E, Cucumber and Chamomile to moisturize and condition skin.
Studio SPF 20 Sunscreen Primer, $6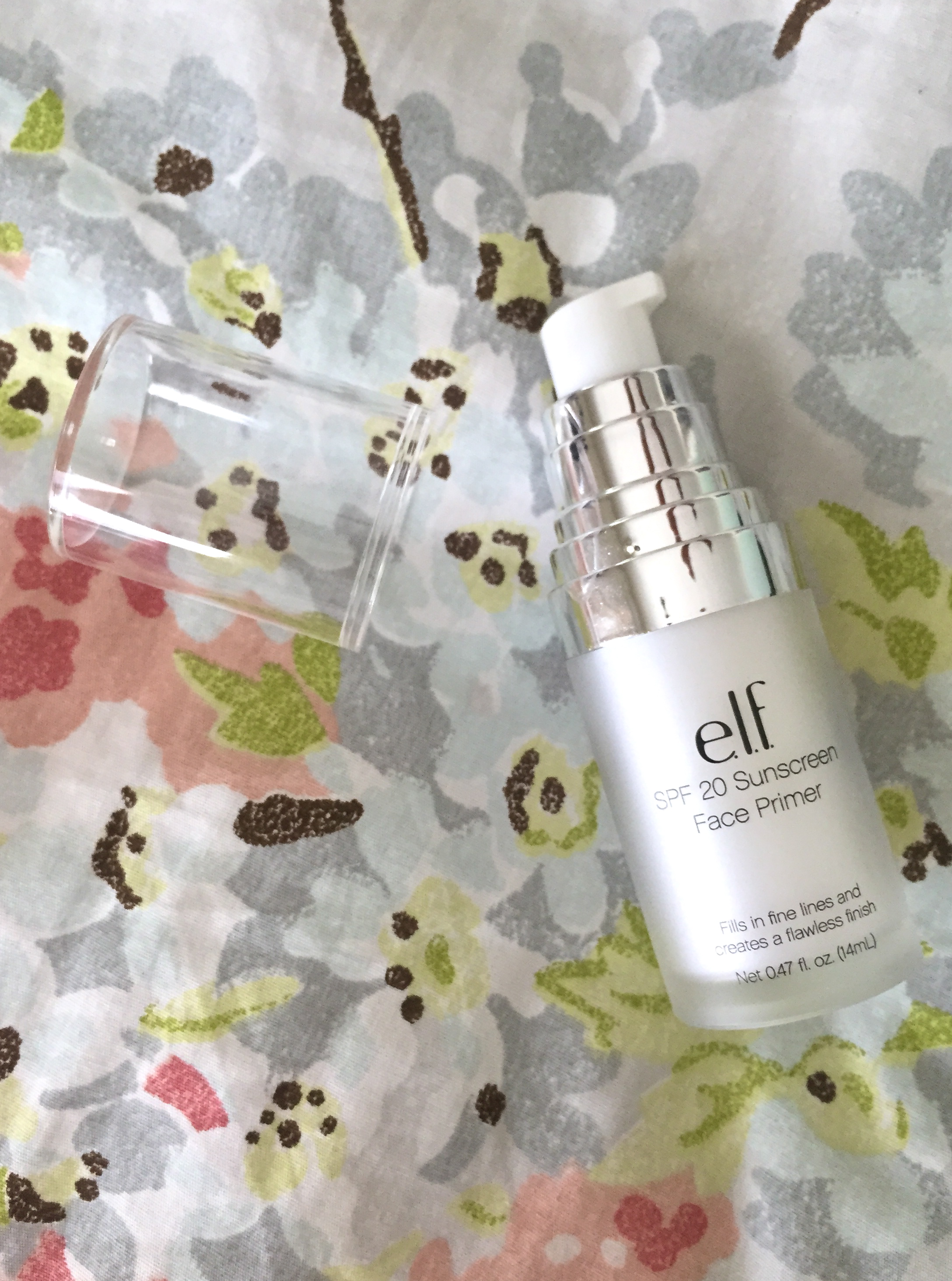 This is awesome for the summer when my makeup is literally melting off my face and I need a bit more SPF in my routine. This has that similar feel to the Smashbox Photo Finish Primers how it is like a gel but I love that this has a pump. This is one I use daily! Developed to combat excess oil, flaky dryness, enlarged pores and fine lines to result in a natural and youthful looking radiance, all things on my list! I use this mixed with a tinted SPF moisturizer to make sure my skin is protected from the sun.
Essentials Waterproof Eyeliner Pen in Black, $2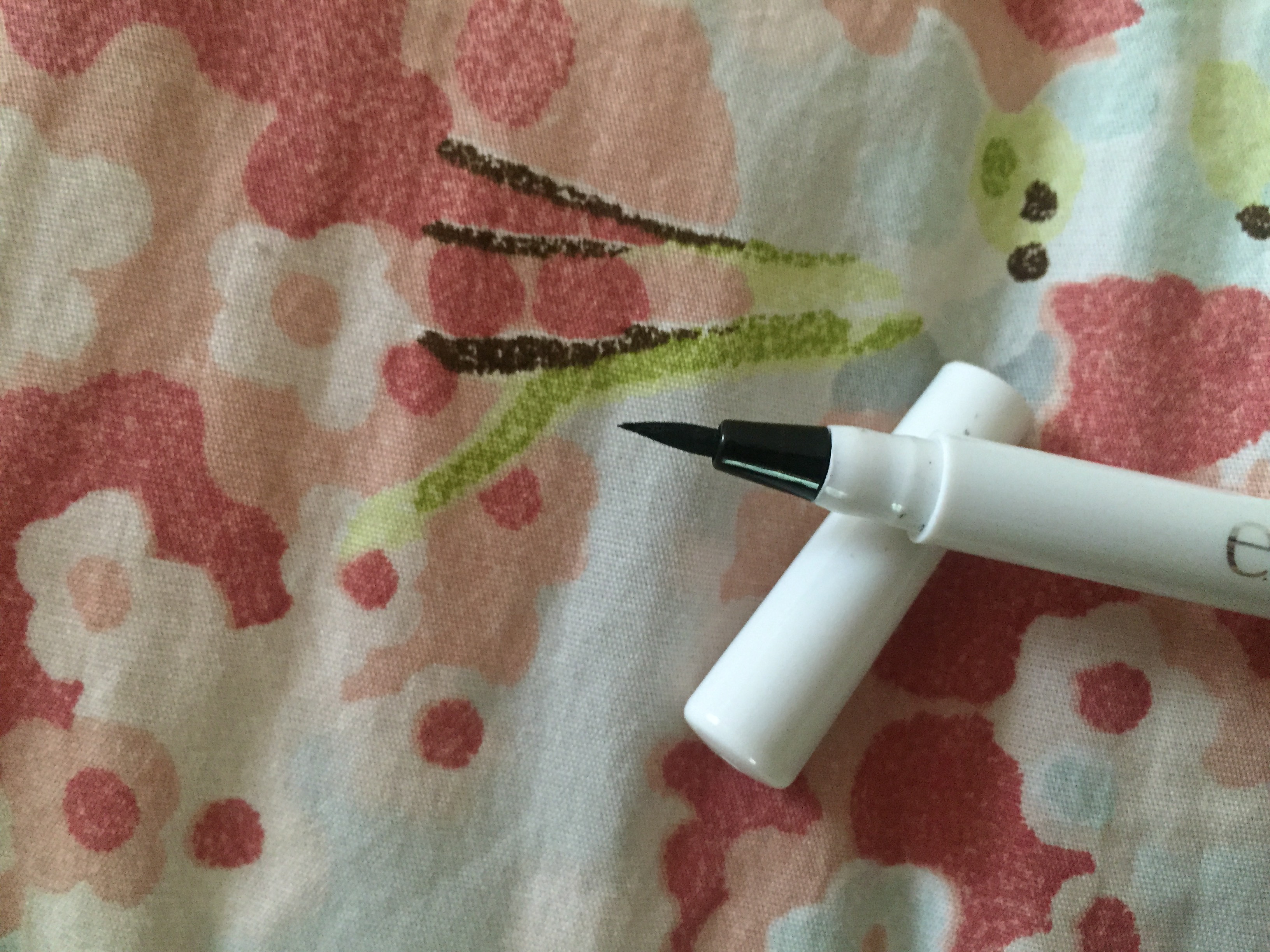 This is super fine point and great for a super slim line. It stays forever and dries fast. This is one of my favorite eyeliners, when I do choose a liquid it will be this one! Get smudge free with this no-budge eyeliner, which creates a fresh look of precision that lasts for hours. The smooth felt tip applicator easily glides on color for very fine to bold lines for effortless beauty, which is the main goal, right?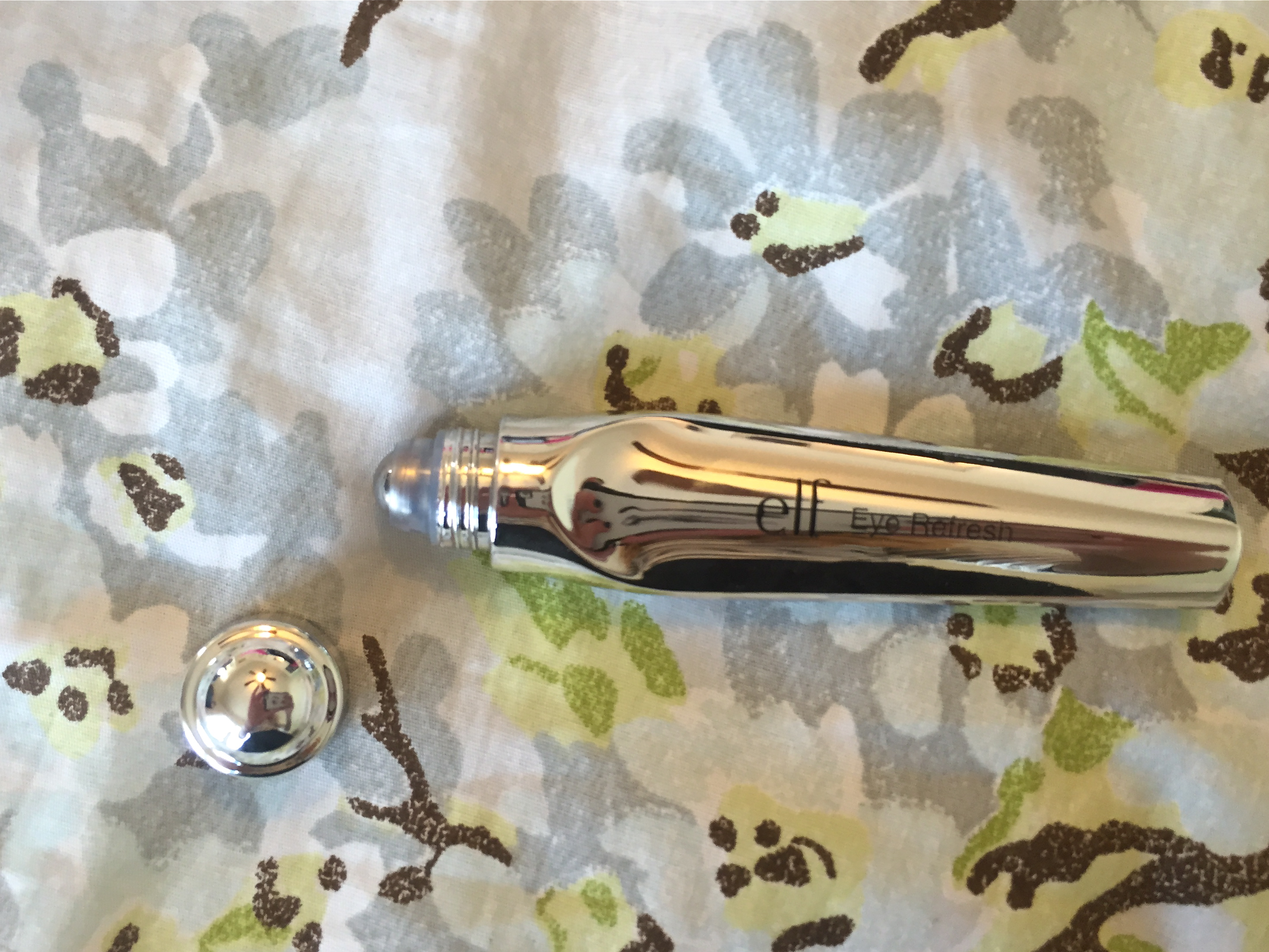 This is actually something I've been wanting for a really long time but I never wanted to pay $10 for that Olay Fresh Effects one so I was going to buy this but with my luck I would've gotten it in this box the next day so I waited it out and I finally got it! it has a rollerball that's cooling and acts as a de-puffer and an under eye primer as well as brightens the eye area to help alleviate under eye dark circles. Infused with ingredients like Pomegranate, Rosemary, Green Tea, Cucumber and Grape to nourish the delicate skin around your eyes. Perfect for portable on-the-spot treatment to awaken the skin throughout the day for a little pick-me-up, also great for early mornings and late nights!
Studio Pressed Mineral Bronzer in Baked Peach, $5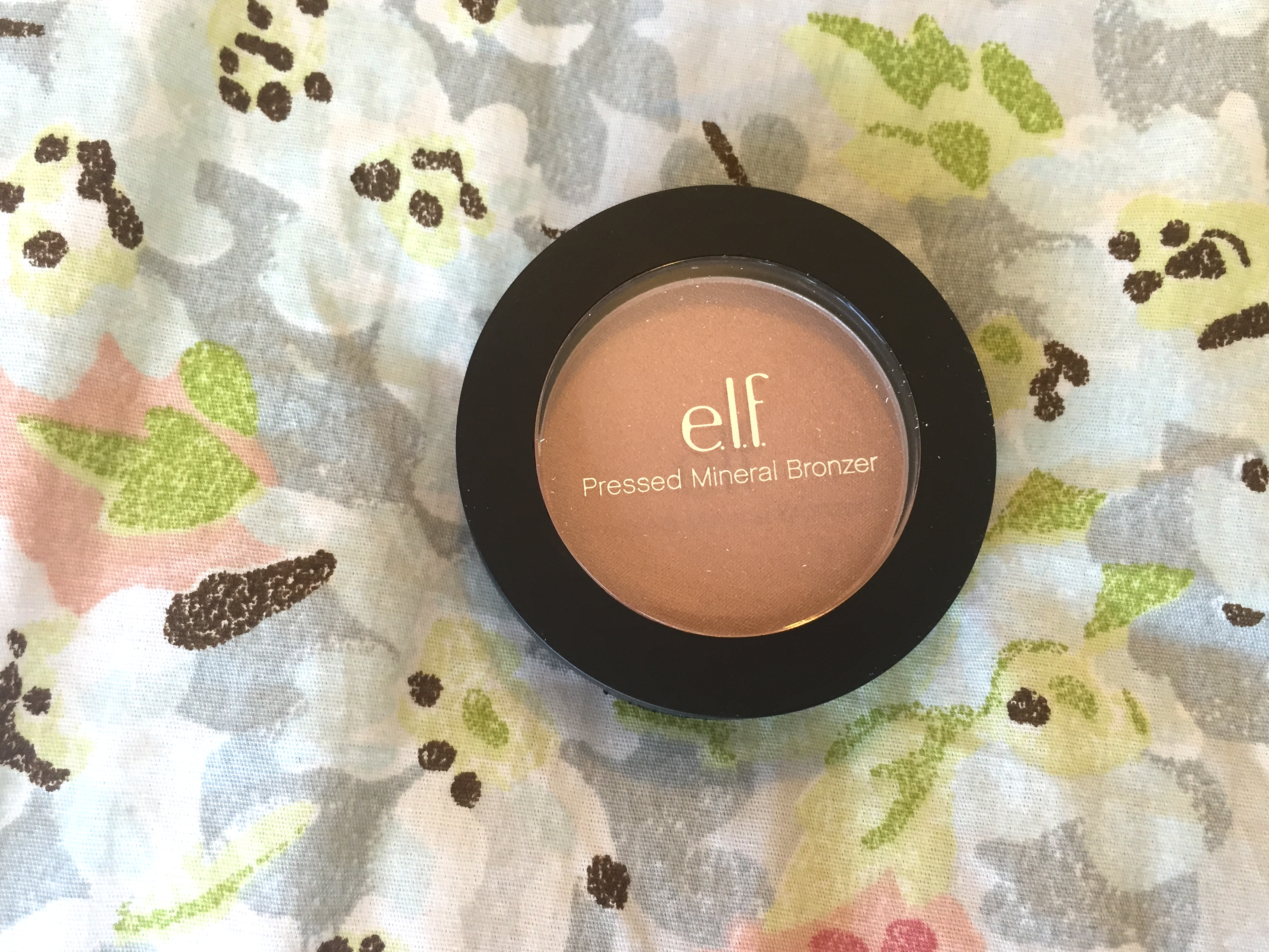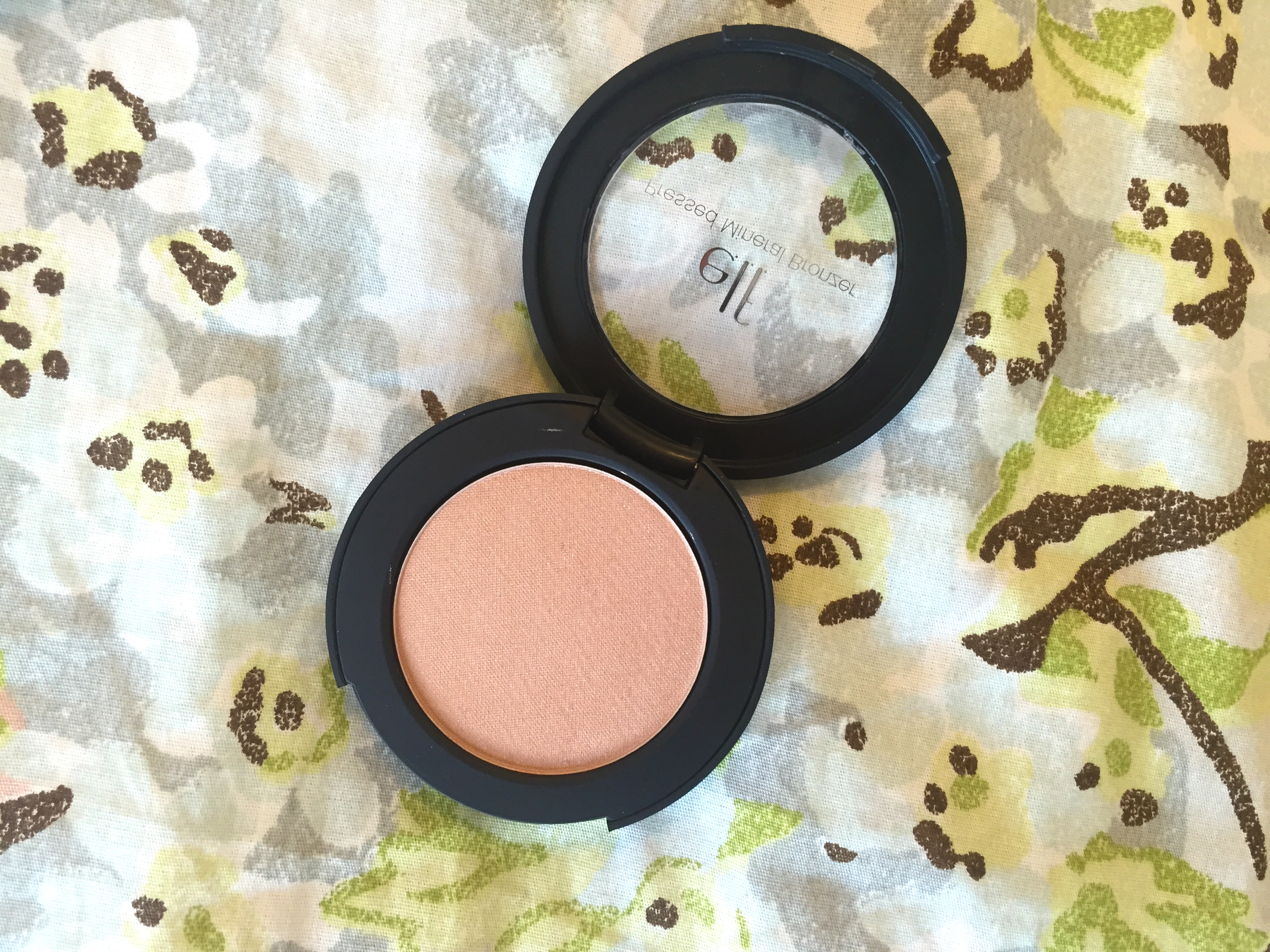 This is such a light bronzer I could probably use it lightly as a face powder because I have quite a tan right now. It has a nice healthy shimmer and it super wearable because it's so light! I use this every day just to give my skin somewhat of a glow. The silky smooth texture of this pressed formula is blendable for everyday wear with any skin tone. Infused with Vitamin E and Grape to help nourish the skin for a more revitalized feel.
This is awesome, you mix a few drops of the liquid in with your powder, liquid, or cream makeup (foundation, lipstick, eyeliner, etc.) and mix it up in the little pot. Apply it and it will stay much longer! This is such a cool product! When i got it though, it seemed to have leaked into the box but it wasn't cracked and there was no product coming out of the opening(????). It stopped leaking but still, mysterious. You can easily increase the intensity of your makeup colors and lock it on instantly. Coat your eyeliner, shadow, lipsticks, blush, brow color and more for a sealed smudge-proof wear. The quick dry and easy to use formula keeps your makeup in place for hours.
Little Black beauty Book Warm Edition, $8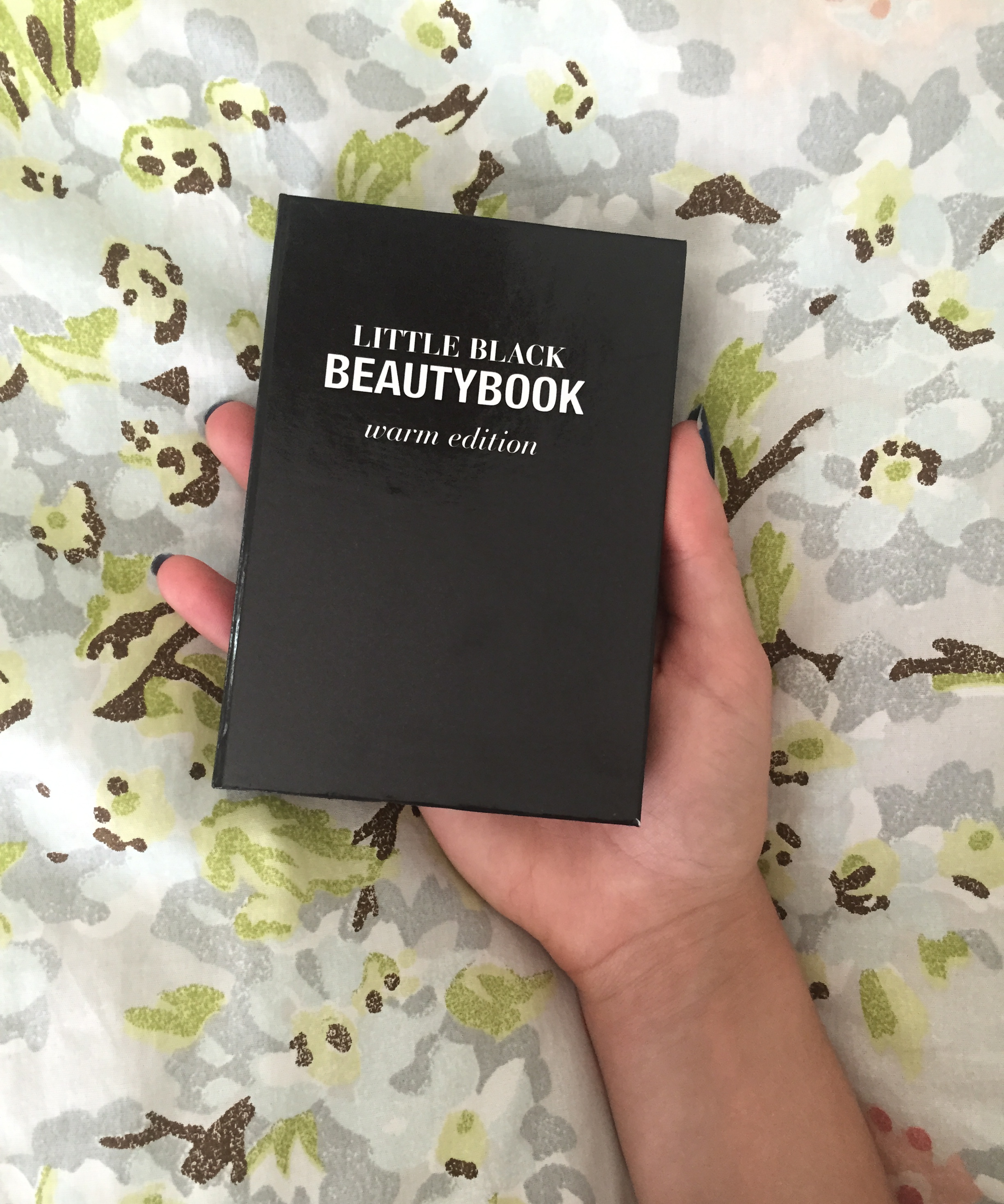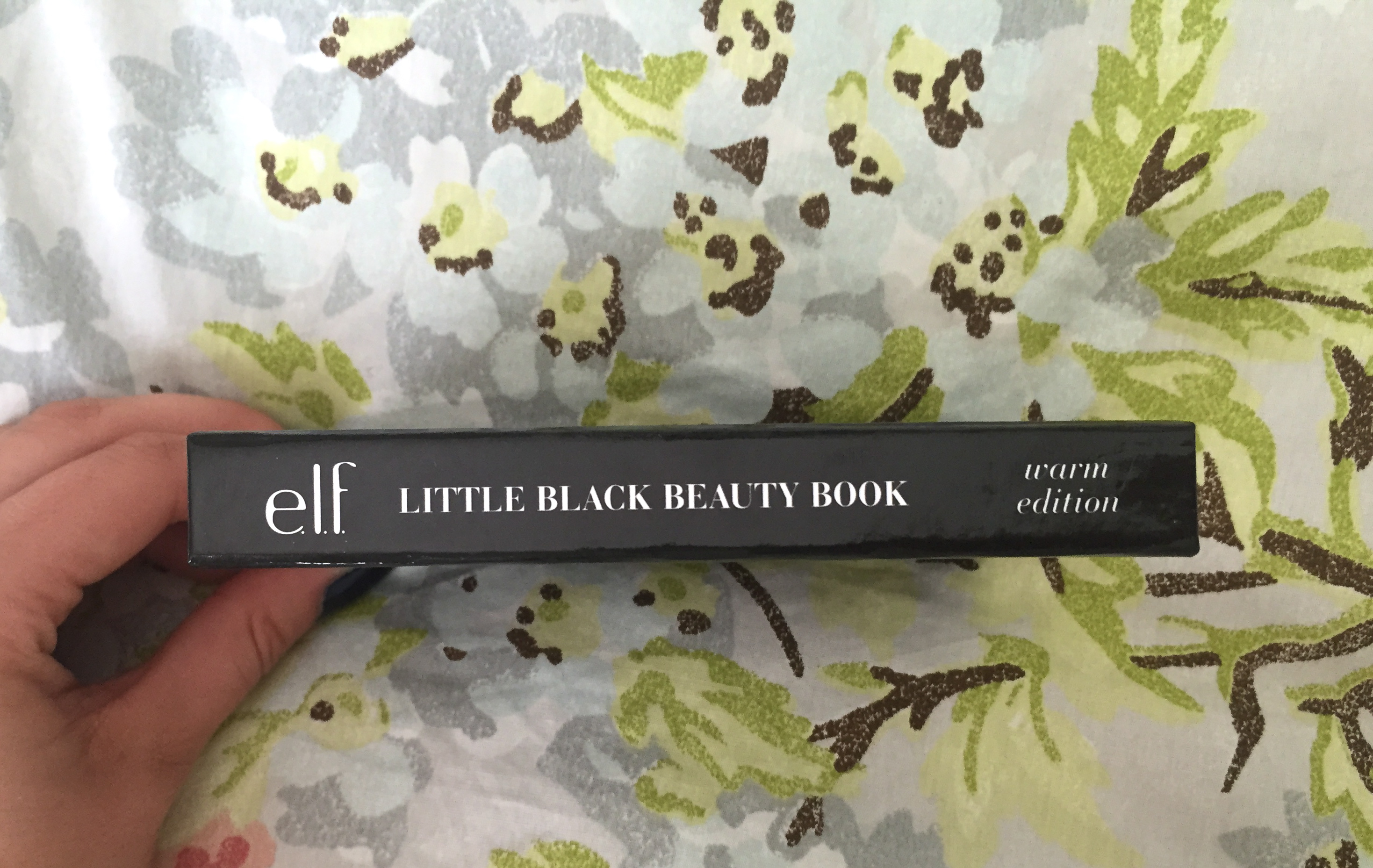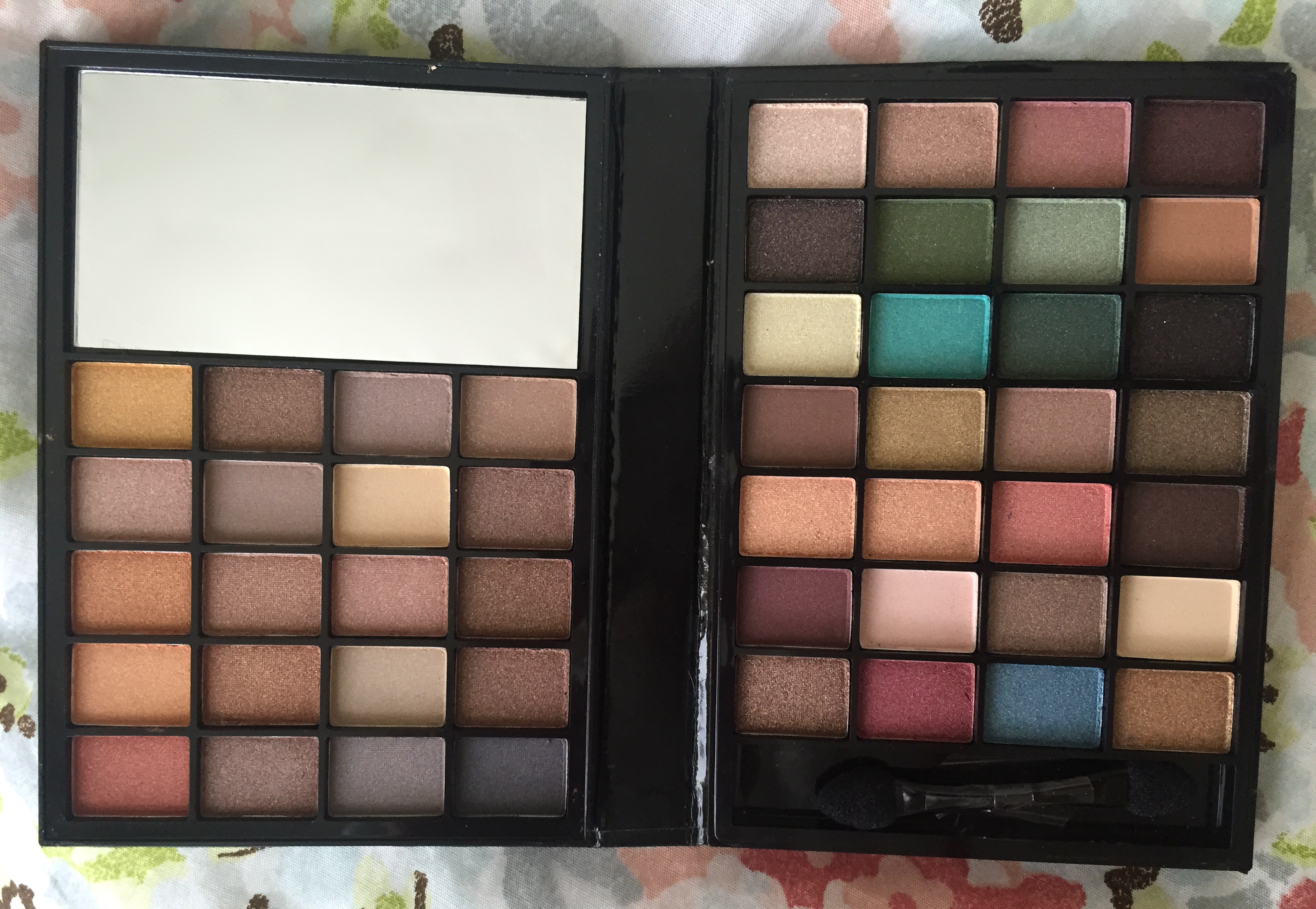 This is the perfect sized palette with 48 warm shades and a big mirror. Honestly I don't need huge amount of each shade so this is perfect for me. The entire side with the mirror I will definitely use and I will use most of the shades on the right! This is a great size to travel with or to throw in a bag! It just fits in my hand so it is pretty small but it amazing on the inside! The small, sleek design is great for on-the-go beauty touch ups.
I have oily skin so these are a life-saver to me. I (before I got these) had 3 packs from different brands and this makes it four. These are great but the e.l.f. ones tend to disrupt makeup a bit more than others do so I save these for when I'm wearing little to no makeup. Woven texture soaks up shine and keeps skin matte for hours. Green Tea Extract helps re-texturize skin and mask facial imperfections. Travel pack fits easily into your purse for on-the-go touch-ups.
Total: $ 42.00
I really loved this entire box as a whole! The only miss was the Matte Lip Color because I already got that shade. Otherwise this box is golden! Everything is super usable and I have already dug into so many of these products already! If you want any specific reviews let me know, I'd be happy to do them!
What was your favorite from this month's box? Let me know!
xoxo