I've been so busy getting the new blog all set up it hasn't even crossed my mind to post on here.  I've had so many late nights until 2:30 AM and early mornings at 7:00 or so trying to figure everything out. But here I am and definitely in the Christmas spirit.  Am I the only person who can never think of things to put on my Christmas list when the time comes, but the rest of the year I have tons of things on my running wishlist?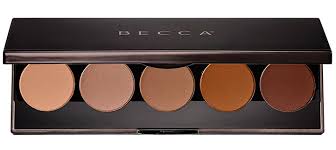 Becca Ombre Rouge Eyeshadow Palette, $40 Ulta.  I love this palette of warm neutrals.  The word "rouge" initially scared me but once I saw the gorgeous shades inside, I realized that they weren't scary reds but gorgeous terra-cotta type shades.  The quality of Becca products is outstanding so this has to be fantastic.
Hourglass Ambient Lighting Powder in Dim Light, $45 Sephora.  I'm sure I'm the only one not wishing for the Ambient Lighting Edit but those pans are so small it's such terrible value for money!  Getting one big one of a shade you really would use and love would definitely be better value plus, there's always a bad egg in those palettes!
Nars Matte Lip Pencil in Dolce Vita, $26 Sephora.  Man I love these Nars Lip Pencils, they wear so amazingly and the color range is incredible!  There's also the mattes and satins which offers even more choice!  This shade is a beautiful pinky nudey color.
The 52 Lists Projects, $12 Barnes and Noble is something that is 100% up my alley.  List making is my #1 favorite thing to do and this is making 1 list per week for the year.  If that doesn't sound like fun, I don't know what does.
Year of Yes by Shonda Rhimes, $12 Amazon.  I've just gotten back into reading (4 books in less than 6 weeks) and I am almost out of my list of 8 new books I got.  This one seems like a perfect book to get into for the new year!
Spotify Premium is something that if I will buy for myself because it would just be so useful for me.  I use Spotify at least 1 to 2 hours every single day, some days maybe 5 or 6 if I'm honest.  I love the play queue feature on a computer but it isn't free on mobile sadly.
Swell + Starbucks stainless steel water bottle in black 17 oz., $34.95 Starbucks.  This water bottle doubles as a thermos keeping things both hot and cold which is just genius and it looks really cool.
What is on your wishlist? Merry Christmas!
xo