I finally have a workspace that I love being in and I feel creative in.  Being able to work from the comfort of my bed was great and all but my neck was certainly feeling the late nights so I decided it was time to get a proper workspace together.  Filled with light and happiness, it's been a dream to brighten up my workspace.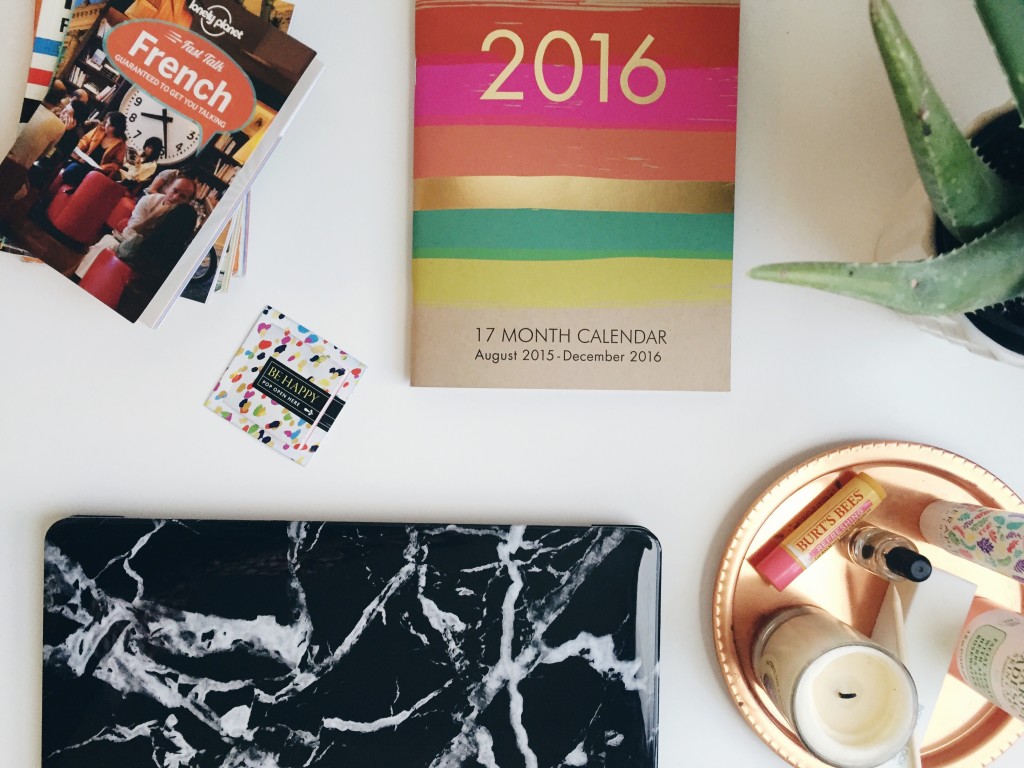 The first thing that I love having in my workspace is my Aloe Vera plant, because it's a soothing color and the shape is really interesting.  It adds color but not too much that it would interfere with my other decorations.  I also have this little Be Happy card that says "Miracles happen to those who believe in them" – Bernard Berenson which has color and keeps my thoughts positive even when I'm stressing at 2:30 AM.
My adorable little beauty tray is copper and holds my beauty essentials: lip balm, cuticle oil, hand lotion, facial mist, a nail buffer and an orange wood stick with a candle that I can smell even when it's not lit.  WIN.  Keeping these by my desk helps me keep moisturized always, and the tray is a perfect piece to brighten up my workspace.
My MacBook is covered with a black and white marble look case, which I 100% love and I'm planning on getting a matching phone case.
When I saw this planner, I had to get it for my blog relaunch.  With the colors being so bright it fit into my blog and made me excited to plan my editorial calendar, something I've always dreaded.
Lastly, I keep my Fast Talk German and French phrase books out in preparation for my trips this spring!  The cover photos are so beautiful and keep me looking forward to the future.
In general, plants and bright colors are my favorite way to bring my workspace to life.  My Aloe Vera plant is perfect for the space and looks so beautiful with so much light flooding it.  Bringing small bits of bright colors keep things from looking too young or messy while keeping the creativity and fun.
For this post I partnered with BloomNation where they're working hard to brighten up workspaces everywhere by delivering local flower arrangements to you.