With the weather occasionally being warmer this month, my May monthly makeup has nursed my dry skin with a glowy complexion and very natural makeup.  With products from Benefit and Too Faced, I've found my most simple (and favorite) makeup routine ever.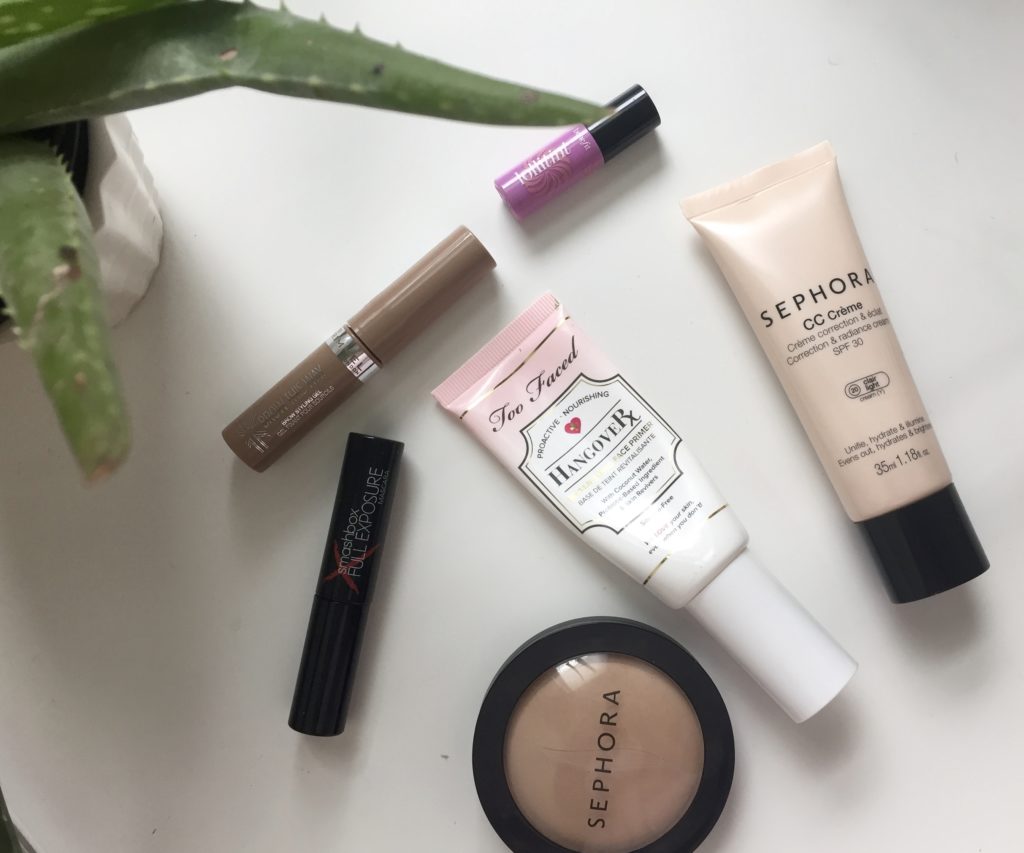 For my base, I've been concocting a little foundation mix with a pump of Too Faced Hangover Primer, Becca Shimmering Skin Perfector Opal and Sephora CC Creme to create a super glowy and hydrating base that stays put and stays looking good all day long.  The Hangover Primer gives a good dose of hydration on top of my moisturizer and the liquid highlight gives that lit from within healthy glow we all strive for.  Mixing them all together prevents the heavy feeling of too many layers and evenly spreads the highlight out all over my skin.
I set just my nose, forehead, and under eyes with the Sephora MicroSmooth Powder which is a beautiful powder because it lets oil through and doesn't look dry on the skin. This also doesn't dry out my skin but sets my makeup in place all day, with a great shade range I may add.
On top of that, I love using my mini Lollitint from Benefit as a blush on the apples of my cheeks.  I was always scared to use a liquid blush or a cheek stain but I put a bit of this on two fingers and blend it out before my foundation has had a real chance to dry at all for the best blending and it stays all day.  I love the purple candy glow it gives as well!  I never thought I would like purple on my cheeks, I've always been a peach blush girl but once I've tried this I haven't gone back in weeks.
My brows have gone from filled in to slightly tamed these past few weeks.  Instead of filling them with a pencil or shadow, I only use my Rimmel Brow This Way tinted brow gel to give them a bit of color and get them in place.  Plus it takes two seconds and is hard to mess up.
For mascara I have used the mini Smashbox Full Exposure Mascara.  It seems to run quite easily compared to other washable mascaras and doesn't really give all that much volume but it's giving a very natural look which goes with my whole theme the past few weeks.