I decided to combine my beauty edit and my style edit since I'm a bit late for this month, so enjoy my May Beauty and Style Edit of favorites and wish list items including jewelry, makeup, and clothes!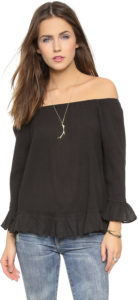 LOVE SAM BELLA OFF SHOULDER TOP
I love wearing off the shoulder tops in spring to show off a little more skin but not go full on warm weather quite yet.  The long sleeve versions keep me a bit warmer on chillier days and this one has such cute ruffles on the sleeves and along the bottom.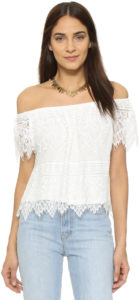 CUPCAKES AND CASHMERE SUNSET LACE OFF SHOULDER TOP
I love reading Cupcakes and Cashmere and it makes me so happy to see the clothing line making such beautiful pieces!  This lacey off the shoulder top is more for the warmer days this month and has such beautiful detailing around the shoulders and hem!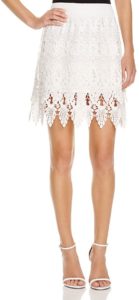 I love layered skirts because they make your legs look long with the shorter, opaque layer underneath the sheer lace layer that makes them more modest.  This lace is gorgeous and white skirts are amazing for this time of year.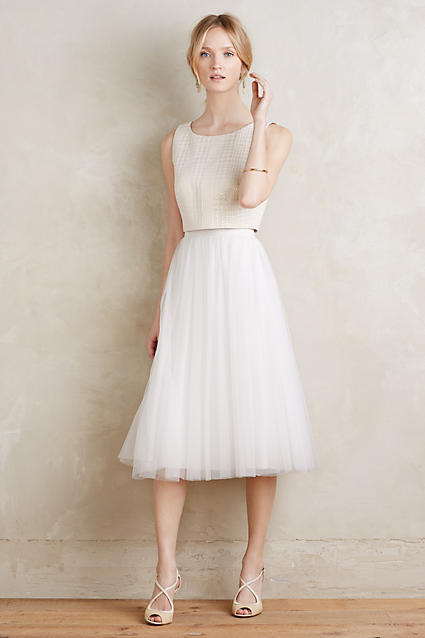 Doesn't Anthropologie have the most beautiful things?  Every thing there is so well designed!  I recently bought my first midi skirt (I'm late to the party, I know) and I didn't think I would like wearing it as much as I did!  They really are flattering for all heights and a beautiful way to look modest and feminine!
ASOS COLLECTION ASOS OPEN CIRCLE RING
I love the most delicate and simple of jewelry and I prefer silver.  This ring is so inexpensive and adds so much to a minimalist outfit.

This mascara formula, although it's quite wet, volumizes so much more than the past few I've used and not been a fan of.  For very black and dramatic lashes, go for this one.  I love pairing this mascara with a very natural glowy face to let my eyes be the focal point.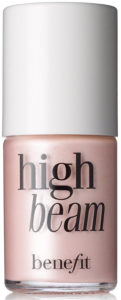 BENEFIT COSMETICS HIGH BEAM LIQUID FACE HIGHLIGHTER
After trying and falling in love with Benefit's Lollitint, I want to try all their bottled stains and highlighters, this being the next on my list.  May is the perfect month to really amp up the glow because the sun is out but it hasn't reached a temperature that I look out of control oily yet and this is the perfect product to get my glow on with.