Everyone has those days where they have a little less time than they would like to do their makeup.  If you aren't too worried about it, you could go makeup free, like I wrote about in this post.  Otherwise, you've come to the right page to get your new easiest makeup routine that doesn't cut corners.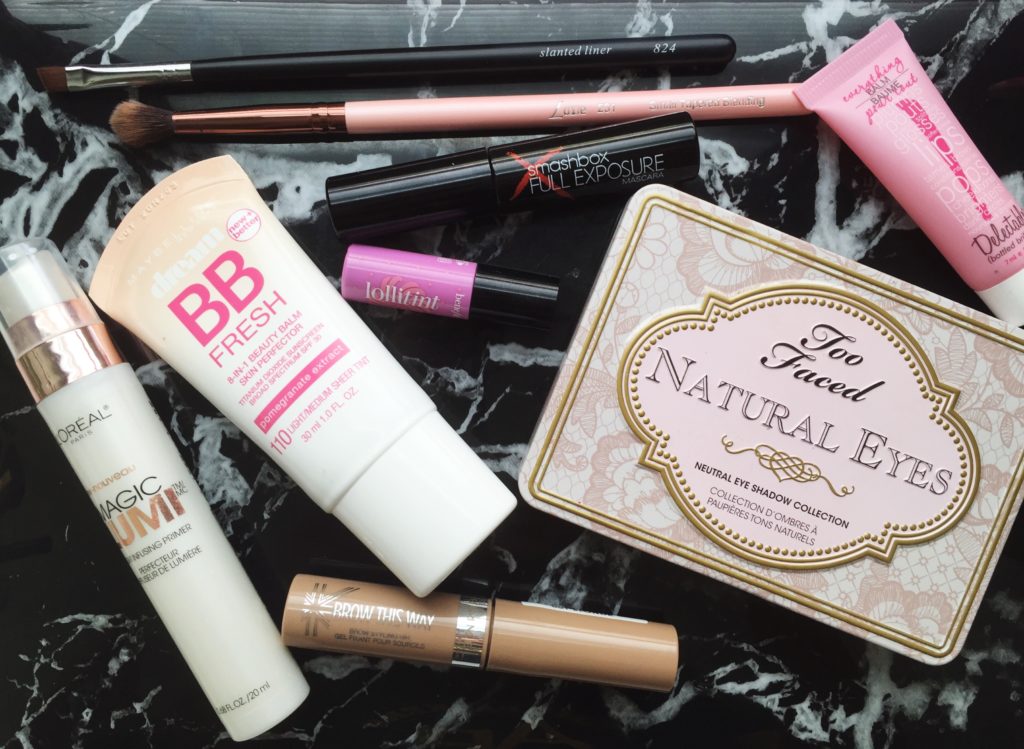 This is the exact group of products I use when I'm in a rush, down to a T.  I haven't been powdering my face since my skin became so dry but feel free to add or remove products from your lineup.
After I moisturize, I put on my lifesaver called Maybelline BB Fresh.  There is no easier base than this.  It's tinted, super hydrating, SPF 30, and it never ever catches on dry spots.  It smooths over my skin so beautifully to actually disguise pores with the lightest feeling base out there.
Before that has fully dried, I apply a swipe or two of Lollitint on my cheeks.  The swipe is only about 3/4 inch long and I tap that in really quick for a gorgeous blush shade.
Next up I take a really small amount of L'Oreal Lumi Primer, a dupe for Becca Backlight I've heard, and dab it on the tops of my cheekbones.  This is pretty white and pigmented so I keep it away from my nose and forehead or I look ghostly and greasy.  But it's beautiful for paler girls!  And it will stay all day since it's a primer!
I use this super hydrating balm in a tube from my last ipsy bag, I want to switch to the Play! by Sephora but I keep missing the boxes!  But this is from Be Delectable and it's similar to the Dr. Lipp Original Nipple Balm for Lips, which is super thick.  I sometimes use this as a highlight if I don't want to use the Lumi.
I go super simple with my eyeshadow, with Heaven all over my lid up to my brow bone, and Nudie in my crease.  It's a barely-there eye look which you can skip if you want.  And I also use Sexpresso from the same Too Faced Natural Eyes palette as my liner.
I do a few swipes of Smashbox Full Exposure Mascara and comb through my brows with Rimmel Brow this Way.  This completes my easiest makeup routine that cuts no steps out and doesn't take long at all!