I was on YouTube the other day and came upon a video by Megan Rose where she putting everything she wanted to finish up (just enough to do her makeup) into a makeup bag. She decided to do her makeup with only that until she couldn't do her makeup with those products anymore.  I can't think of a better way to get through products and that's what I'm trying to do this season.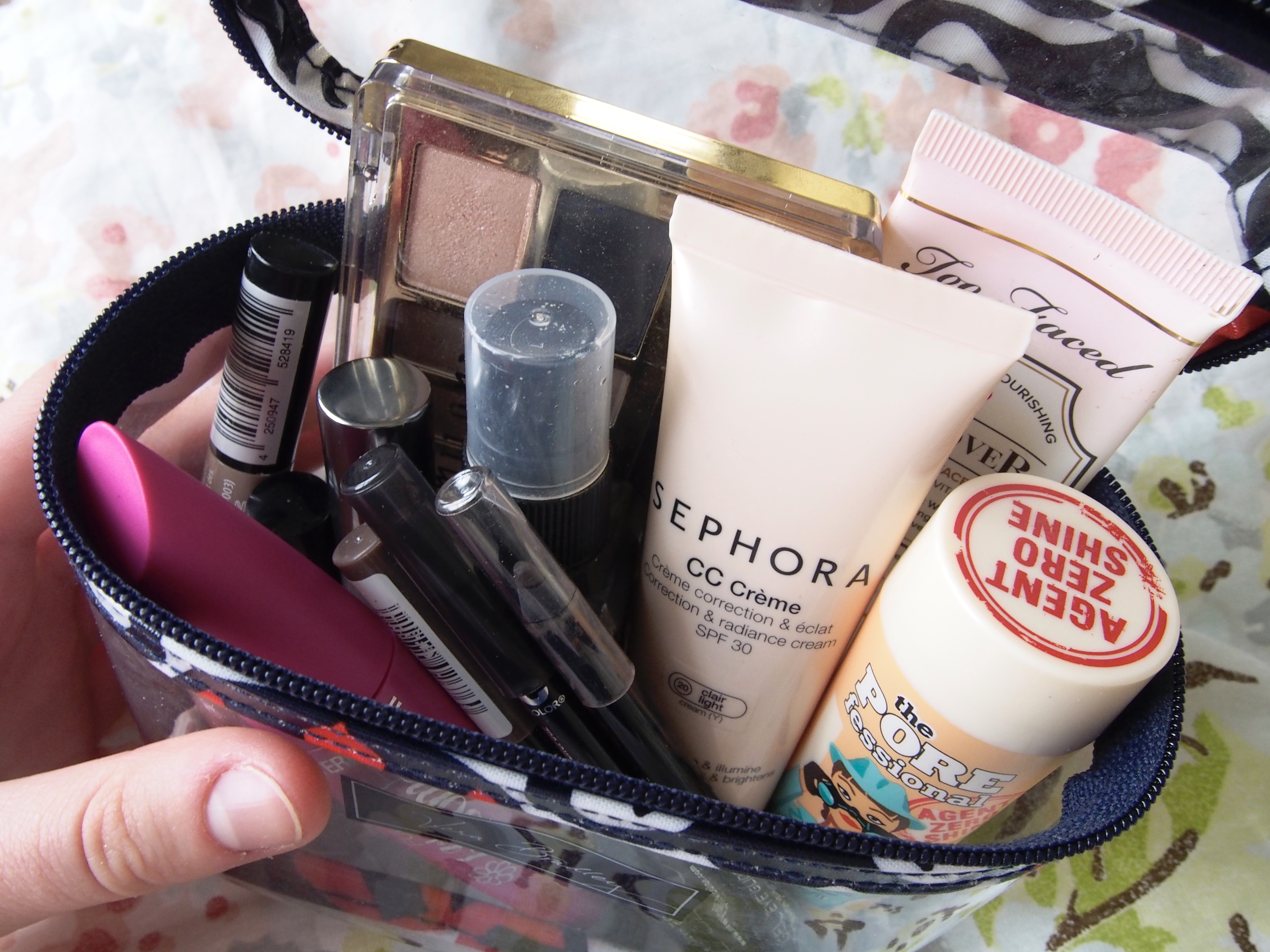 I've had this tube of Too Faced Hangover Primer for over a year and it's so close to being empty.  This is one of those products that I love but I need to finish it up.  I even have a backup ready for when this one runs out.  Hopefully I will be able to finish this up soon, then I can break out some primer minis I've been dying to give a proper test.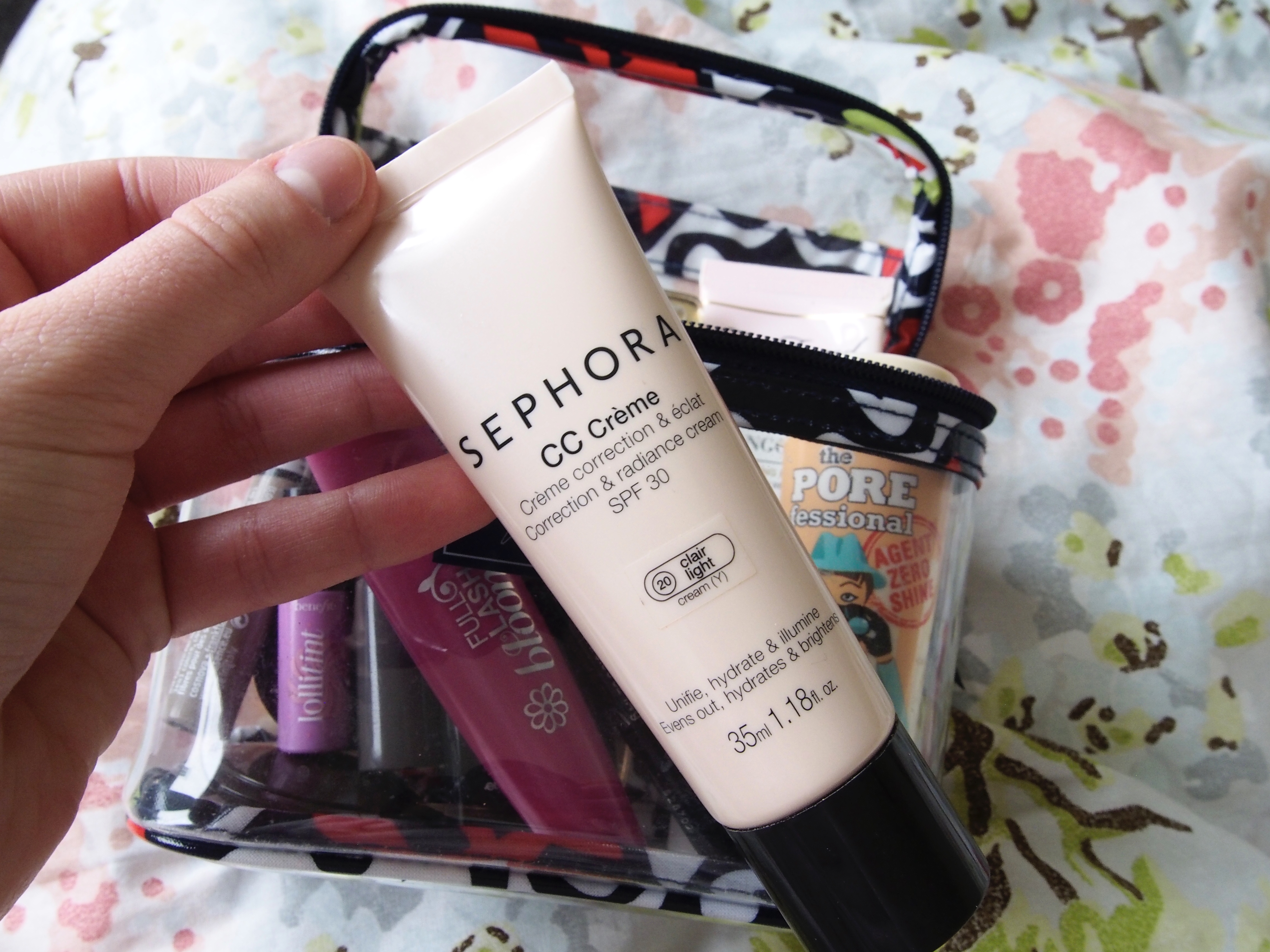 I love the Sephora CC Creme but it expired 6 months ago so I tossed this because I think it caused some of my breakouts lately.  This is a gorgeous light coverage base that is radiant and glow-y, perfect for every day but it expires so quickly.  I replaced this with the Bourjois Healthy Mix Serum for this little challenge.  The BareMinerals Correcting Concealer hydrates and covers really well under my eyes.  I hit pan on this and can't wait to finish one of my many concealers because this is the oldest.  This would totally be repurchased if I ever needed a new concealer.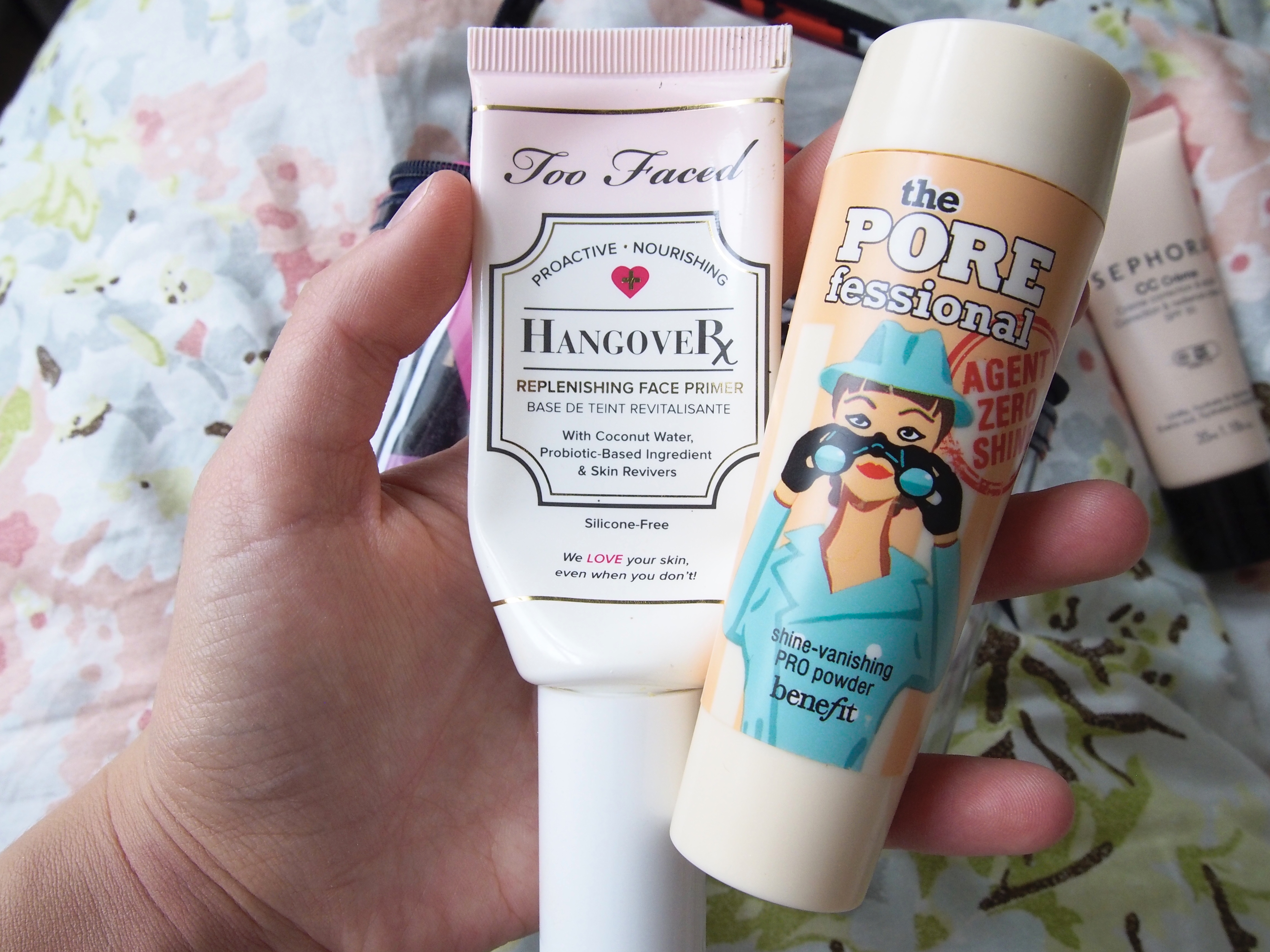 I just got back into loose setting powders and Benefit Agent Zero Shine sets tacky foundations down really nicely.  I've also found that it makes a nice priming powder for under powder foundations.  I put this under my powder foundation in the areas that get oily and it solves that problem like a dream.  I'm trying to use up the ELF setting spray because it melts makeup together if I've gone overboard with setting powder but it always surprises me that it isn't a fine mist  Hopefully I can finish this up fairly quickly and get back to using the Urban Decay All-Nighter that I love so much.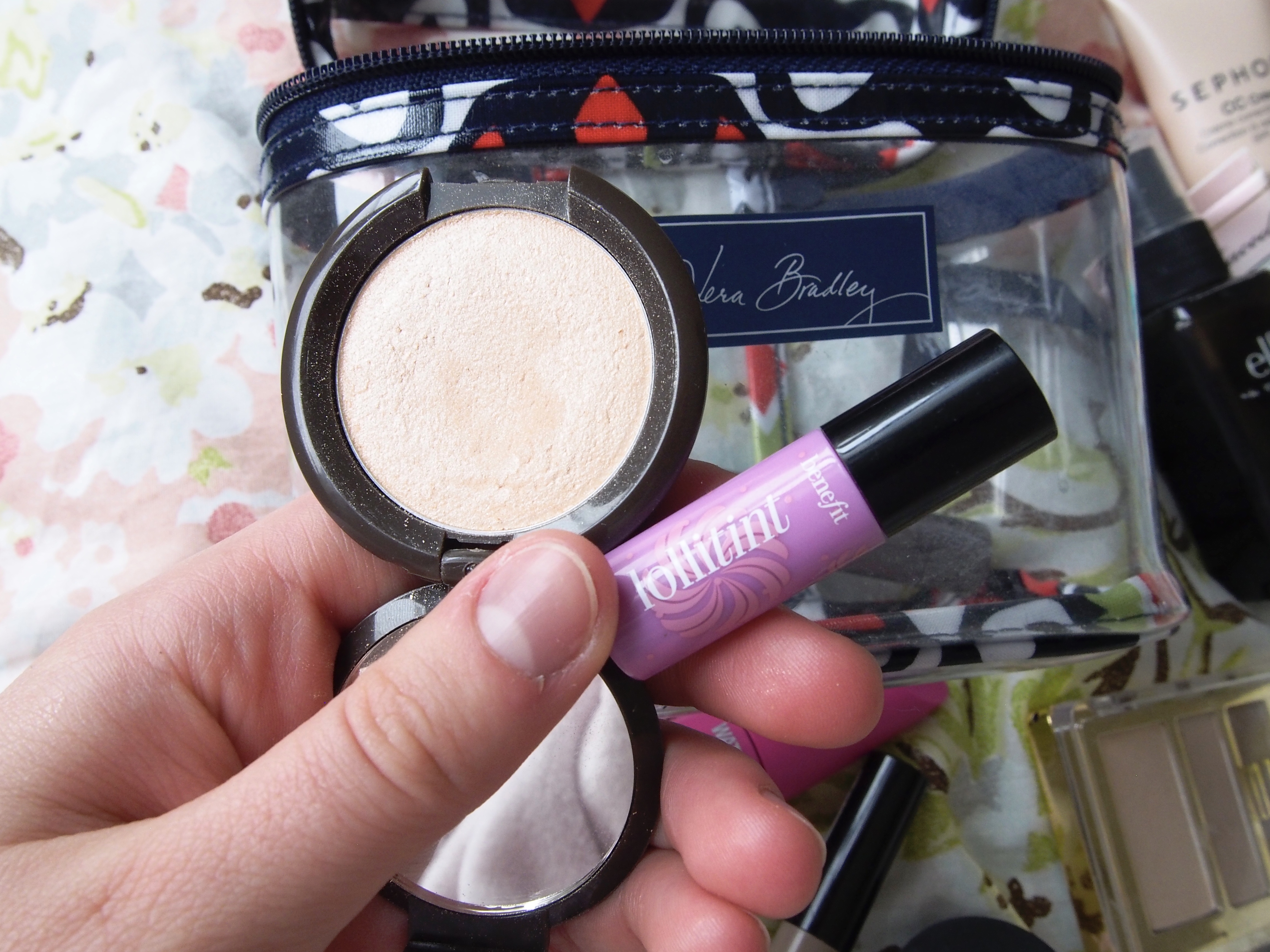 Lollitint has been a ride-or-die for quite some time now and I love using this so much.  It's the perfect natural blush shade for me, despite the fact that it's purple. This mini is almost empty and I have another mini ready to go for when this one bites the dust. I have used more highlighters lately since I stopped for a good few weeks/months (shocking, I know).  Becca Shimmering Skin Perfector Pressed in Moonstone works so beautifully to highlight the high points of my face, exactly how I want it.  I'm hoping to use up some of my highlighters, especially since I have a duplicate of this one.

Benefit They're Real has never been a favorite of mine but I tried so hard to love it.  I like to use a non-waterproof for everyday but I never really liked this one that much.  I usually don't think high-end mascaras live up to their price tag and this one is no different.  This Covergirl Lash Bloom is waterproof but I love that it doesn't make my lashes feel crunchy.  I think the brush got a re-design since last time I purchased this and I'm not a huge fan but I love the formula.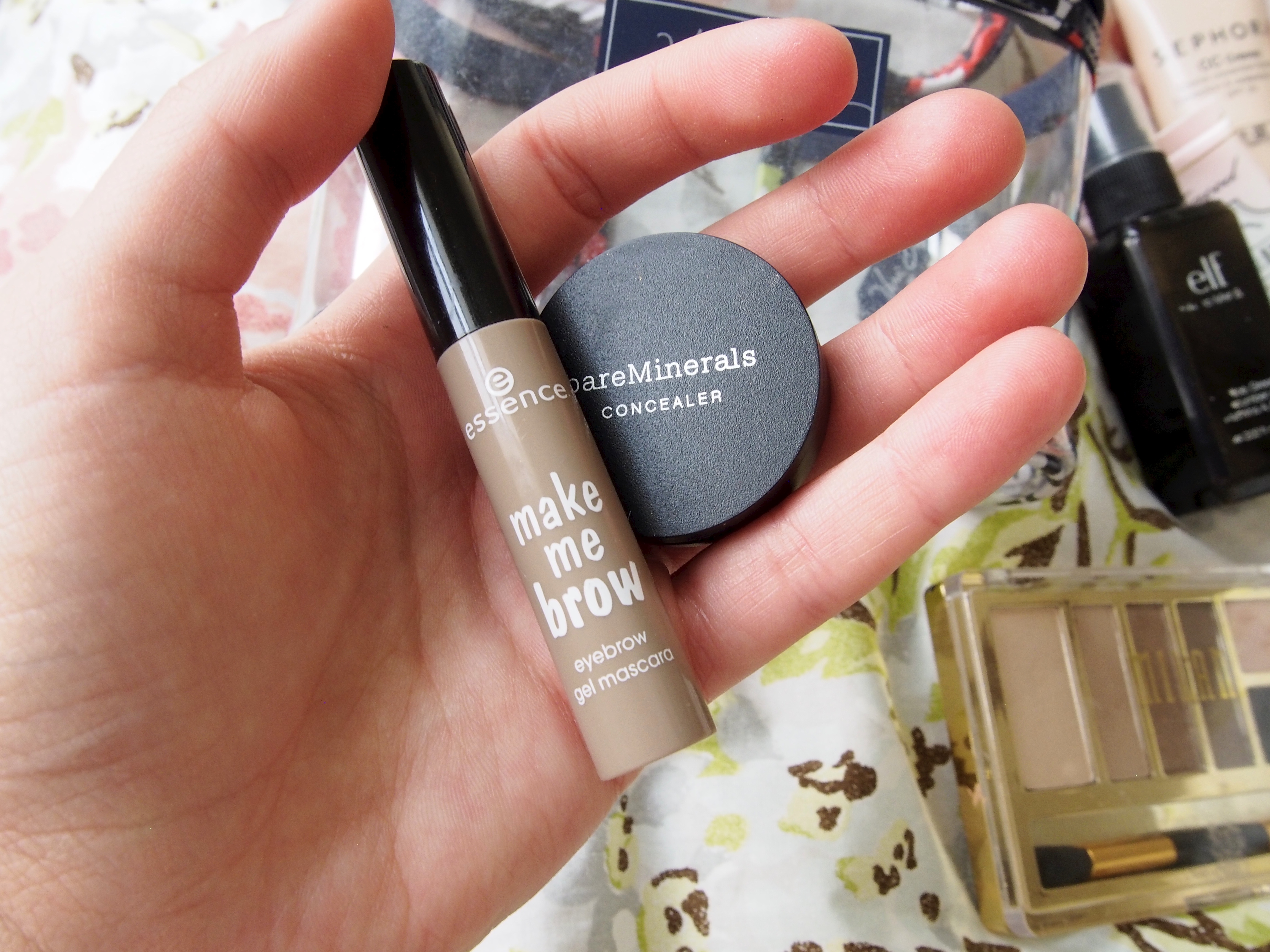 For brows, I love both the Rimmel Brow Professional Brow Pencil and Essence Make Me Brow to keep my brows full and in place all day.
Oh boy I've had the Julep Brown Gel Glider eyeliner for ages.  I love a brown liner smudged in my lash line to thicken my lashes and this one is perfect.  I love the look it gives when I do use it so this one will nudge me to take the extra minute and put it on!
The NYC Black 24hr eyeliner is awesome, it's long wearing and superblack so I love using it to tightline.  I don't tightline very often but I should because I love how it makes my eyes look!  I would love to use this one up so I don't have a million of the same thing floating around my makeup drawer.

A friend gave me the Milani Everyday Eyes palette and I didn't use it much so I threw it in here to get some use out of it.  I don't reach for shades this cool-toned so it might take some playing around with before I find a way to wear this.  Hopefully I will make a dent in some of the shades and figure out what I like with this palette.
The rules for this are to do my makeup with only these products for as long as I can.  The only exceptions are special events or if I'm having a beauty emergency and need something special.  Once I run out of something I will rejig the whole deal because that is an accomplishment.  The goal with this is to use up some of these products I've had forever, especially base products.