For the holiday season I always want my makeup to look extra good and add some things that I don't do on the daily.  Usually I go for a more intense eye look than usual and add a lip color. But those aren't the only ways I make my holiday makeup special.  These are my favorite ways to make my makeup that little bit more festive.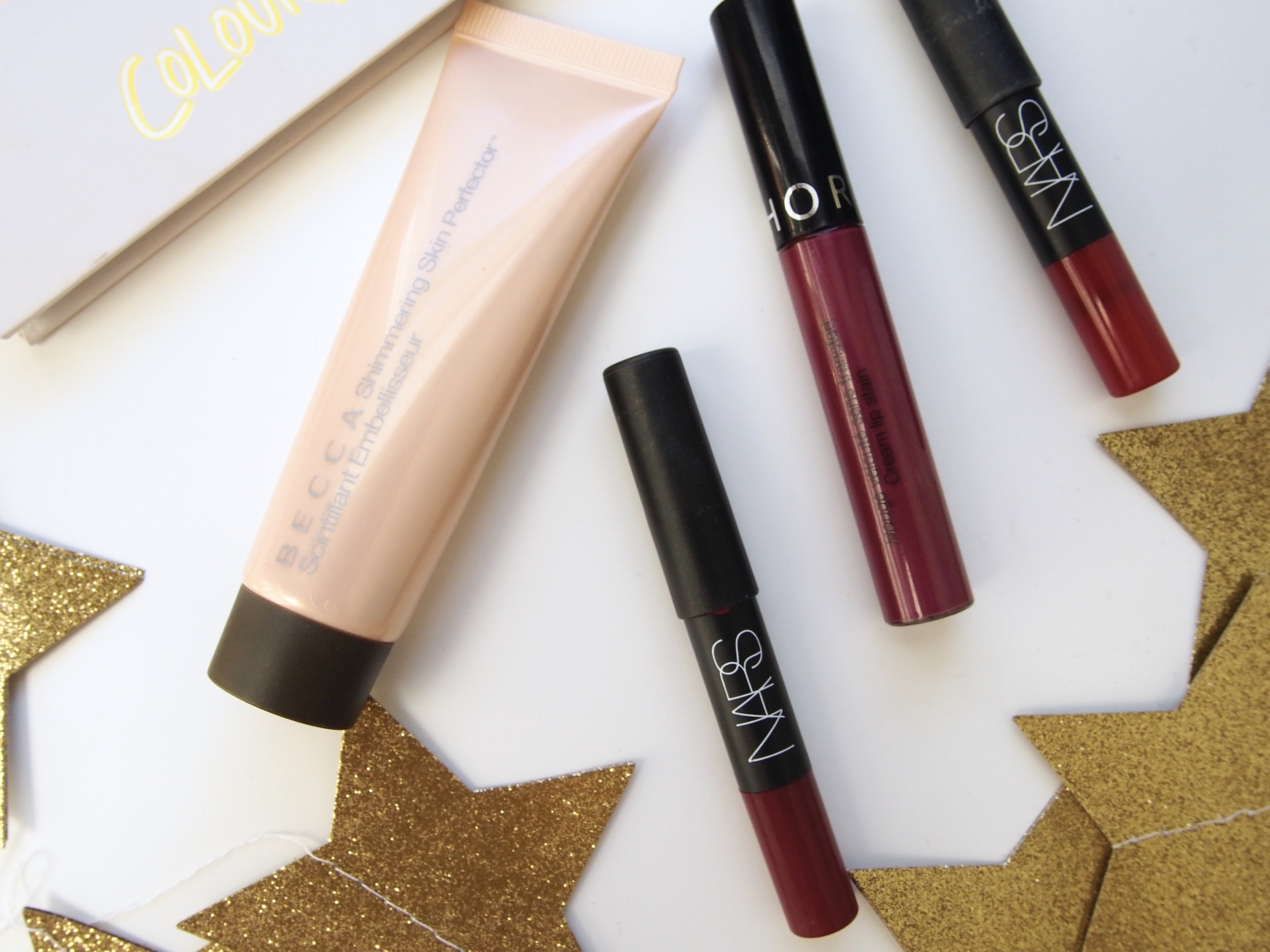 Use a highlighting primer or add liquid highlighter to your liquid foundation.  This gives me such a healthy look.  As a huge bonus, it acts as a bit of a perfecting base, making your skin look young and plump.  My favorites for this are the Becca Backlight Priming Filter and the Becca Shimmering Skin Perfector in Moonstone or Opal.
Layer up on highlighters.  If you're no into the full face glow, a way to make your skin glow in a controlled way is to layer your highlighters.  I love using a liquid highlight on my cheekbones and brow bones then topping it with a powder highlight to really make them pop.  The Becca Shimmering Skin Perfector Pressed in Moonstone is my go-to but for a more pinky glow I reach for Hourglass Ambient Strobing Powder in Incandescent Light.
Use a different eyeshadow look than you normally go for!  I am a huge neutrals gal but this holiday season I am going to be wearing lots of warm tones on my eyes.  I also usually use all mattes to add some depth but a few shimmers couldn't hurt this time of year.  If you just want to toe into the colored eyeshadow world, add an eggplant eyeshadow as your eyeliner.  It looks so good but it's so so subtle.  The palette I'm going for is Colourpop's Yes Please palette which I recently reviewed, read up on it here!
The lips are a place you can really experiment and change for whatever you're feeling.  I think gold eyes look amazing with red or berry lips, but this is somewhere to experiment!  Try out a dark lip if you don't usually or push yourself to go more bold with a red.  Shades I'm looking forward to wearing this season: Nars Damned, Sephora Blackberry Sorbet.
SaveSave