Working from home every day, I've been able to skip makeup most days and really allow my skin to breathe. Because I've been going bare-faced most days, my skin has been clearer than ever. I picked out a few products at the beginning of staying home that I dubbed my "quarantine skincare". On top of tons of masks, under eye patches, and lip balm, these are what I'm using every day.
Morning
Every morning I begin my day by washing my face, brushing my teeth, and doing my skin care routine. It's become such a peaceful ritual to have 30 minutes or so in the morning to listen to a podcast and pay attention to my skin. I start by washing my face with the CeraVe Foaming Face Wash to remove any oil that has built up over night and start with a clean slate. This cleanser has changed the game for my skin. It helps control the oily parts of my skin while not dehydrating the drier parts.
Every morning, I do a quick face mask while I make some tea and clean up a bit. Lately I've been using the Sephora Collection Hemp Mask or The Inkey List Kaolin Clay Mask which take 5-10 minutes. Most days I go for the hemp mask as it's anti-blemish and calming but if my skin feels congested, I'll use the clay one. I love this clay mask because it doesn't dry down as much as many others so my skin doesn't feel super tight after. It's also only $6.99 which is amazing!
After the mask, I go in with the Kiehl's Ultra Facial Toner and H2O+ Oasis Hydrating Essence to prep my skin. I never used toner until I found this one because it features squalane and feels smooth, not tightening. This essence was on clearance a long time ago and it has converted me to an essence girl. I take a few drops in my hands and press it into my skin so I'm prepped for ingredients to have the most impact. Although I can't see immediate benefits from it, it feels odd to put serums and oils on bare skin now.
Next, I take my Coppertone Pure & Simple Face Sunscreen SPF 50 or AstiVita SPF 50 mixed with a dollop of Drunk Elephant D-Bronzi Anti-Pollution Sunshine Drops (or L'Oreal Lumi Glotion in Deep) and a pump of Glossier Futuredew. I warm it up in my hands before pressing the mixture into my skin. Futuredew is perfect for no makeup days because it's ultra-hydrating and gives a super dewy look to the skin.
Before quarantine, I rarely touched Futuredew because a whole pump straight onto the skin can leave me feeling super sticky. Mixed in with a sunscreen, it makes the mineral ones more fluid and leaves a gorgeous glow to the skin. Now, I am just about finished with my bottle and will need to order a new one. After this I slap on a thick coat of Chapstick for my dry lips and finish up for the morning.
A Note on SPF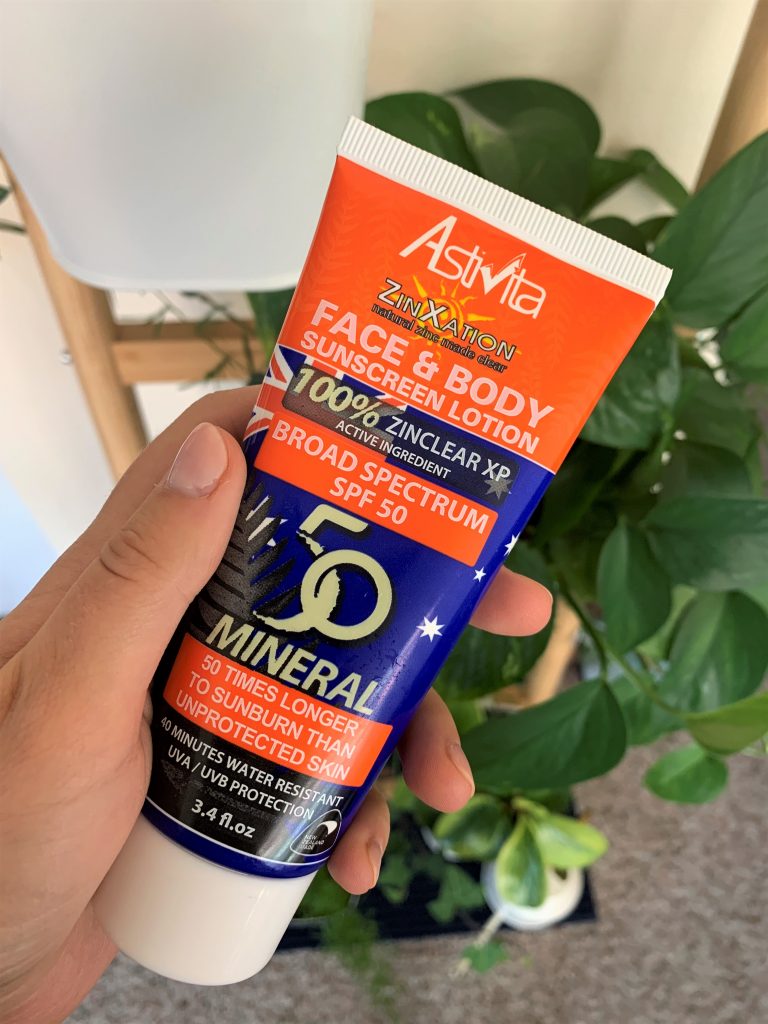 This Coppertone sunscreen is a mineral one that's very white in color but it never breaks me out and is super affordable. I like that the AstiVita SPF is not quite as opaque as many other mineral options. Skincare by Hyram is how I found out about this super affordable sunscreen. This one does have a strong cinnamon/ Red-Hot candy scent to it so beware if you're sensitive to scents.
If you're confused by the whole mineral vs chemical: mineral sunscreens physically block the sun's rays from hitting your skin while chemical ones react to the rays, convert it to heat, and send it back away from your skin. While chemical sunscreens work, there's some research that your skin absorbs some of those chemicals which could potentially be harmful. Click here to learn more! Mineral sunscreens often cause less reactions with sensitive skin as well, so if you often break out from SPFs, try a zinc or titanium dioxide one! Both of these could use a little warming up so mixing them with bronzing drops helps a lot. A great chemical sunscreen with no white cast is the Innisfree Daily UV Defense SPF 36. This one is hydrating and wears beautifully under makeup.
Even when I'm inside working or in class, it's still important to wear SPF especially when sitting in the sun. Wearing an SPF daily and not only when our skin is at risk can better protect us from aging and skin cancer. While you might not want to wear an SPF 50 every single day while you're sitting inside, this is when those moisturizers with SPF 25 come in handy. I go for 30+ every day but it's up to you!
Evening
At night, I use the CeraVe Foaming Face Wash to get off oils and any makeup. This cleanser also works well removing mineral SPFs which can be a bit tough. After cleansing, I have 2 different routes I go down, each one every other night. One is the REN Ready Steady Glow Daily AHA Toner followed by my H2O+ Oasis Hydrating Essence. The other is the Kiehl's Ultra Facial Toner and the same essence. On these nights, I use a preventative acne treatment all over the skin after moisturizing.
Next, I mix a pump of Coola Anti-Aging Sunless Tanning Serum with a pump of CeraVe PM Moisturizer. This moisturizer is one of the best skin products I've ever used because it hydrates my skin so well, wears beautifully under makeup, and is so inexpensive. It's perfect for day or night and great to mix with products. I like to keep it simple at night since I want it to be attainable even when I'm tired.
Instagram | Pinterest | Bloglovin' | Twitter