In the past few years I've learned the importance of sunscreen not just to prevent sunburn, aging and skin cancer, but to protect skin health overall. I've committed to re-applying face sunscreen even when it's not super sunny or I'm not laying out in the sun. Also, I've started being more cautious of my body sunscreen and the type of sunscreen I'm using.
Mineral vs. Chemical Sunscreen
While doing some research on what this meant a few years back and even through today, I learned that mineral sunscreens are a physical block on the skin. Almost like putting on clothing, they don't allow the sun's harmful rays onto your skin and reflect them back; this is why mineral and physical are interchangeable terms for this type of sunscreen. Meanwhile, chemical (ones using Oxybenzone and other chemicals) create a chemical reaction on your skin that absorbs, converts to heat, and releases the sun's rays that cause burns and aging. However, NPR reported that only the mineral sunscreen ingredients (zinc oxide and titanium dioxide) are recognized as safe and effective by the FDA. They also report that some chemical ingredients have been found in people's blood after use. SCARY!
I still currently use some chemical sunscreens but I am actively trying to switch over to all mineral sunscreens. You can read up on the article from NPR here.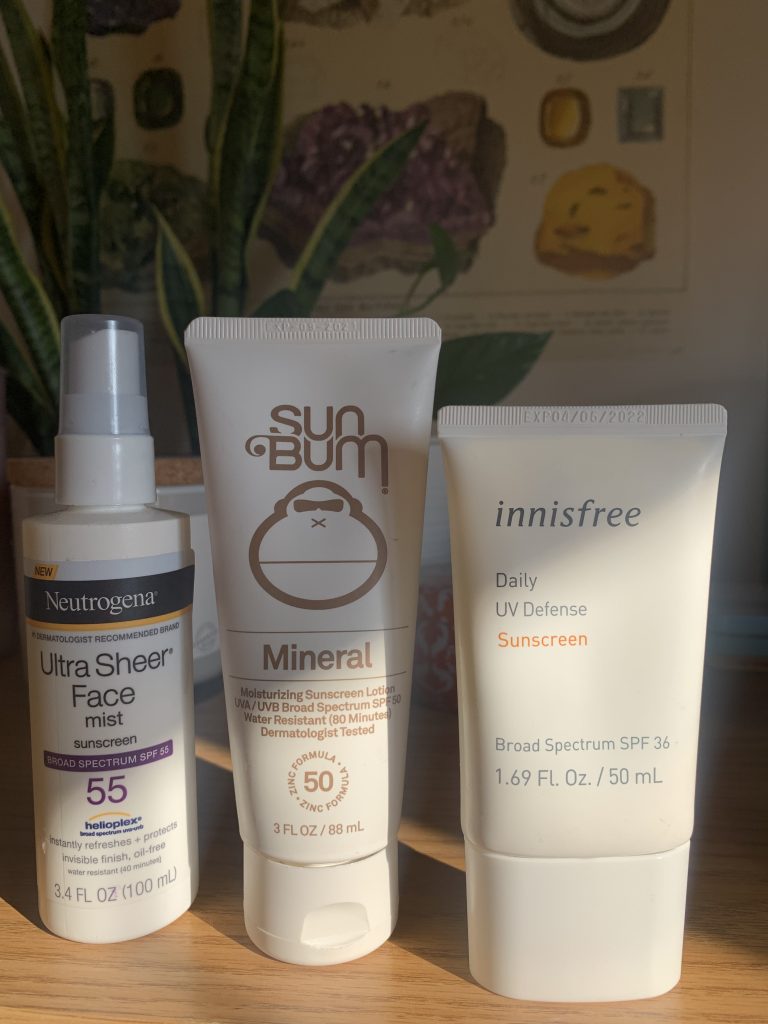 Face Sunscreen Loves
I love using this (chemical) sunscreen every morning because it looks perfect under makeup. SPF 36 is perfect for me 3 seasons because the UV in my area is quite low autumn-spring. This one has absolutely no white cast and has a light-weight moisturizer feeling. It easily soaks into the skin, making it a perfect SPF to apply right before makeup in the morning. This is also incredibly affordable and comes in a more matte formula as well, but I have not tried it.
While this (chemical) one has a bit too much glow for me, it pairs well with a more matte foundation to give a balanced, glowing complexion and looks amazing when I apply down my neck and chest. However, I can see this transferring onto white tops so be careful! This one is tinted a light-medium shade and may not work for very light or deeper skin tones (try Supergoop Unseen Sunscreen instead! I wish I could recommend it but I have not tried it yet).
I love this (chemical) mist to top up my SPF every 2 hours throughout my day. This one is perfect for reapplying on face, neck, and chest because of the super fine mist that won't disturb makeup. While it may feel a little greasy at first, once it dries there's no residue left over. I also think this is a fantastic size of 3.4oz for the $15 price because it is so difficult to find a good facial spray sunscreen that has a decent pump and a gentle mist. Will forever repurchase this one!
This one surprised me! It smells of cinnamon, which I don't really like but it blends in much better than many facial mineral sunscreens. While there definitely is some white cast but less than almost all other mineral SPFs I've previously tried out. Mineral SPF formulas are usually not stellar for the SPF 50 compared to SPF 30 but I enjoy this one! It works very well on my light-medium skin as a body sunscreen that I mainly use as a reapplication on my shoulders and other sensitive areas (ears, top of feet). I'd say it's a 4/5 for face and a 4.5/5 for body. This is another super affordable sunscreen at only $10 for 4.2oz which I love as many mineral formulas can get pretty pricey.
My scalp has been burning so much lately! I've been spending a ton of time outside in recent weeks and with all the sunscreen I'm applying on my face and body, I totally forgot about the skin exposed on my scalp! This one doesn't make my hair too gross and seems to protect my scalp well!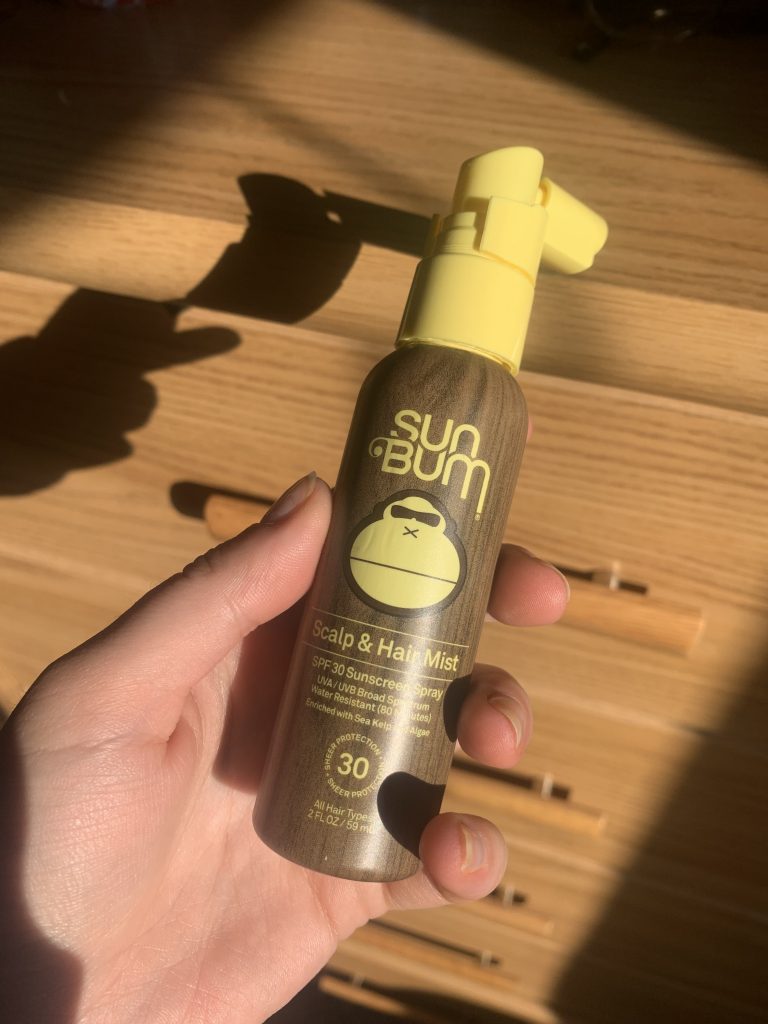 Just OK and Bad Face Sunscreen
I got this as my first mineral face sunscreen and wow did it have a white cast. I found an amazing hack for this and generally ended up mixing it with a glowing, bronzing product such as the L'Oreal Lumi Glotion, Drunk Elephant Bronze-D Drops, etc. This cut the thick texture and made it more similar to my skin tone. Just make sure you're applying enough of the SPF itself and that it's evenly spread across the skin. This may be too much of a hassle for some and may not work for others but if you find yourself with a super white-cast SPF, it may be a good purchase to pick up a bronzing product. At only $5, this is the most affordable one on this list but for many would require a liquid bronzer to use.
Body Sunscreen Loves
There aren't too many but I'm not very picky.
Any Basic (Chemical) Spray SPF 50
This includes the Coppertone, SunBum, Banana Boat, generic Target brand, etc. They're clear, and they work just fine. There's nothing incredible or innovative about them but they prevent burns and are easy to find at drugstores so they're usually the one I throw in my beach bag.
Just OK and Bad Body Sunscreen
You guys, this is horrible. It comes out of the tube not as stark white as some but on the body it makes my skin look a bit pink-purple and doesn't rub completely in until I've already been out in the sun getting a bit sweaty for an hour and it's almost time to reapply. I just purchased this last week and I'm piling it on just so I can empty it out. It's so difficult to find good mineral formulas! Any recommendations are more than welcome!
This one has both a strange emmolient part of the formula and an even stranger spongey white cream part that don't end up mixing well in the tube. By the time I get them incorporated on my hand, I've rubbed half of it into my palms! It's not good but I do have hope for the other Alba formulas I have yet to try.
Wishlist
I've been looking for a spray mineral sunscreen forever and I just can't to find one with decent reviews. If you know of any, please let me know! I know of a SunBum mineral spray but am not hopeful with my previous experience of their mineral formulas.
I'd also love to try more from Alba than I have, specifically their "clear mineral sunscreen", mineral spray formula, and sensitive mineral sunscreen. I love the idea of a clean sunscreen brand on top of the mineral formulas so I'm particularly interested in Alba.
Supergoop has innovative formulas like their SPF Glow Oil which I got my sister for her birthday and she is loving. I'd love to try their Mineral SheerScreen SPF 30 for the face and SunnyScreen Mineral Spray SPF 50. I actually just learned this week about Supergoop's mineral formulas and now can't wait to try them!
What are your faves? Have you tried any of these products? Let me know your thoughts!
If you're looking for even more recommendations, I wrote a post 4(!!) years ago about sneaking SPF into your routine which you can take a look at here. It has some fun hacks for products that aren't dedicated sunscreens but still have SPF.
Shop my favorites!