Hello lovelies!  A few days ago I realized that my empties box was overflowing!  I have finished so much stuff off my massive list of things I want to finish!  You might be thinking why would someone want to finish and throw away their makeup but I have so many things I don't use or don't really like that I need to get out of my collection that I don't want to throw away full.  So these are most of the items I've finished up this summer!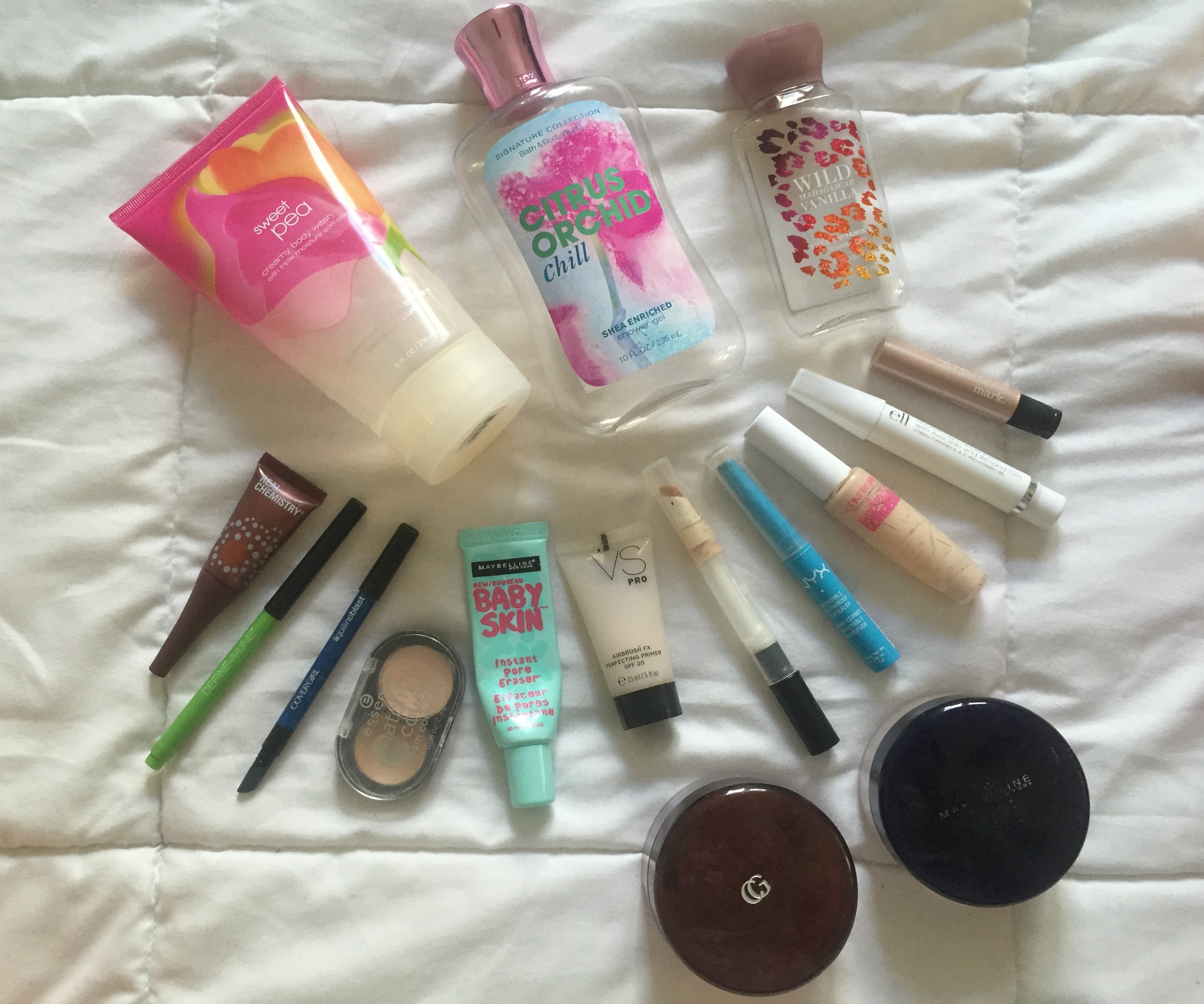 Starting with the three Bath & Body Works shower gels, Sweet Pea is one I got in a big moisturizing variation but couldn't finish it in the winter so I brought it back out and finished it up, I love this scent and use the body spray as a room spray nearly every day! I love the scent Citrus Orchid Chill and have the matching lotion but never got around to using the lotion with the shower gel, completely forgot I had it!  I loved the miniature I got, Wild Madagascar Vanilla because vanilla is my favorite scent and this was a great summer vanilla!  I will be repurchasing this if they still make this scent!  I also finished another small shower gel and lotion but refilled the bottles for vacation so they're currently full!
Left to right in the second row, the Real Chemistry Chemical Peel is a facial peel I got forever ago in a Birchbox and was only about 2 uses before it was gone.  Some people love it but it didn't do too much for my skin.  The CoverGirl define a line eyeliner in black is one I've had for ever like years.  It was shorter than I thought and when I went to use it I got one use out of it before it was too short.  I'm glad to have that out of my collection because I have a lot of new eyeliners that I use instead of this old one.  Another ages old one is another CoverGirl but the name is scratched off.  It was a bright blue that looked nice on my lower lash line but I recently got a new bright blue and this one was incredibly old.
The next is the essence match to cover concealer duo.  The darker shade was too dark and the light was too dark but mixed they had an odd undertone so I rarely used this.  The texture was not good and there was not good coverage, this is not one of the best essence products to say the least.
Next I am getting rid of two two primers, I finally finished the Baby Skin Primer by Maybelline that I really hate.  It made my makeup slide right off but it did help with evening the texture of my skin and making my foundation go on well, just not stay on.  The Victoria's Secret expired about 2 years ago so I thought it was time to let go even though it was nearly full.
Next are three more concealers, starting with the Revlon ColorStay which was a twist up with a foam tip.  I didn't like the applicator but I thought this worked really well and stayed on for a long time!  I would repurchase but it is too expensive for this amount of product.  Next is the NYX waterproof which is incredibly thick and super hard to blend.  I was not a fan of this and would rather use a non-waterproof than this one.  The CoverGirl Ready, Set, Gorgeous concealer was a good one for under eyes as well as spots and I really liked this one!  I am thinking of repurchasing it when I finish the one I'm on!
My sister broke my e.l.f. cuticle pen so I'm going to buy a new one, I liked this one!  It was mess free and worked well!
I also am throwing away the mark. winkstick because it might be about 4 years old but it creased like there was no tomorrow even with an eyelid primer.  This one had to go.
The two powders on the bottom are also way too old, the Maybelline Shine-Free and CoverGirl Setting Powder, both just okay.  Nothing too special that I would buy again.
I finished up a few more things and threw away a few more but some were destroyed or discontinued or just plain bad so I didn't include everything but these are the most eventful and opinionated empties!
Do you love empties or dread finishing products?  Let me know!
xoxo