Hello lovelies!  It's been so long since I did a makeup collection post!  Today I have all my primers which is too many, I can tell you that!  I have mostly drugstore or less expensive primers and I can usually tell the difference between a nice primer and an inexpensive, I think primers are one place to splurge if you have oily skin or your makeup doesn't stay on too well but some of my favorites are drugstore!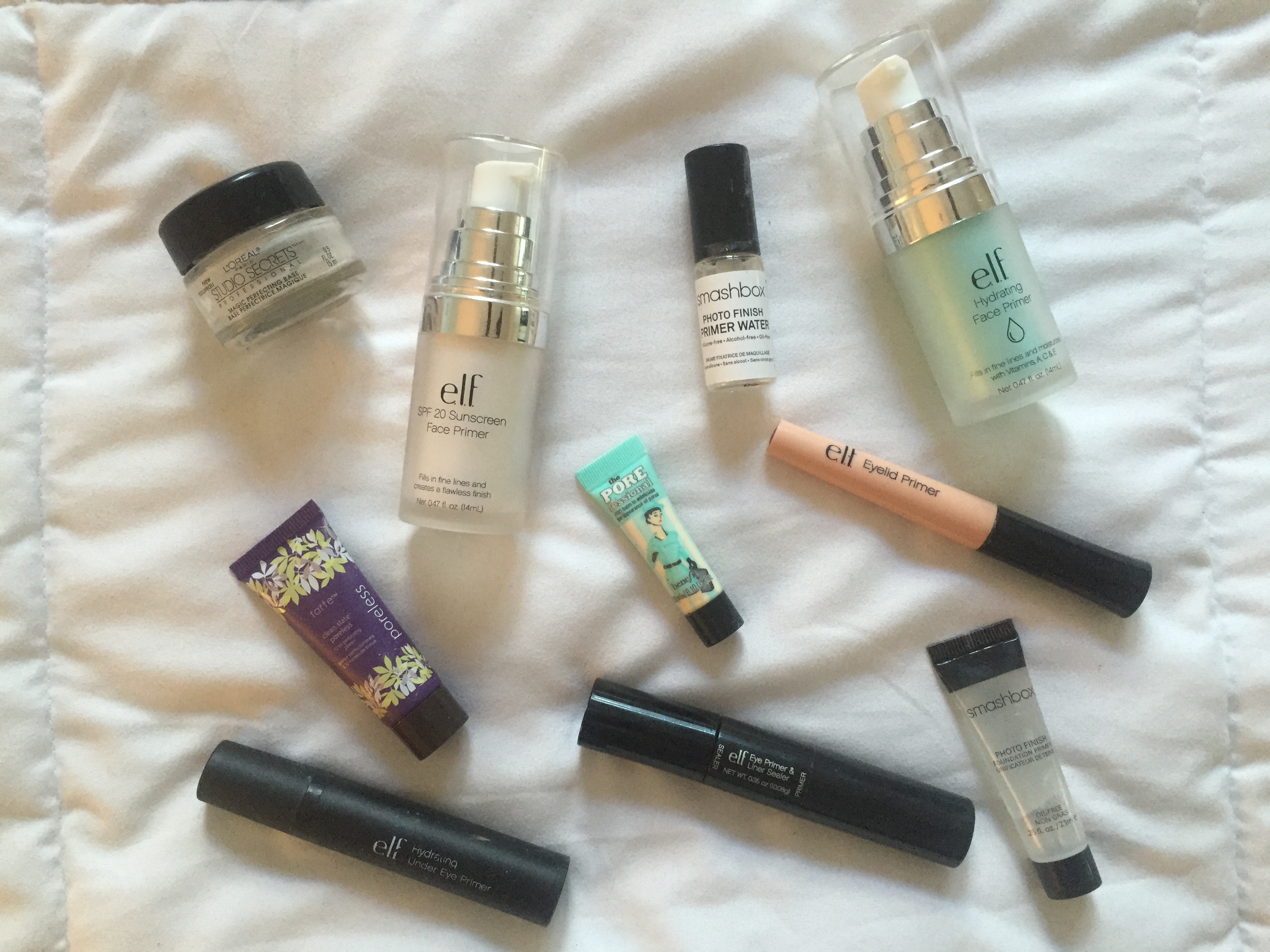 First is the L'Oreal Magic Perfecting Base which is super thick but works like a dream!  This really evens my skin's texture and helps my makeup last!  I've been using this with a BareMinerals powder foundation recently and I've really been loving how it sits on my skin!  I just finished this and I'm happy I finished it because it was so old but I might just have to buy another!
I got this e.l.f. SPF 20 Sunscreen Primer in my last e.l.f. beauty bundle and I used it the whole time I was in Florida and I didn't get a sunburn but when I went to my friend's cabin I came back with skin peeling like crazy.  I'd say this really protected my skin and helped my makeup not melt off in the heat!  And I love the pump!  This is one of the best inexpensive primers out there if you're looking for one!
The Smashbox Primer Water is totally wrong for my skin type but I was thrilled to get it in my last Birchbox for two reasons 1) I was about to buy it and I'm glad I tried it before I did and 2) I love using it as a setting spray.  I have oily skin so a primer water isn't really great for my skin type at all but it looks so nice as a setting spray and cancels out the dry look of powder!  I'm almost half-way done with this and probably will buy the travel size because who needs THAT big of a setting spray?  Not me!
This e.l.f. Hydrating Primer I use during winter and have reached for lately due to my dry as heck skin these past few weeks (????).  Again, I love the pump on this one because it helps with a consistent amount of product each time I use it.  I prefer the SPF 20 over this one but it depends on your skin type.
This e.l.f. Eyelid Primer has been with me since the beginning (meaning I've had it for 5 years).  It works like a dream and I'll be buying this one and the one in champagne as soon as this runs out (very soon now….I hope).  There's no creasing and it dries quickly and acts as a base by livening up shadows!
This Smashbox Photo Finish Primer (the ever-so famous one) is a sample from my ipsy bag and I can totally tell a difference when I use this instead of the Maybelline BabySkin for example (which I HATED) but it still isn't perfect.  This has been going strong daily for about 2 months and I'm only half way done!  I don't think I'll be repurchasing, it doesn't work all too well for my skin.  My makeup seems to get an odd texture halfway through the day with this one.
This is one of the newer e.l.f. products, the eyelid primer/eyeliner sealer and I am not a fan.  This is something I got in one of my e.l.f. beauty bundles and the eyelid primer creases like crazy and the eyeliner sealer actually removed my eyeliner (???).
The e.l.f. hydrating under eye primer is great with getting rid of creasing under my eyes!  It's a great smooth texture and I'd love to repurchase!
The tarte clean slate poreless primer is similar to the Smashbox Photo Finish with the feel but has a creamier look, not totally clear.  It makes my makeup a really strange texture halfway through the day with my oily skin, not a huge fan.
And lastly the POREfessional, another super famous primer.  This one isn't as good as the Smashbox Photo Finish in my opinion but still a good primer with a tint.
What is your top primer?  How do you feel about some of these?  Let me know!
xoxo