Hello lovelies!  It seems like forever since I did a favorites post!  This month I have a lot of new products you might not have seen before on my blog as well as some older ones that I still love!  Let's get started!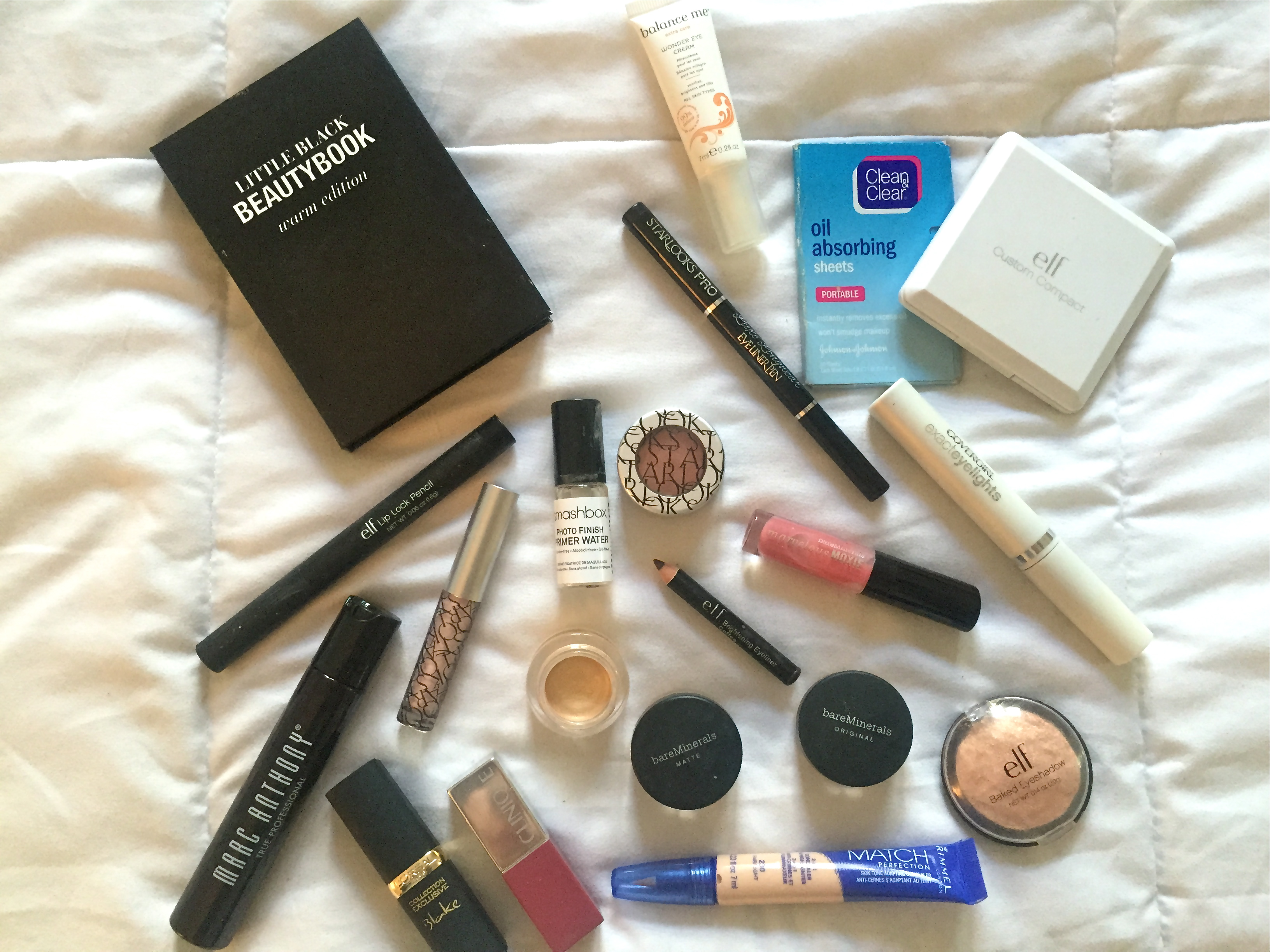 This is a big favorites post since I've gotten a lot of new stuff lately (almost too much) but I love it all so much so it's okay, right?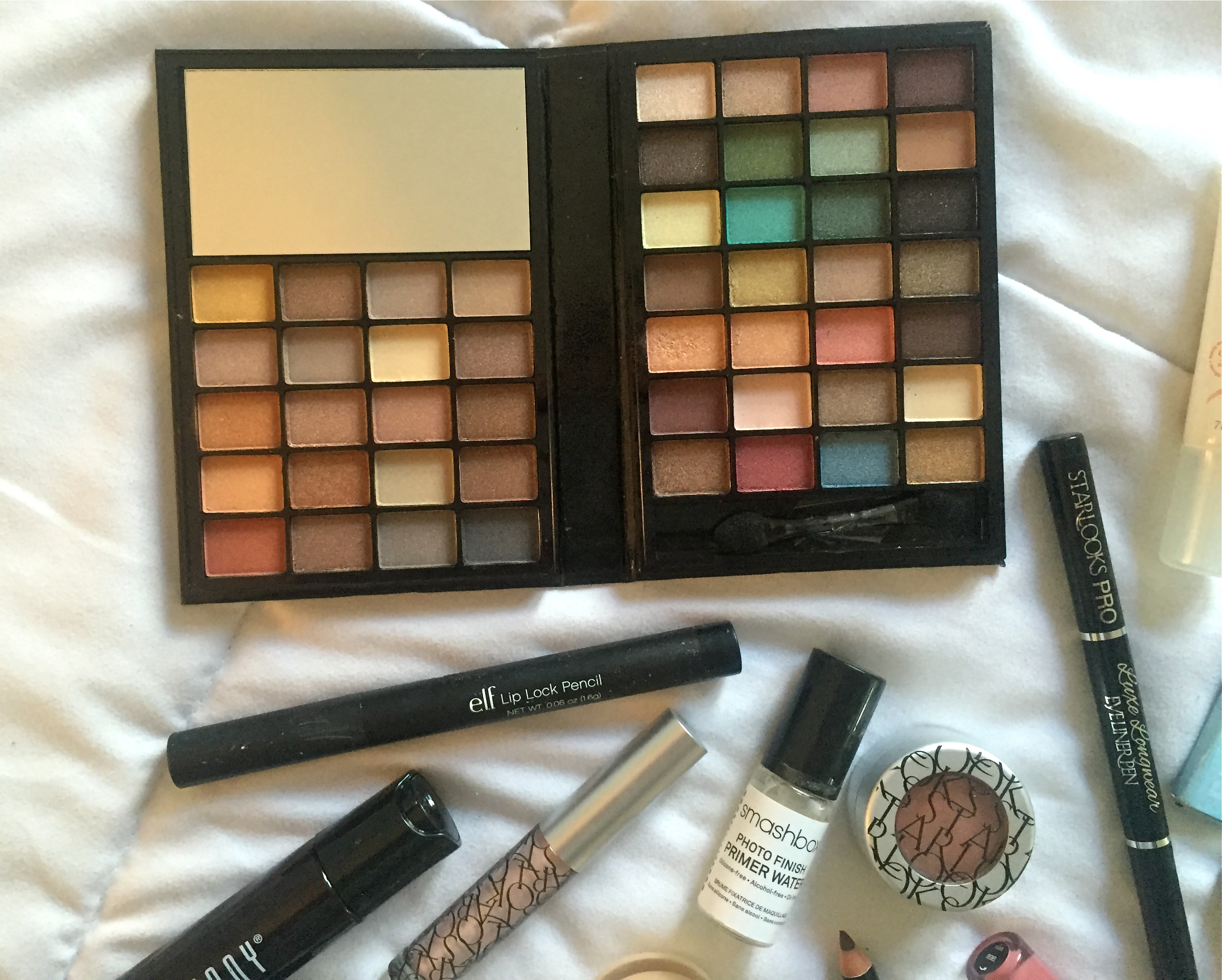 First is the e.l.f. Little Black Beauty Book in the warm colors from my last e.l.f. box with 48 eyeshadow shades and a huge mirror!  I've used these shadows so much, especially the golds, bronzes, and cream shades!  Below this palette is the e.l.f. Lip Lock Pencil which I got in my last e.l.f. order.  You line the outside of your lips with this clear pencil to keep your lipstick from feathering or smudging.  I've used this every time I've worn a color on my lips and I've definitely noticed a difference!  The Smashbox Primer water is from Birchbox and I love using it as a setting spray for a more natural finish.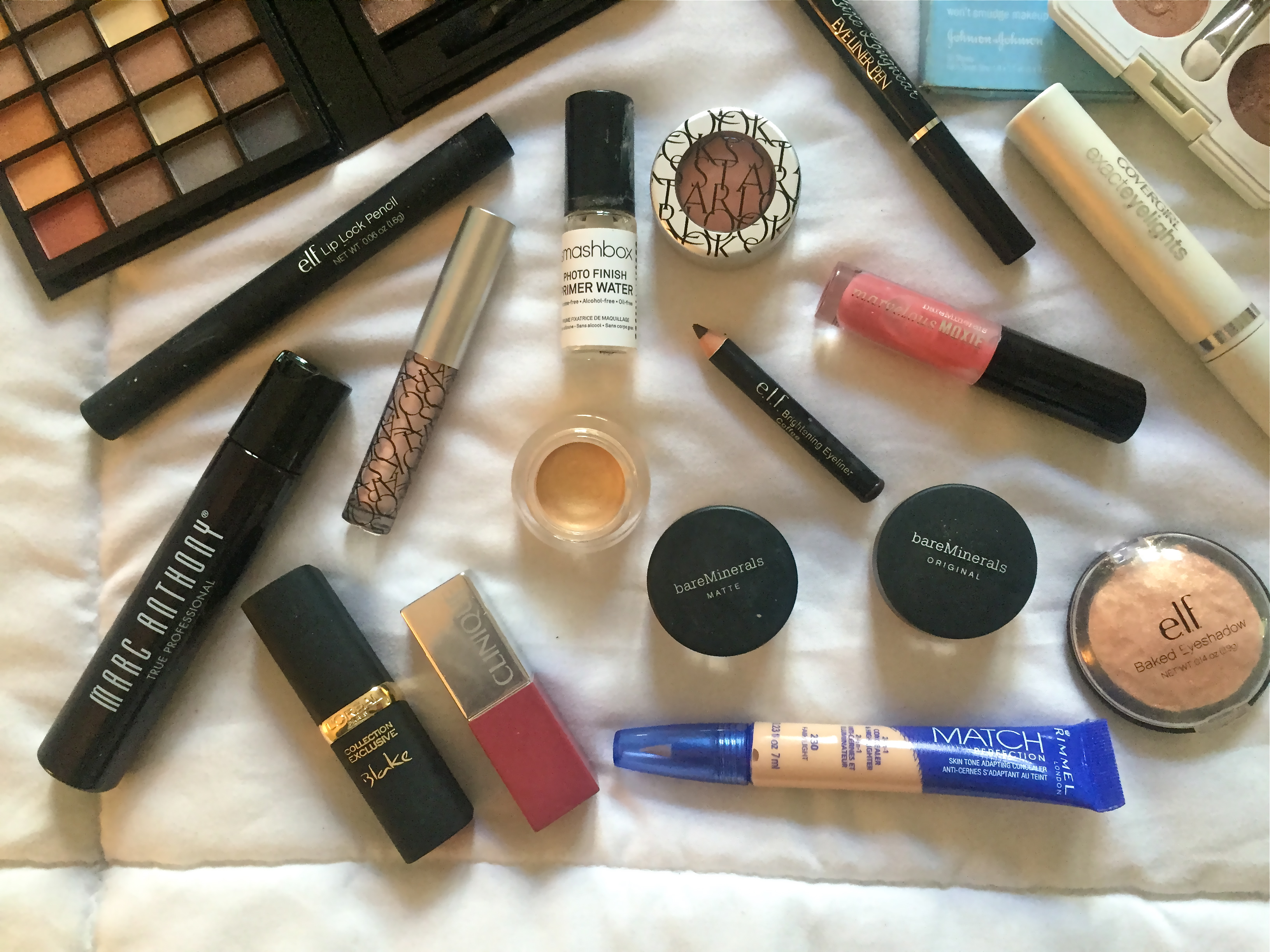 The pink-y pearl highlighter (Starlooks High-Life Illuminator) is from my Starbox and it's one of my top highlighters!  It blends so beautifully and brightens your complexion in a natural way!  The little gold cream eyeshadow in Gotta Glow is from my e.l.f.  box.  This looks absolutely gorgeous with a winged eyeliner look and mascara with minimal other makeup.  This brightens your eyes so increibly well and looks nice as a highlighter too!  The little e.l.f. eyeliner is in Coffee (brown) and I love using this just on my upper eyelid to make my lashes look thicker and darker at the base.
I've used mainly BareMinerals foundation the past 2 weeks or so, my face has been so dry so it's the only foundation that doesn't highlight that.  I love the coverage and SPF in these!  Guys, this is my favorite powder highlighter ever.  It's the e.l.f. Baked Eyeshadow in Enchanted.  So I got to Toronto and it shattered and as you can see, I fixed it but it's all bumpy and not pretty.  It still works though!
I just got this Rimmel True Match Concealer because I ran out of my under eye concealer.  I got the second shade which is good for me, not too light and not too dark!  The applicator bothers me but I still like the formula and the shade!  Next are the Clinique Plum Pop lipstick and the L'Oreal Blake's Red Lipstick!  I got the Clinique one on National Lipstick Day/a bad day as a pick me up and I love this shade!  Blake's red was for an event and I also wear this one a lot!  It's the perfect red for me!  (Swatches below)
Lastly there is the Marc Anthony Argan Oil of Morocco which is a thinner oil for your hair.  I use it every morning on dry hair and it works wonders for keeping it soft and tangle free!  Love this oil and will be repurchasing!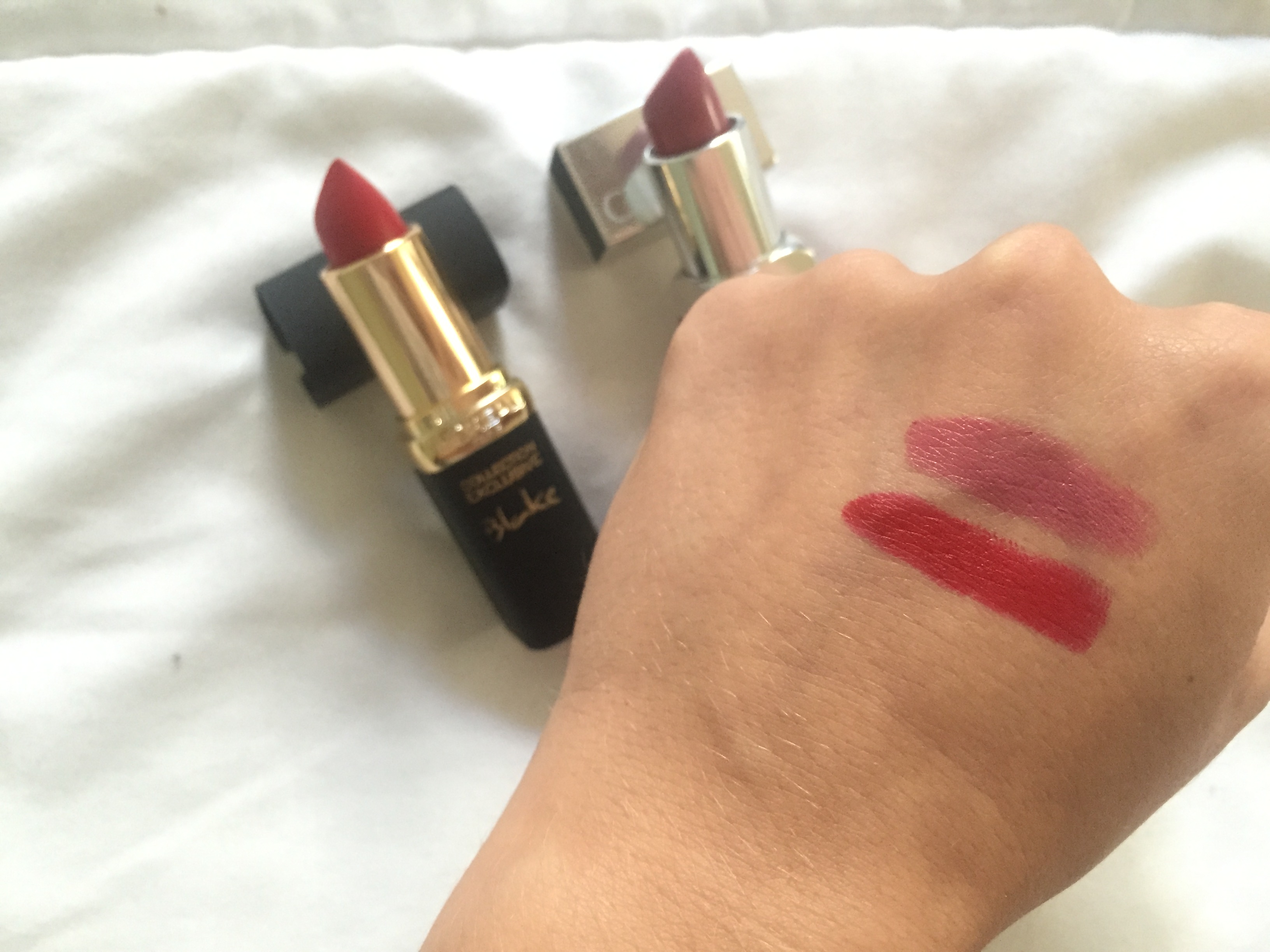 Swatches of L'Oreal Blake's Red 402 and Clinique Plum Pop.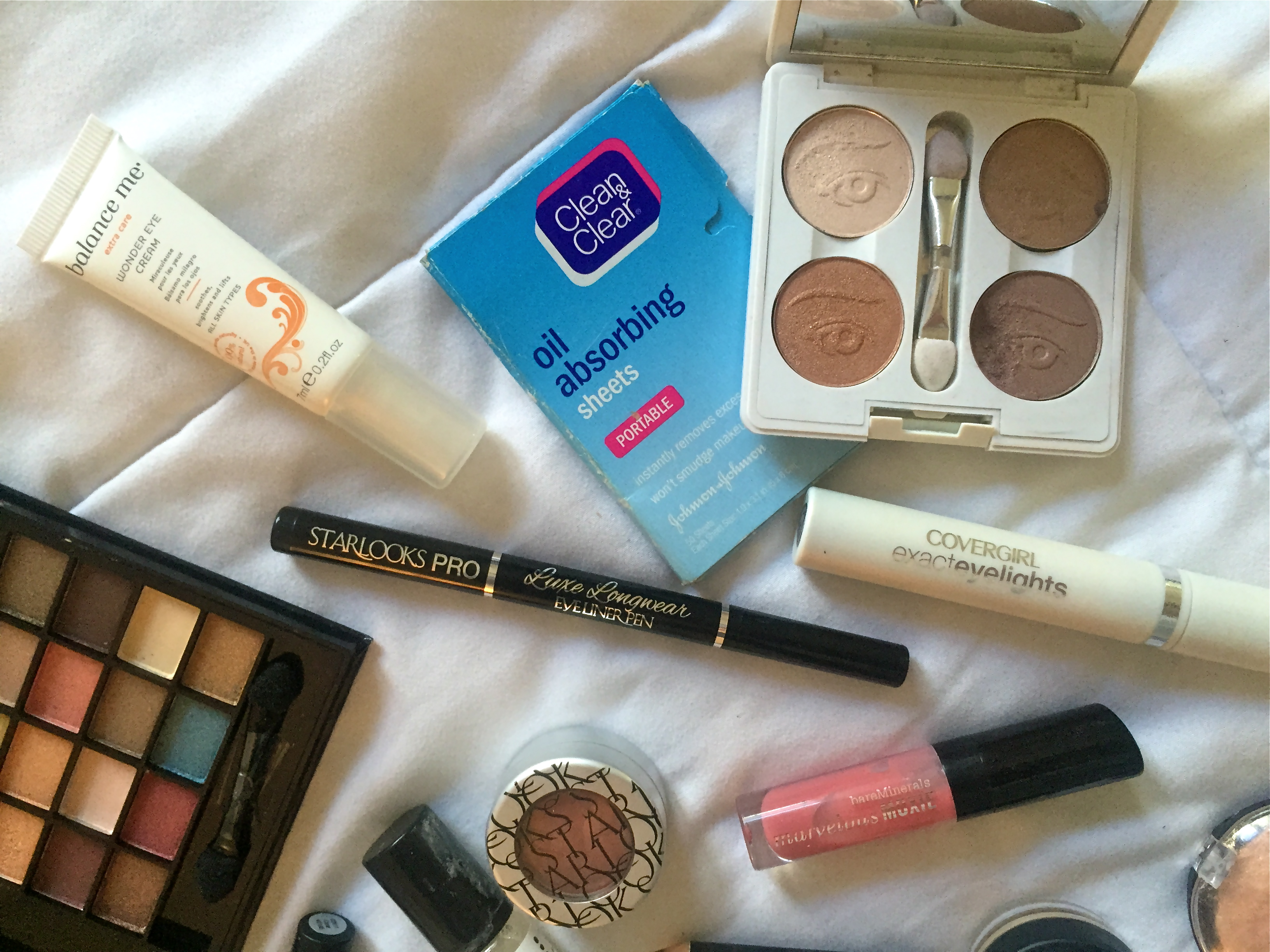 In the corner there's another eyeshadow palette from my e.l.f. order with 4 shades that you can choose.  The bottom right broke but I still use it for my eyebrows, which it perfectly matches!  There's also a huge mirror!  Under that are the Clean & Clear oil blotting sheets which work wonders, all the shine is gone without removing a single bit of my makeup!  This eye cream I got in one of my Birchboxes and I use it every night.  It smells so.good.  The CoverGirl eye lights in Black Sapphire is a mascara I always get compliments on.  It's not a super dark mascara it's more of a dark gray but the formula is great!  Makes my lashes long, thick, and natural looking!
The Starlooks Pro eyeliner is new on the site but I got it in my ipsy bag!  It's isn't super dark or pigmented but it's incredibly easy to make a super thin line and wing!  The lipgloss is from Bare Minerals and it's in the shade Rebel.  This is a sample size, which has taken me probably 2 years to finish.  I love the color and it's so moisturizing!  The blush I got in my Starbox from Starlooks which I love, it's glow-y and has more of a bronze look.
What are a few of your top products this August?  Leave a comment!
xoxo