I've been working on my wardrobe for a few weeks to prepare for my first capsule wardrobe (Spring 2016) and I realized that it would be really interesting to create a Winter Makeup Capsule Wardrobe of all my favorite things for this season and each after this!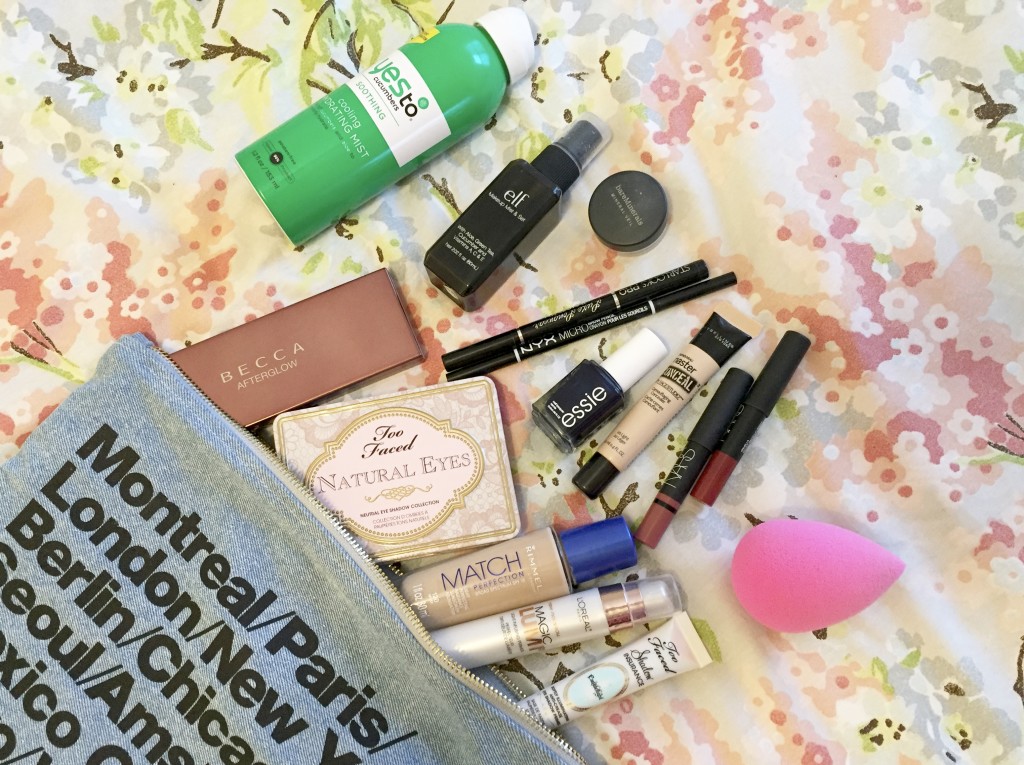 My absolute #1 primer is the L'Oreal Magic Lumi Light Infusing Primer which brightens my complexion so much and brings such a light through my foundation.
For foundation, I love the Rimmel Match Perfection because there are so many different undertones in the shade selection and I love how easily it blends on my skin.  It doesn't feel at all heavy and it has a medium coverage.  There is a nice natural finish, not too dewy but not matte.  Since my skin is quite dry during the Winter months, I am so happy this doesn't stick to dry patches at all!  When I'm having a dry skin day, this is what I reach for and was one of the first things to put into my Winter Makeup Capsule!
My top concealer at the moment is the Maybelline Master Conceal, because it's buildable and doesn't really stick to dry patches on my skin.  The shade range isn't huge but I found a perfect match.  This concealer doesn't crease under my eyes and it's so blendable with either a brush or a beauty blender!
I have gone through two sample pots of the Bare Minerals Mineral Veil which is incredibly similar to the Benefit Agent Zero Shine.  I think that the Bare Minerals is more oil controlling but in a very natural way.  I love how translucent it is without being white or producing a flashback with flash photography.  
My top highlighter is definitely Becca Shimmering Skin Perfector Pressed in Moonstone which is a gorgeous pale gold from my Becca Afterglow Palette, review here.  I use it all over my skin and it gives my face such a beautiful glow.  These are so smooth and have no trace of chunky glitter, just a beautiful and pretty strong sheen.  If you are considering buying a Becca highlighter, 100% invest!
The blush I've been using every day is Wild Honey from the Becca Afterglow Palette as well.  It gives a gorgeous flush to my face and I love using this every single day!  No way you can become a clown with this one! It's so smooth and blends out so easily, Becca blushes aren't talked about enough!  I never do my makeup without this palette so this is my go to for travel and was immediately put into my Winter Makeup Capsule!
Every day, I begin my eye makeup with the Too Faced Shadow Insurance in Candlelight.  It is such a bright gold that brightens your eyes so much that you can wear this alone or under shadows.  With this, your shadows will not move.  
Next I use my Too Faced Natural Eyes Palette, which I absolutely love, the shades are so blendable and so versatile!  I rotate between so many looks with this, it is definitely my go-to palette and you should definitely check it out if you like neutral shadows!  I initially bought this palette for Honey Pot (a bright gold) but ended up using almost every shade most days!  I also like the dark shade (Sexpresso) as an eyeliner.
For when I want my wings, I love the Starlooks Pro Longwear Eyeliner Pen because it fits to closely to my lash line and it isn't too black that I feel like it's too dark for me.
I haven't really tried a mascara recently that I love, have any suggestions?
I have been LOVING my Nars lip pencils (both matte and satin).  I got the two minis from Sephora for my birthday and they got me hooked.  I love using Rikugien, the more natural shade, every day because it's long wearing, and doesn't dry out my lips like crazy.  Also, Cruella stays on so long and is so easy to apply that it is a classic red for my Winter Makeup Capsule.
I use my beauty blender every single day for every liquid and cream product in my makeup routine so it had to make it into the Winter Makeup Capsule!  I'm super late to the party on this one but you know what?  I'm okay with that.  I highly recommend it, although I haven't tried the Real Techniques one that everyone and their mother loves.
xo