This month candles have been burning non-stop, nails have been painted pretty taupes, and makeup has been incredibly natural.  My January Favorites show I'm off to a good start, all very natural looking and smelling like vanilla.  Here I talk through my favorite products from the past four weeks, enjoy.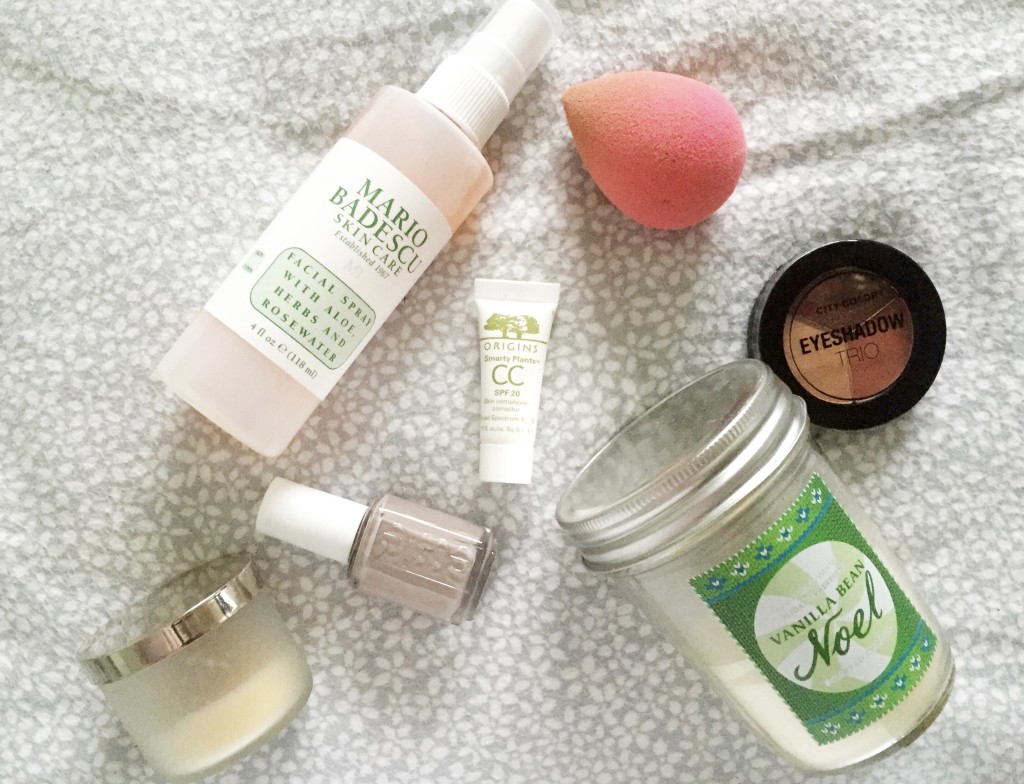 The first thing that has helped me keep my natural looking makeup achievable is my Mario Badescu Rosewater facial mist.  This absorbs so quickly and feels so refreshing while being a little moisturizing.  Beware if you're sensitive to scents, the rose scent is unreal.
This little Origins Smarty Plants CC is a miracle in a bottle.  It seems like it wouldn't have much coverage but once I tried it out, I saw that it had the most natural looking coverage I've ever seen. My skin looked absolutely perfect and glowing.  I didn't even set it with a powder and it stayed for a good few hours. Also, my skin has been so dry lately that my #1 concern is dry patches and this does not stick to them at all!  I will definitely be buying a full size of this as soon as I can get to a Origins counter.  
I can blend any cream or liquid product with a beauty blender and it looks so perfectly blended.  Especially that Origins CC, flawless.  I was so late to the party on this one and I don't know what I did to blend until then, get one if you haven't already.
In my last ipsy bag, I got this beautiful City Color eyeshadow trio in Falling Leaves, which has three beautiful shades.  A gorgeous champagne shimmer, a rich dark brown shimmer, and a peachy pink matte shade which are all so blendable and look gorgeous together and separately.  The matte shade looks beautiful alone for a more natural makeup day
My nails have been painted pretty nude-y taupes like Essie Master Plan since Christmas.  It was the color I'd been looking for for so long and I'm so glad I finally got a bottle.
I've been burning candles for most of the day pretty much every day. I love lighting three or four and blending the scents together creating the best scent.  Two I've been burning a lot are Bath and Body Works Vanilla Bean Noel and Vanilla Snowflake, I'm sensing a pattern here.
What are your January Favorites?