I recently got an Ulta order with some things that I've been looking at forever!  On my list for a while have been a hydrating primer and a light coverage foundation, so I chose  the Too Faced Hangover Primer and the BareMinerals Complexion Rescue Trial Set. But more on those later, on to my February Monthly Makeup.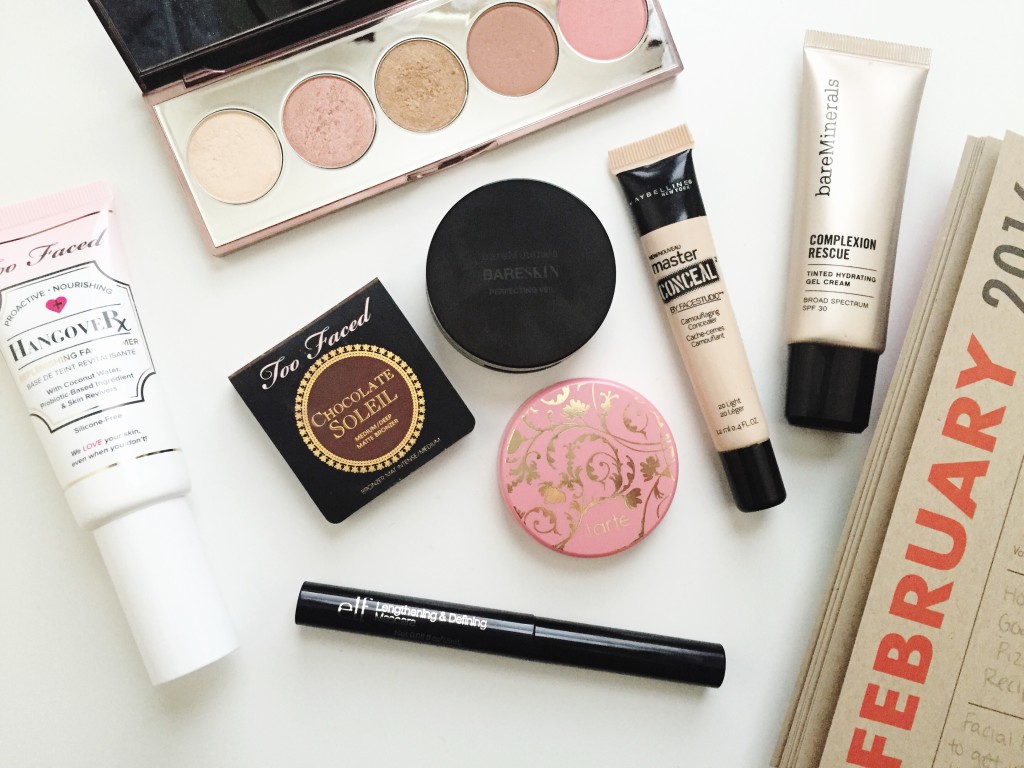 I begin my February Monthly Makeup with the Too Faced Hangover Primer for moisture, which smells like coconut water and feels like skin, not an extra layer. YES. For base I'm using my Maybelline Master Conceal under my eyes and the BareMinerals Complexion Rescue to even my skin and hydrate.  I think I've found my ideal light foundation, this doesn't tick to dry patches!  I set this with the BareSkin Perfecting Veil to keep it smooth all day.  Both of these feel like real skin, not heavy or mask like at all!
To wake my face up in terms of color, I go for my tarte Thrilled Blush which has a nice glow to it and Becca's Moonstone highlighter.  To warm up my skin, I use the Too Faced Chocolate Soleil Bronzer in Medium/ Deep which is surprisingly light and smells like chocolate with the smallest whiff. YUM. I'm so glad I've been exploring more of Too Faced lately!
Eyes have been usually bare with the occasional shimmering eye with the Becca Shimmering Skin Perfector Pressed in Topaz, a beautiful yellow toned gold shade. Since it's too dark as a highlighter for me, it makes the perfect shadow shade and I get more use out of my beloved Afterglow Palette, reviewed here.  Topped with a thick coat of elf's $1 Lengthening and Defining Mascara, my new fave, I'm ready to go.  I bought this mascara just because but I'm really surprised how much I like it!  It stays on all day giving me thick and defined lashes, and the price is perfect!
For lips I've been going natural with different lip balms, usually landing on a grapefruit flavor and reapplying basically every hour.
How will you spend your extra day this month?