I think that the number one makeup issue everyone deals with often is finding the longest wearing lip colors.  Most are gone by our first cup of coffee or leave the dreaded ring on our glasses at lunch.  Reapplying lipstick is so annoying and I have started buying less lip products in favor of better quality.  Although expensive lipsticks are usually associated with long-lasting but a lot of affordable options are too!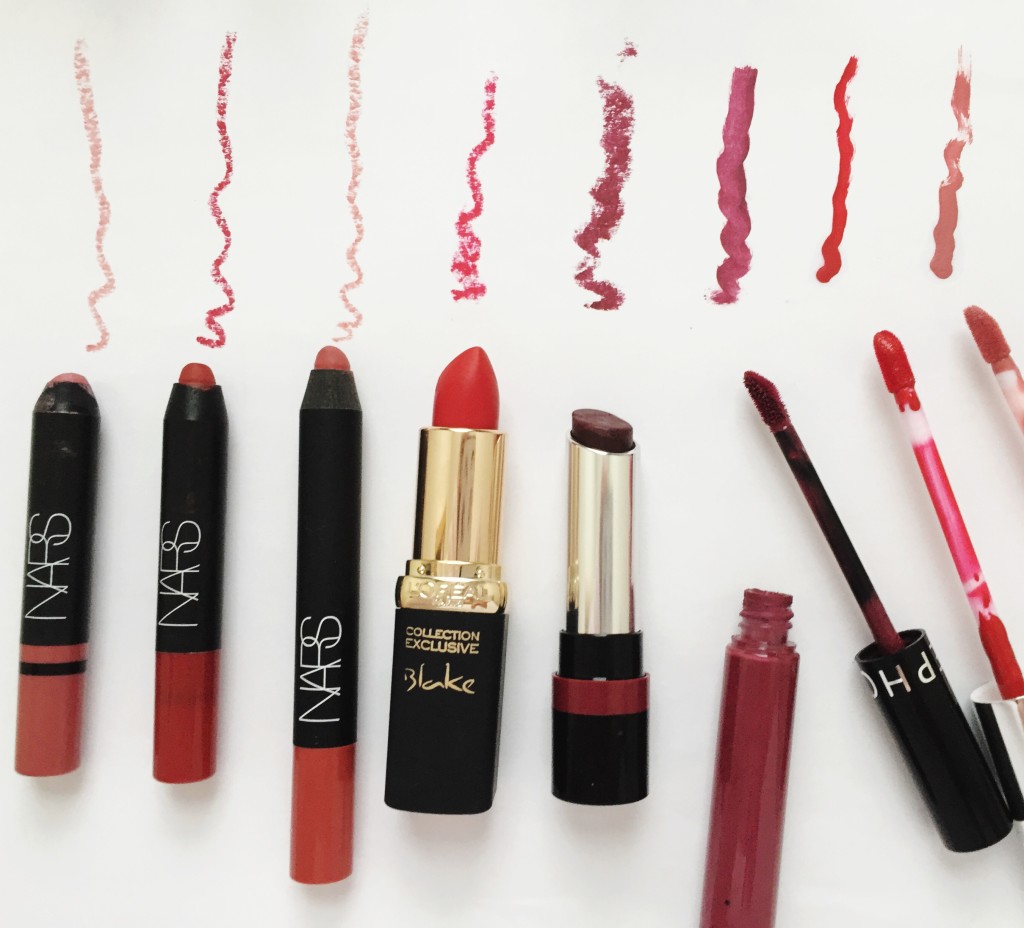 So here are my top 8 longest wearing lip colors watched out in daylight so swatches are accurate if you see a color you like!
Nars Lip Pencils are amazing quality, I have 2 sets of the Sephora Birthday kit from last year consisting of the Nars Satin Lip Pencil in Rikugien, moisturizing and a great shade, and Velvet Matte Lip Pencil in Cruella, a beautiful blue toned deeper red.  The only full-sized one I have is in Dolce Vita which is a Velvet Matte and is very similar to Rikugien but a bit more yellow toned (not too great for the teeth looking white) I still love it though.
The L'Oreal Blake's Red lipstick is probably my favorite, despite the scent of old people but I look past that.  This is a matte neutral/slightly bluish red lipstick that stays on so well, especially with a lip liner in the same shade!
I got the Rimmel The Only 1 Lipstick in Oh-So-Wicked which is a darker shade in a gloss finish.  There's a very specific way that I make this work so if you're a swipe and go, look to the next option for your perfect dark.  This one I nude out my lips with foundation and outline my lips with a lip liner in the same shade as my natural lip color but I don't fill them in.  Then I use this lipstick with a brush around the edges and straight from the bullet for the middle.  I blot with a tissue to dull the shine and it stays pretty well!  I have to do this process to keep if from looking black but the next one…
The Sephora Lip Creams are such a gift to the beauty world.  Affordable and great pigment in one swipe.  A matte finish and beautiful look, this one is in Blackberry Sorbet.
Again with the liquid lipsticks, ColourPop's Ultra Matte Lip Creams have incredibly staying power on me.  With nothing underneath, Creeper lasted 14 hours before I scrubbed it off.  At $6 and with the most extensive shade range out there, these are AMAZING and definitely on my list of longest wearing lip colors! I have Creeper and Solow shown here.
I do want to try the Kylie Jenner Lip Kits because people say those last like no other and there are some shades I would wear, I'm looking at you Mary Jo K and Candy K!