It's time to wrap up everything I'm super excited about in my Weekly Favorites #5! All newbies in my collection, but have made amazing impressions including Too Faced Hangover Primer and Rimmel Brow This Way gel!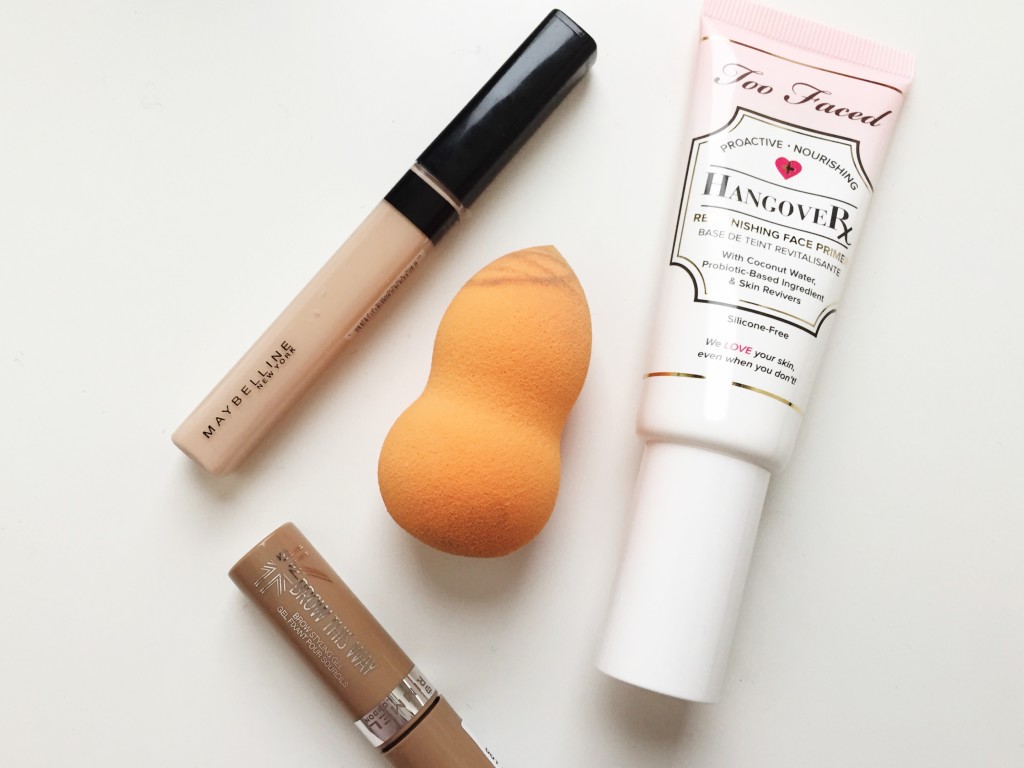 I was in need of a new undereye concealer and I picked out the Maybelline Fit Me concealer in 15 because my sister swears by it and what would we be without familial recommendations?  It's a thin texture but still gets the job done, blending easily and covering well for feeling so light!
My favorite discovery of the week is the Ulta Small Super Blender which I love 10x more than the Real Techniques Sponge.  This money suck of a hunt is all because my Beauty Blender got mold, lesson learned on that one.  I think this one equates the bb in terms of texture and ease of use!  I like the dip in the middle so there's a great place to hold onto whether you're using the round end for large areas or the point for smaller areas!  At 2 in a package for $5, I'm not sure I'll go back to the bb!
The Too Faced Hangover Primer (which I got in this Ulta order) has had a tough week of trialling, going with so many different foundations!  I have found that it doesn't like Complexion Rescue but it LOVES It Cosmetics CC+!  It also gets along well with my favorite foundations from Rimmel, Lasting Finish and Match Perfection!  It smells just like coconut water which just adds to the pleasant experience.
I went a bit Rimmel crazy last week and got a few new items including the Lasting Finish foundation, The Only 1 lipstick in Oh-So-Wicked and this gem, Brow This Way tinted brow gel.  It's really natural looking and keeps brows in place while filling them in nicely!  This definitely trumps my NYX brow mascara!