In 2015 my relationship with Netflix came to a new level, I finished The Fosters, Jane the Virgin, and a few other TV shows but 2016 was a whole new thing.  I began watching between 1 and 4 45-minute episodes a day and loving every second.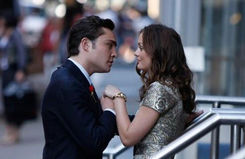 I began watching Gossip Girl a about a month or two ago when I was home on a Friday night.  I said to myself "there's no better time than when you have 5 hours to get invested in it" so the first episode I was cleaning my room and organizing here and there, second episode I was watching while pretending to organize and third, fourth, and fifth were full attention on the crazy lives of 5 ish New York City teens with plot twists that have you thanking Netflix for no commercials.  I'm halfway through season 4 of 6 and it's starting to scare me that I'm getting close to the end.
The Fosters was such a good show that had so much diversity within the cast and the plot that I really loved seeing that on TV but ever since they got a new actor for Jesus, I find myself wanting to fast forward through his scenes.  But like all actors, he will improve and get to know his character more as time goes on.
Jane the Virgin sounds like a show you shouldn't be watching with your family and some scenes it's not but it's a light-hearted rom-com sort of show that keeps you locked in every time.  I love the plot, it's bizarre but the characters are developed so well that their actions 100% correspond with their personality.  There's a narrator, subtitles for the Spanish-speaking abuela, and tons of on-screen text so if that's not your thing, move on.
Friends was a show that I just watched when it was on TV but never actually watched in order until a few months ago.  The long relationship of Ross and Rachel is so cute that when there's problems in the relationship, I find myself physically sad for them.  Out of all the characters, I'd say I'm a cross between Chandler and piece of Ross and Monica…but mostly Chandler.  Another light-hearted show that's only 22 minutes so you can watch with a more versatile timeframe.
On my hit-list for 2016 are:
Monk
That 70s Show
Secret Life of the American Teenager
Big Bang Theory
Gilmore Girls
Making a Murderer
Sex In the City
The Jinx
Glee
How I Met Your Mother
Recovery Road
The Affair
The reason my list of TV shows is so extensive is because, unlike other people, I'm super productive while watching TV shows.  I can sit down watching 3 episodes of Gossip Girl and get all my work done with no breaks or anything.  It's maybe not the best habit but hey, it works.