When I saw that Colourpop had Ultra Satin Lippies I was hyped and began scanning the website for colors I liked.  But when I saw the shades of the Matte X, I placed an order as soon as I could decide which ones to get.  I ended up with one Matte X and two Ultra Satin Lippes, both incredibly different formulas.  I'll compare each of the Colourpop new finishes with the Ultra Matte Lippies because we all know how those feel on the lips.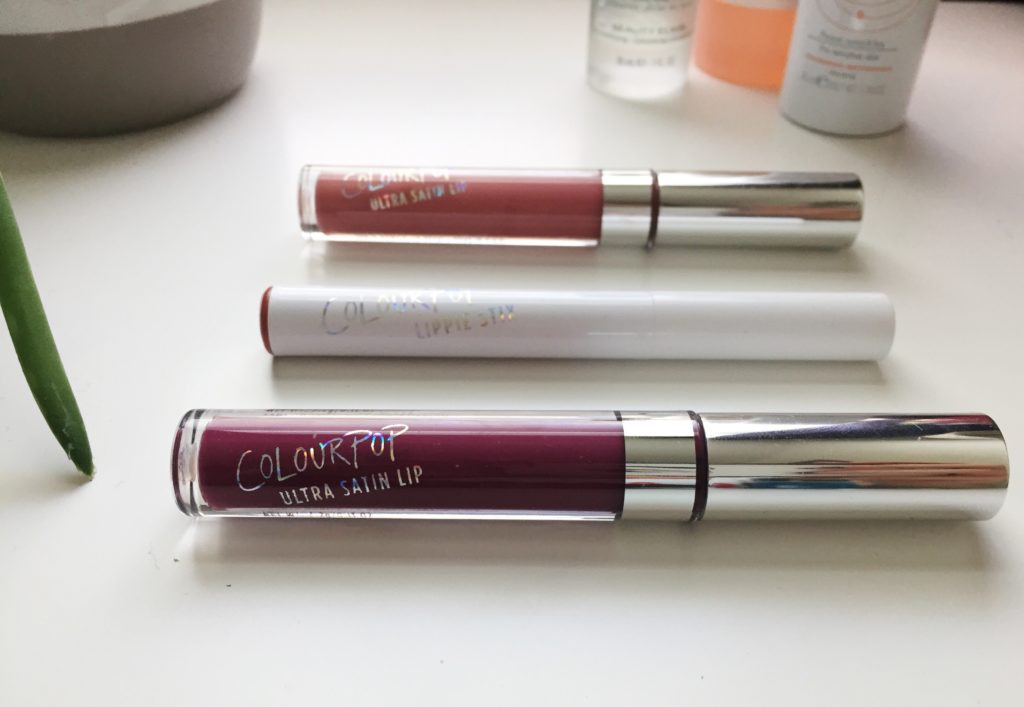 From front to back: Panda Ultra Satin Lip, Cami Matte X, Echo Park Ultra Satin Lip
Ultra Satin Lip
These come in the same packaging as the Ultra Matte Lips but instead of drying to that really matte, slightly tacky, drying finish, these aren't drying and are super comfortable but still a bit tacky.  When I eat or drink with the Ultra Matte Lips, there is usually not much that comes off on my food/fork or glass but with the Ultra Satin Lips it's everywhere.  It gets on to my food then transfers to my plate, it's all over my glass, not very good.  Despite that, it still stains my lips so they fade the lips without such a harsh line of where it came off.
Bottom Line: The Ultra Satin Lips are not drying at all compared to the Ultra Matte Lips but they're crazy in terms of transferring.
Matte X
Matte X lippies come in the same packaging as the Lippie Stix but since I don't have any Lippie Stix to compare them to, I am comparing them to the matte finish of the Ultra Matte Lips.  The Matte X formula offers a matte finish in a stick, with zero tackiness and super pigmented color.  There are a lot less shades in this range but I think they will be expanding quite a lot very soon.  The Ultra Matte Lips, although very matte, are a bit tacky for me and settle in lines on my lips.  Matte X is only slightly less matte but there's no tackiness and glides over the lips beautifully without being drying at all or transferring.
Bottom Line:  Matte X is matte without the flat, tacky, drying, settling formula of the Ultra Matte Lips.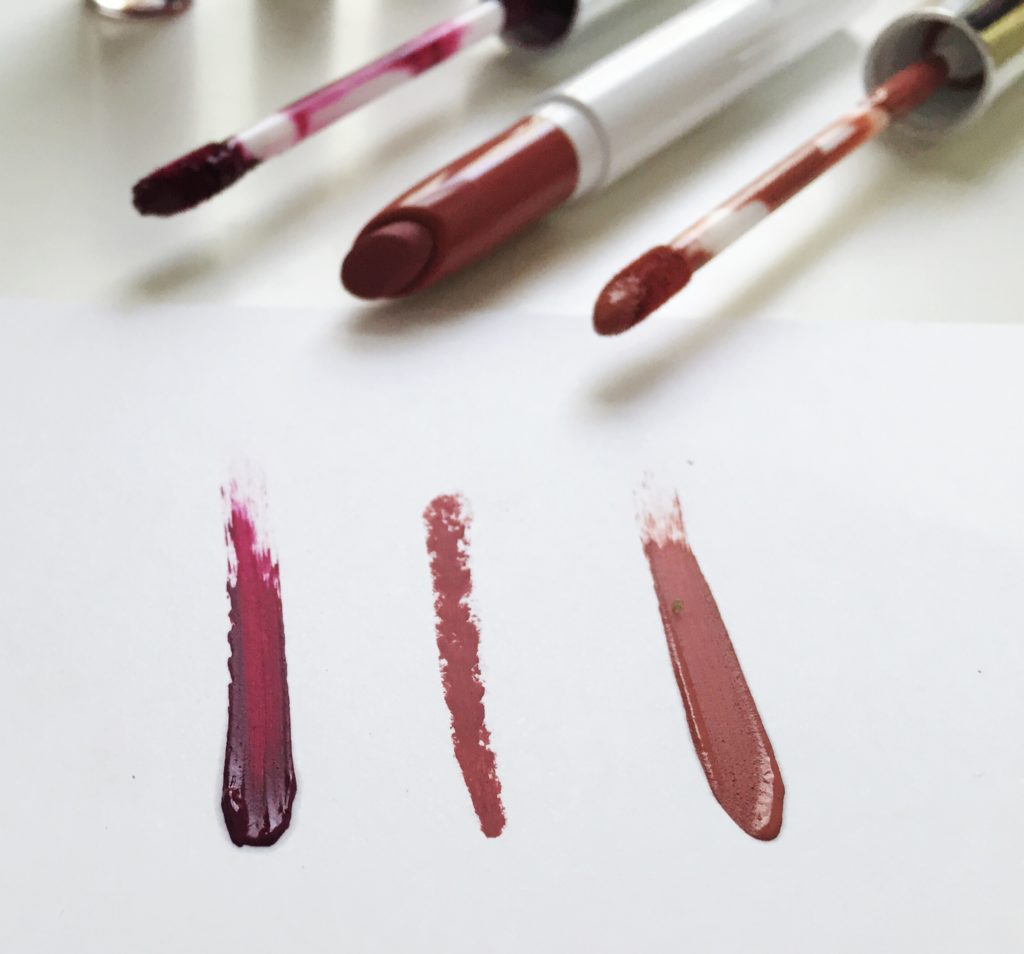 The colors I got of the Ultra Satin Lips are Panda and Echo Park.  I wanted to get a bright purple shade for summer and although I wish this formula didn't transfer so much, I like that it isn't a flat purple but had more dimension with the satin finish.  Echo Park is one a lot of people have and it is a bit lighter than Cami and more peachy.
Cami which is Matte X, looks pretty pink when swatched but has a very neutral almost grey undertone to it when it's on but it totally depends on your natural lip color.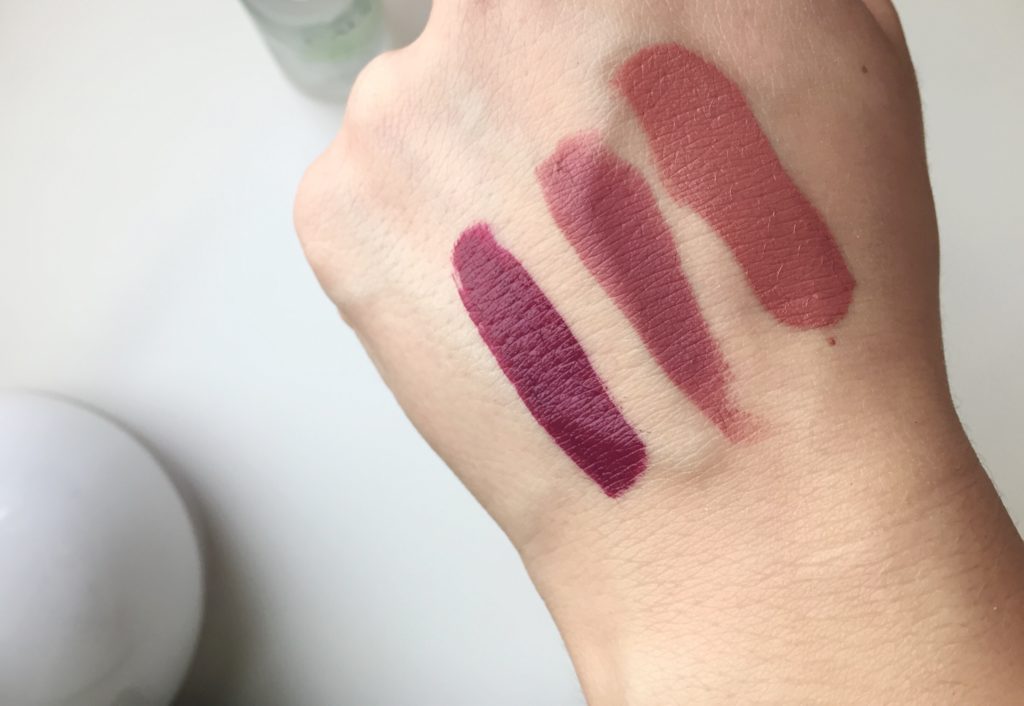 What are your favorites of the Colourpop new finishes?