I always wanted to do a post on my favorite products, favorite primer, foundation, everything.  Bloggers write about so much makeup and have different favorites every month but what would be in my beauty grab bag.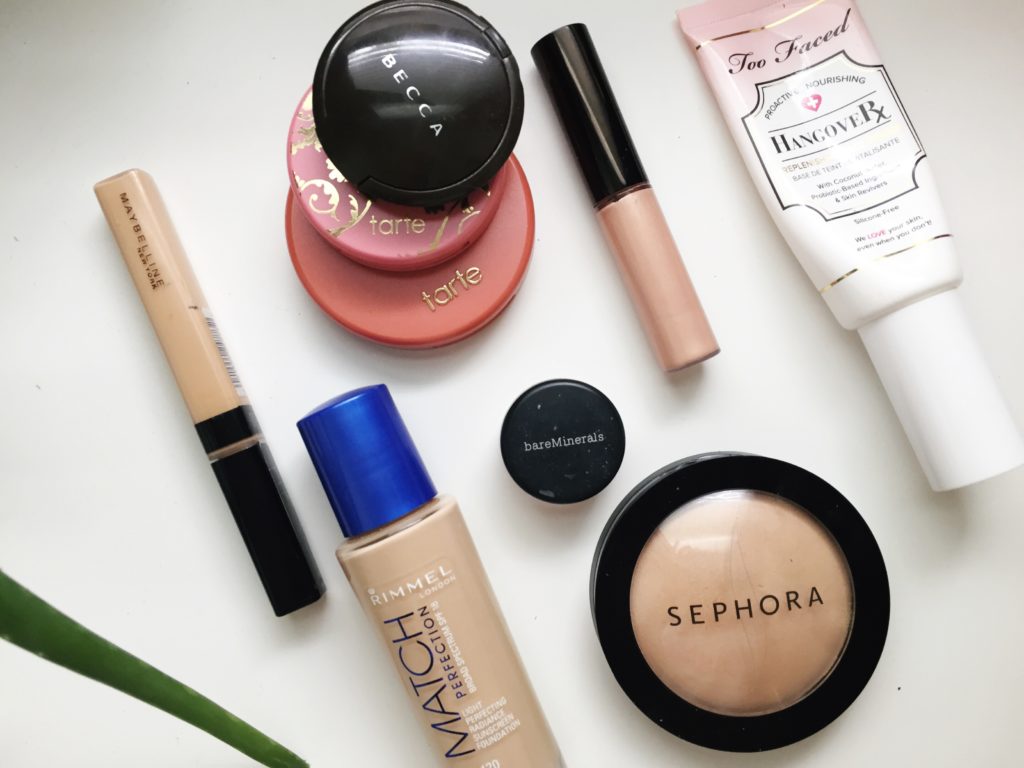 Base
As you probably know, my favorite primer is Too Faced Hangover because of the light scent of coconut water and it's super hydrating.  I love how this plumps my skin up after a long night and wakes up my face.  The tube with a pump is my favorite packaging and lets me use a consistent amount.
For foundation, I have repurchased Rimmel Match Perfection multiple times and will continue to repurchase, it's the most inexpensive and best foundation I own, hands down.  I wish it had a pump but it's easy enough to buy a separate one.  I highly recommend this foundation because it has sunscreen but doesn't flashback in photos as much as I would've thought at all.
My top powder is Sephora MicroSmooth Powder Foundation because it isn't drying or too mattifying.  It lets natural oils shine through without looking greasy.  It sets liquid foundation beautifully but also can be used on its own.
The only concealer I always go back to and always reach for in a state of emergency is BareMinerals Concealer.  Because it's a powder, it has high coverage without clinging to dry patches and it has SPF 20.  But sometimes it's necessary to have a liquid concealer so I use Maybelline FitMe Concealer which is the most known dupe for Nars Creamy Radiant Concealer.
My favorite highlighters come from Becca, surprise surprise.  I love the Shimmering Skin Perfector Pressed aka powder in the shade Moonstone but the regular Shimmering Skin Perfector in Opal.  I mix the liquid in with my foundation to give it a natural glow and the powder along the high points of my face.
tarte 12-hour blushes are the best blushes because the color range is amazing and they stay forever.  I also love the blendability and how the packaging matches the shade.  I have the shades thrilled (LE) and timeless.  There are different finishes and there is a shade for everyone with such an extensive range.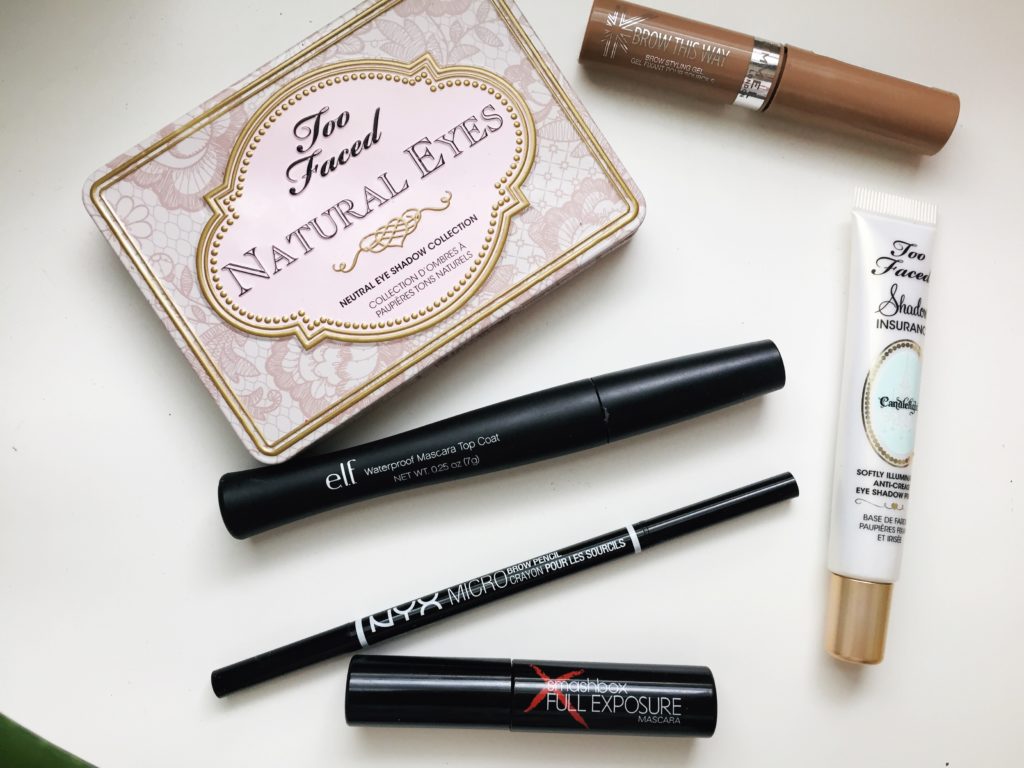 Eyes
The best eyeshadow primer is Too Faced Shadow Insurance in Candlelight.  It's a super bright gold that brightens any shadows and stays on forever.
As you've heard, I love the Too Faced Natural Eye Palette and it's totally my favorite eye shadow.  There's wearable nudes and stand out shimmers that stay on so well and are so versatile.  I use it to line my eyes, set my eyelids, do my eyebrows, everything.
Speaking of brows, I use NYX Micro Brow Pencil to fill them in and set them with Rimmel Brow This Way.  The NYX Pencil is a great eyebrow pencil with a fine tip and spoolie at the other end.  Brow This Way is a tinted brow gel that sets my brows without being crispy or wet.
For mascara, I have grown to really love Smashbox Full Exposure mascara's huge brush.  It's really black and lengthens my lashes without looking too thick and spidery.  To keep my mascaras from running, elf Waterproof Mascara Topcoat is a lifesaver.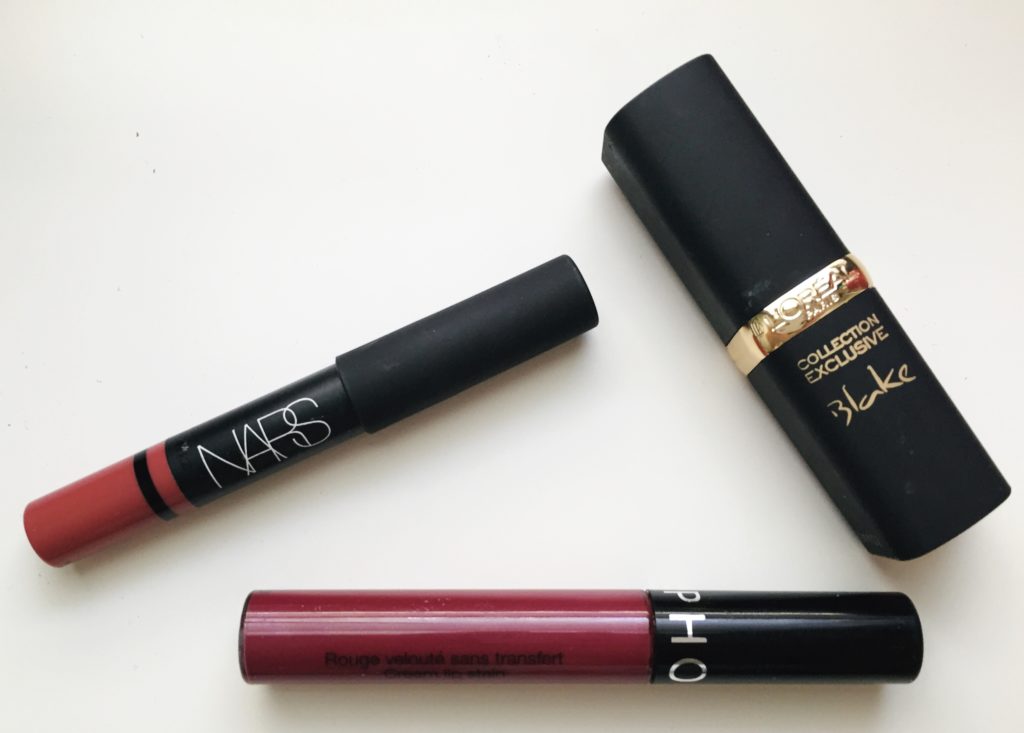 Lips
Every makeup bag needs a variation of lip options, including a red, dark, and natural.  For my red, I love L'Oreal Blake's Red because it isn't too blue or too orange and has great staying power.  One of my favorite darks is Sephora Lip Cream in Blackberry Sorbet.  My top natural is Nars Rikugien because it's hydrating and a nice pinky shade.