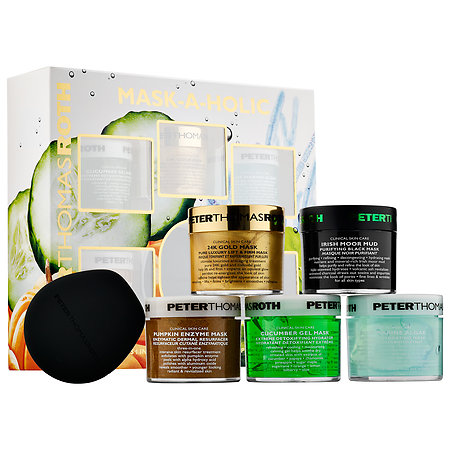 This Peter Thomas Roth Mask Set is amazing value for the amount of product and the different masks you get.  Trying new face masks and using different ones for different concerns is the perfect reason to snag this set for yourself or someone else.  These masks are talked about so highly online and there's no better way to get into them than by trying 5 of them.
If you're less willing to go all in on a gift for yourself or a fellow beauty guru, try this smaller Mask Sampler Kit which also contains 5 Peter Thomas Roth masks but in smaller sizes.  These are tiny sizes to test out a mask a few times rather than the other one which is good for many uses.
The Hourglass Ambient Lighting Powders are some of the most popular products online for their stunning packaging and versatile uses.  This trio has the perfect set for trying out different shades and for throwing in your Instagram flat-lays.  This palette is so gorgeous and it has such high-quality powders.
Deborah Lippmann has such amazing quality products and this Cuticle Lab Nail Treatment Set is no different, with 4 awesome products to keep your cuticles in order, which is something we could always use a little help with.  Personally, my cuticles are a mess and I could always use some of these products to help me sort them out.