This is a collective haul of a few different purchases throughout the last little while but I thought I'd put them all together into one post.  Can we take a minute for the amount of pictures in this post too?  Lush products are the most photogenic products I have ever blogged about (also the best smelling by far).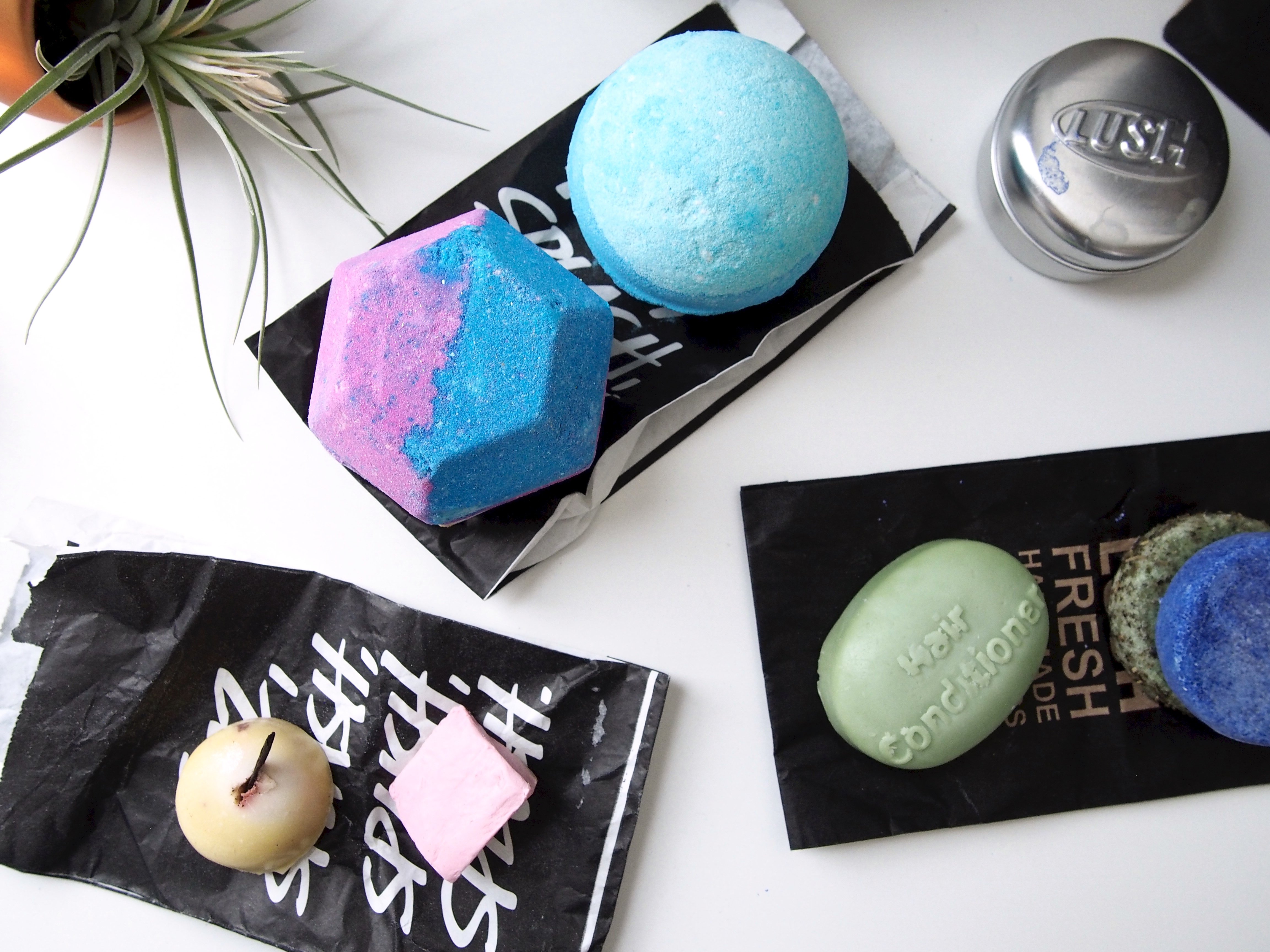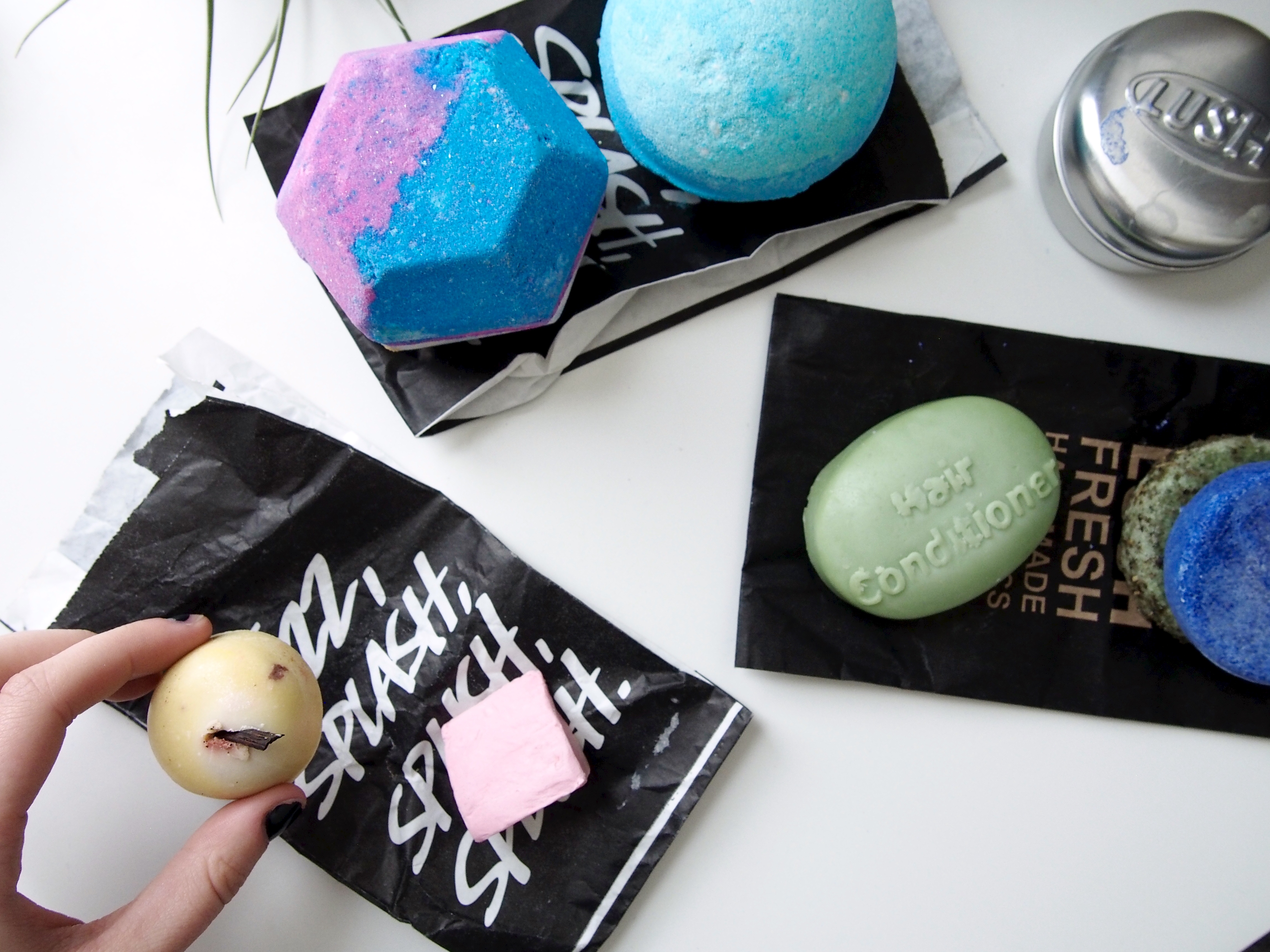 If you'll remember back to my 2017 Beauty Goals, I wanted to try to be a bit more environmentally friendly with my hair care.  I quit using shampoo and conditioners with chemicals and plastic bottles in favor of shampoo and conditioner bars in a metal tin.  There are so many different types of these shampoo and conditioner bars, there's definitely one for everyone!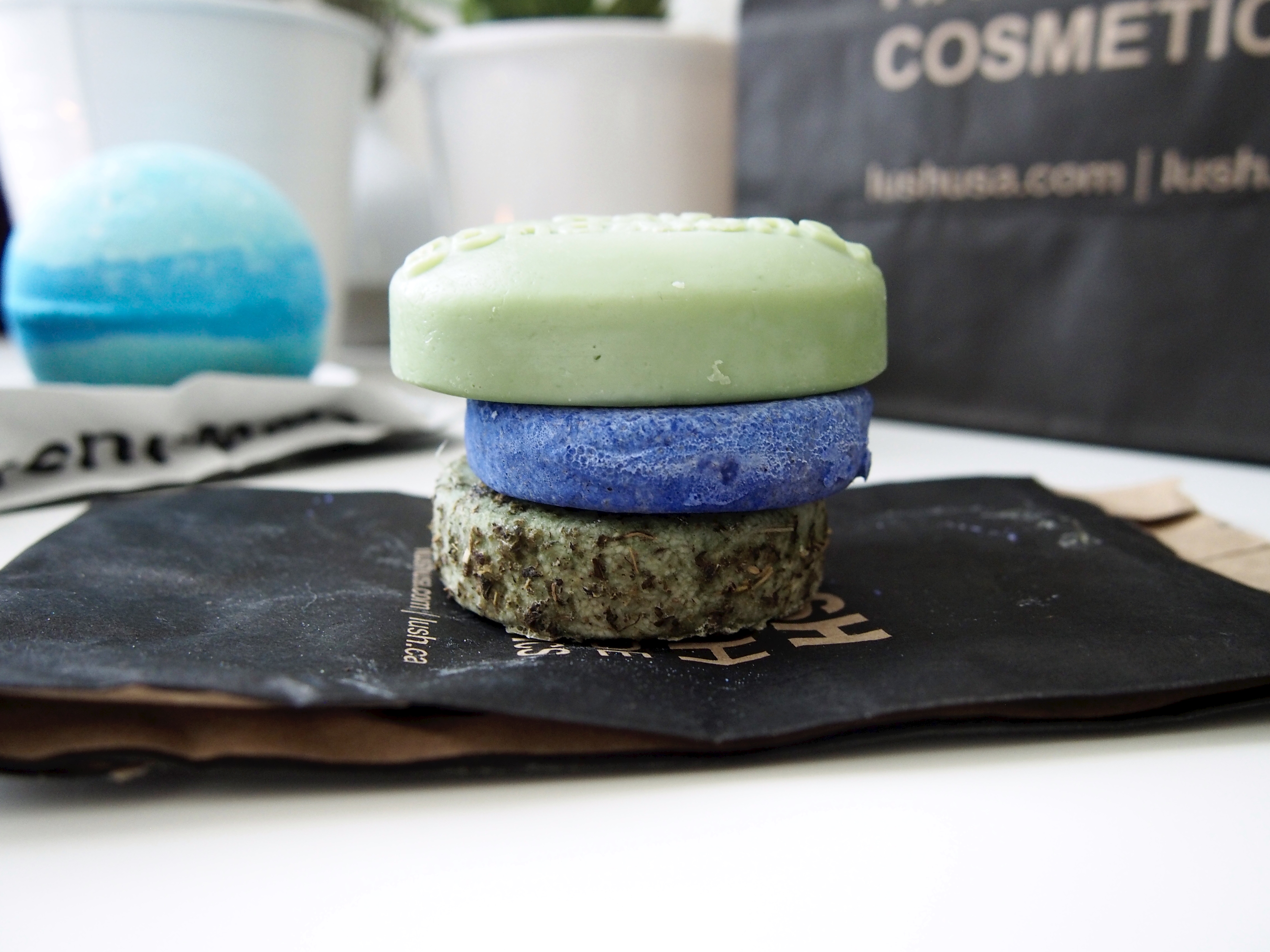 Hair
For shampoo, the purple one is Jumping Juniper which smells of fruit and lavender, a perfect combination.  I chose this one not only because of the amazing scent, but because it is perfect for people who don't wash their hair every day.  This works like a charm to get my hair squeaky clean (literally it squeaked the first time I used this) so I don't have to suds up every day.  Beware: it bleeds purple but will not dye your hair or your shower.  The green one I got from my dad who never used it and I think it has been discontinued, so that one's a mystery.  It has a ton of rosemary physically in it and it always gets caught in my hair (not ideal) but all the newer shampoo bars do not have actual herbs in them like this one. As a major bonus, these lather up so so easily and you won't have to use a ton of product to wash your hair every time. Translation: this thing will last forever.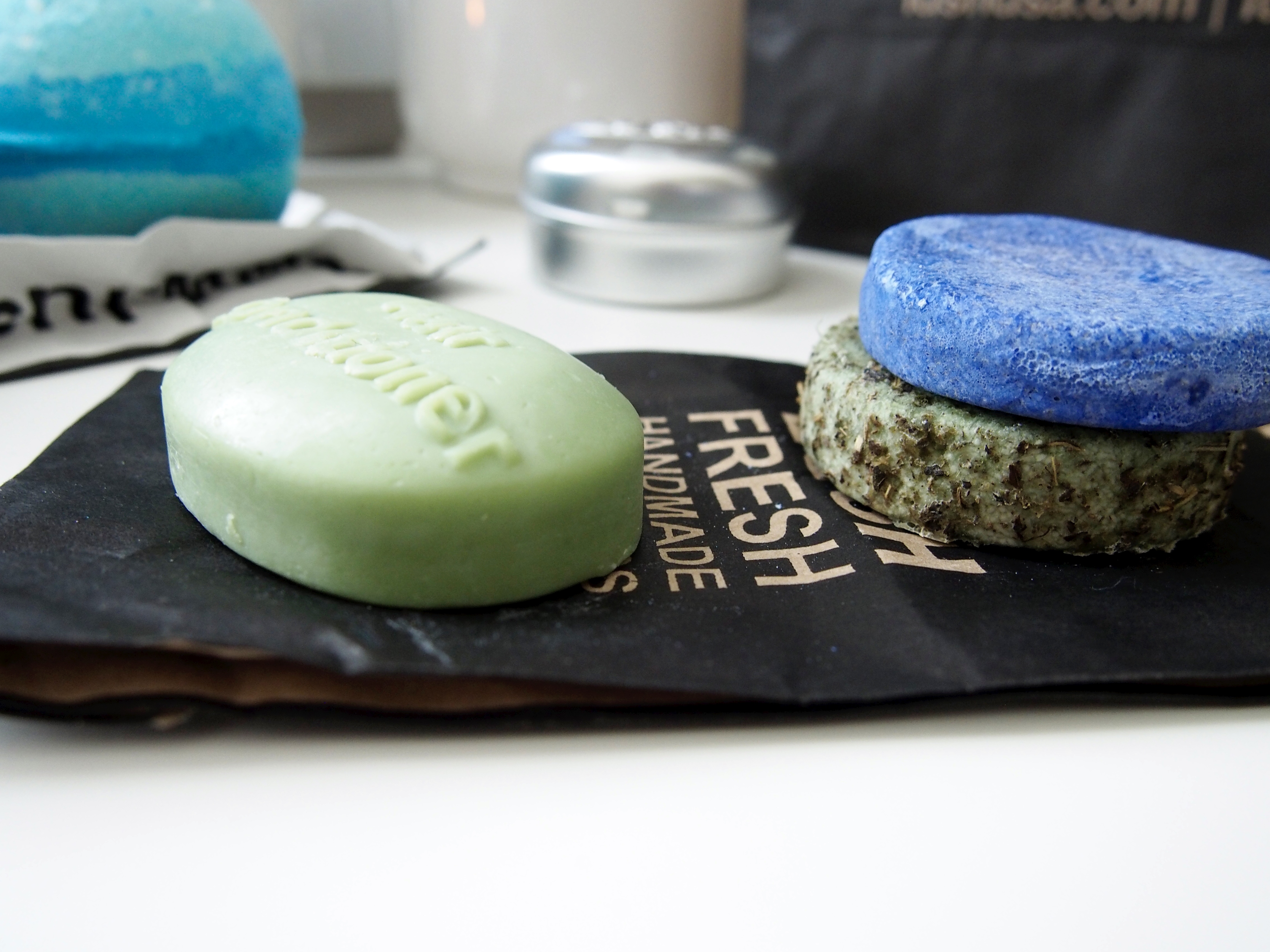 For the conditioner, I bought Jungle which is super fruity and is supposed to cure my dry, tangled ends.  I love the scent and I can't wait to start using it, my hair definitely needs it.  I love that the shampoo and conditioner bars don't have any packaging also.  Lush is a company that helps consumers make good decisions (low packaging, a reward for recycling packaging, fresh and organic ingredients, no animal testing). Go Lush!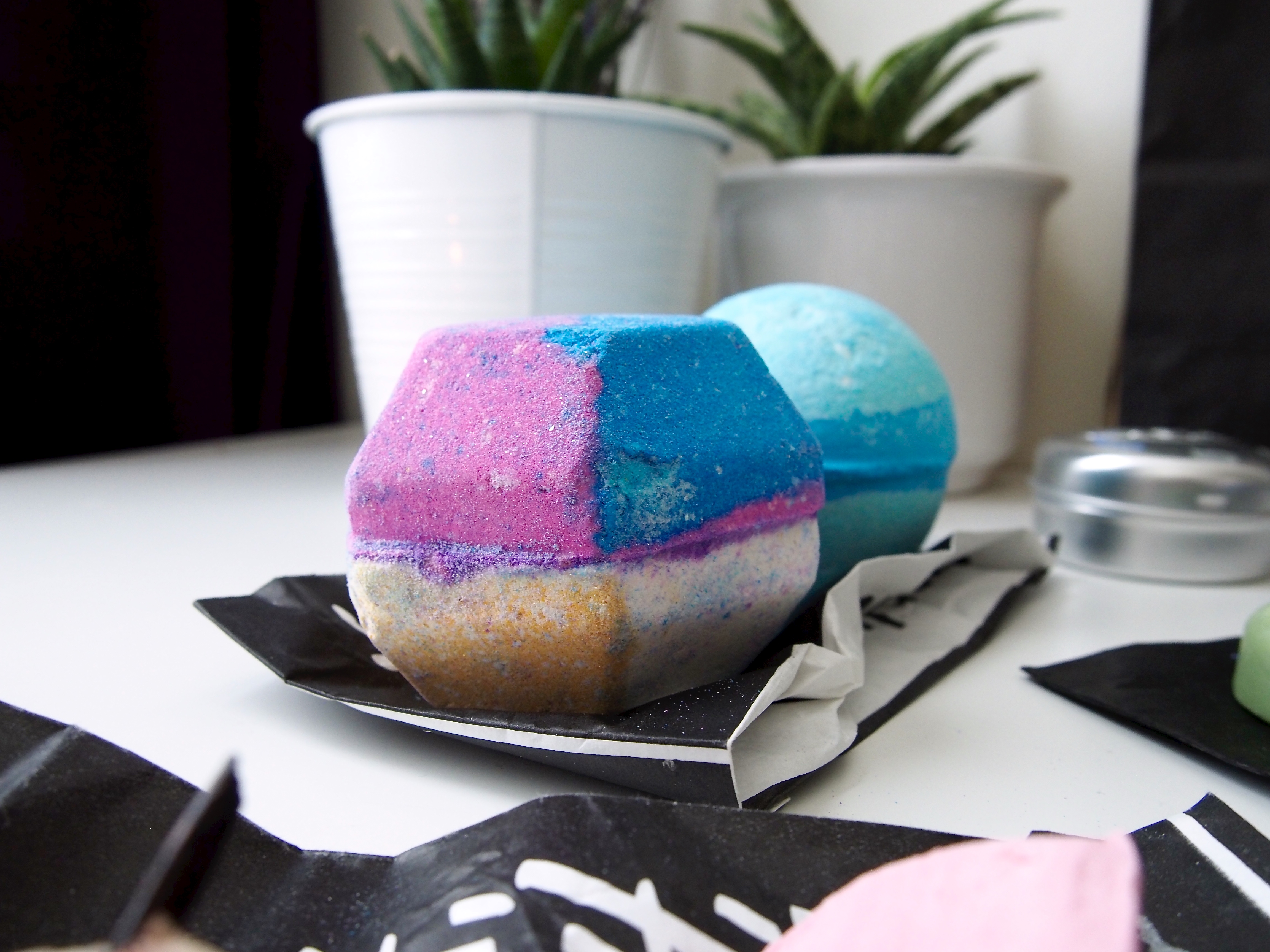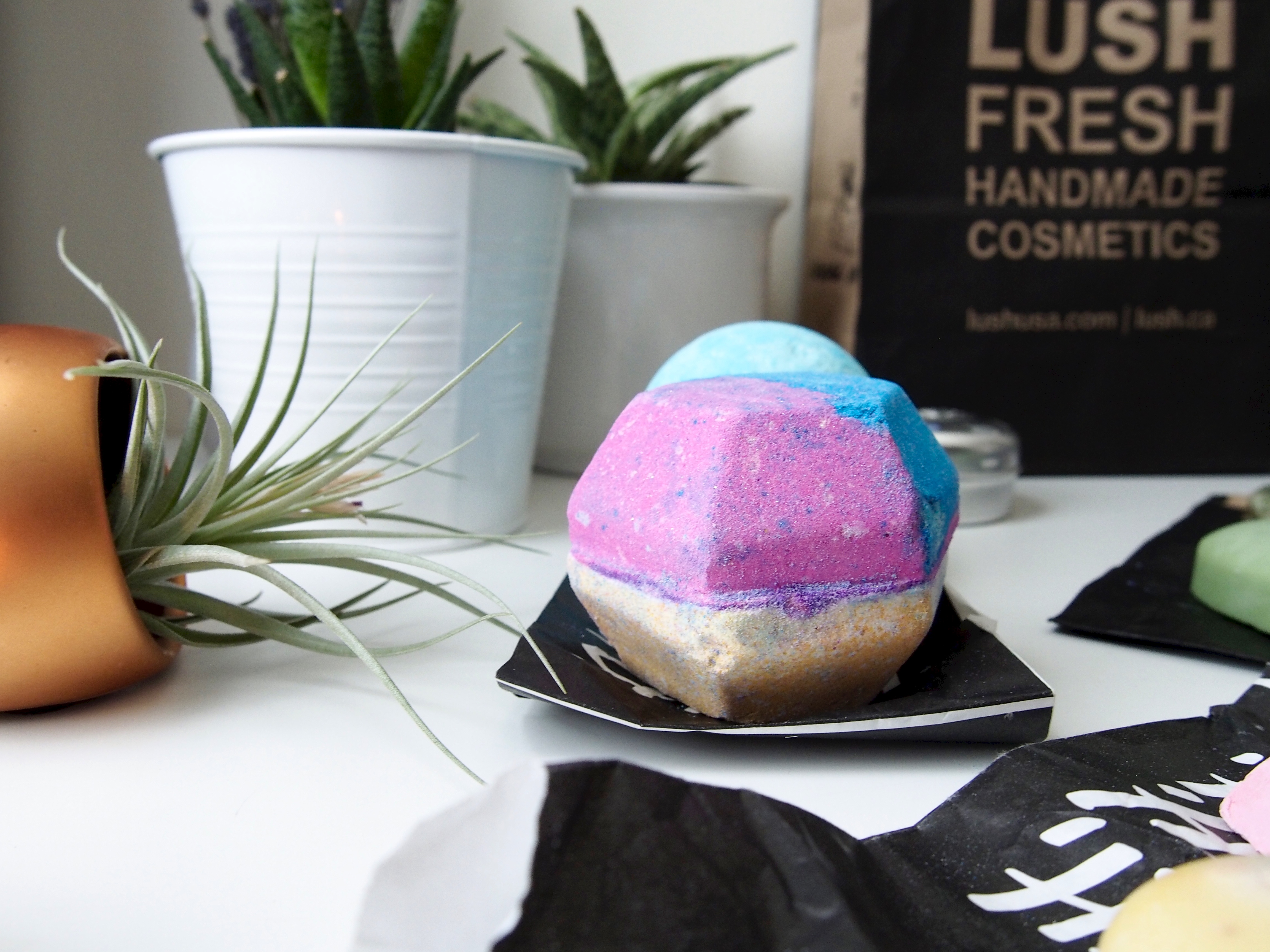 Bath
As for bath bombs, I'm always looking for ones that are scented with vanilla, lavender, or something else relaxing. I'm never much of a citrus bath kind of gal but I am up for a bath bomb that puts on a show.  That's why I chose The Experimenter, which smells of vanilla and has popping candy in the middle.  I'm not too stoked that this has glitter but I'm willing to deal with it for the gorgeous bath I will be soaking in.  I seriously can't wait to hear the popping candy with this one, I'm so excited.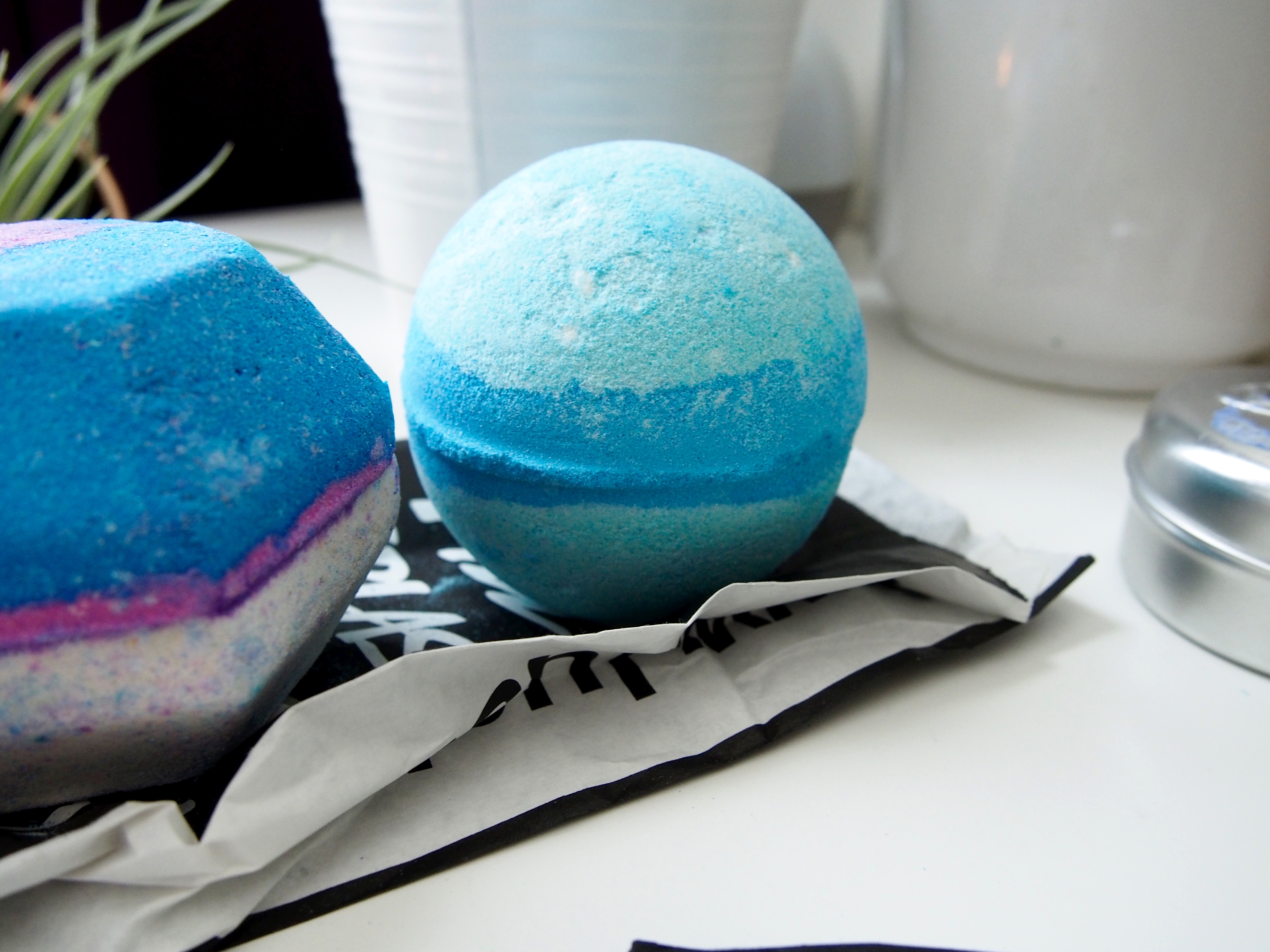 I also picked up Frozen, which also has glitter but smells like neroli, one of my favorite scents.  Once I saw the phrase "melts even the iciest of moods" I knew this would be perfect for days when I really need to relax.  I bought both bath bombs because one of my best friends just bought them and if we can't trust our friends for bath bomb recommendations, who can we trust?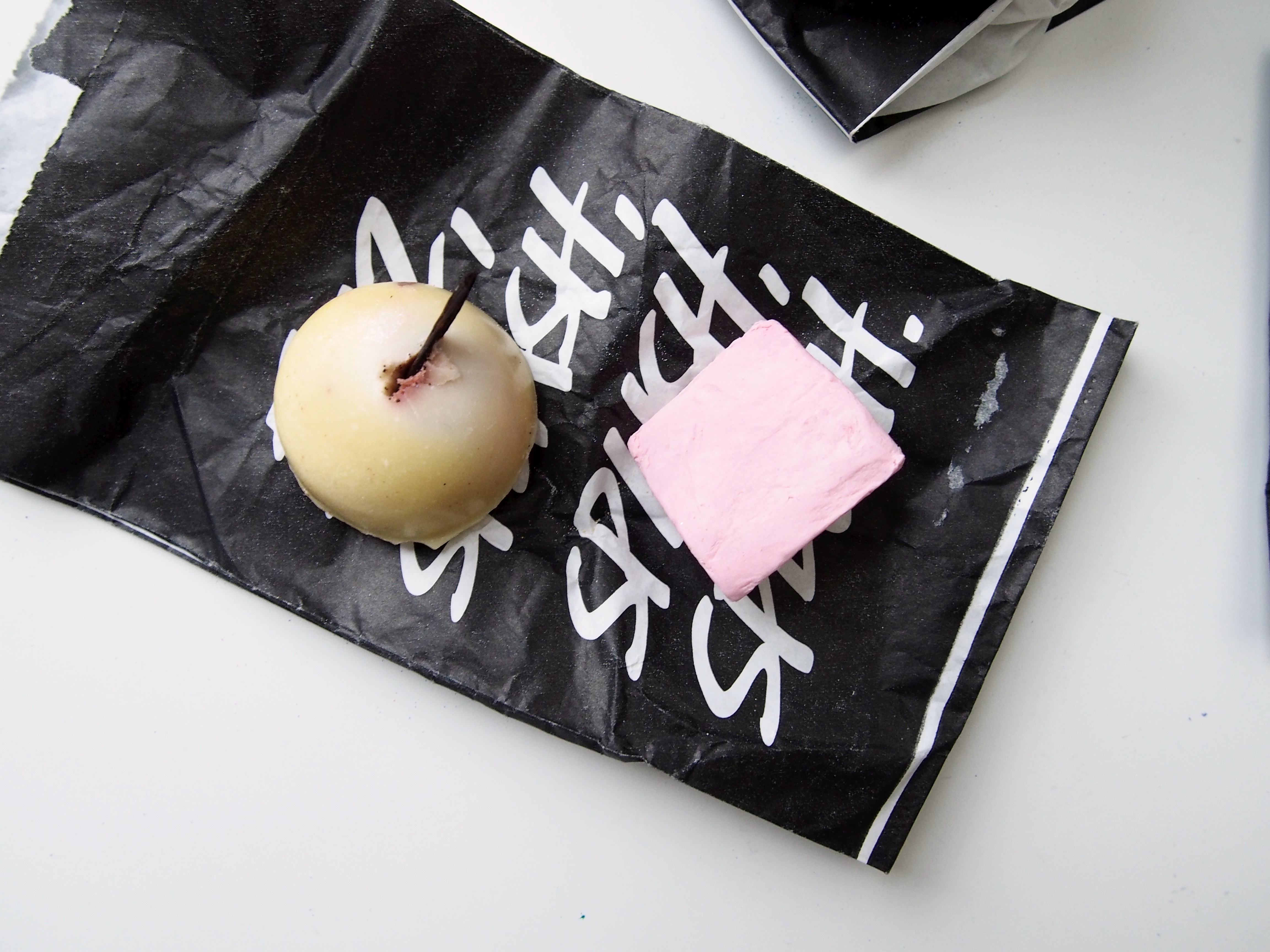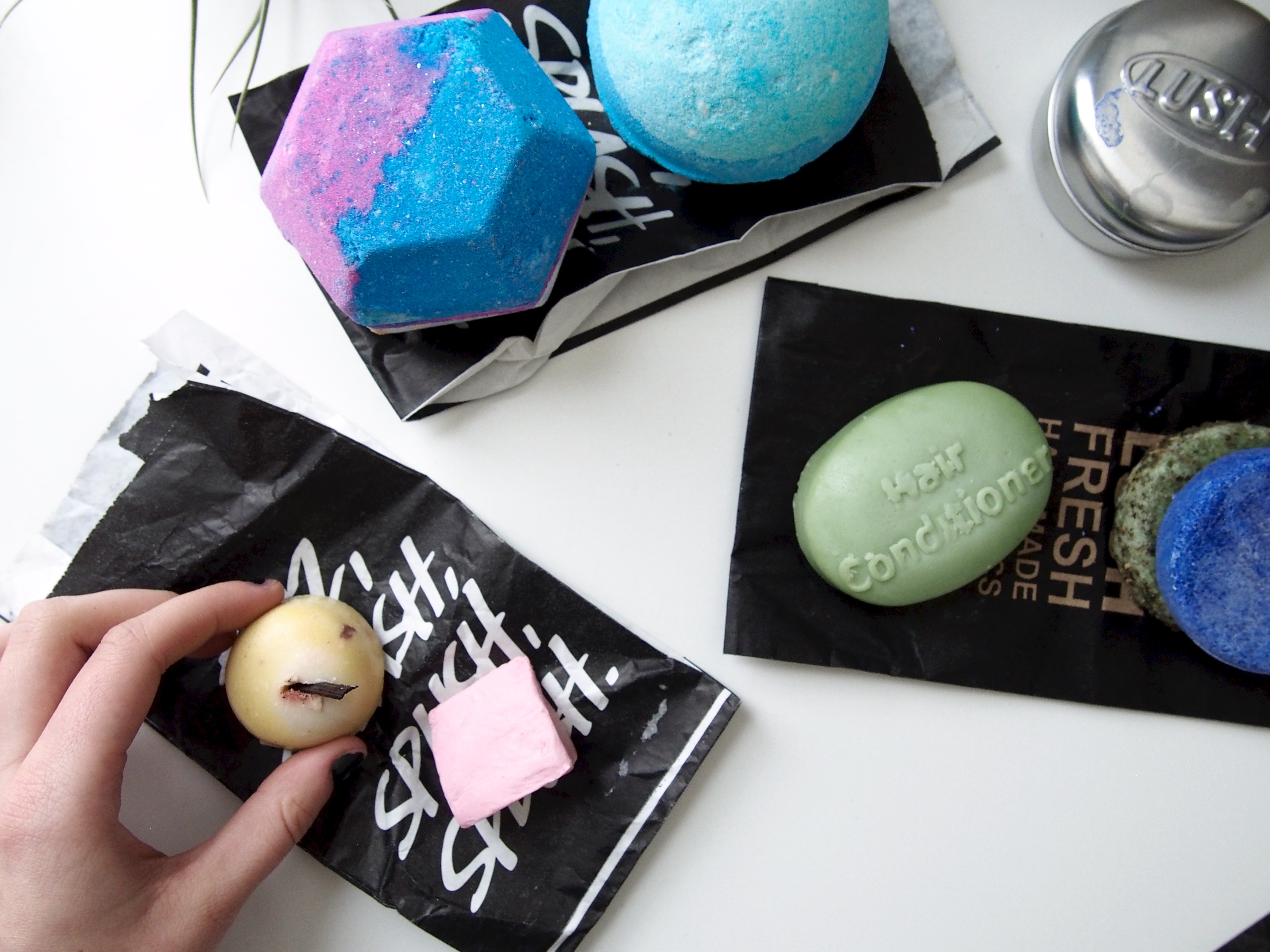 I got this Floating Island Luxury Bath Oil because it was super inexpensive and smelled of vanilla (so good).  Once I dropped this in the bath, I hoped it would melt quickly and soften the water but my hopes may have been too high.  It finally started to melt and the oil sat on top of the water, disappointing.  I sat in there longer than usual to give this little guy a chance but it just kept creeping along until the water started getting cold.  There's still half of this left so I will try it again with a hotter bath and see if it melts any faster, but this wasn't as good as I hoped.  I would be up for trying You've Been Mangoed, also a little Luxury Bath Oil, but I wouldn't repurchase this one, despite the good-enough-to-eat scent.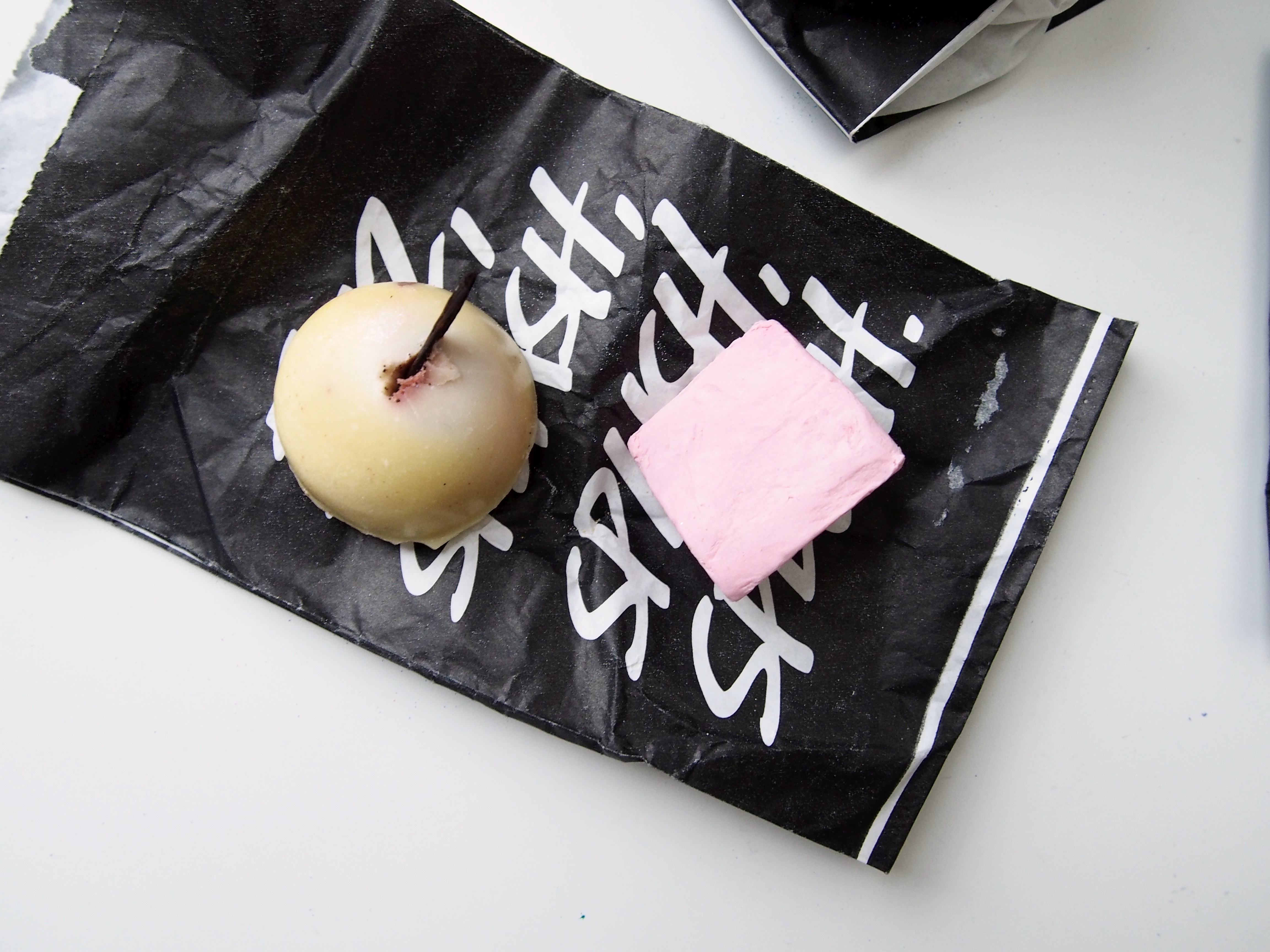 When my order came in the mail, Lush sent this little chunk of Maypole Soap which smells of peppermint and maple syrup (YES). I haven't tried this yet but there are only rave reviews on the website so I must be in for a treat!