Every winter my skin gets intolerably dry, like cracking and peeling dry.  I can layer up on moisturizers, use overnight masks as my regular moisturizer, exfoliate weekly, it makes little difference.  But I have found a full routine that, if followed step by step, my skin stops cracking and getting out-of-control dry.  It's not just the cracking that's the issue either, my skin soaks up every single drop of hydration from foundation, leaving my makeup looking dehydrated by the end of the day.  This is my routine for skin so dry, it's cracking.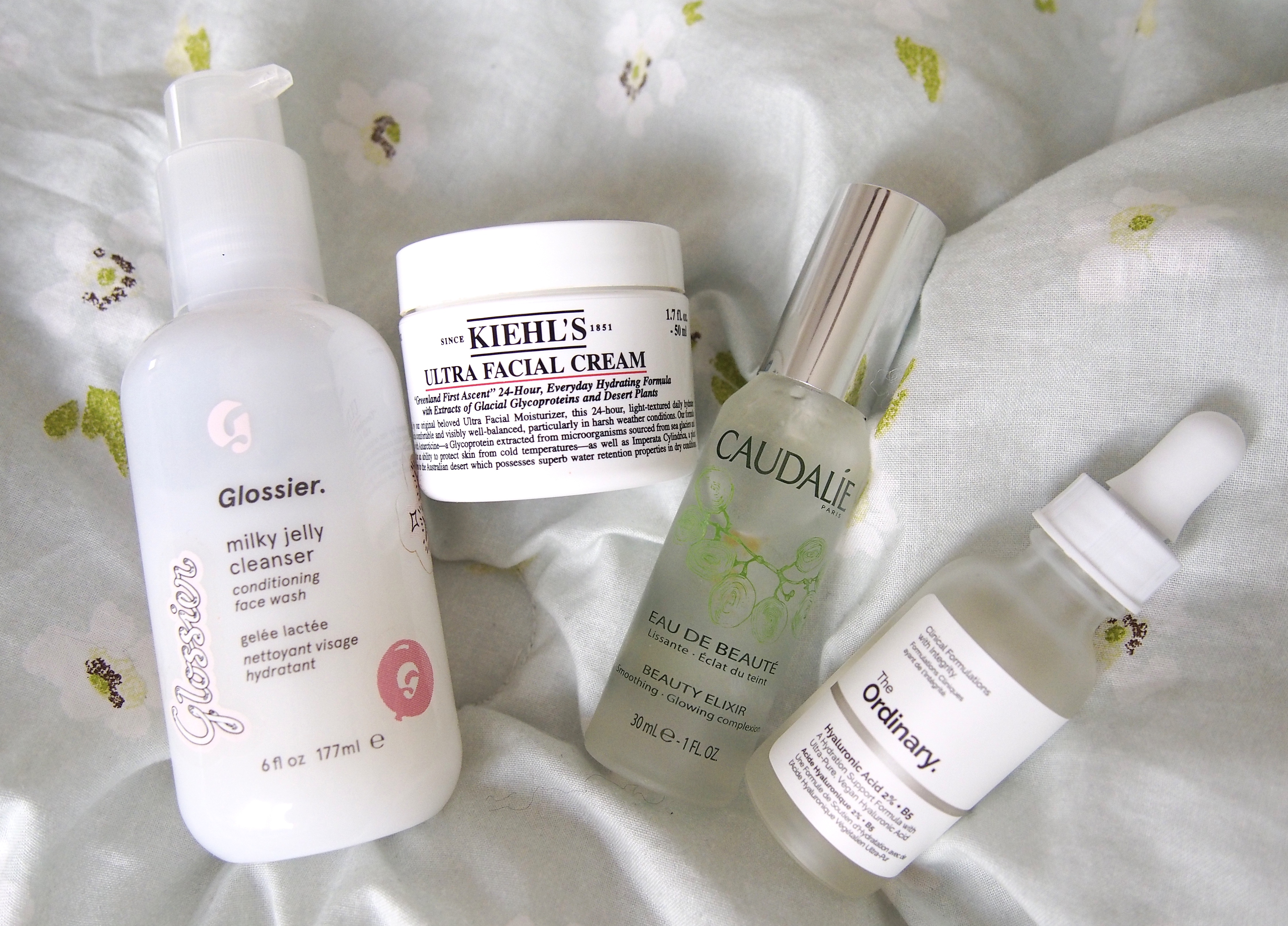 makeup removal
I start by removing my makeup in the evenings with a really moisturizing makeup remover, something like the Farmacy Green Clean Makeup Meltway Cleansing Balm which is a balm but turns into a nice oil that easily takes off eye and face makeup.  I also love the texture of the Clinique Take the Day Off Cleansing Balm, it's more slip-y than the Farmacy cleansing balm and I find it's better for eye makeup than the Farmacy one.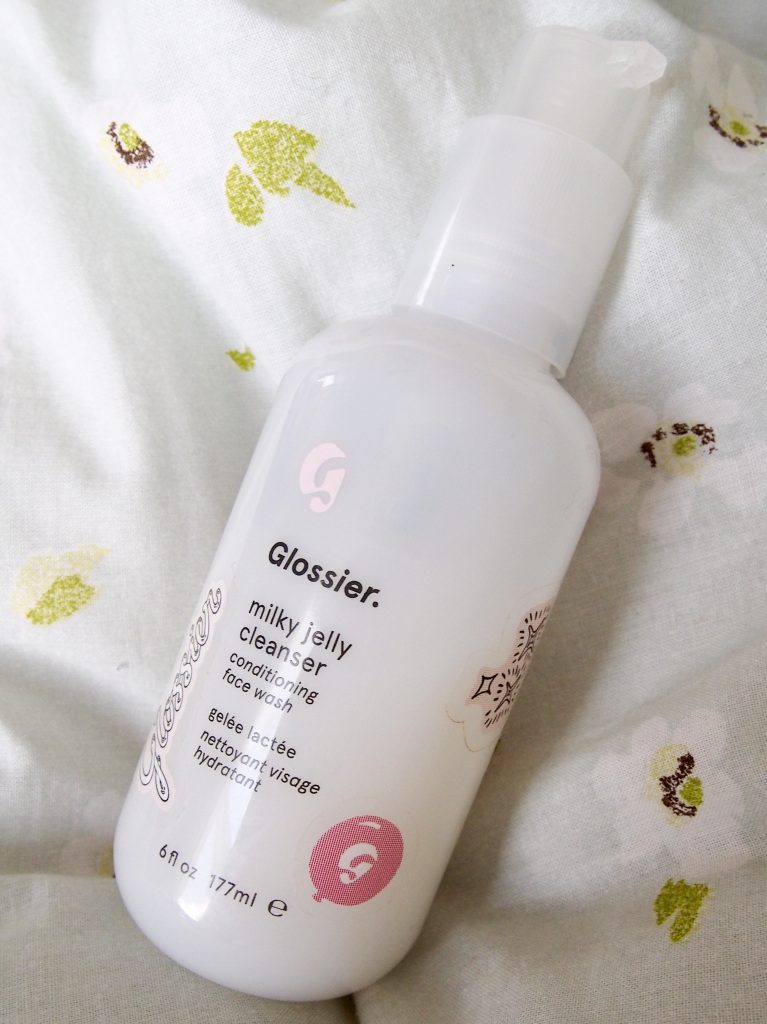 cleanse
Next, I cleanse my face with the worth-the-hype Glossier Milky Jelly Cleanser.  It's a unique formula, a thick gel that melts on the skin and feels very luxe and nourishing.  It's also a great second sweep for removing makeup because it doesn't irritate eyes so you can do another round of mascara removal if needed and your face will never feel cleaner (without the feeling that your skin has just shrunk 4 sizes).
tone
After I've cleansed my skin, I immediately grab a facial mist or toner.  My mist of choice for repairing my skin is the Caudalie Beauty Elixir with that tingly mint feeling and the thick mist, it's amazing.  A more affordable option for a facial mist is the Mario Badescu Green Tea and Cucumber Mist (the Rosewater and Lavender versions are also awesome)! If I want a toner, the Fresh Rose Floral Toner is hydrating and feels great on the skin, not tightening at all.
hydrate
For a serum and a huge boost of hydration, The Ordinary Hyaluronic Acid and B5 serum is by far the biggest help in fixing my skin.  3 drops of this and my skin just feels like it has chugged a gallon of water.  If you suffer from dry skin and get one thing out of this post, make it be the MVP status of this serum, pick it up immediately.  The first time I tried this I just knew that this was the product I had been waiting for to give my skin a morning and nightly dose of extreme hydration.  It has a thicker texture than water, it's almost a little syrupy in that it doesn't come out in neat drops, it lingers a bit.
The Kiehl's Ultra Moisturizing Cream is a cult-classic and a favorite of mine.  The creamy but not whipped texture leaves my skin not greasy feeling but just hydrated.  You can tell that this will do wonders on your skin the second you swipe it over your cheek, I promise.  And a bit of a strange one, my eye cream of choice has been the Lano All-Over Everywhere Multi-Purpose Cream.  It's not shiny so it's the perfect base for under eye makeup and super thick and hydrating for night, so I use it AM and PM.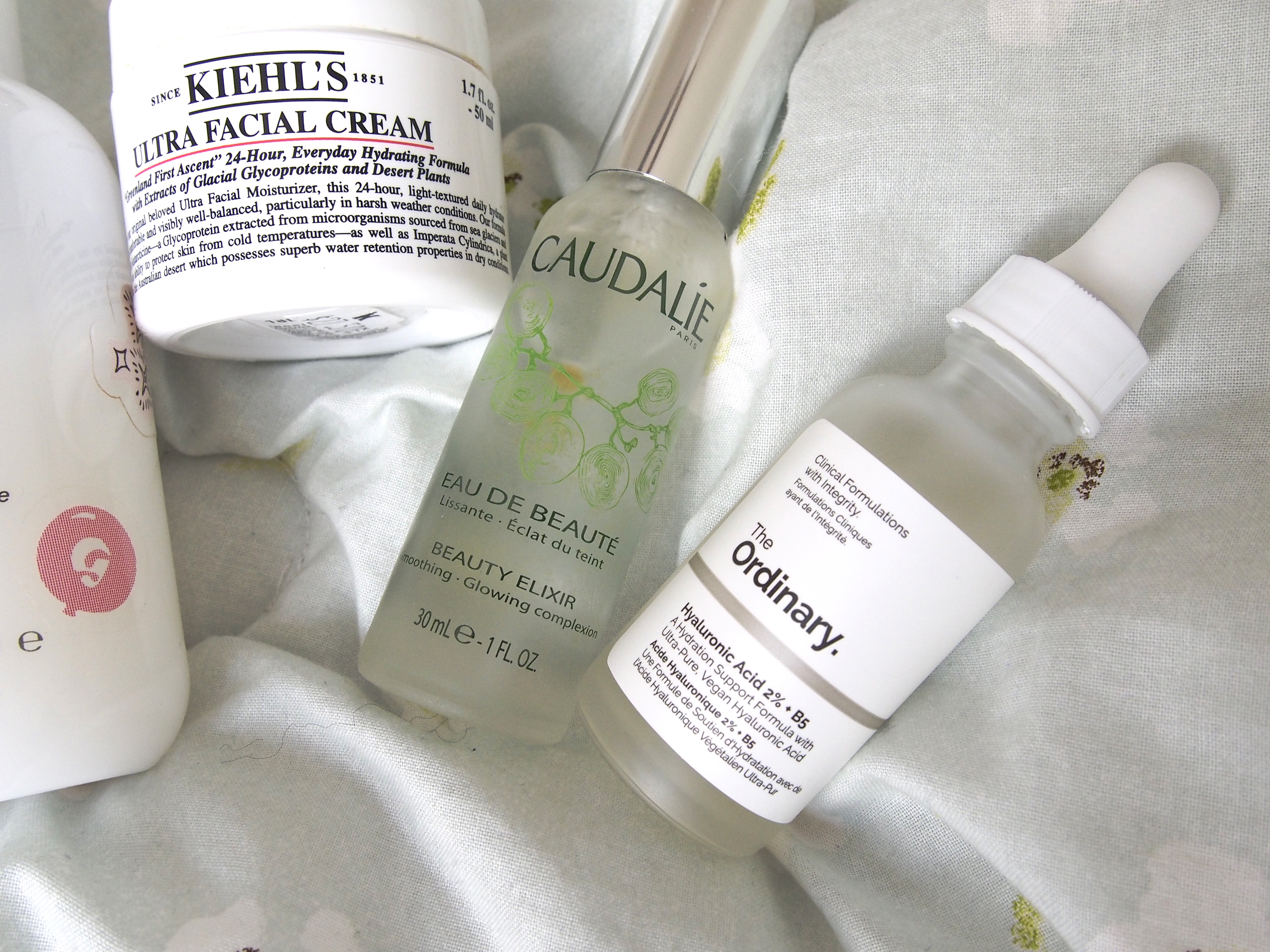 makeup
I also aim to infuse hydration into every step of my routine so achieve a glowing, smooth finish.  For primers, I love using the Too Faced Hangover Primer because it's like another layer of moisturizer.  It's smooth and light while hydrating my skin and giving an awesome base that makes any foundation look flawless.  Another good primer is Becca Backlight Priming Filter because it provides a really glowy base that makes my makeup go on smoothly and look even better as the day goes on, which is really important to keep my makeup from looking dry.
To mix in with my foundation, the Make Up For Ever Ultra HD Skin Booster takes only a drop or two to instantly make foundations glide on and give them a more naturally dewy finish.  A good concealer that's hydrating is the Glossier Stretch Concealer because it's got a dewy finish and doesn't dry down at all matte.  It's best applied with a beauty sponge to give the most coverage and the smoothest finish but hands work just fine as well.  And finally, the least drying of the powders I have used is the Sephora Collection MicroSmooth Powder Foundation.  It allows natural oils to peek through and never gets that super dry look that many powders can have by the end of the day.