I've always loved Colourpop because it's fun, quality makeup for really affordable prices. The packaging always feels nice; it never feels like I'm settling by choosing Colourpop's inexpensive makeup, it feels like a treat.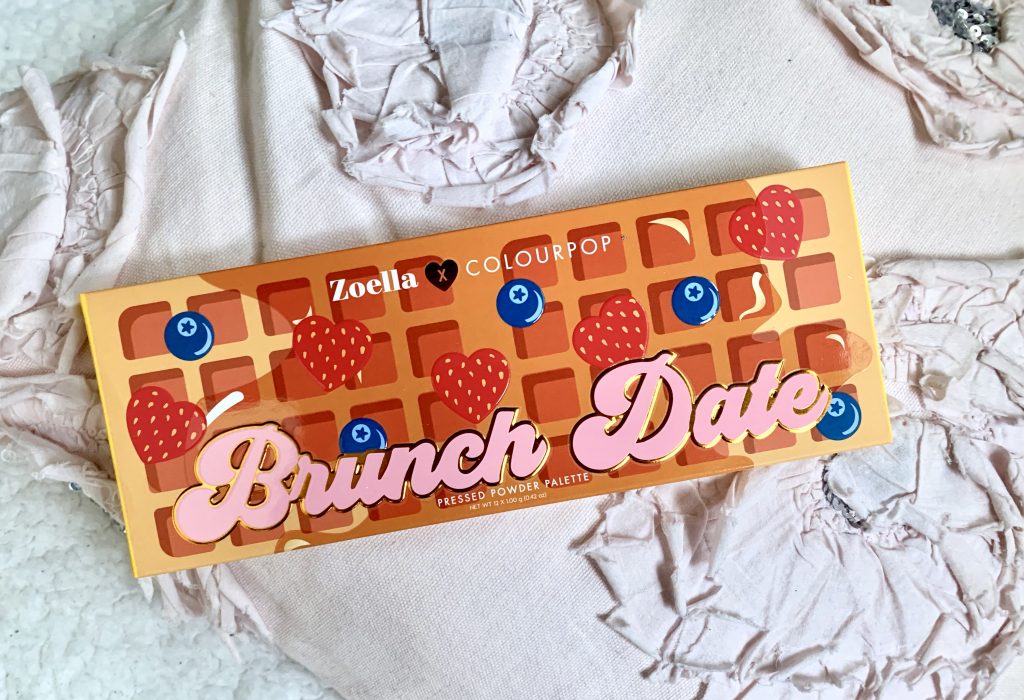 I remember seeing the promo photos for this palette before the actual palette photos were released and thought they were so fun. I loved the pinky tones on the eyes and that pop of blue! Once the photos of the actual palette came out I was underwhelmed by how similar all the shades were but they all swatch so differently on skin. You might've also noticed that there isn't a super wide range of colors but there's a lot of tone range.
There are two mid-tone browns, Mimosa is very pink toned (swatches as a peach-pink) and Maple Syrup is still warm but not pinky at all. There are also two dark browns, Americano is cool and French Toast is a very red-toned brown. Skinny Latte and Cinnamon Sugar are both pretty similar but Skinny Latte is more of a bronze-y copper and Cinnamon Sugar is more gold.
What I love about this palette is that you have the shades to do a cooler toned eye using shades like Americano, Pancakes Please, Brunch Club, and maybe even Champagne Toast and Maple Syrup. You also have a lot of shades for warmer eyes with pretty much everything else in the palette.
My favorite colors in the palette are definitely the warmer ones, especially Mimosa, Sunny Side Up, French Toast and Champagne Toast. The shimmery shades swatch super well and come off nicely on the eyes with the exception of Sundae Funday. Sundae Funday is so chunky and leaves more fallout than I've ever experienced. All the mattes are also pigmented, smooth, and blend super well. I still need to test out Brunch Club a bit more, I've used it once or twice but I can't get the color to come off how I've seen Zoella wear it or how you would think it should come off on the eyes.
Overall I'm super happy with this palette and it's gotten me into a lot more pinky eyes lately and I'm really enjoying the mattes. I think $18 for this palette is an incredible price and the quality is awesome for the price as well. The one thing this is missing is a pale matte that I could use more as a base under the other colors; I find myself reaching into other palettes for a creamy matte shade basically every day.