I love picking up a few new pieces to add to my beauty routine every few months, it keeps things exciting! This past month I've been trying to be conscious of the brands I support by leaning more towards cruelty-free and clean products. Especially with the season change I've been adding a few new steps to my daily routine.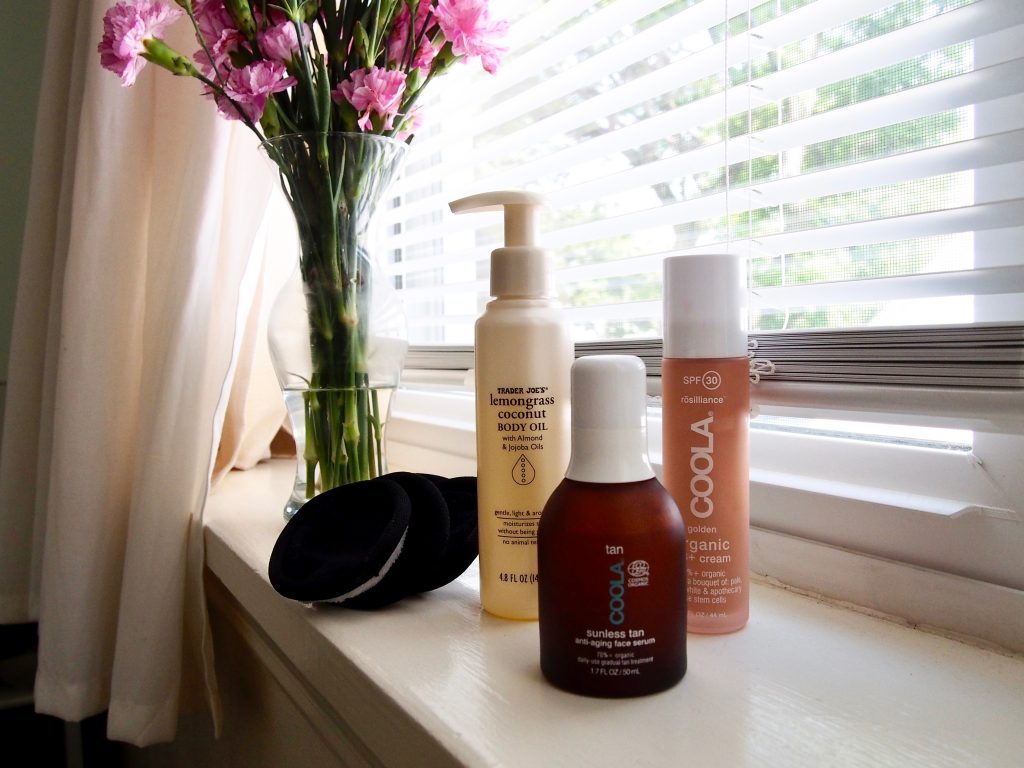 I finally picked up some reusable cotton rounds and after only a few weeks of using them I realize how much waste cotton rounds/pads/balls actually create over time and how easy it is to switch to something more sustainable. These ones are black on one side for removing makeup and white on the other for applying toners. I really enjoy having the makeup removing side since I like to remove my makeup before cleansing my skin and I can just use these with water for that. Then the other side (a dry one) can be used for my Glossier Solution and while I admit they might waste and absorb a little more product than traditional cotton rounds, they still work well and I'll continue to use them.
Speaking of cleaner beauty, I looked around Trader Joe's house/ hair/ body care selection and was so intrigued by very low prices for interesting products including a Coconut Lemongrass Body Oil that I use every day. It's light, not too sticky and has a nice balanced scent while hydrating my skin and making me look all glowy. I'm also testing out their Rose Facial Oil but many more Trader Joe's beauty products will be entering my routine in time.
I received some Coola products from their team a couple months ago but never used them much after trying them once or twice but I am absolutely loving all of them right now. I got the Sunless Tanning Anti-Aging Serum* which I mix in with a moisturizer to tan my face, neck, and chest overnight. This stuff is amazing, I always get a very nice, even, natural looking tan that I can build up and never worry about patchy fading. When I want a little coverage but nothing intense and an undetectable skin-finish, I have been reaching for their Rosilliance Golden Organic BB+ Cream* which is basically an amazing SPF 30 tinted moisturizer that dries down to feel like skin without powder and perfectly blends in to my skin tone.
In addition to the Coola facial tanning serum, I've been enjoying using Jergens Natural Glow* a few times a week to give my skin the slightest bit of radiance and color. I feel much more summery with a slight tan even when the weather is acting like a chilly and rainy March.