I've been working towards cleaner beauty products for a few months but I'm making it a more serious goal starting in 2020. When this package from Influenster showed up on my door containing the new bareMinerals Pureness Collection I was so excited to have some new, clean skincare.
The bareMinerals Pureness line consists of two products currently: The Gel Cleanser and the Soothing Light Moisturizer. While these aren't 100% natural, they contain just 15 clean and vegan(!) ingredients. These are made to be super soothing for even super sensitive skin, hydrate, and calm redness.
The Soothing Light Moisturizer retails for $35 USD for 1.7oz and the Gel Cleanser retails for $22. This cleanser will take me so long to finish at 4oz. I do think the moisturizer is a little expensive for the size but spoiler: it's so so good.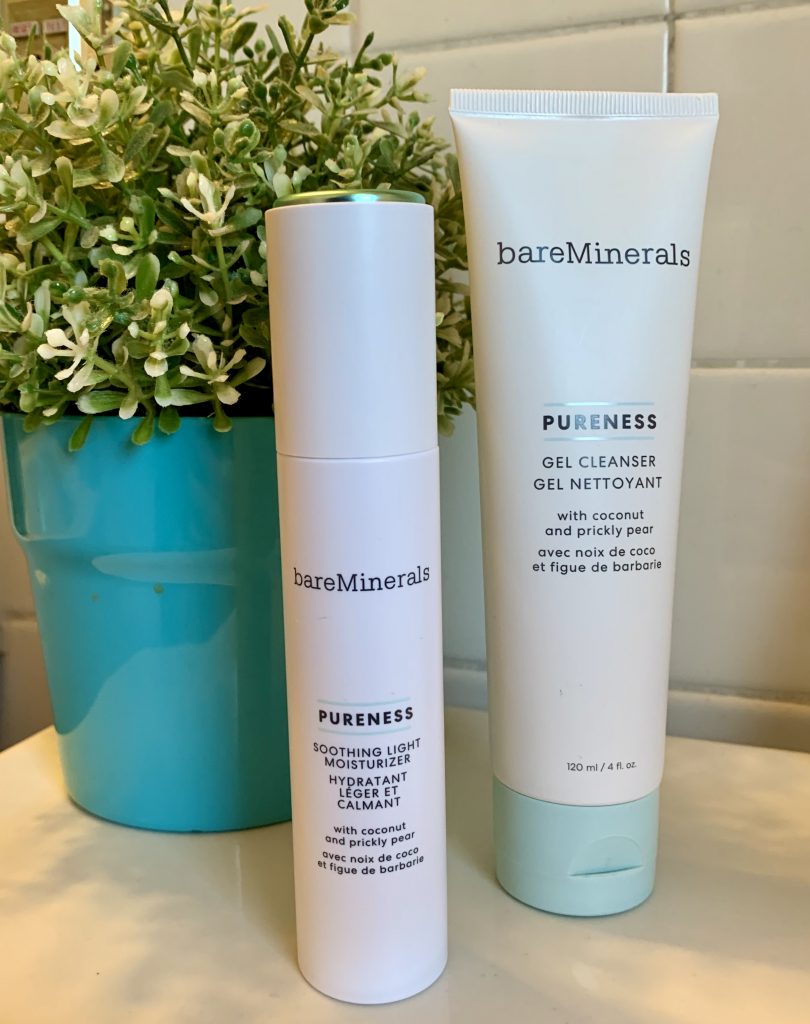 What I Love
I love that the trend for skincare seems to be shifting to really simple, scaled-back products. This is created as a complete skincare routine and can be used just as a two step routine which I love! Not everything needs to have 10 steps and a million ingredients. There was a phase when everyone wanted to have that Korean-inspired 10 step routine that took forever. Now I'm finding myself relying on a good cleanser, one or two treatments, and a good moisturizer.
The moisturizer is definitely my favorite but I have been using that a little bit more regularly since I got these. I'm trying to finish up some other cleansers before they expire so it was a little bad timing. It leaves my skin feeling supple and calm, totally living up to the claims.
Products with just 15 ingredients that all are clean and vegan feel great to have in my collection; and cruelty-free products are awesome to have become such staples in my routine! I also enjoy the simple, white packaging and little bits of light blue!
What I Don't Love
It's a little concerning how fast I'm going through this moisturizer, especially for the price. 3 weeks of twice daily use has gotten me at about 50-60% left and I usually buy moisturizer once every 4 months or so. Compared to my other favorites (CeraVe PM Moisturizing Lotion, Clinique Dramatically Different Gel), this one is cost inefficient.
The scent of the cleanser has an artificial plastic scent that's odd compared to the moisturizer which is completely unscented. I'm not sure what the difference in ingredients is that causes this weird fake smell but something is a little off.
Overall Thoughts On The bareMinerals Pureness Collection
I think these are great products. The moisturizer especially is amazing and feels so great on the skin. I love the concept of a minimal ingredient, clean, and vegan skincare line that's pared down and simple. This one might be a little more expensive than other great products but if the price difference isn't something you're super concerned about, these are both quality products to add to your collection.
I was gifted the bareMinerals Pureness Collection for review by Influenster but all opinions are my own. Some links are affiliate links 🙂