We've all been waiting for 2020 to end but it can feel good to take a moment and try to learn from this year before quickly moving on to a new one. Writing in my journal has always been therapeutic for me and it's usually what I try to do when I'm feeling especially down or there's a major life change. I wanted to give you some new year journal prompts to help you transition from 2020 to 2021 in a powerful way.
I started writing in my current journal in December 2019 so all the pages written so far are a look into what my expectations were for 2020 and the reality that followed. I've loved rereading some of the entries even if they weren't positive or happy because it's an accurate recap of what my year was like. This is something so valuable to me about writing in my journal. I bought myself the We're Not Really Strangers Self-Reflection Pack for Christmas and have found it so helpful to have a deck of cards with journal prompts written out as well.
I've come up with a few questions that I'll be asking myself over the next few days as 2021 begins and hope you can find some meaning in these new year journal prompts as well.
What is coming with me in 2021? What do I want to leave in 2020?
What is something I did really well this year?
How can I bridge the gap between my current self and ideal self?
Are my habits, patterns, hobbies, and relationships reflective of who I am? Be specific.
This question can help you answer the first two on this list. If there's habits in your routine that don't serve you, maybe it's time to replace or leave them behind.
Next year, what can I do for myself to make this year better than the last? If nothing else, what do I want to do this year?
With this question, think about something you can do, accomplish, learn, etc. that will be entirely self-contained. Think of something that you are sure you can do to make this next year better than last year. Perhaps, that's starting to listen to a podcast regularly, learn to cook a signature dish, or buying one thing you know will increase your quality of life (for me it was a laptop riser).
For a few more journal prompts, I've written posts like questions for changing seasons, questions for the end of a decade (still relevant for a new year!), and questions for reflection during chaos.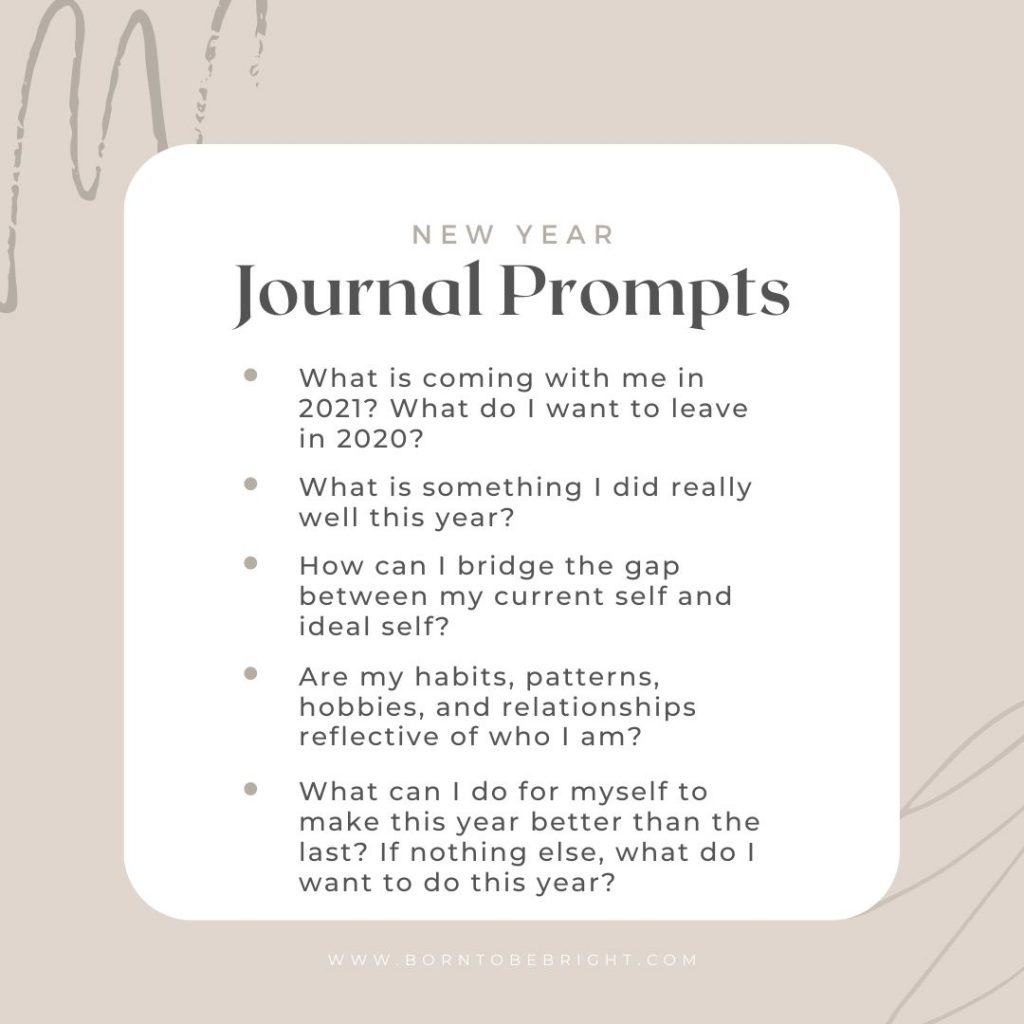 I hope you had a safe and healthy holiday season and wish you a happy new year!