Happy (almost) end of the year! While I was thinking about all of my 2021 beauty favorites, all of the 2020 favorites I wrote about were still at the top. So, instead of repeating a post you've already seen, here are some empties from 2020 and what I bought or am planning on buying to replace them! A lot of these are products I did really enjoy and some are in my 2020 (and 2021) favorites. I'll also be doing my 10 best products of 2021 (to keep me from repeating tooo many 2020 favorites) soon!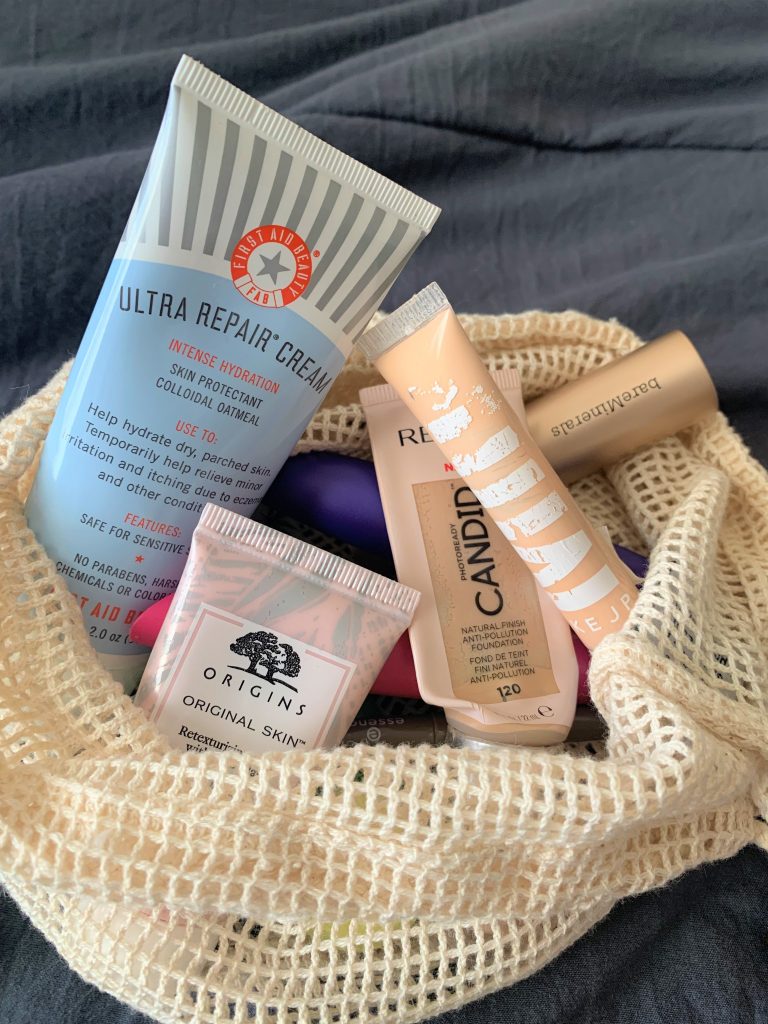 Skincare
I was never very interested in skincare and didn't like to try new things out for fear of a reaction or break out but after I got a lot of the acne and spots cleared up (thank you Tretinoin), I became a little more adventurous with skincare products.
REN Ready Steady Glow Tonic for The Inkey List PHA Toner
I love this gentle exfoliating toner and have raved about it in many posts but a $38 toner isn't a purchase that's really sustainable for me right now. Plus, with moving in May I'm not trying to amass large products I won't finish up before then. I've had my eye on The Inkey List's gentle PHA exfoliating toner ever since it came out but was waiting to finish up my REN one before buying something new. I was attracted to its claims about being perfect for sensitive skin since I've had problems with over exfoliating in the past. This is still in the mail so watch for a review soon!
Coola Anti-Aging Tanning Drops for Isle of Paradise Tanning Drops
I love these Coola drops and would recommend them to anyone for their ease of use and super natural tone but again, such an expensive product for me to repurchase. The Isle of Paradise version is about half the price and offers several shades for different skin tones and tan preferences. I've had the Coola one forever and I can't stand the scent anymore even though I loved it at first. Really looking forward to trying something new for tanning my face!
First Aid Beauty Ultra Repair Cream for CeraVe Moisturizing Lotion
This FAB Moisturizer was crucial for my winter dryness and overexfolatiation woes and I would absolutely still recommend it to anyone that needs some soothing magic for troubled skin. However, it's pricey and unless my skin gets to a bad point again, I can maintain my moisture barrier with the basic CeraVe Moisturizing Lotion. My skin has been so well-balanced lately that I haven't needed to bring out the intense stuff. If I need of extra moisture once in a while, I reach for Kiehl's Midnight Recovery or Weleda Skin Food.
Innisfree Daily UV Defense SPF 36 for Supergoop Mineral SPF
I've written about the Innisfree SPF a million times before but I've been wanting to steer more towards mineral sunscreens recently. Supergoop is also a very high quality brand that offers mineral sunscreens with a minimal white cast. I've never tried a Supergoop product I didn't love.
Makeup
Milk Makeup Flex Concealer for L'Oreal Radiant Serum Concealer
I love the Milk concealer and I will always love the Milk concealer. It's a perfect medium coverage concealer that never creases, sets into lines, or gets funky with dry patches. I bought the L'Oreal Radiant Serum concealer because I love the matching foundation for it's glowy feel and the concealer definitely matches that. However, since it is so glowy, it's much more light coverage. It's hydrating, great for dry skin, and comfortable to wear but I find it needs to be set down and doesn't build very well.
I've been using it a lot when I'd normally not wear concealer but since this one is so natural and easy to blend I do anyway.
Charlotte Tilbury Airbrush Flawless Filter Powder for Kosas Cloud Set
Kind of an unpopular opinion but I don't really love the CT powder! It looks amazing in my vanity mirror but in any other mirror, my skin looks dry, powdery even with face mist over the top, and just not great. Definitely ready for this one to empty out and to try something new! Since it takes me so long to finish powders, I've been trying to follow a "one out, one in" policy. I've heard amazing things about the Kosas Cloud Set and I can't wait for this to arrive!
Bare Minerals Complexion Rescue Stick for L'Oreal Radiant Serum Foundation
This was one of those unfortunate online foundation purchases where I bought such a weird shade for me. I rarely got a chance to wear this Bare Minerals foundation before it expired but I didn't like it very much when I did use it. Their liquid Complexion Rescue is much better in my opinion! I replaced it for this L'Oreal Radiant Serum Foundation because they're both super glowy and offer some SPF protection.
The shade range for L'Oreal has some gaps so I ended up with shade 10 and 20 and 10 is too light and 20 too deep so I use a mix. I love this for days when I want a light-medium coverage with a ton of glow and some skincare/SPF benefits. Huge fan of this, but beware it's tacky even after it dries down.
Those are the main empties for this year that I decided to replace with something new! I'm aiming for a makeup routine with tons of staples that I repurchase but room to play around with new releases. Spot any favorites? Leave a comment!