New seasons are like mini new years with a whole new set of colors, weather, and clothes.  Of course, since weather is changing, we have to adapt our beauty routines fittingly, putting in color and amping up the Spring glow, here's how I do it with my Spring Capsule Beauty Wardrobe.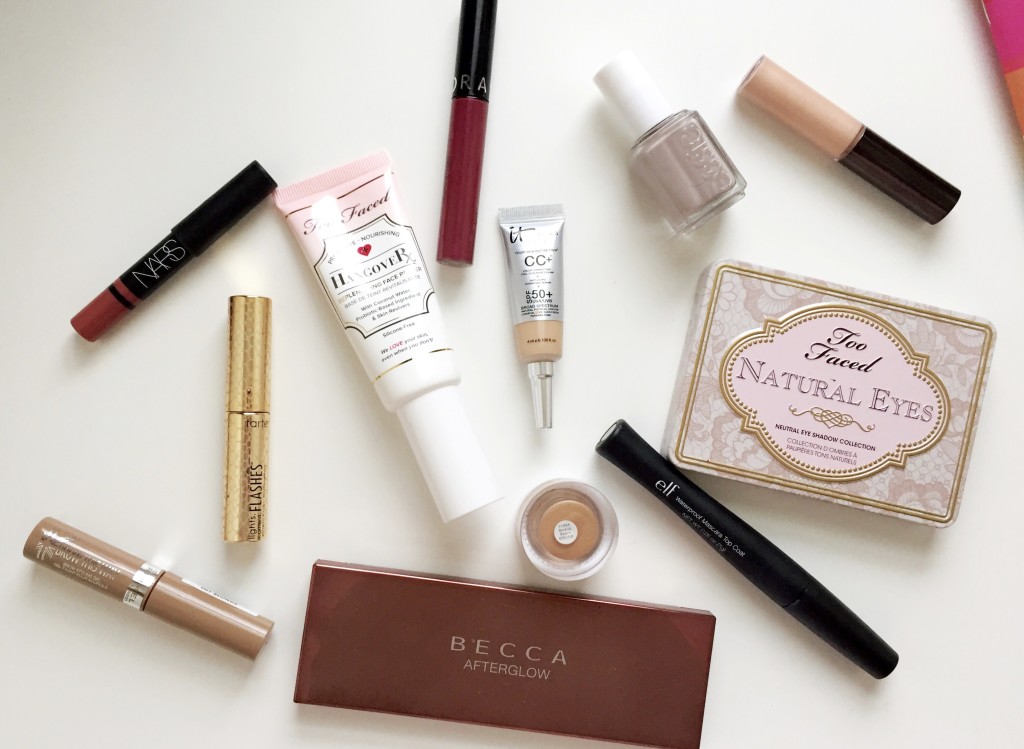 Even though I like wearing more colors this time of year, I still love those neutral nail shades.  They're so much more low-maintenance because the dreaded chips aren't nearly as visible.  This lovely shade is Essie's Master Plan a.k.a. the one I searched for for weeks and now am the proud owner of.
You've probably heard me rave about the incredible results of Too Faced's Hangover Primer and It Cosmetics CC+ as a beautiful base.  This tiny sample won't last me more than a few days but a new tube is hopefully in the near future.
Mecca always brings the glow with my loved Afterglow palette (see here) and the liquid version of the famous highlighters in Opal.  I love using 4 of the Afterglow shades, Moonstone to highlight, Rose Gold to glow my blush, Topaz as a beautiful eye shade, and Wild Honey as a blush.
More eyes, I upped my brow game with the Rimmel Brow This Way gel to plump up, color, and keep my brows in place.  I also love using elf Smudge Pots (especially Back To Basics) as a base for my shadows or on its own for a blendable but crazy long-lasting easy shadow look.  I also love using all mattes from Too Faced Natural Eyes, so quick and beautiful.  Lights, Camera, Flashes is such a good mascara if you like black thick long lashes, this is the most high-impact mascara I've tried.  Can we talk about the ingenious of a Waterproof Mascara TopCoat?  My waterproof mascara always runs but this keeps it locked away without a crispy feel.  WIN.
Spring for me means color on my lips and Rikugien is being retired to my lazy day makeup lip color and Sephora's Blackberry Sorbet is taking center stage.