Here's everything I'll be wearing in my April monthly makeup!  Overall, my makeup this month has been glowy and natural but still put together and awake.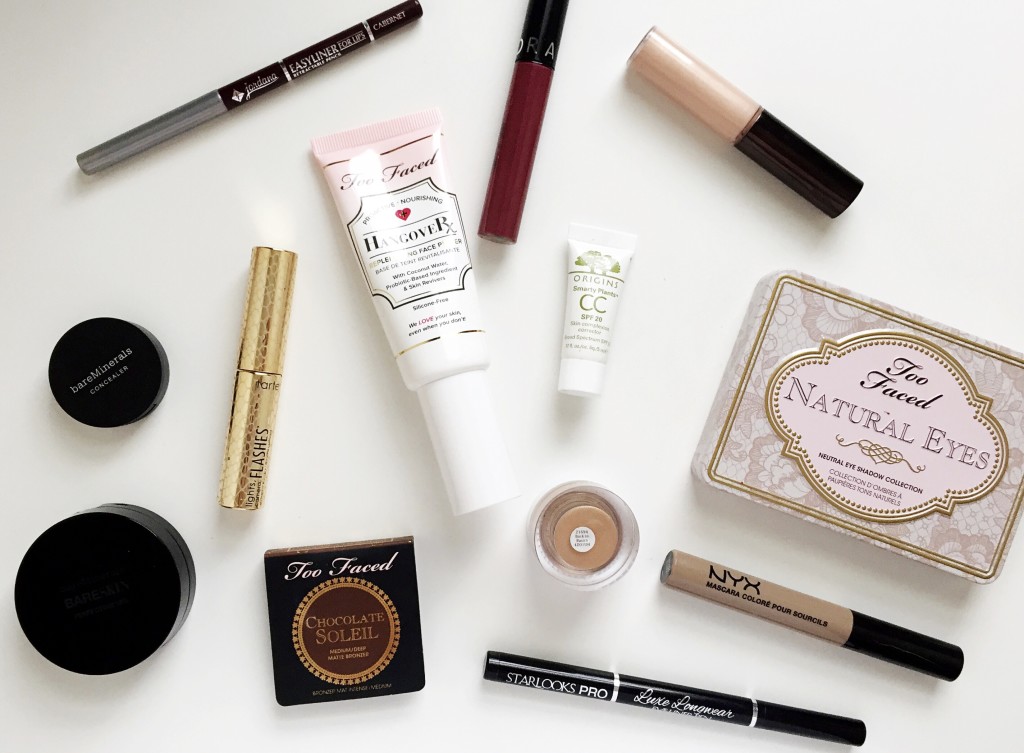 Another one I found in the back of a drawer is the NYX Brow Mascara which I've been using almost everyday for a very fast way to do my brows in the morning.  My brows look fuller and stay in place all day.  Although I like my Rimmel Brow This Way a little bit better, this one has been my go-to recently.
Under my foundation, I use my Becca Shimmering Skin Perfector Spotlight in Opal on my cheekbones, nose, forehead, and chin and blend it out with my favorite makeup sponge.  It's so natural and subtle looking.  It makes a difference in the overall glow that my skin has without that greasy and shiny look.
Too Faced's Hangover Primer has been a lifesaver through this month with the crazy temps and the scent keeps me awake in the morning.  It feels so unlike the Smashbox Primers if you don't like those, this is so hydrating and doesn't feel heavy on your skin.
The little BareMinerals Correcting Concealer is so creamy and the smallest thing to throw in your bag on your way out for touchups throughout the day.  I also love that there's SPF because we all forget to apply sunscreen sometimes and this especially keeps my underlies covered, definitely part of my April monthly makeup.
elf cosmetics has the best cream shadows in a pot that I've tried in the price range.  They're around $3 and there's so many shades!  I love the super creamy texture to apply but they set quickly for a budge-proof, smudge-proof eyeshadow base or color on its own.  Totally obsessed with the shade Back To Basics.
My love is the Origins SmartyPlants CC, I got this tiny sample in a Birchbox and expected to hate it but it's my favorite foundation I've ever tried.  It blends over pores, dark circles, and breakouts so easily and at first it seems like it will be too thin to cover anything but leaves the most beautiful glowing light coverage out there.  Step back, Complexion Rescue. (It also boasts some SPF).
I've been loving my dark lips into Spring with Jordana's easy liner in Cabernet and Sephora's Lip Cream in Blackberry Sorbet.  I go easy with the lip liner because it's a little bit darker but seriously the Sephora shade is to die for.
P.S. Check out my interview on Confetti and Curves here!