I was looking over my collection and realized how many amazing products recommendations have brought into my collection.  I can remember most of the specific posts where I originally spotted them so I'll link as many as I can. These are the products that I bought because of a stellar recommendation from bloggers, YouTubers, and family.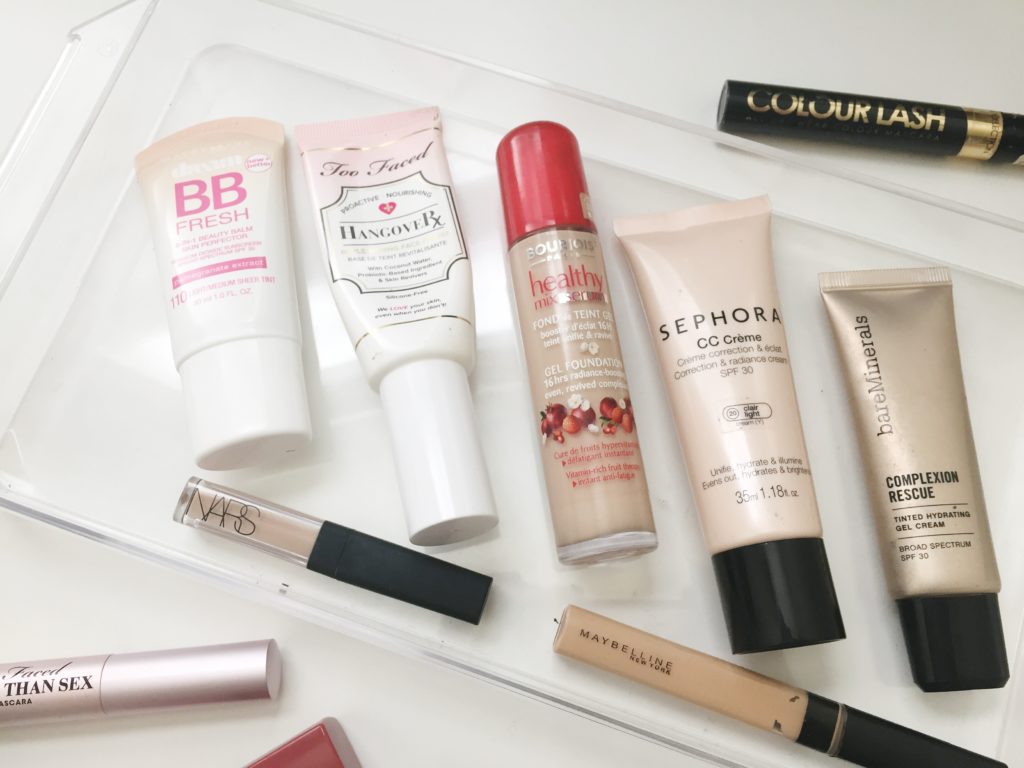 If you've been reading my blog you know how much I love Too Faced Hangover Primer.  I remember ViviannaDoesMakeup writing a post on this primer and I went and bought it.  Now they have a mini of this at Ulta and it actually is a better deal than the full size, SIGN ME UP.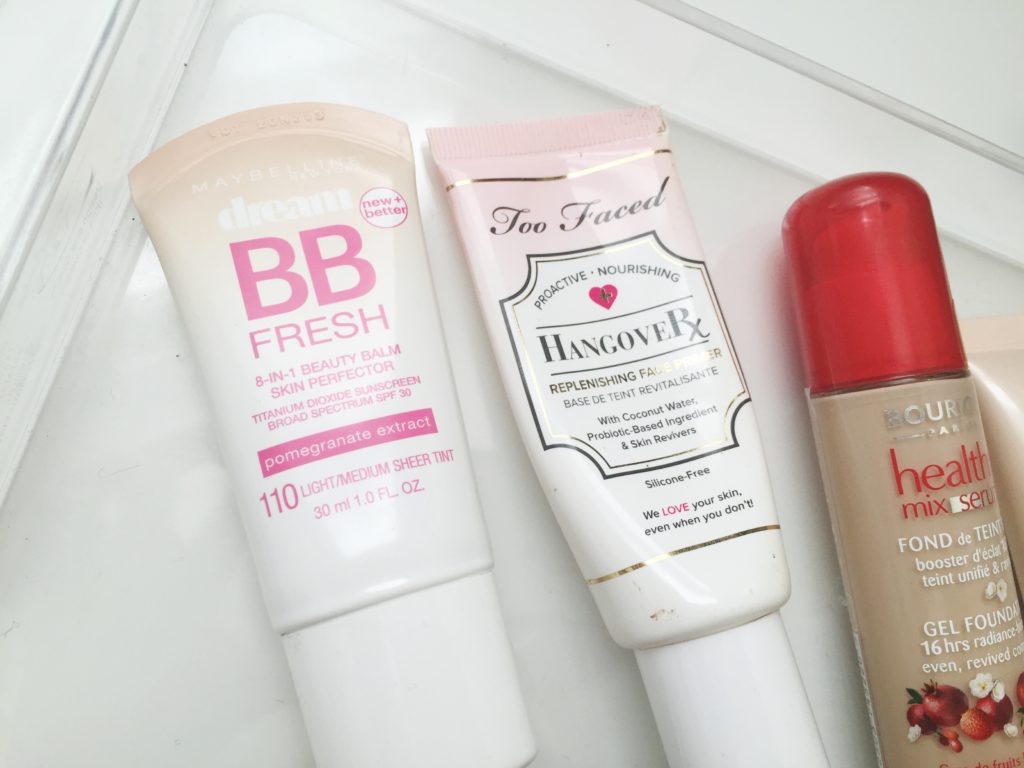 I've been talking about Maybelline Dream Fresh BB a lot now that I am allll about that natural makeup.  This follows all the claims and I use it when I want a bit of coverage and some SPF.  My sister gave me this recommendation when she loved this light coverage before switching to fuller coverage options.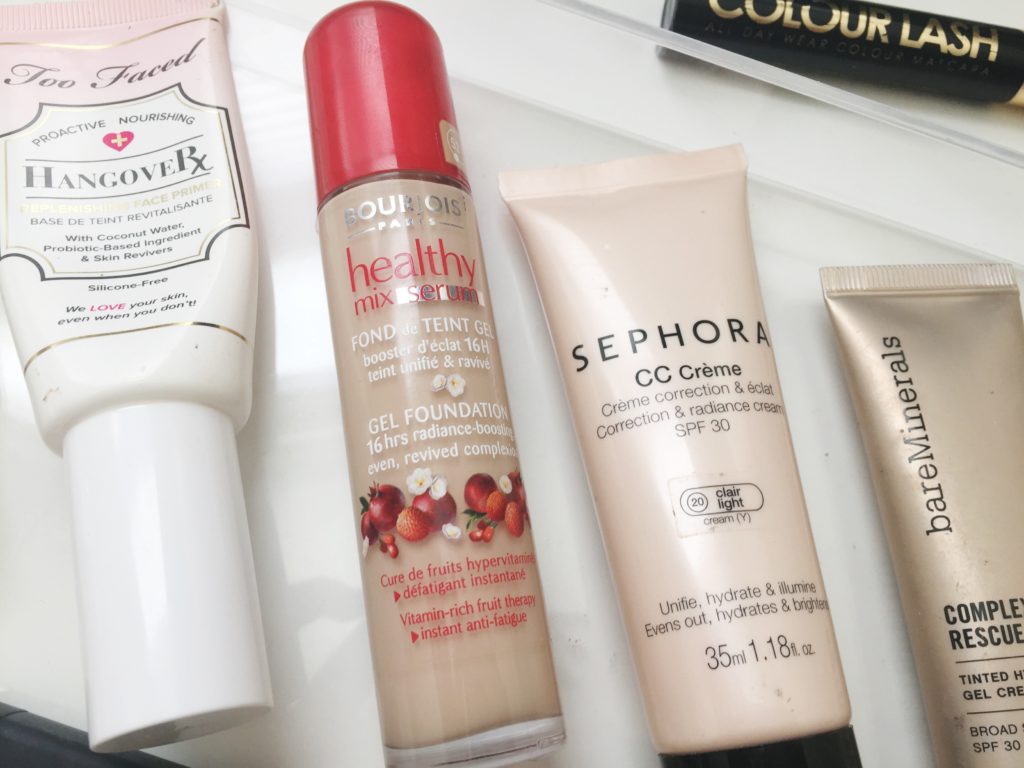 When I went to Europe in the Spring (see my beauty buys here) I found the Bourjois Healthy Mix Serum Foundation and immediately picked it up.  I have always wanted to try products from the Bourjois Healthy Mix range but it's not easy to get here.  Jaclyn Hill posted her 2015 favorites and she talked about this foundation.  I added it to my list to buy abroad since she said how much of a natural finish it has.
This is another one I got in Europe at the recommendation of Looking for Lewys in this video.  It's sadly not available at Sephora in the US yet, so I'm savoring my tube.  The Sephora CC Creme so beautiful for a light everyday coverage that has a very natural finish.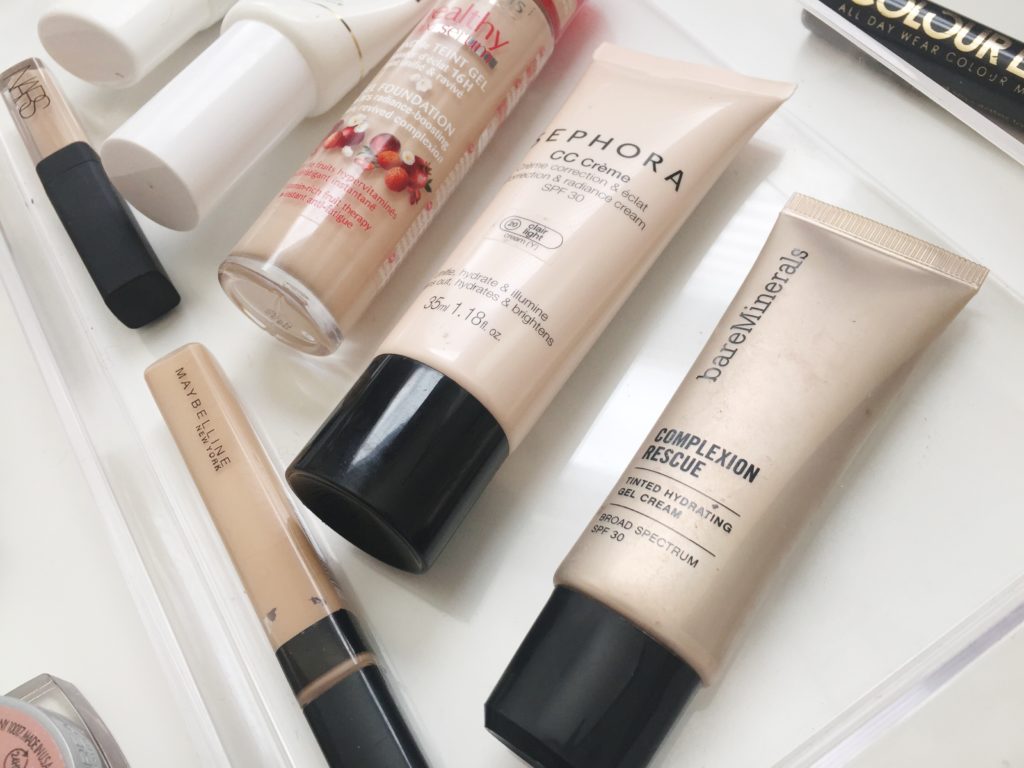 The last foundation I have is bareMinerals Complexion Rescue at the recommendation of Kate La Vie in this post and A Model Recommends in this post.  When I brought mine out this morning to see what I would write, I realized how much I love the formula.  I have a pretty yellow undertone and this is very pink.  I bought the shade 01 online and probably should've gotten 1.5 or 03 so I never use this.  If I put a yellow enough powder over it I can pass.  The formula is gel-cream and it's so hydrating and creamy on the skin.  I bought this when my skin was insanely dry and it's really easy to blend out.  It also looks even better as the day goes on.
I bought Maybelline Fit Me Concealer because of how much my sister loves it, but the shade range doesn't suit me.  It has a very natural finish and blends pretty well, but doesn't help my dry under eyes.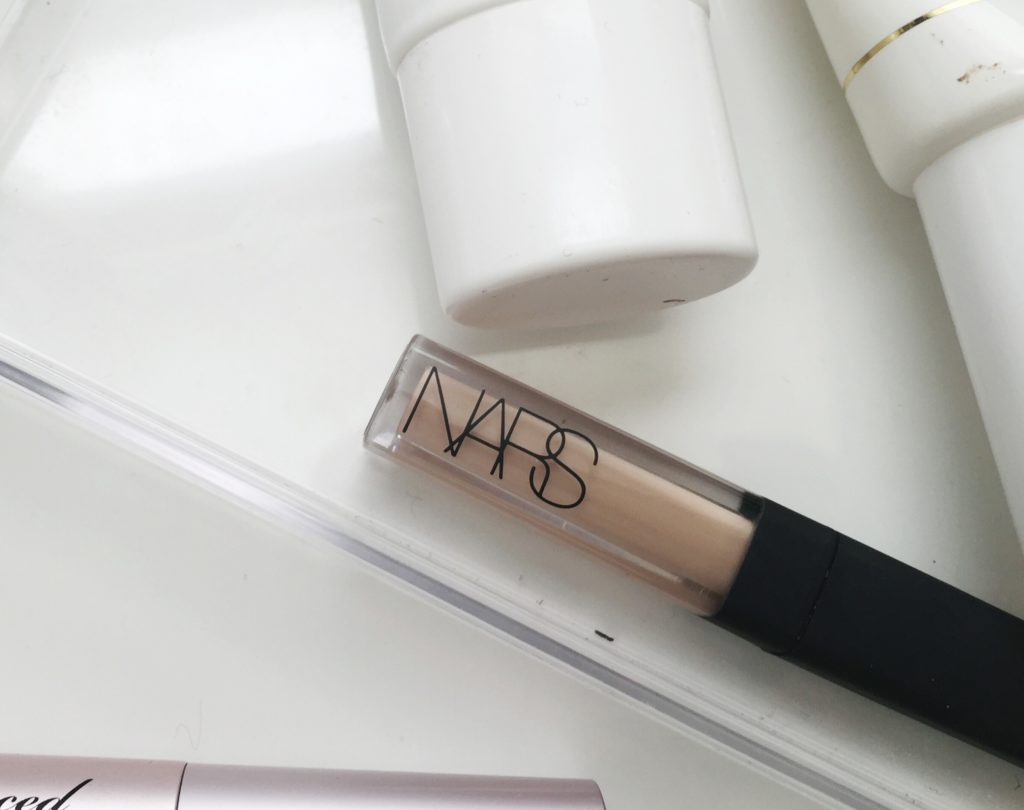 I have a mini of the Nars Radiant Creamy Concealer which I purchased at Sephora mainly because of the general hype from almost everyone I follow that caused me to buy this. I normally would never spend $29 on a concealer without the assurance that I'll love it.  This blends out amazingly, the shade range is so large, and it has more moisture than Maybelline.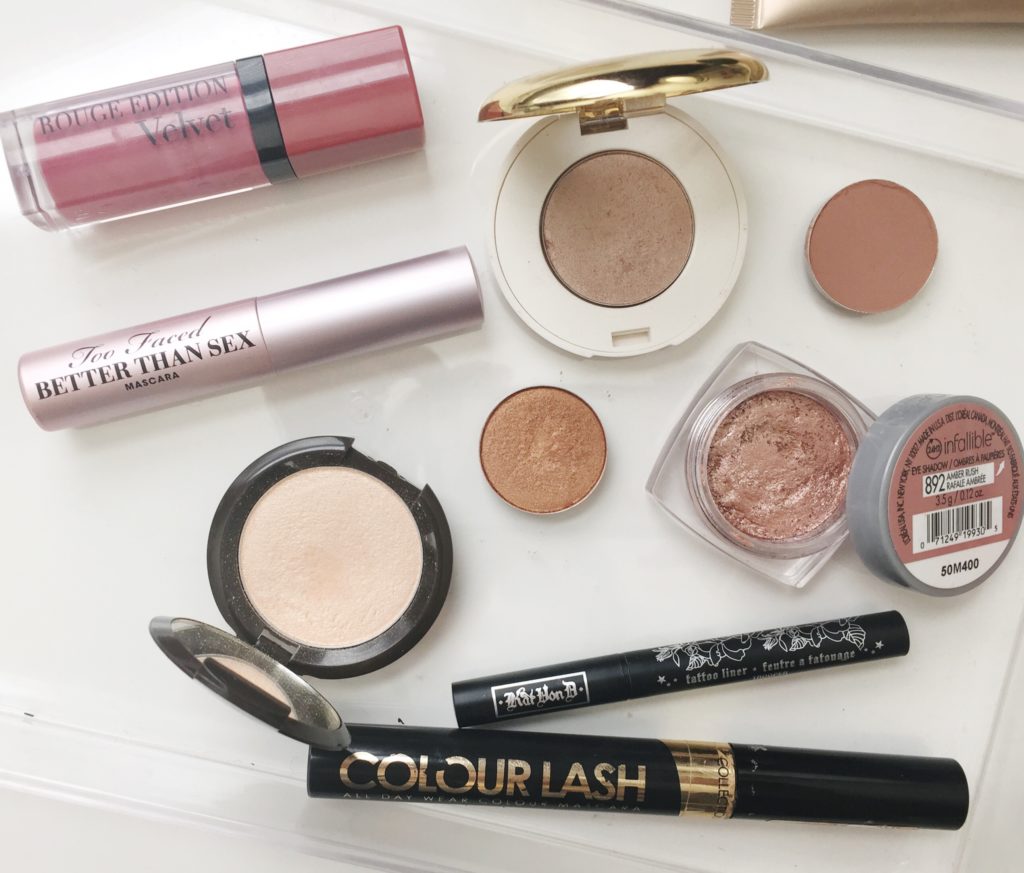 ViviannaDoesMakeup got me on the lookout for Bourjois Rouge Edition Velvet Lip Colors in this post when I went abroad and I chose this pink shade.  I have never felt a formula as good as this.  There is zero tackiness and I'm picky when it comes to sticky lip products.  It feels just like there's nothing on your lips.
Zoella got me on the Too Faced Better Than Sex mascara in this tutorial and she also introduced Mac Amber Lights to me, which is the single Mac shadow to the right of the mascara, in that same video.  Her eyelashes looked amazing and I immediately wanted it.  I got a mini size to try it out before I bought a full sized one.  I bought Amber Lights as my first Mac shadow because of this video.
Lily Pebbles made a video on the H&M Beauty line and I remember loving how the shadow looked so I picked the eyeshadow up in Baci Di Dama when I was in France.  It's such soft eyeshadow and I love how it blends and the pigmentation.  Much more buttery and more pigmented than the Mac shadows I own.  I need to depot this for my Z Palette so I use it more often.
The other little Mac Eyeshadow is in Soft Brown and my blogging pal Makena in her post about the products she uses every day introduced it to me.  It seemed like a great shade to buy and it was the perfect recommendation, I use it every day!
Then, I saw the L'oreal Infallible Eyeshadow in Amber Rush on Lily Pebbles but I can't find the post/video.  ViviannaDoesMakeup also has this eyeshadow and wrote about it.  This rose-y copper shade has a beautiful a pressed pigment formula.  I don't use this often but it is a really nice formula!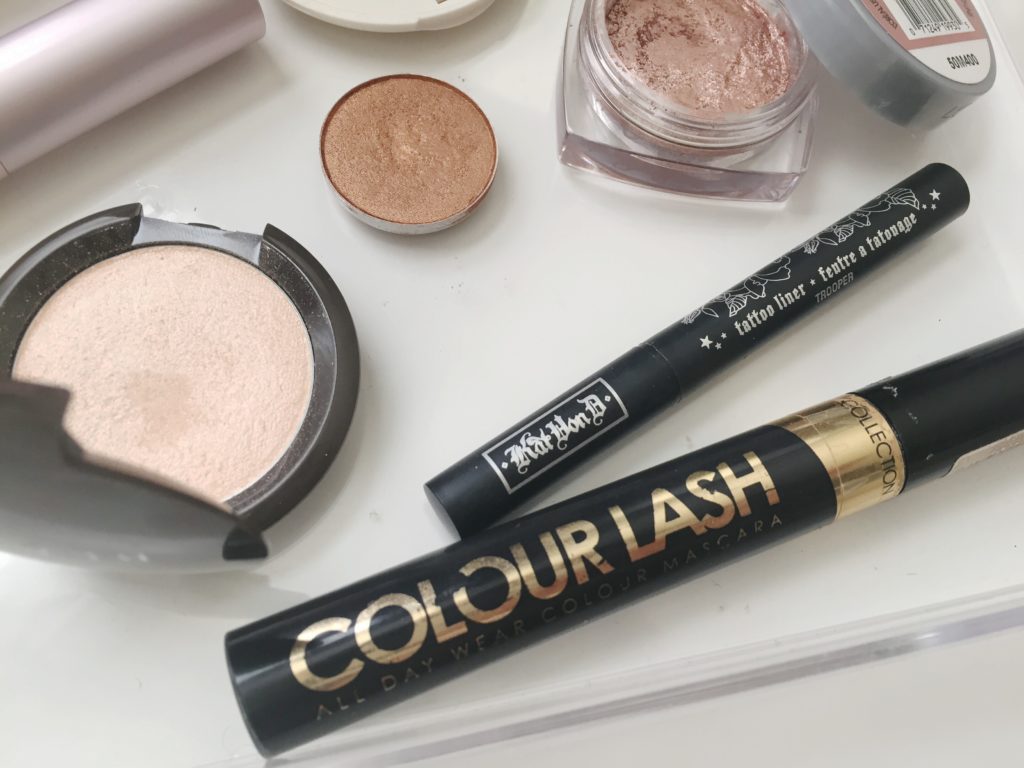 This is another one that's like "the blogs I follow made me buy it" since everyone talks about Kat Von D Tattoo Liner in Trooper.  This is only a mini but I don't think it will be running out any time soon.  It has a more bristley tip but seems to rub off on me quite easily.
When my sister was abroad she chose the Collection Colourlash Mascara in black for me.  It's a very natural looking mascara for making your lashes darker, not much thicker or longer.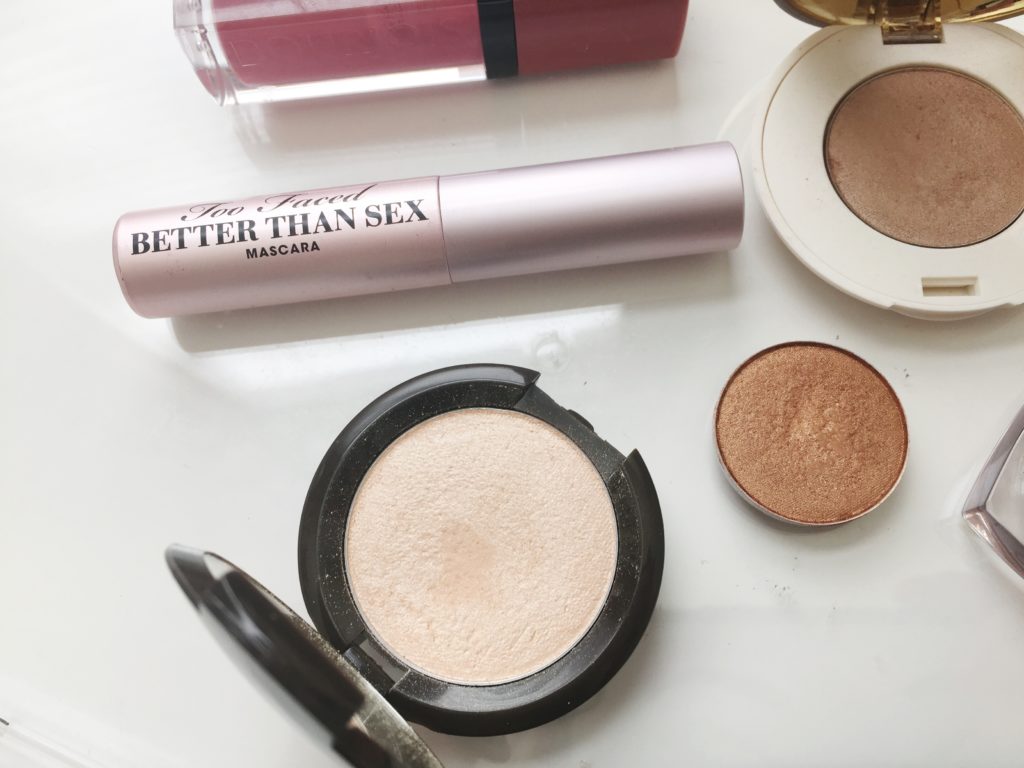 ViviannaDoesMakeup is the reason for so many of my makeup purchases but it's because we have such similar makeup looks.  I knew I wanted to hop on the Becca Highlight train before it was the most well-known thing ever, so when Anna talked about Moonstone, this post, I immediately bought a Becca sample set with a mini Moonstone in it.  I'm not kidding, only one post briefly mentioning it and I was on it.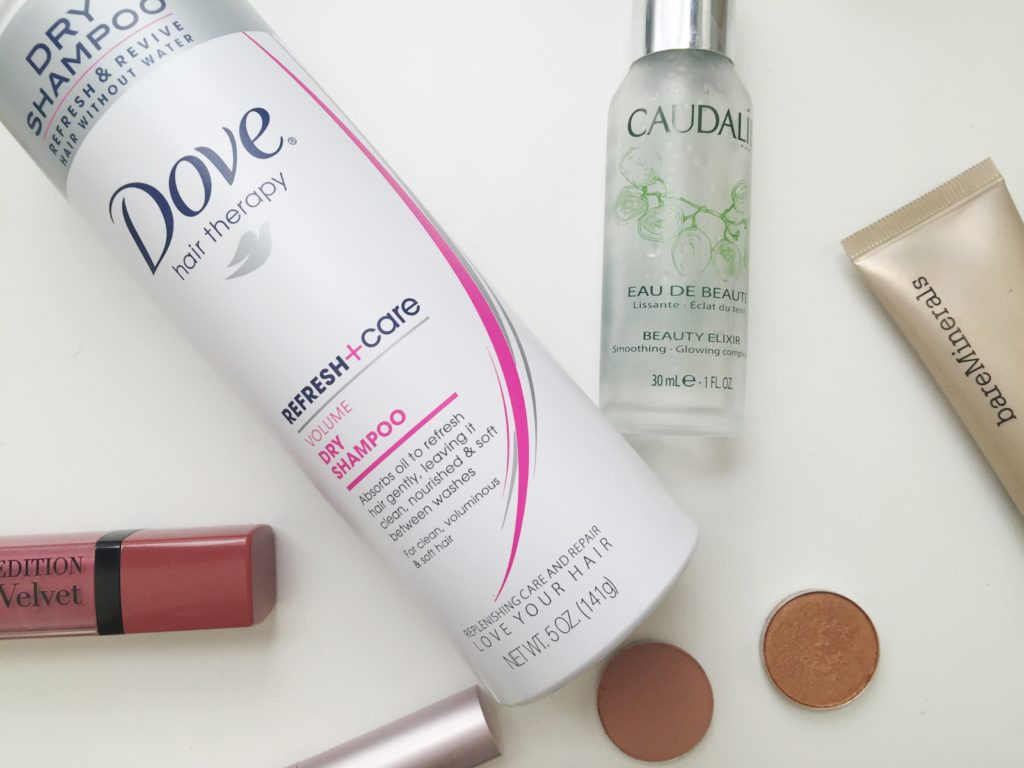 These are the last two, Dove Dry Shampoo were never on my radar until Ingrid Nilsen talked about them in this video.  There are different variations but I like this one and want to try the rest of the range.
Next, my sister used the Caudalie Beauty Elixir when she lived in France so I picked up a bottle when we went to visit her.  I have maybe one more use before this runs out *waterfall of tears emoji*.  It's so expensive in the US but if you find yourself in France, stock up.
What have you bought because of someone else's recommendation?  Maybe I'll take your suggestions and write a part two of this post…