About a year ago, I developed dry skin that liked to peel and made putting on makeup a pain.  So I started taking a lot better care of my skin about 9 months ago and the problem got better.  Then I started taking a lot better care of my skin about 4 months ago with the FOREO Luna Play (review here) and it got even better.  But about a week ago I decided that I didn't want to deal with dry patches and dry under eyes.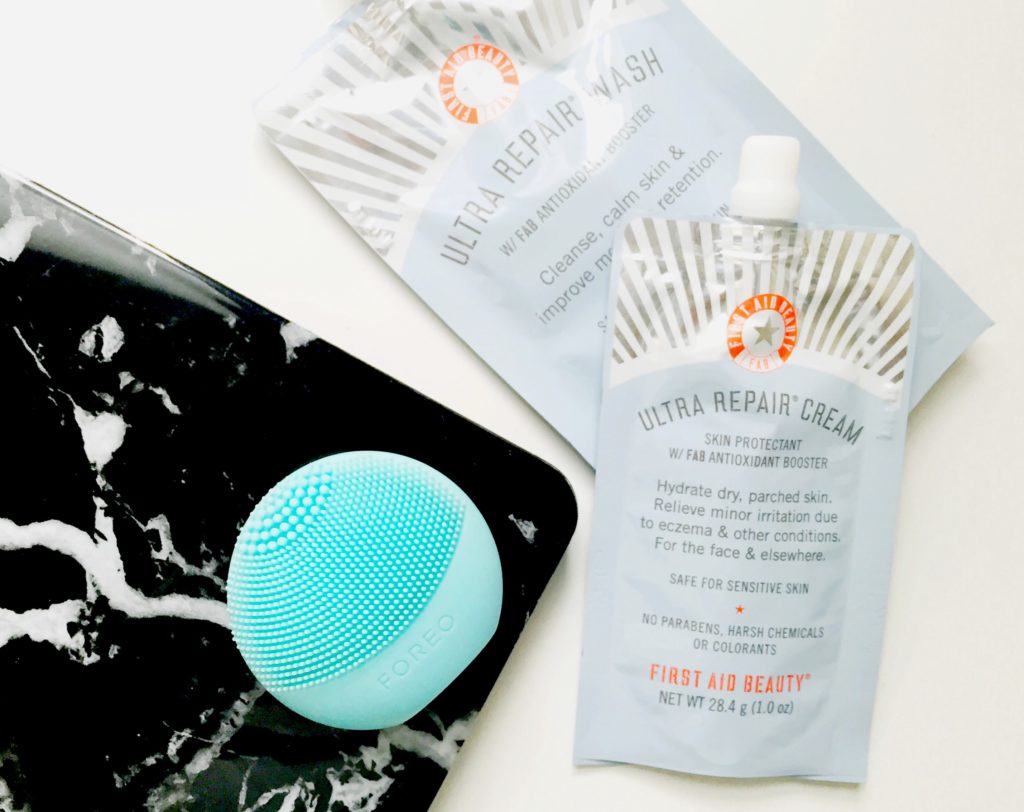 Enter First Aid Beauty.  After considering buying the Ultra Repair line, I saw the sample sizes at Sephora and grabbed the Ultra Repair Wash and the Ultra Repair Cream.
The bigger of the two resealable pouches is the cleanser.  The Ultra Repair Wash is the creamiest cleanser I've ever tried.  This feels so hydrating, I don't think there's a way you could get a sensitivity reaction to this stuff.  As someone who gets sensitivity when using regular Cetaphil, I need something super gentle that also cleanses really well.  My skin feels so hydrated and clean, none of that tight feeling.  I use this with my FOREO every other night and Cetaphil Gentle the other nights with my FOREO.  If your skin is super sensitive and insanely dry, use this every time you wash your face.
The smaller packet is the Ultra Repair Cream, which hydrates dry skin and relieves general skin irritation.  This is a super thick cream that feels so soft on my skin.  I often get stinging on my face from moisturizers but this is so gentle and never stings.
I wrote a review on my FOREO Luna Play so I won't write too much but this removes dry patches so gently.  Unlike the Clarisonic my skin never feels thin or sensitive when I use the Foreo.  There's a sensitive version of the full size Foreo if you're very sensitive.