I change up the products on my bedside table pretty often, but these have been my go-tos for a while now so I thought I should do a little post on everything keeping me going through this winter.  I have a habit of trying to drag my beauty routine into my bed, which definitely isn't ideal.  While I definitely need to stabilize my routine, these are the essentials that I always keep by my bed.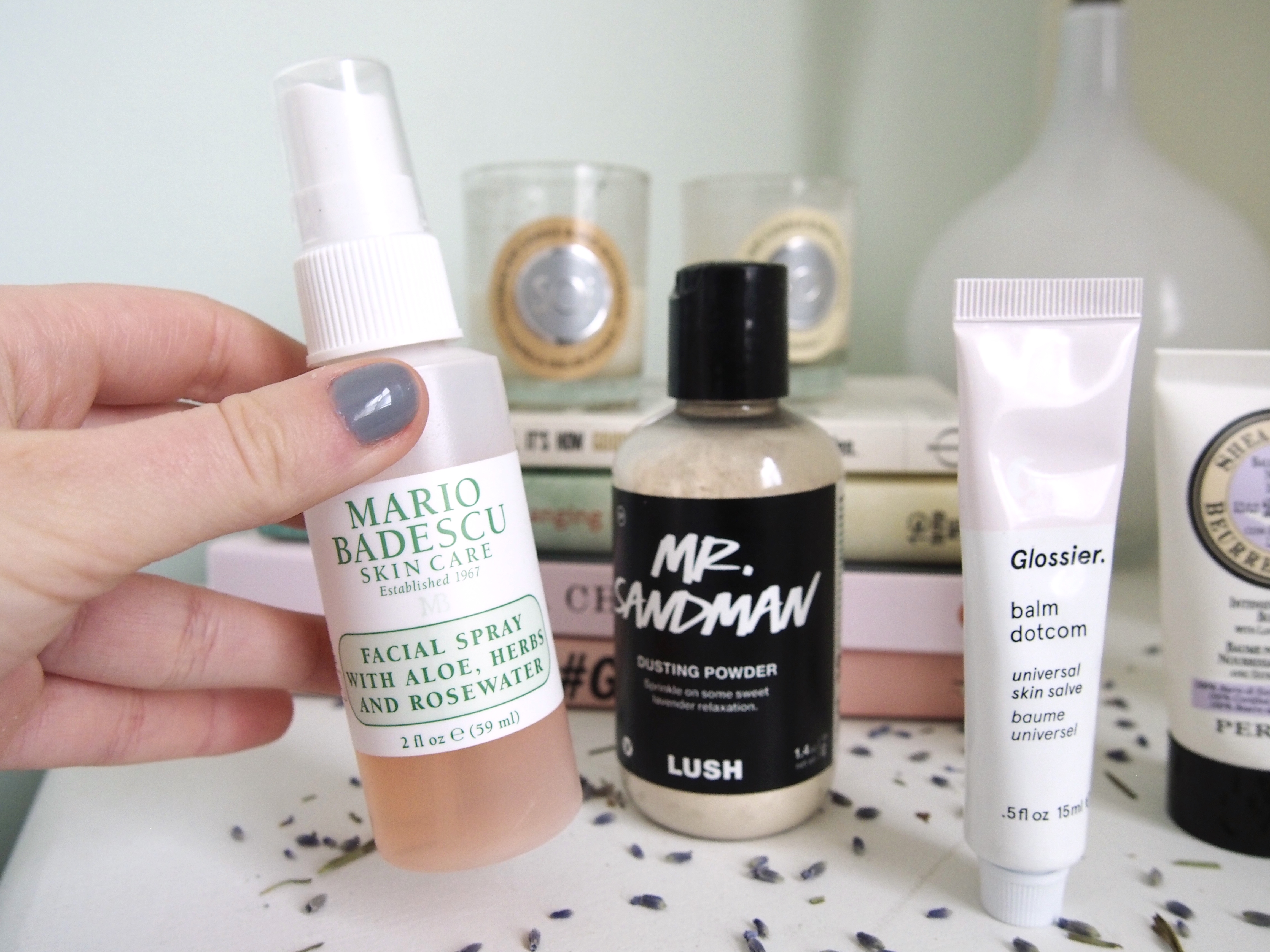 The Mario Badescu Facial Spray with Aloe, Herbs, and Rosewater has been a go-to of mine for so long and it's one of the best parts of my evening routine.  This rose scent makes for a spa-like feeling in a second and it adds an extra dose of moisture which is always much-needed.  This is always perfect for when I'm up late working on my laptop, it feels so amazing.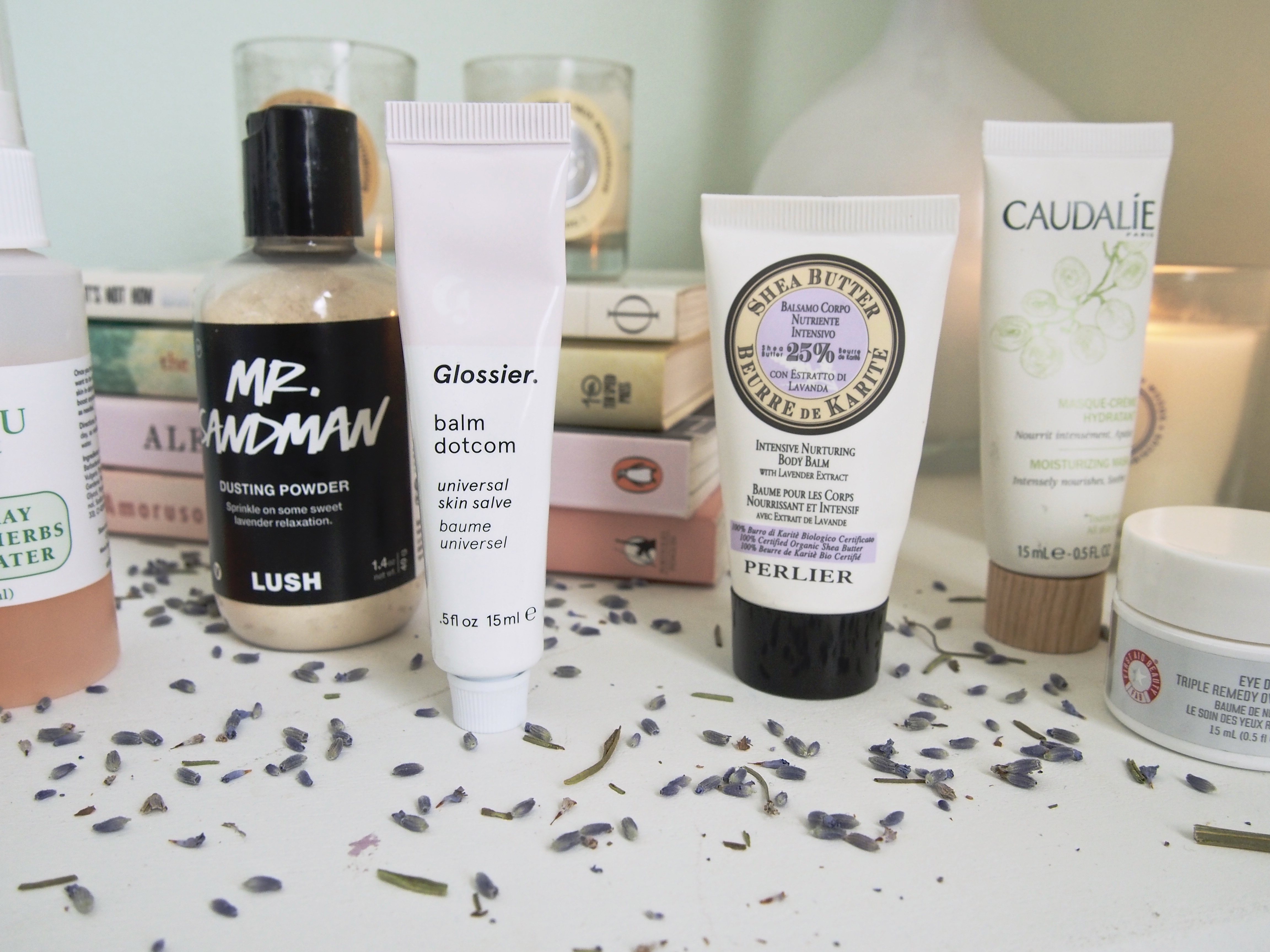 A thick body butter in a calming scent like this Perlier Intensive Nourishing Body Balm in Lavender is a staple for my bedside table.  I use this on mainly my hands and feet, especially this time of year.  This one has almost a powdery feeling so it isn't greasy if I'm scrolling through Pinterest in bed.  In the back there is my trusty Caudalie Moisturizing Mask which I use as an intensive overnight moisturizer when my skin is in really bad shape.  I just ran out of this one and it's such a loss, it was the perfect moisturizer for dehydrated winter skin.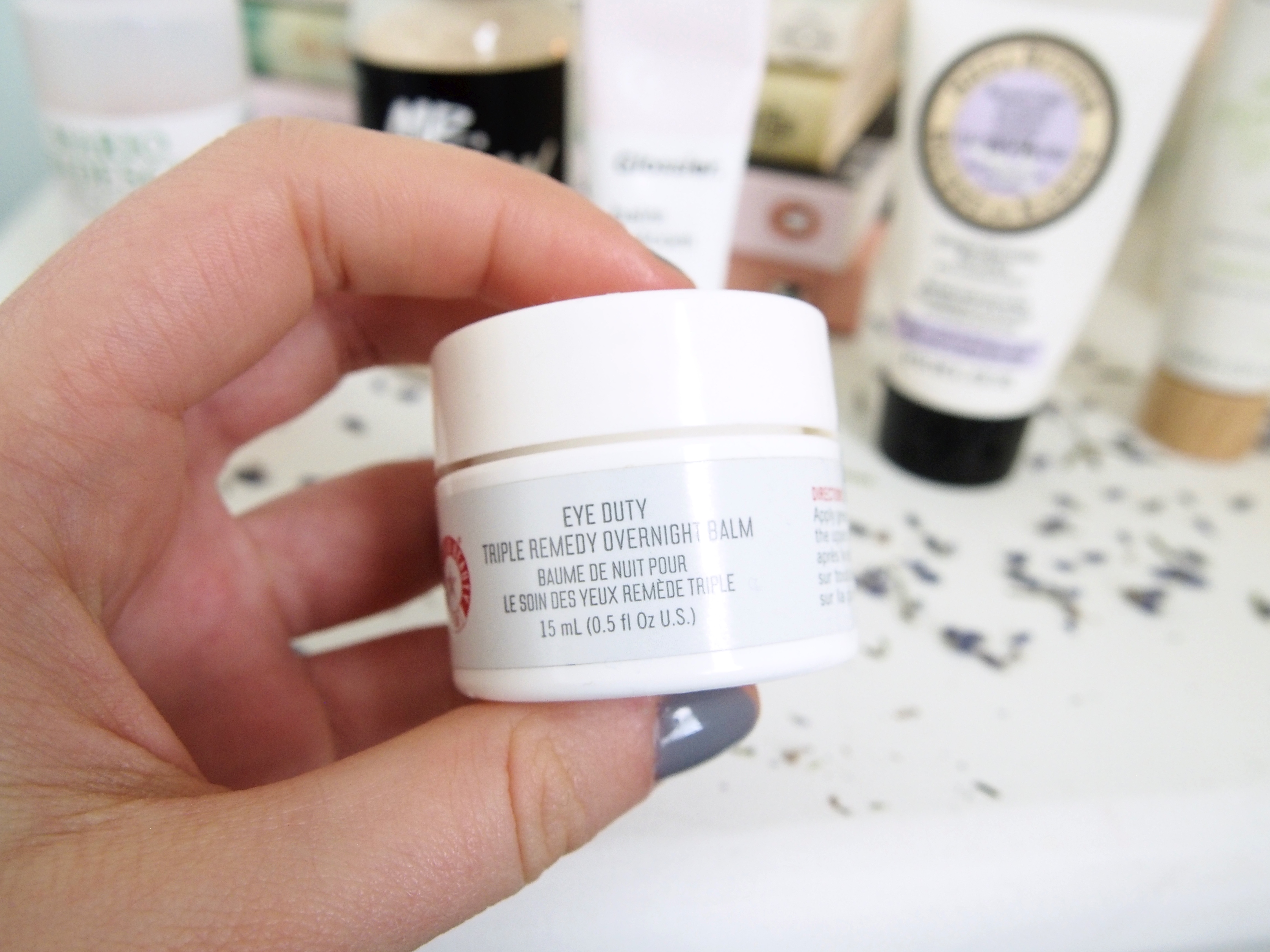 I keep my eye cream on my bedside table because I often forget if it's in a drawer somewhere.  It's become such a habit to use this balmy eye cream from First Aid Beauty that I always notice when I haven't applied it and immediately grab it.  This is so different from any other eye product because it is a balm, not a slippy cream.  It feels like a very soft lip balm, I just rub my finger around in here, there's no need to scoop out any product.  If you ever encounter a sample of this, you have to feel this texture.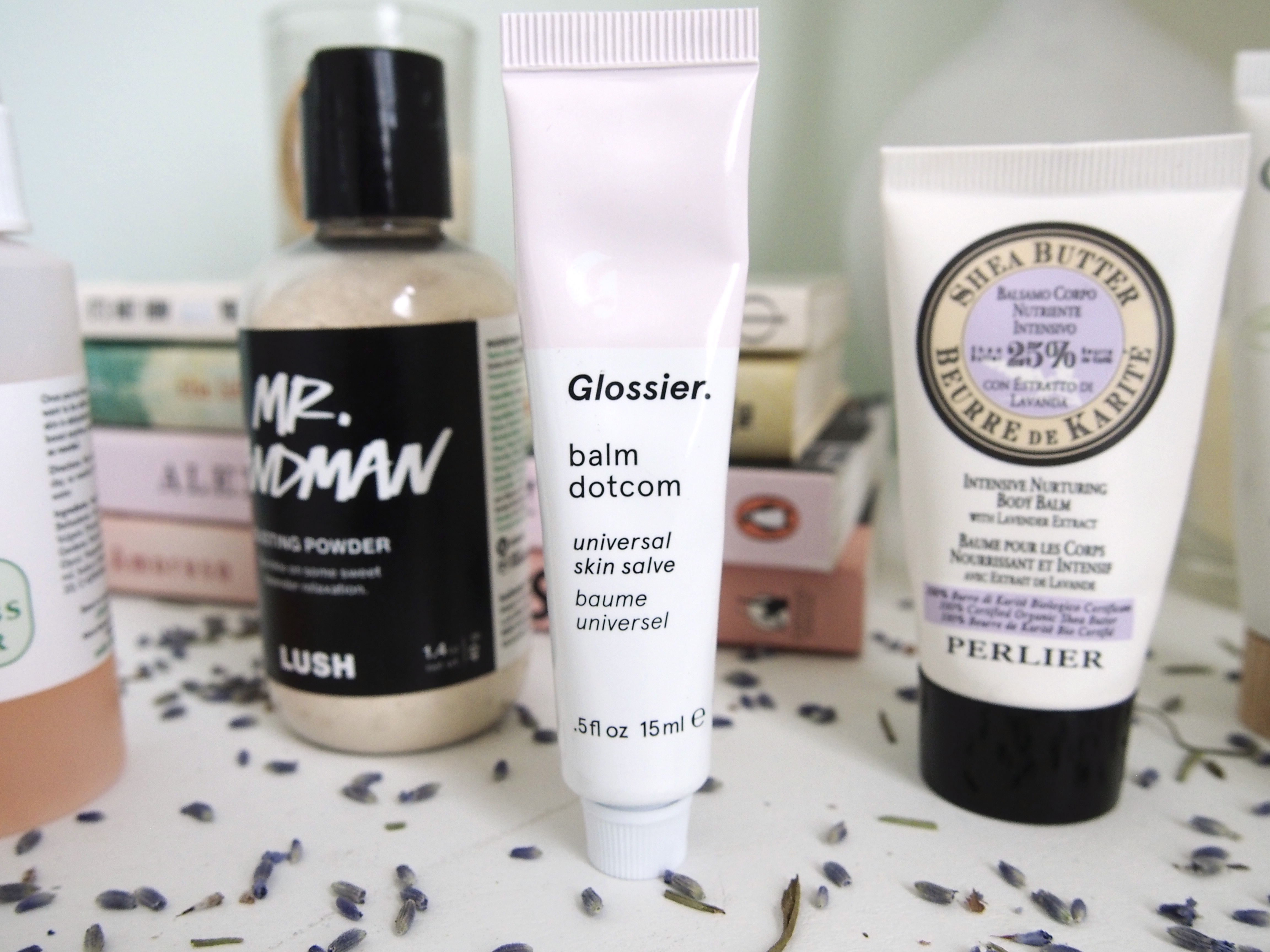 Next up is the amazing Glossier Balm Dotcom, which is only the most hydrating lip balm ever.  This is a huge tube so it will last forever since only a little is needed to recover your lips.  It's also perfect to apply as an overnight emergency product for when the skin around my nose gets insanely dry.  I often use this as a cuticle cream so if I'm just hanging out in bed, I'll apply this to keep them healthy.  I have a whole post raving about this, you can check that out here.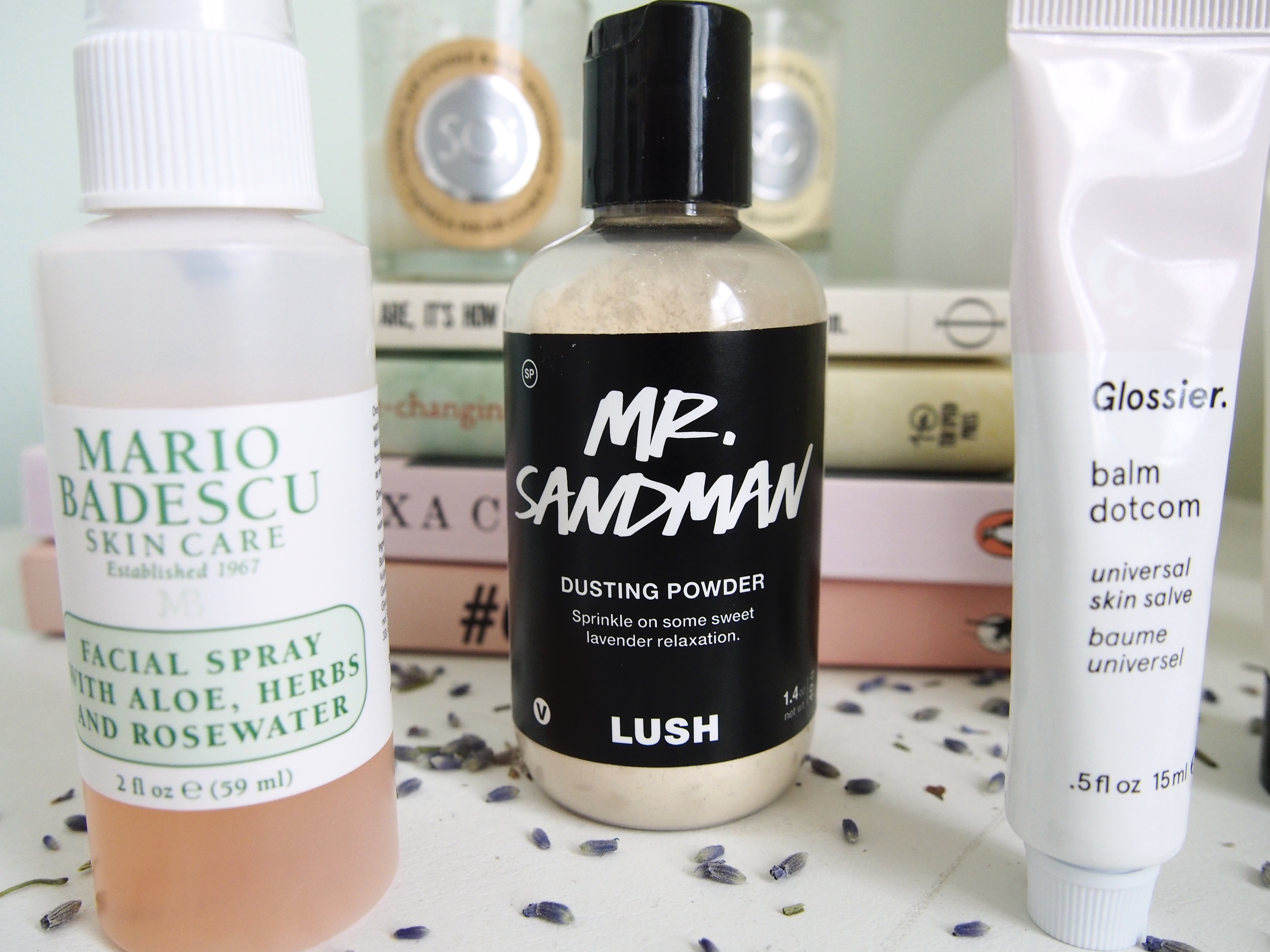 Finally, I have my favorite aromatherapy product, Lush Mr. Sandman.  This is for your body but I usually sprinkle it on my sheets so I can cuddle up in relaxation.  This smells so calming and it's the perfect ritual as I get into bed.  This was Christmas limited edition but here's hoping it's around in next year's collection!
What products do you keep on your bedside table?