I love seeing these posts floating around, it's intriguing for me to see how much we all spend on our daily makeup.  These are the products I use pretty much every day and this is a good guess at my daily routine.  Of course I switch my makeup most days depending on what I'm doing but this is pretty much the basics of what I use most days, without many fun extras.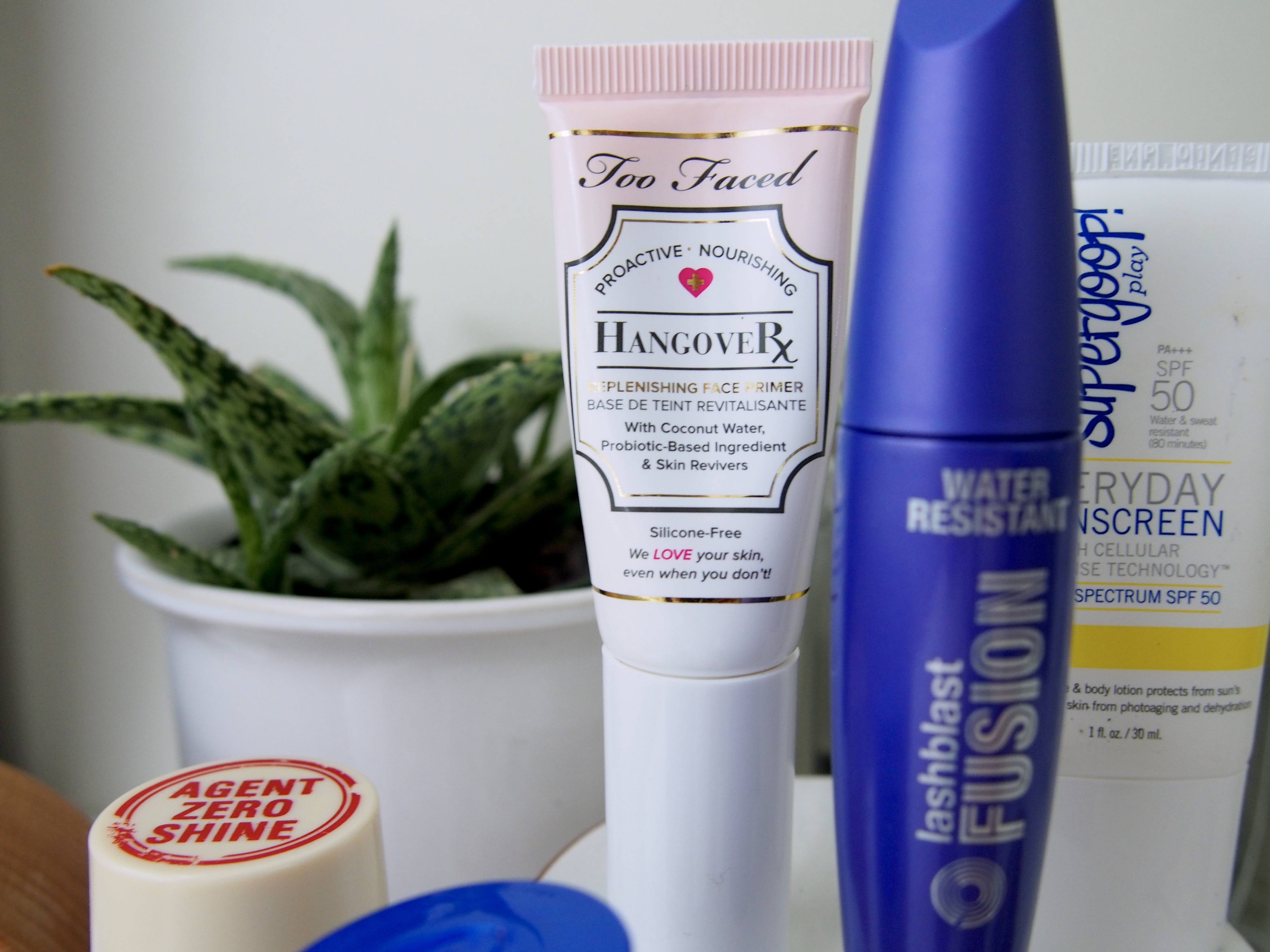 Too Faced Hangover Primer – $32
Starting with primer, I love the Too Faced Primer (as you can see here).  This doubles as my moisturizer in the summer and gives me a good dose of hydration along with priming power for that awesome base for makeup.  This one especially helps the finish of my makeup to look dewy and makes my skin look plump and healthy.
Supergoop Everyday Sunscreen SPF 50 – $19
As implied by the name, this is my everyday sunscreen because it's easy to wear.  It's white but leaves no white cast on my skin (I haven't tested it at night though) and doesn't feel heavy or greasy.  I am all for some heavy duty sunscreen on my face and I'm so happy I finally found one that I love and look forward to using every day.
Rimmel Match Perfection Foundation – $5.99
Surprisingly, my least expensive foundation is also my favorite. I love using this every day either all over my skin or just in some areas to let some skin peak through.  The foundation effortlessly melts into my skin and never clings to a single dry patch on my skin.  I can always rely on this foundation to work out flawlessly. This is so inexpensive that I never mind repurchasing, this is my third bottle.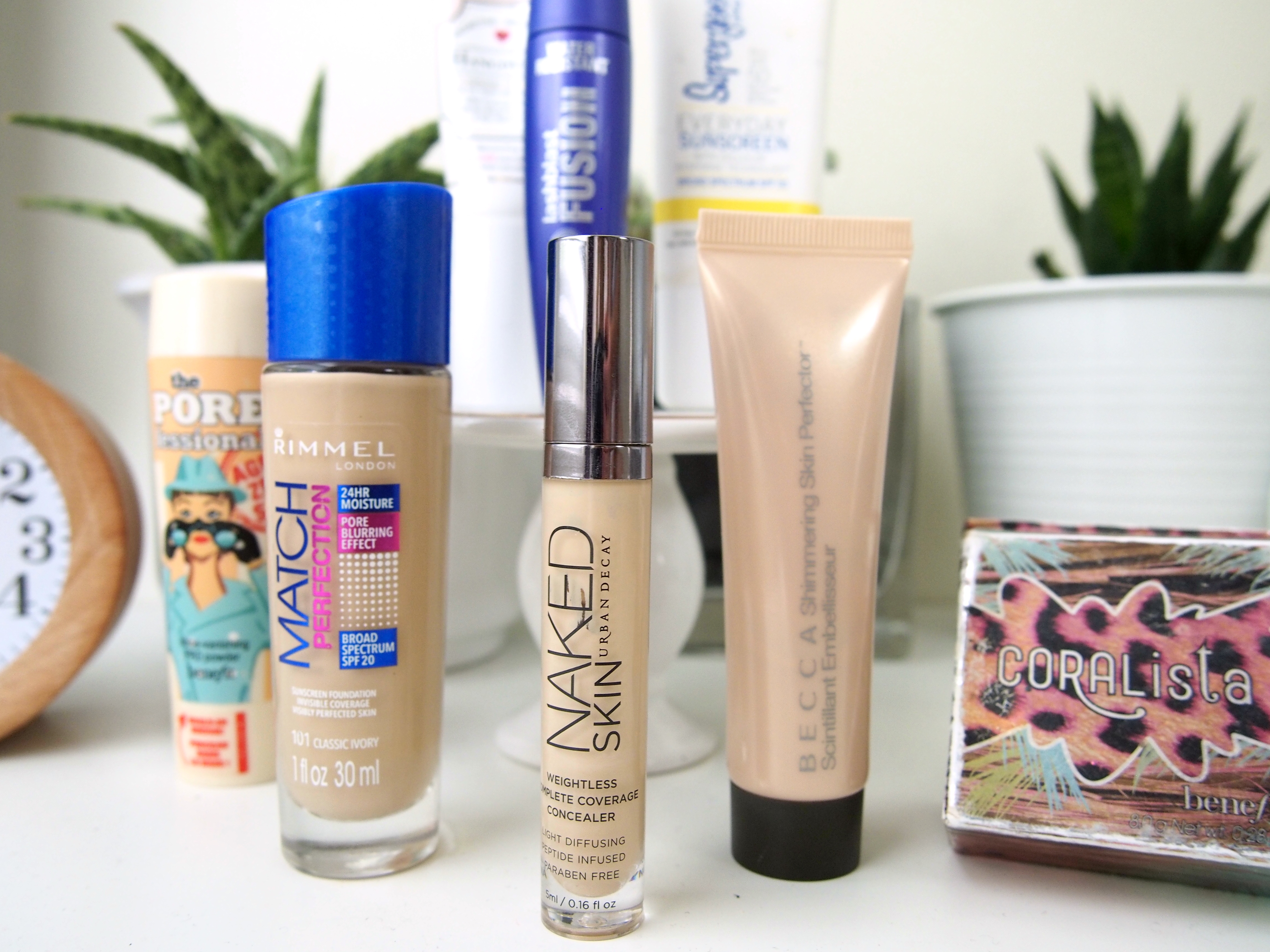 This concealer is pigmented but also has a natural finish.  It's easy to blend out with a few taps of a finger or beauty sponge and lasts well throughout the day.  I love the shade range of this concealer too, undertones are very important to me in concealers and this one has that on lock.
Becca Shimmering Skin Perfector – $19
I have become a big liquid highlight gal recently because it gives me a more subtle look than many powders would.  I layer them either under my foundation or right before I set my makeup for the most natural finish.  Moonstone is my favorite shade but I mix Opal and Moonstone for summer.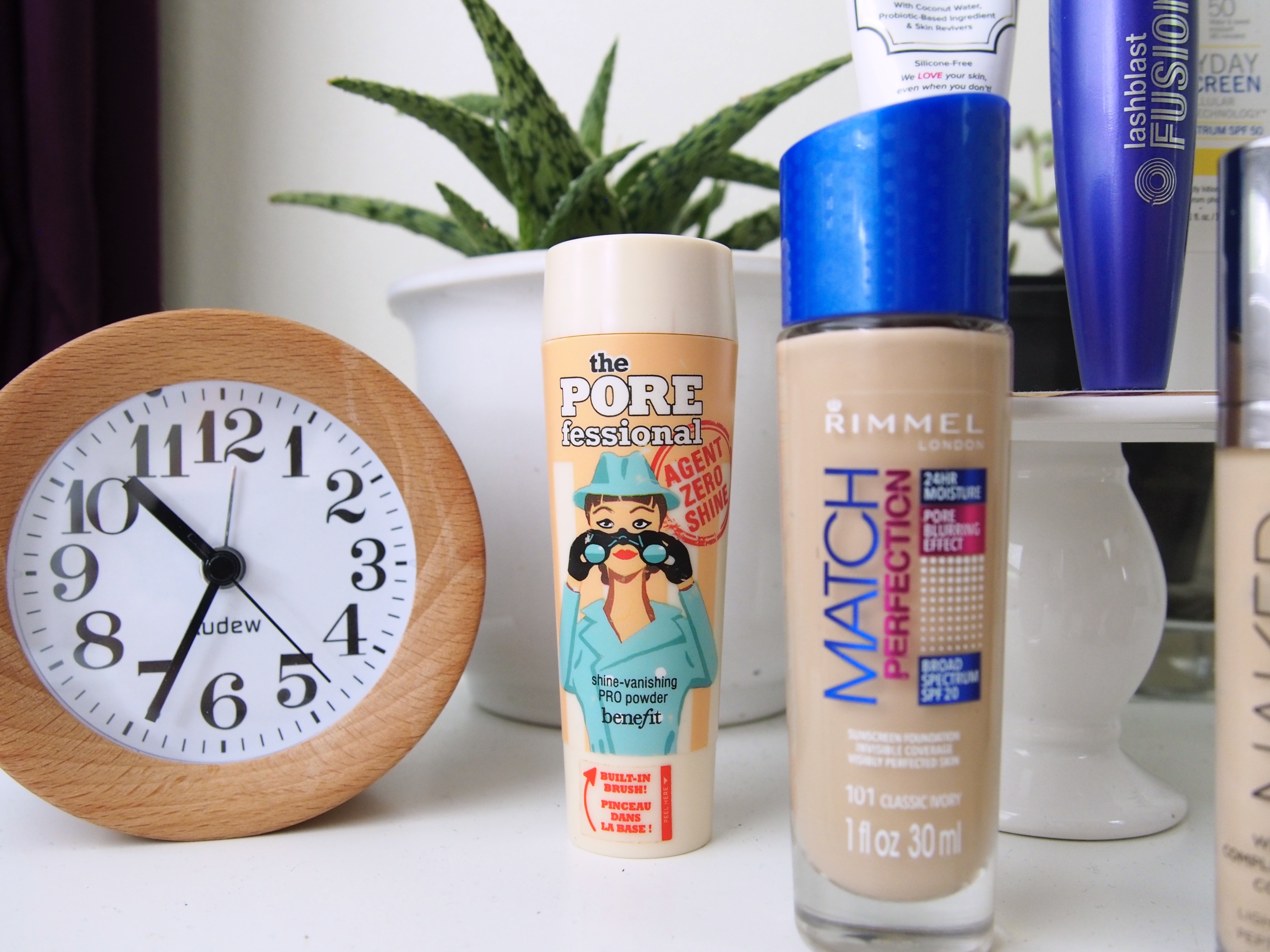 Benefit Agent Zero Shine Powder – $30
This is not my favorite powder at all.  Despite the "zero shine" claims this powder keeps shine at bay for 2 to 3 hours at most.  While it is weightless, the finish is nothing spectacular and leaves too much shine on my skin.  I still use it because I do like how it sets my under eyes without drying them out.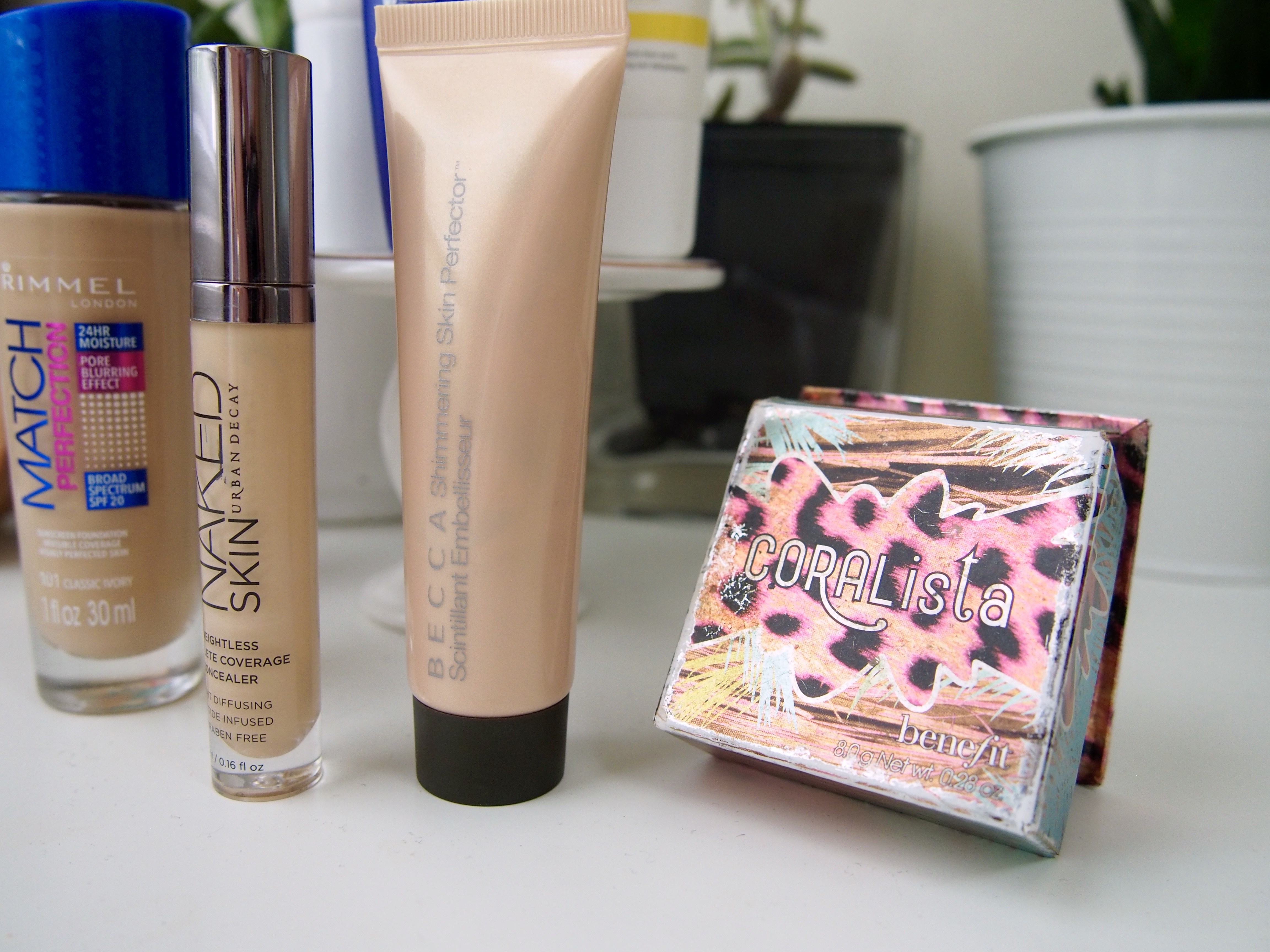 Benefit CORALista Blush Box – $29
This is such a great blush shade for the warmer months with a stunning shimmer and gorgeous peachy shade.  While I love cool-toned blush in the winter, the peachy blushes really call my name once it warms up.  This is my go-to on the daily now and I love the glow and color it gives my cheeks.
Essence Brow Designer Pencil – $1.99
Yes, my brows cost me $1.99.  I love this pencil mostly because of the shade.  I have a hard time finding a brow pencil at the drugstore (I refuse to spend more than $10 on brows, sue me) because they are all too red.  This is one of the only pencils I've found that's a good shade so I'm sticking with it.
Covergirl LashBlast Fusion – $8.99
Finally, I finish off my makeup with a drugstore mascara. I go between Maybelline and Covergirl and I can never decide which I like best.  I love using this Covergirl one because my lashes don't get crispy with this and they have lots of volume.  I'm not the type to spend tons on a mascara either, I'm much more a base gal.  I'll gladly spend $100 to perfect my base with a concealer, primer, and foundation but I wouldn't spend over $10 on my mascara.
Total – $173.97
Pinterest | Bloglovin' | Twitter | Tumblr