Out of all the makeup products I own a few that I always rely on and trust.  I have a thing for Too Faced products, but I love their products and their gorgeous packaging. These 5 are totally my top makeup recommendations for pretty much anybody.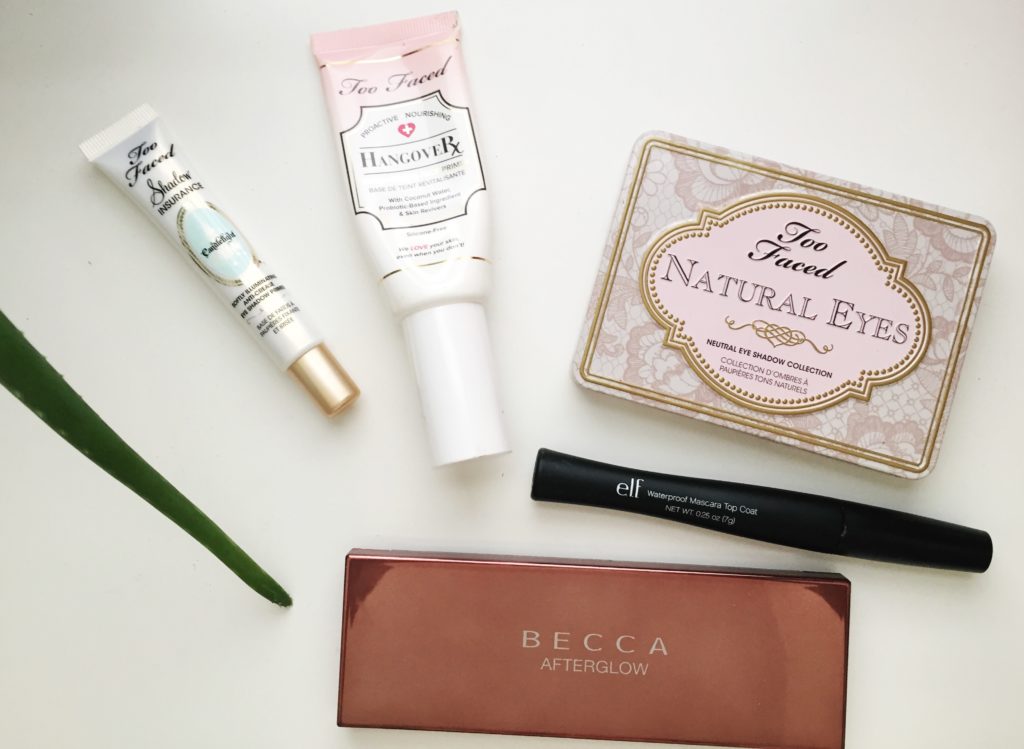 Firstly, I've gone on about the Too Faced Hangover Primer way too much.  But it's super hydrating and smells like coconut water.  This primes my skin so well and I always love an extra layer of hydration.  It creates a smooth canvas for tinted moisturizer (super glowy) or a powder foundation (natural finish).  This primer is great for dry skin, normal skin, and works as a moisturizer for oily skin.  It's an everybody primer for any foundation routine.
The best shadow primer I've ever had is Too Faced Shadow Insurance in Candlelight.  It gives a bright base to any eyeshadows and never creases.  There's a rose shade and a regular one if bright gold isn't your thang. If you want your shadows to stay in place and keep from creasing, go with this primer.
The Too Faced Natural Eyes Palette has been spoken about so many times on my blog (see here) but it's one of my faves.  These shades work for eyeliner, my brows, and endless shadow looks.  The colors work for darker looks or barely there, and other shades look so nice paired with this palette. If this palette doesn't tickle your fancy, there is a similar one with all mattes.  Too Faced shadows in general are awesome quality and I highly recommend them.
I've also talked about elf Waterproof Mascara Top Coat too many times but I love it especially for summer.  I swipe on a coat over my favorite formulas of mascara since it doesn't change the look of my lashes.  The low cost makes it a must have for sure.
Lastly, Becca Afterglow is amazing (rave review here) because there's three different highlighters to cater to different skin tones in it.  I use the ones that don't work on me for other things: Rose Gold for blush and Topaz for eyeshadow.  And the blushes are also very versatile and would totally work on a lot of skin tones.  The beautiful packaging and amazing formulas don't hurt either.