I am starting to feel the changes in the air, it's beginning to feel like Autumn. I like to start prepping my skin for the decreased humidity and the cooler temperatures before I get hit with 40° mornings.  I'm all about being gentle with my skin and nourishing it to the max.  I was inspired by Dollar Shave Club to write this post.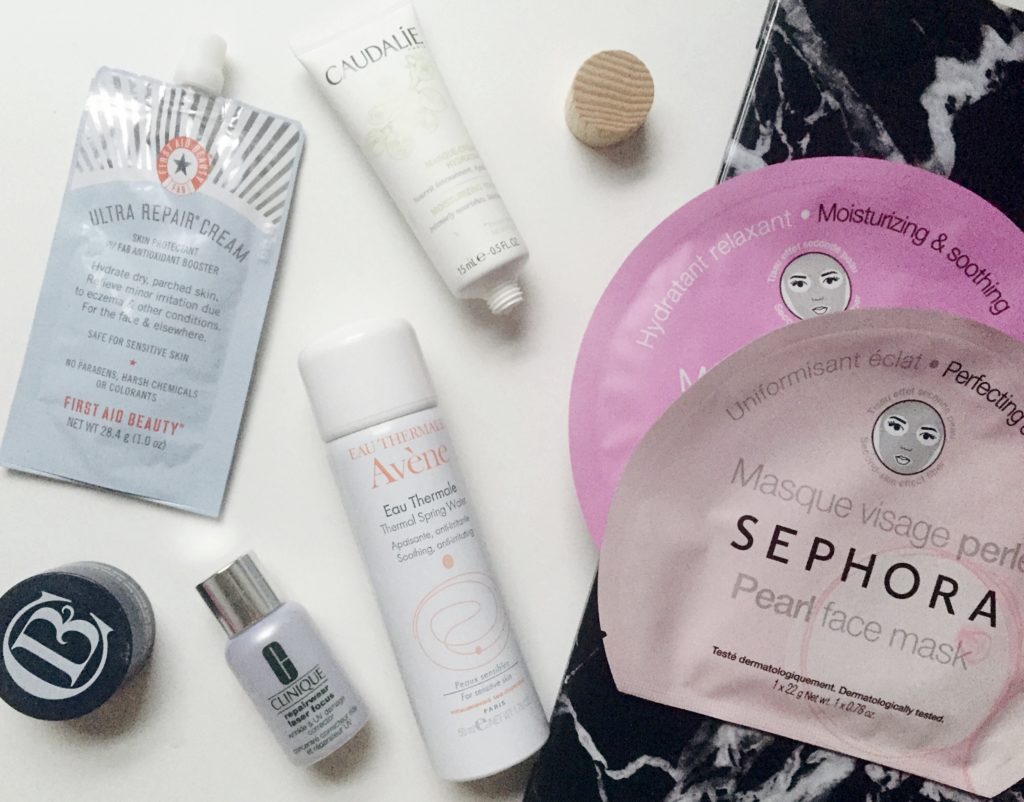 Firstly, I've tried to use my eye cream every day lately.  I have never been one to use eye cream I just use my moisturizer under my eyes usually.  But my under eyes are so dry that I felt like I needed to take another step.  The Clinique Repairwear Laser Focus Wrinkle and UV Damage Corrector is so light under my eyes.  This one's awesome because it corrects damage caused by the sun (a.k.a. all of summer).
Next, I've been so all in on the masks lately but I really get into a mask schedule once Winter rolls around.  The Sephora sheet masks have so many different types to choose from, Right now I have Pearl, Lotus, and Avocado.  These are so easy to use while writing a post or watching a movie and leave my skin so smooth.
For super hydrating masks, I love Clark's Botanicals Deep Moisture Mask.  This one is a mini and sadly the full-size costs more than a Glamglow.  It's the most hydrating and skin-plumping mask for dry or dehydrated skin I've ever used.  Although it can be washed off, I always choose to leave it on overnight.  Caudalie also has a wash off or leave on mask, their Moisturizing Mask.  This is obviously less expensive than the Clark's Botanicals and it isn't quite the same.  It's a bit greasier but still gives my skin so much moisture that is needed in the colder months especially.
When my skin is really dry or it's really cold, I will go for the First Aid Beauty Ultra Repair Cream under my makeup.  Makeup applies so easily over this moisturizer and everything blends so effortlessly.  I talked about this gem in this post and this post.
And always, I have to throw a facial mist in.  The Eau Thermale Avene Thermal Spring Water is so gentle and works as a hydrating makeup setting spray.  A hydrating facial mist is one of my favorite things to do before going out in cold weather.
It might seem a bit early to get into my Autumn Skincare but what can I say?  I like to be ready.  Be sure to check out Dollar Shave Club's skincare selection, including some awesome affordable skincare if you're looking to spruce up your routine!