Since the 2016 Rio Olympics are taking place right now I decided to do a sort of beauty olympics comparing makeup to find the gold, silver, and bronze medal winners.  In each photo there are 3 products from a certain category like foundation, primer, eyeshadow, etc.  They will be ranked first place to third place with descriptions on how they received their rank.
Primer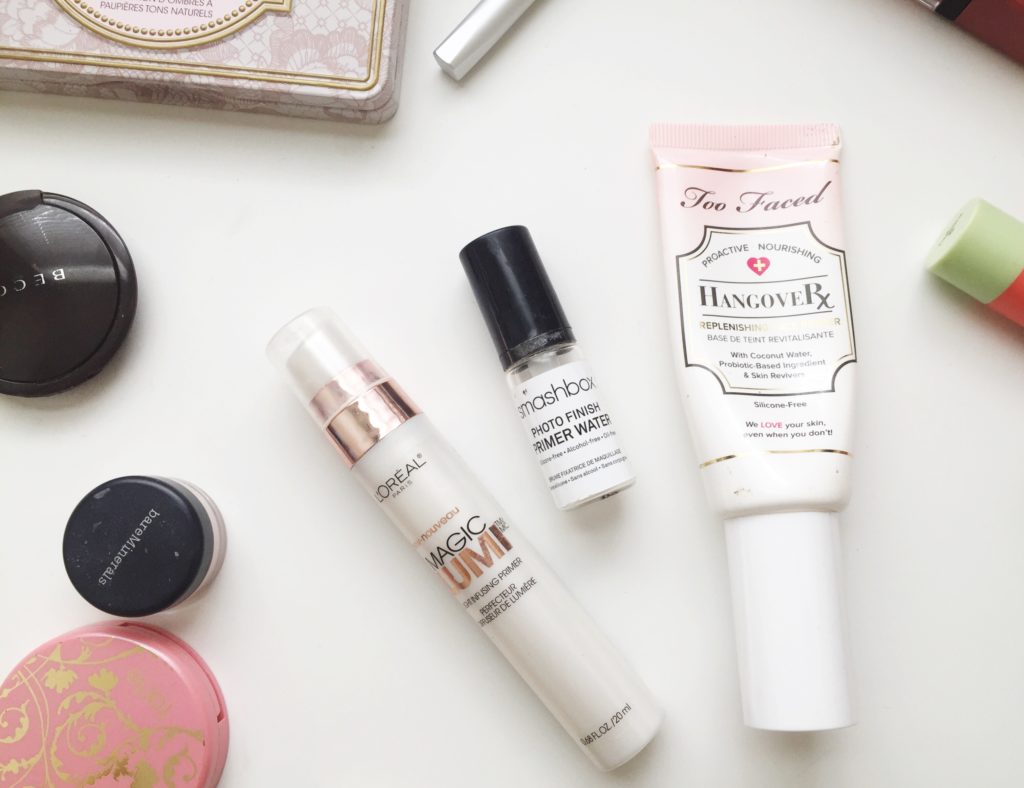 If you've been reading my blog since around February, I became head over heels in love with Too Faced Hangover Primer!  It's the perfect balance between a primer and a moisturizer.  It smells so light and feels refreshing on my skin.  Definitely a gold-medal product.
Smashbox Primer Water is something that I was super excited to try. This obviously works best for dry or normal skins but makes any base look gorgeous and also doubles as a setting spray.  It smells almost spa-like and has a very fine mist.  I'm all about the facial mists.
L'Oreal Lumi Primer is a primer that brings a lit-from-within look to your makeup.  This looks beautiful as a primer, mixed in with foundation, or (if you're very pale) as a liquid highlight on your cheekbones.  I've gotten my sister beyond hooked on this primer.
Foundation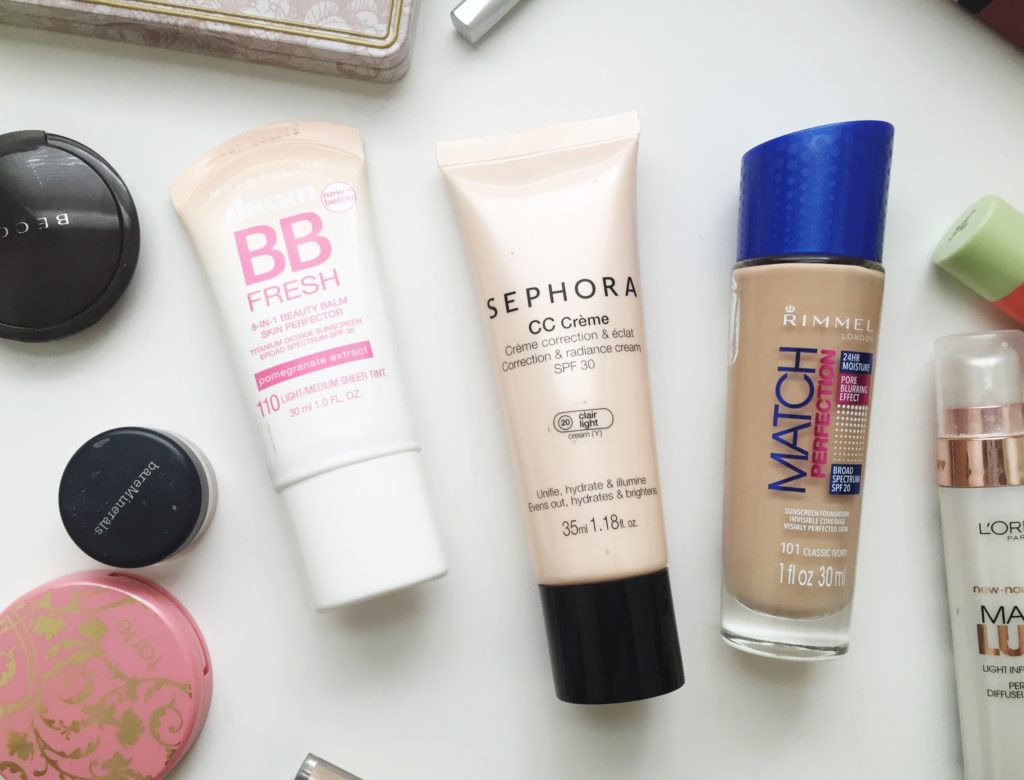 Coming in first place is the long-time favorite Rimmel Match Perfection.  This one is an obvious winner with its hydrating formula and easy blendablity.  Despite its recent formula change, it still gets the gold.
With a close second, Sephora CC Creme is a lightweight but medium coverage CC cream that promises radiance, hydration, and achieves that and more.  The only downfall is the slightly higher price and only being available in Europe.
In third place is a new drugstore favorite of mine.  Maybelline Dream Fresh BB is the lightest base you'll find with magic pore-vanishing and smoothing properties.  Extra points for SPF.
Concealer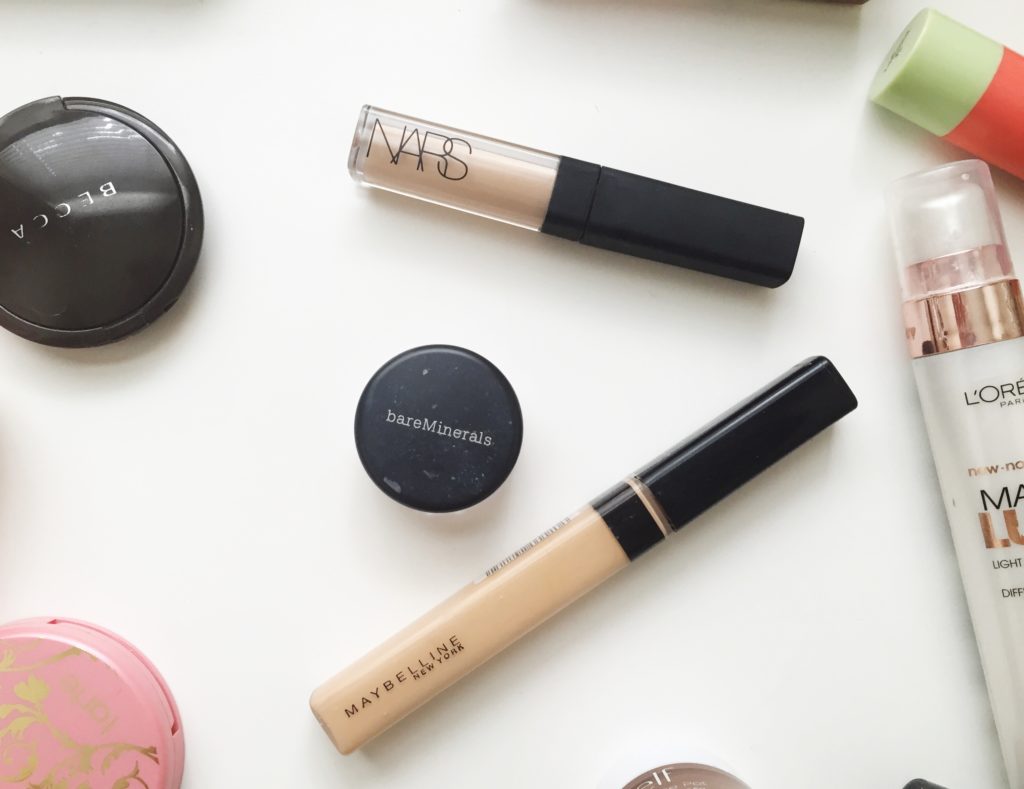 Nars Radiant Creamy Concealer comes in first for coverage, blendability, and natural finish.  The shade range just expanded at Sephora and I have to say that this is my top concealer.  It works for spots and undereyes and is a strong product without foundation underneath it.
This is the one I always fall back on if all else fails.  BareMinerals Powder Concealer might have the most coverage that I personally have tried.  No matter what you have going on this will cover it so quick you won't even remember the 15 minutes you spent trying to cover it with liquid concealers.  The only downside is that it is slightly drying, ever-so-slightly.
Arguably a dupe for Nars Radiant Creamy Concealer is Maybelline Fit Me Concealer.  Maybe it's the fact that the shade range doesn't fit me (ironic, eh?), or maybe it's that my undereyes look insanely dry sometimes when I use this, but this one is great for face but not for eyes in my book.  Definitely a great budget concealer, just hydrate those undereyes like there's no tomorrow.
Powder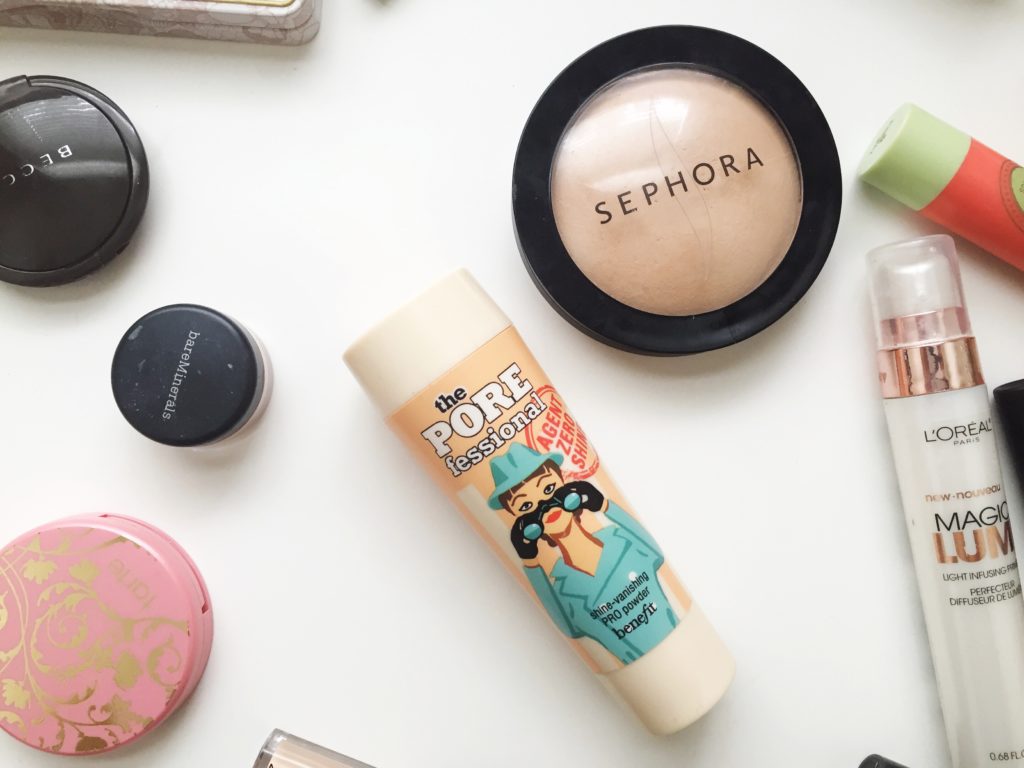 There's only two here, I know.  But I wasn't going to go buy another powder just for this post so excuse the absence of the 3rd place powder.
I always love Sephora MicroSmooth Powder Foundation.  It is the easiest foundation I've ever used.  Swipe your brush and tap it onto the skin for even coverage and a natural finish that looks just as good 10 hours later.  There's a huge shade range and the finish is unbeatable.  I got this on my little splurge in Paris, you can see all my goodies here.
Benefit the POREfessional Agent Zero Shine does a pretty good job of keeping shine at bay but it's not the most matte powder out there.  I love using this when I wear only concealer because my skin has a really smooth texture with this powder but it's not the matte-est one you'll find.
This one, this one is matte.  Rimmel Stay Matte has a really matte finish.  I do not have one of these right now but I do love this powder.  One of my favorites for setting foundation since this keeps it in place.
Blush/Bronzer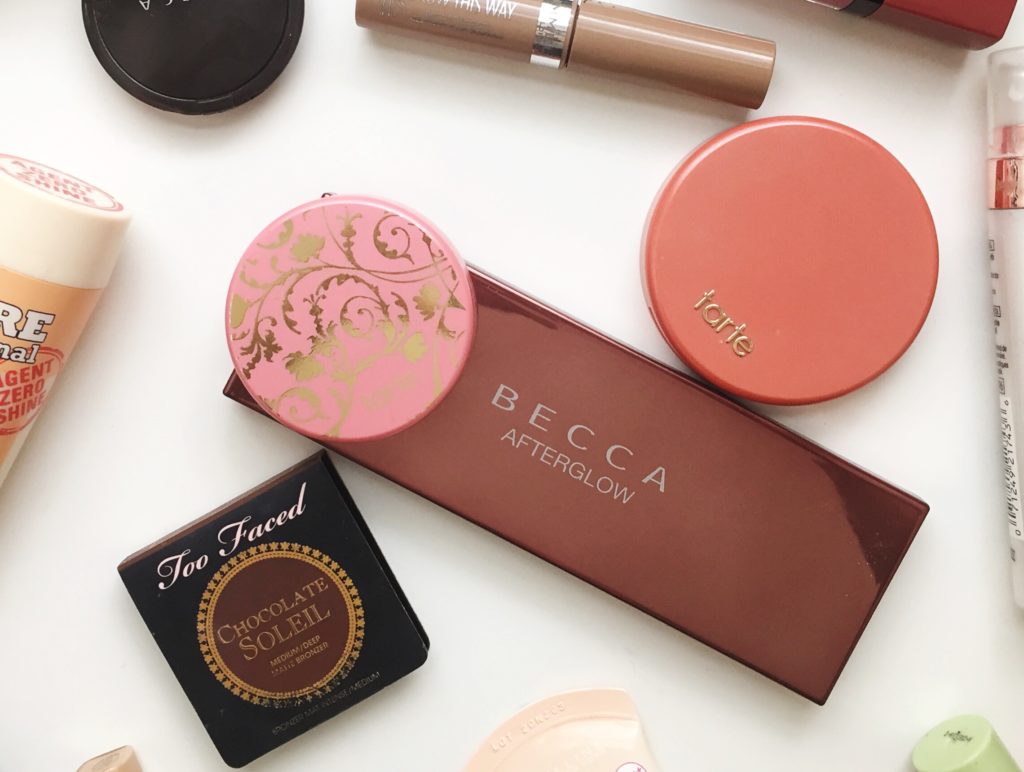 Tarte blushes are my favorite.  They're blendable, have a great shade range, and feel so smooth.  These are so long wearing that nothing quite compares.
However, Becca blushes are highly underrated.  These are also super blendable, but the shade range isn't all that.  I don't have any of the blushes outside of the Afterglow Palette but Wild Honey is a gorgeous neutral blush shade.  I love using Becca blush.
Too Faced Bronzers are the frontrunner always, but since I don't use bronzer as much as I use blush this gets the bronze, haha get it?  So smooth and blends so well, Too Faced Chocolate Soleil bronzer is the best.  There's 3 shades for all skin tones and the chocolate scent might be the best part of my morning.
Highlight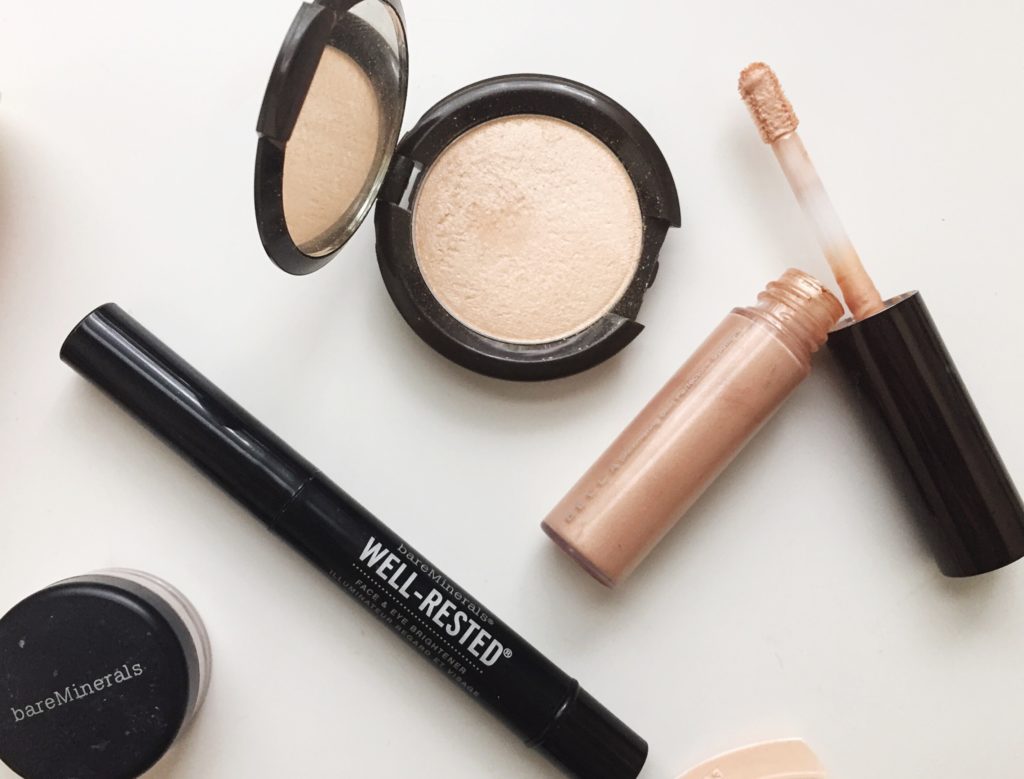 Becca Shimmering Skin Perfector Pressed in Moonstone is my favorite powder highlight since it has a yellow undertone just like my skin so it blends flawlessly and looks so beautiful on the cheekbones.  It's so smooth and buttery, I haven't found anything like it.
Becca Shimmering Skin Perfector in Opal is the perfect shade for me to mix into a too-matte foundation to give a very natural all over glow.  This can also be used as a regular highlight on the cheekbones, for extra pop I use this under my Moonstone powder highlight.  I tend to use powder highlight more but this is a super high-quality liquid highlight.
BareMinerals Well-Rested is technically a corrector for the under eyes to make them look brighter but it's basically a no color highlight that just adds glow.  It's in pen form so it's super easy to precisely apply and it works for all skin tones.  I don't reach for this as much as I should.
Brows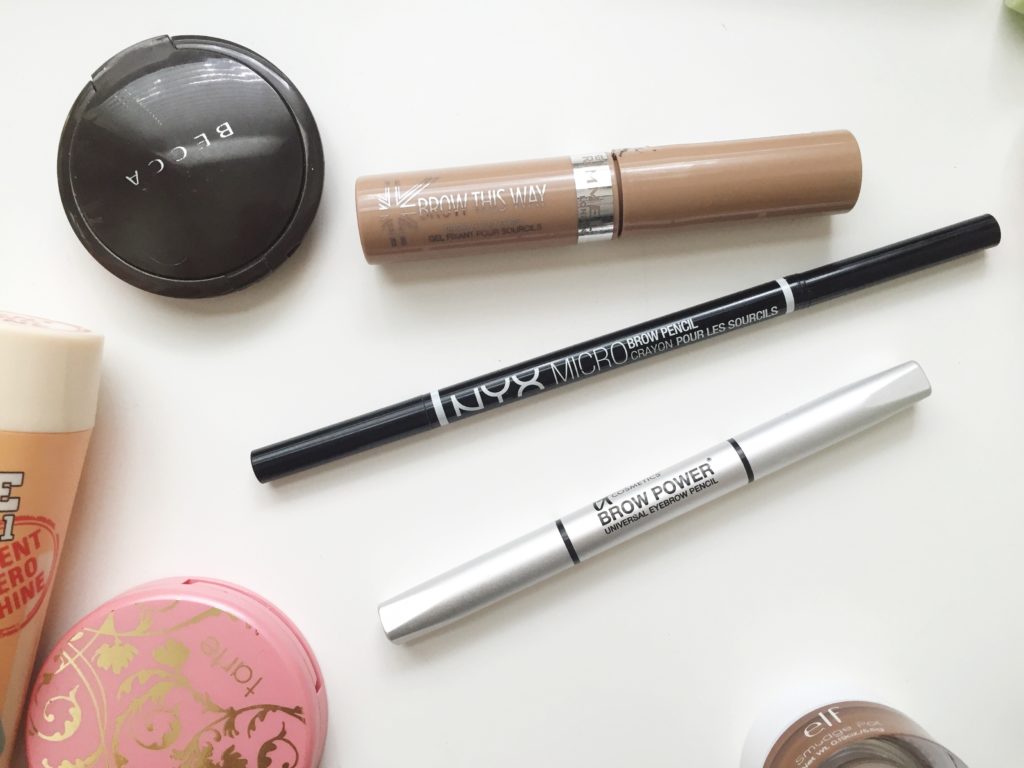 Rimmel Brow This Way is the easiest brow product I've ever used.  Since I'm in a natural makeup moment, I like combing through my brows with this non-sticky tinted brow gel to keep them in place and give them a bit of color.  This can also be used with a pencil if you'd like, but this is so affordable it's amazing.
NYX Micro Brow Pencil is a super fine tipped pencil that twists up and has a spoolie on the other end.  I find this to be so easy to use and it has a nice shade range although not as extensive as some.
I got this mini version of It Cosmetics Brow Power last summer but I didn't understand that the pressure you apply correlates with the shade.  Lighter pressure = lighter shade.  Now that I understand it, I use this often and it has an awesome spoolie on the other end.  The tip of this pencil isn't very thin but oval shaped, some love it, some hate it.
Eyeshadow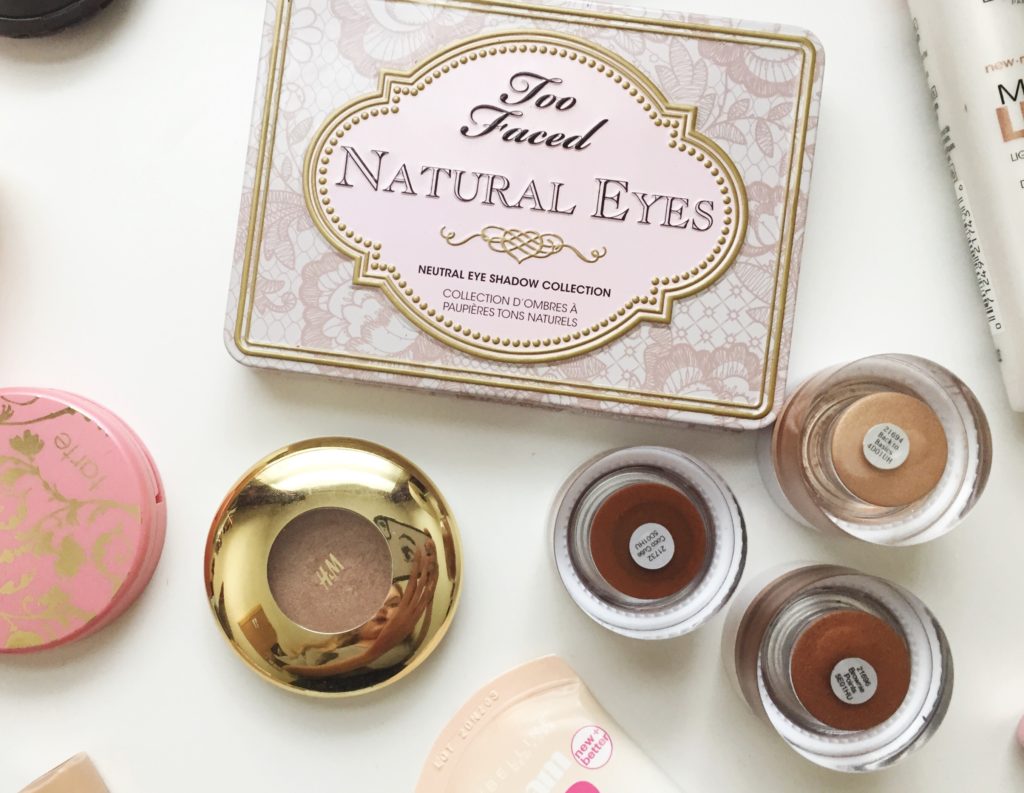 Too Faced Natural Eyes Palette is always going to be #1 in my book.  The mattes are smooth and not chalky, there's not much kickback, and they are pigmented.  The shimmers are buttery and soft and so blendable.  The glitters have gone basically untouched but would be fun if I wanted something more stand-out.  The packaging is sturdy, tin with a magnetic closure.  The only downfall is Silk Teddy, it's too pale for me to use but Honey Pot and all the mattes are used almost daily.
ELF Smudge Pots are some of the smoothest cream eyeshadows I've found and so affordable.  They glide on so well and feel so soft but once they set, they are there to stay.  I've never had any problems with these creasing or fading. The shade range isn't outstanding but if you want one, get Back To Basics.  It's the most beautiful golden copper shadow that I own.  I apply with a finger, so the only reasons that these aren't number one is that they are slightly messy and the shade range isn't fully functional for me.
H&M Shadows are so smooth!  I'd dare to say that it passes Mac and Too Faced in the buttery feeling department.  There are some stunning shades in the collection.  Definitely pick some up if your H&M carries them.  I got this when I was in Paris this spring, you can see the post here.
Eyeliner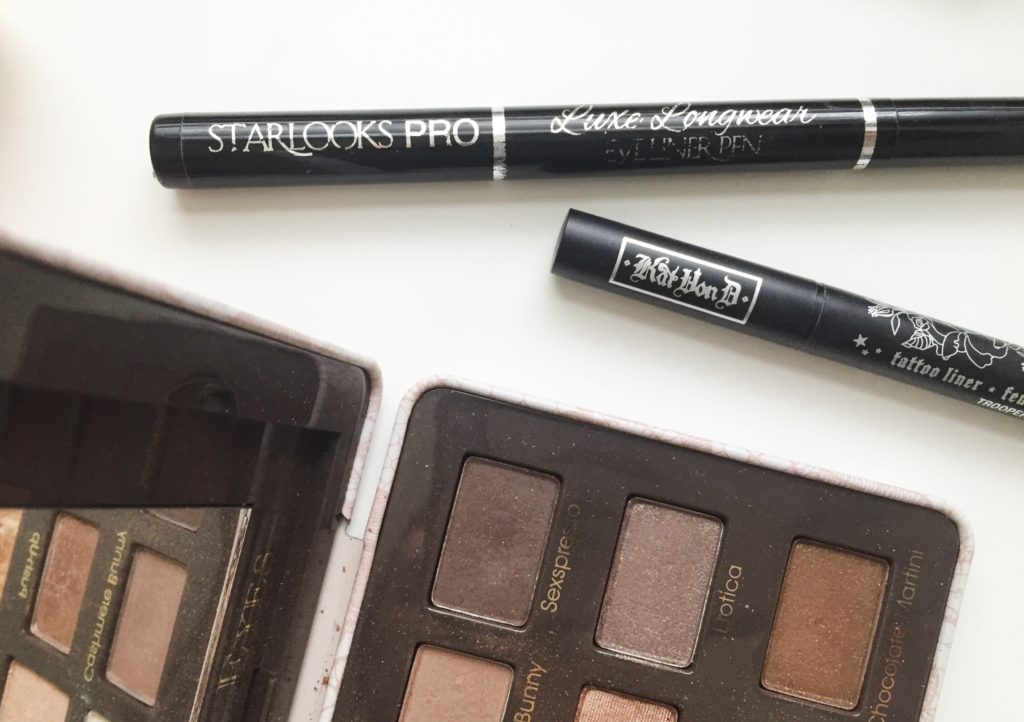 Starlooks Pro Eyeliner Pen is the easiest thing I have ever used.  It's very black and never smudges on me.  I get the perfect flick without even trying with this felt-tip pen.  This one wins gold for most dependable.
Kat Von D Tattoo Liner in Trooper is super black and glides on so easily but tends to fade on me.  Still a great eyeliner just not my go-to.
Too Faced Sexpresso from the Natural Eyes Palette is a beautiful slightly cool brown matte shadow.  I smudge this into my upper lash line most days for an illusion of thicker eyelashes.  It looks so natural and adds to any of my super natural eye looks.
Mascara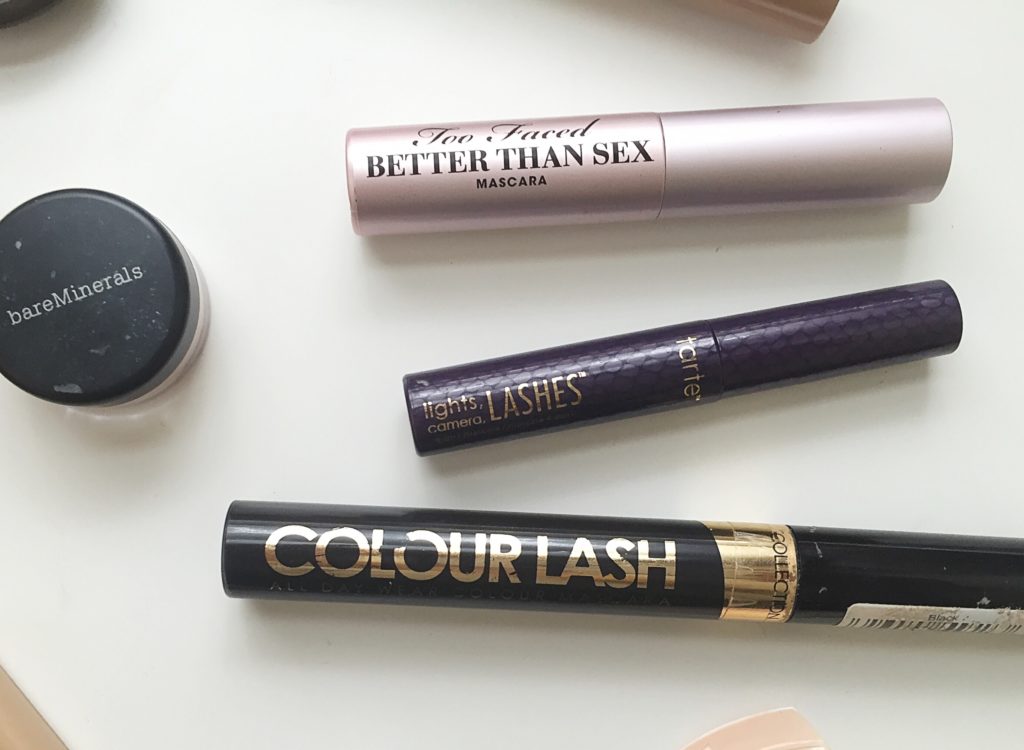 Too Faced Better Than Sex is an amazing mascara.  So thickening, lengthening, and blacker than any other.  It's so easy to apply this mascara without it looking super clumpy and spidery.
Tarte Lights, Camera, Lashes Mascara is super fluttery and volumizing.  This is slightly on the clumpy side but it's easily workable and looks amazing when you get it right.
Collection Colourlash Mascara is very black and lengthening.  There's not too much volume but it's so easy to make this look super natural so you look like you have super long, black lashes with no effort.
Nude/Pink Lip Colors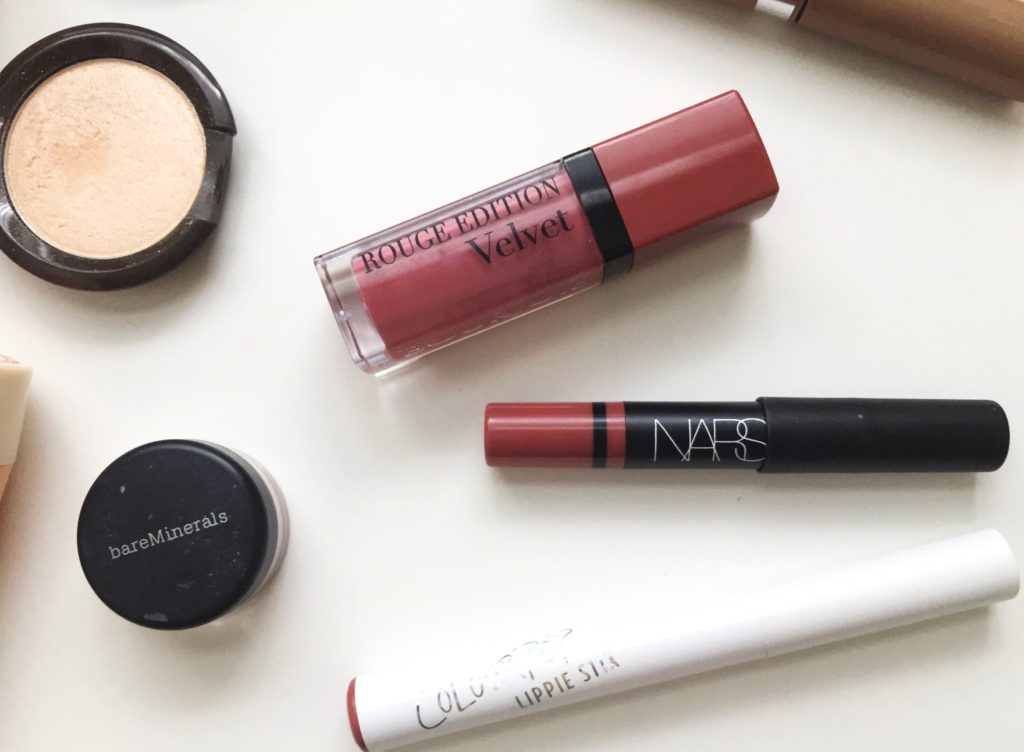 Bourjois Rouge Edition Velvet in Nude-ist is the smoothest lip product you'll ever find.  This shade is super natural and there's zero tackiness at all.  Seriously, I kissed my hand and nothing came off.  I love the shade range has everything you would need for a full lipstick collection.  Definitely my top lipstick formula ever.  See my post about this and my beauty haul from France here.
Nars Satin Lip Pencil in Rikugien is a perfect no-lipstick color.  Although this is a satin pencil, it eventually dries down to a semi-matte and this shade fades so well.  Invest in one of these that matches your lip color pretty well, you won't regret it.
Colourpop has a fairly new finish in their lippie stix called the Matte X.  It's an ultra matte formula that it's terribly drying and has no tackiness.  This shade is a nude but on the darker side.  You can see a swatch here.
Red Lip Colors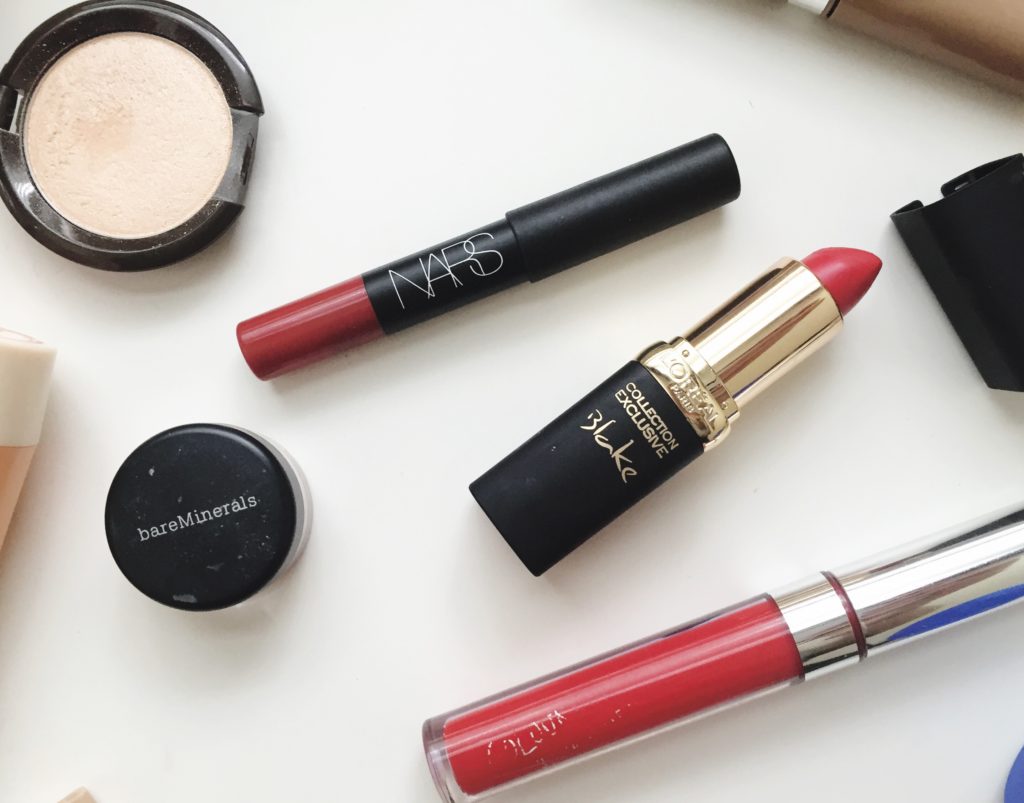 Boy do I love a red lip.  Nars Velvet Matte Lip Pencil in Cruella is the perfect dark red lip color.  It has a perfect texture with no tackiness, amazing formula.
L'Oreal Blake's Red Lipstick is the perfect red, not too blue toned, not too orange.  This is one of my favorite red lipsticks because it has a semi-matte finish with a super comfortable and hydrating feel on the lips.  The smell is pretty bad on this one, but the formula makes up for it.
Colourpop Ultra Matte Lip in Creeper is a great red with an ultra long wearing formula.  You can't get much longer lasting than a Colourpop Ultra Matte Lip.    Although this shade is slightly redder than I would like, it's still an amazing shade.  I believe I talked about all of these in my longest wearing lip color post.
ETC Lip Colors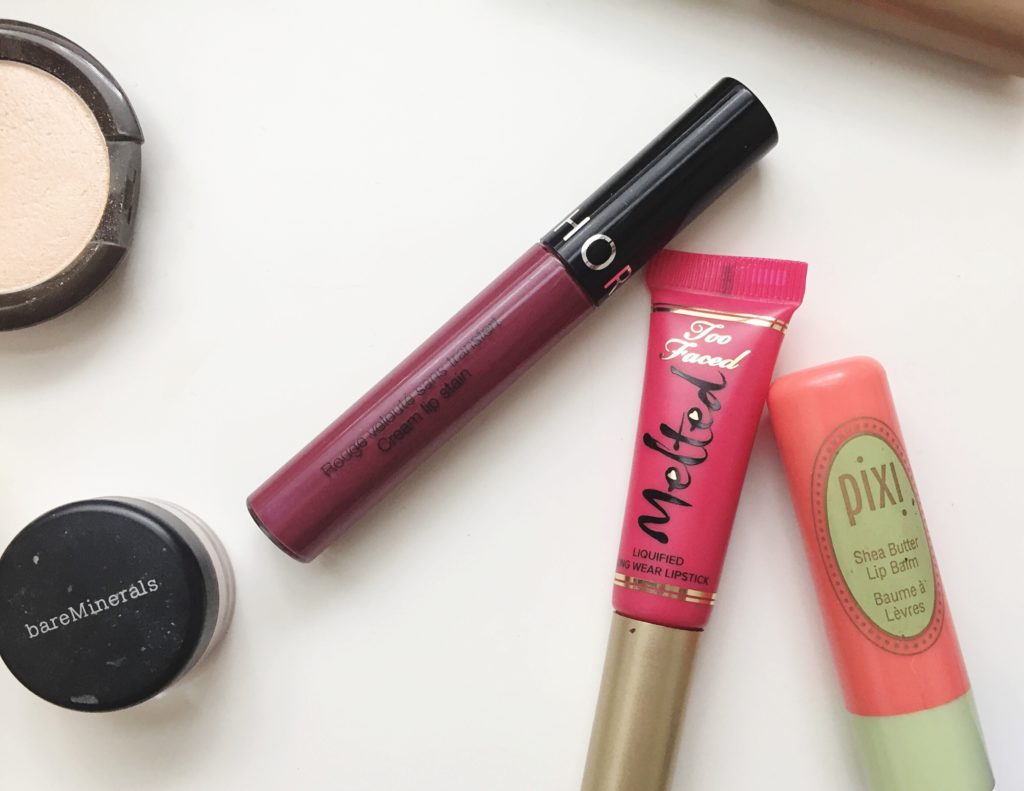 The Sephora Lip Creams are amazing, especially for the price.  Definitely my favorite dark lipstick that I own.  I don't use a lip liner with this one because if I do it gets sticky but on its own, this lipstick has no tackiness.  It's a liquid lipstick type lip color and it applies so easily.
Too Faced Melted Liquified Lipstick in Melted Candy is a beautiful bright pink/fuchsia.  I never use a lip liner and it always stays on so well, it feels hydrating and comfortable.
Pixi Shea Butter Lip Balm in this beautiful orangey shade. It's super sheer with one layer and builds up really easily.